Gameplay within the roguelite genre often focuses on getting the absolute best weaponry and upgrades available to you, and Roboquest is no different. The game comes with a plethora of different weapons at your disposal to destroy those pesky robots.
Related: Best Affixes In Roboquest
Snipers, assault rifles, and SMGs are just a few categories of weapons that are in the debate over which of them reigns supreme. Each weapon and its randomly generated affixes can make or break the gun's effectiveness.
10
Militia Rifle
The Militia Rifle is a highly accurate weapon that excels at mid-range combat. It fires in a four-round burst, making it less effective in close quarters. Paired with affixes like Seeker which makes projectiles home in on enemies, the Militia Rifle can have extremely high damage potential.
This gun is great to have with a class like Engineer, whose play style tends to have them farther back than most other classes.
9
Assault Sentry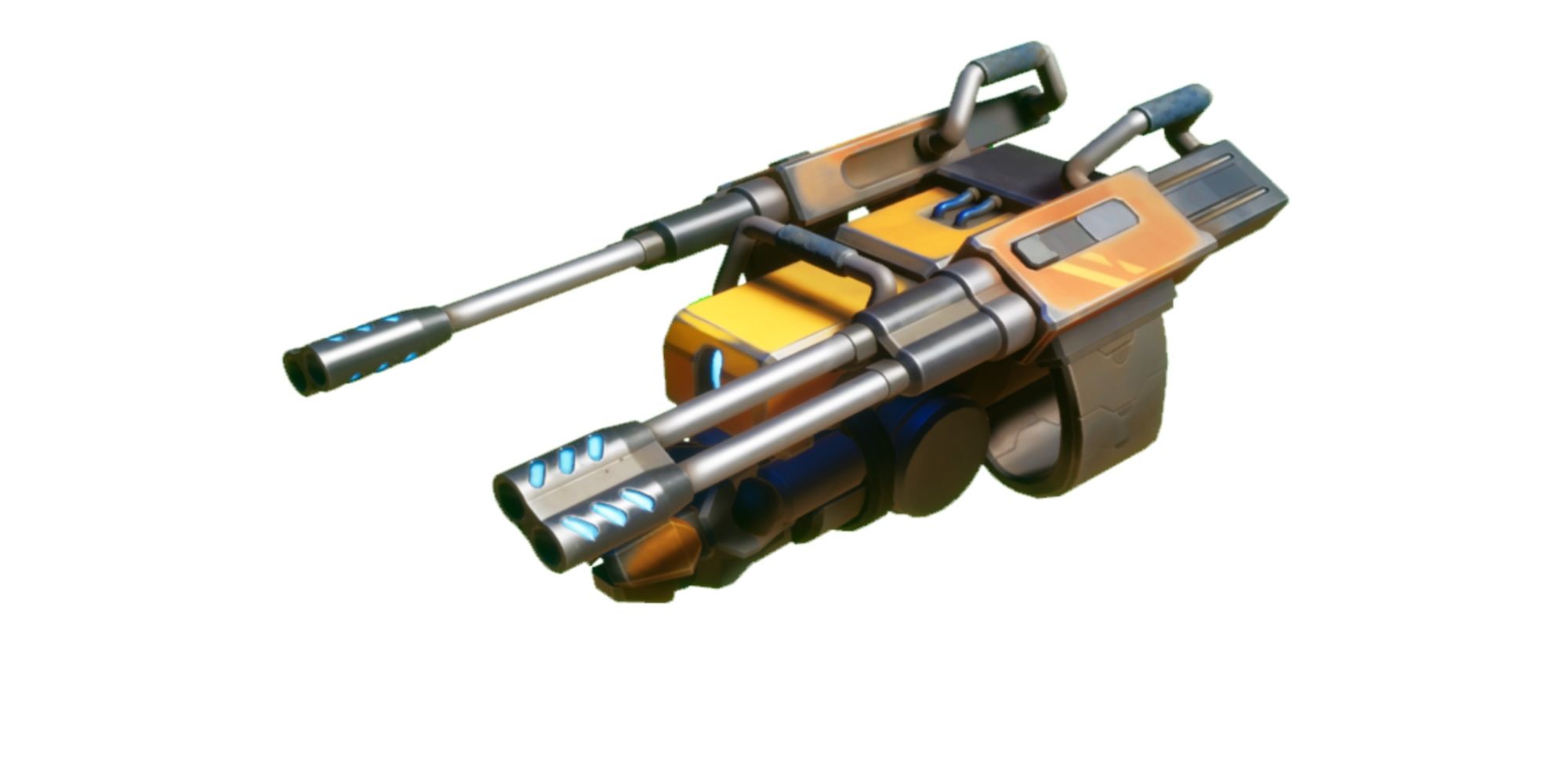 The Assault Sentry is a heavy weapon that is great for heavier targets due to its rather slow fire rate. Unfortunately, since it's a heavy weapon, your movement speed is reduced which can be run-ending in this game. Fortunately, it has a unique alt-fire that deploys a sentry gun in front of you.
Related: The Most Stylish Reload Animations
The sentry gun is great at helping thin out the enemies and making large targets fall in seconds. Since the enemies are being defeated faster thanks to the sentry, the movement speed reduction isn't as detrimental due to the lack of danger.
8
Assault Pistol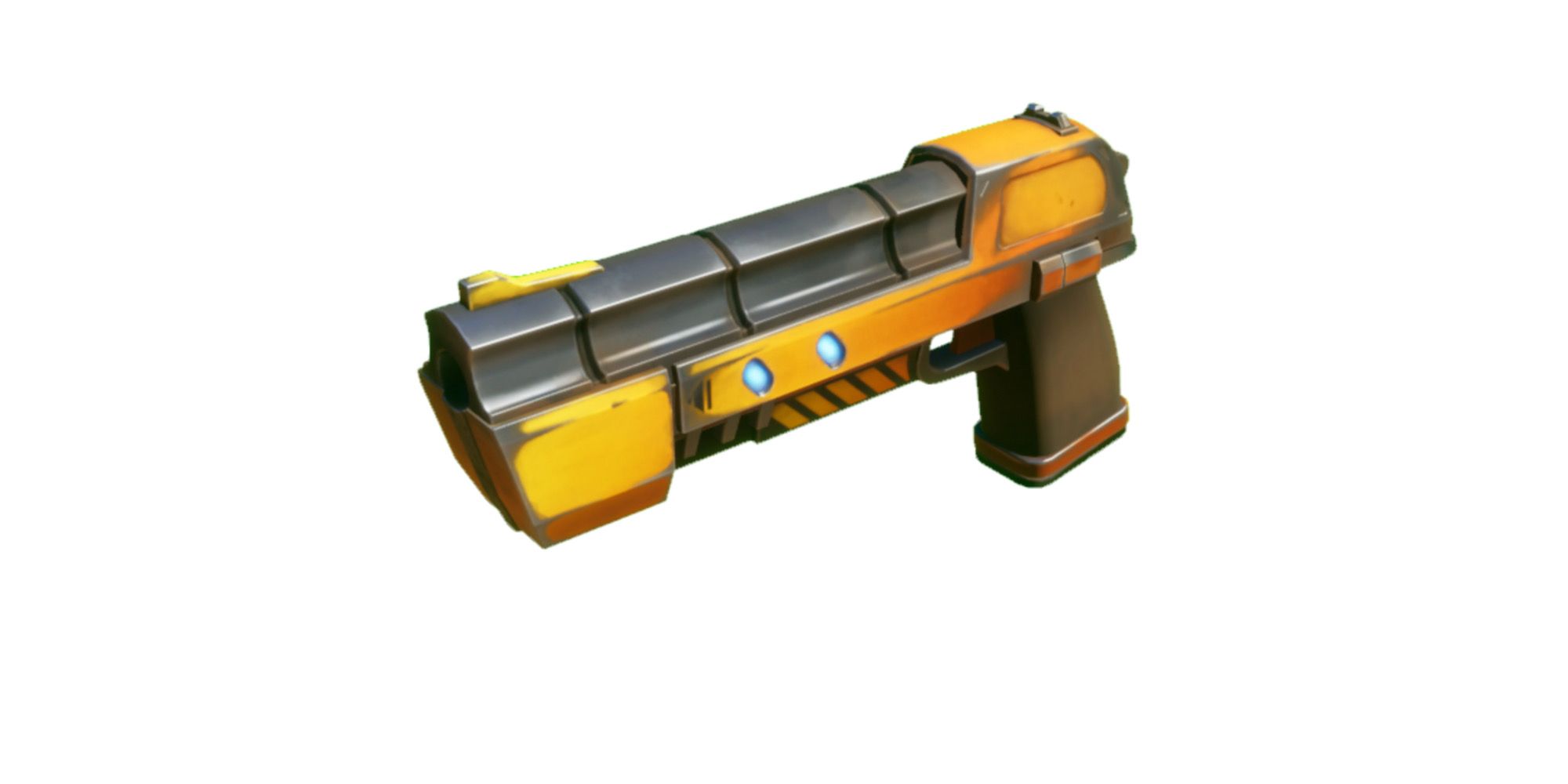 The Assault Pistol is a slow-firing handgun that packs quite a punch in its small frame. Critical hits with this gun can often drop robots in a single hit in early levels and remains effective throughout an entire playthrough.
It can be especially deadly with an affix like Freewheel which has a chance to fire a second time, especially if both shots are critical hits. All in all, the Assault Pistol is a powerhouse that can get you through an entire run with the right affixes and rarity.
7
Blast SMG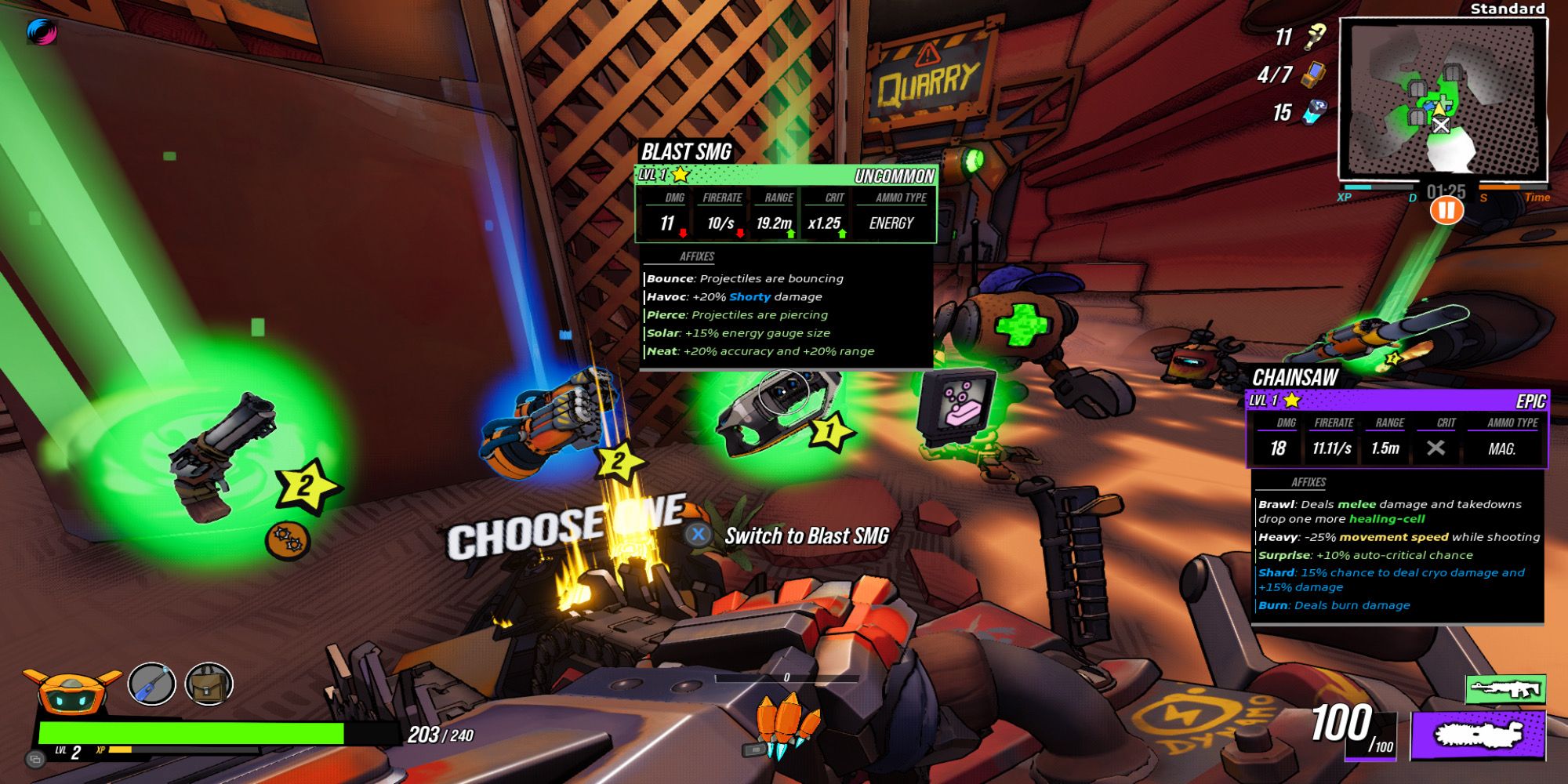 The fast fire rate paired with respectable damage makes the Blast SMG a beast when it comes to close-quarters engagements. It's easily obtained early on and makes its presence known on the battlefield by decimating enemy robots with precision and speed.
It pairs exceptionally well with the Overclocking affix, which boosts the weapon's damage by 35 percent while over 50 percent cooling. It easily turns bosses into piles of ash with ease and makes for one of the best guns available early on.
6
Throwing Knife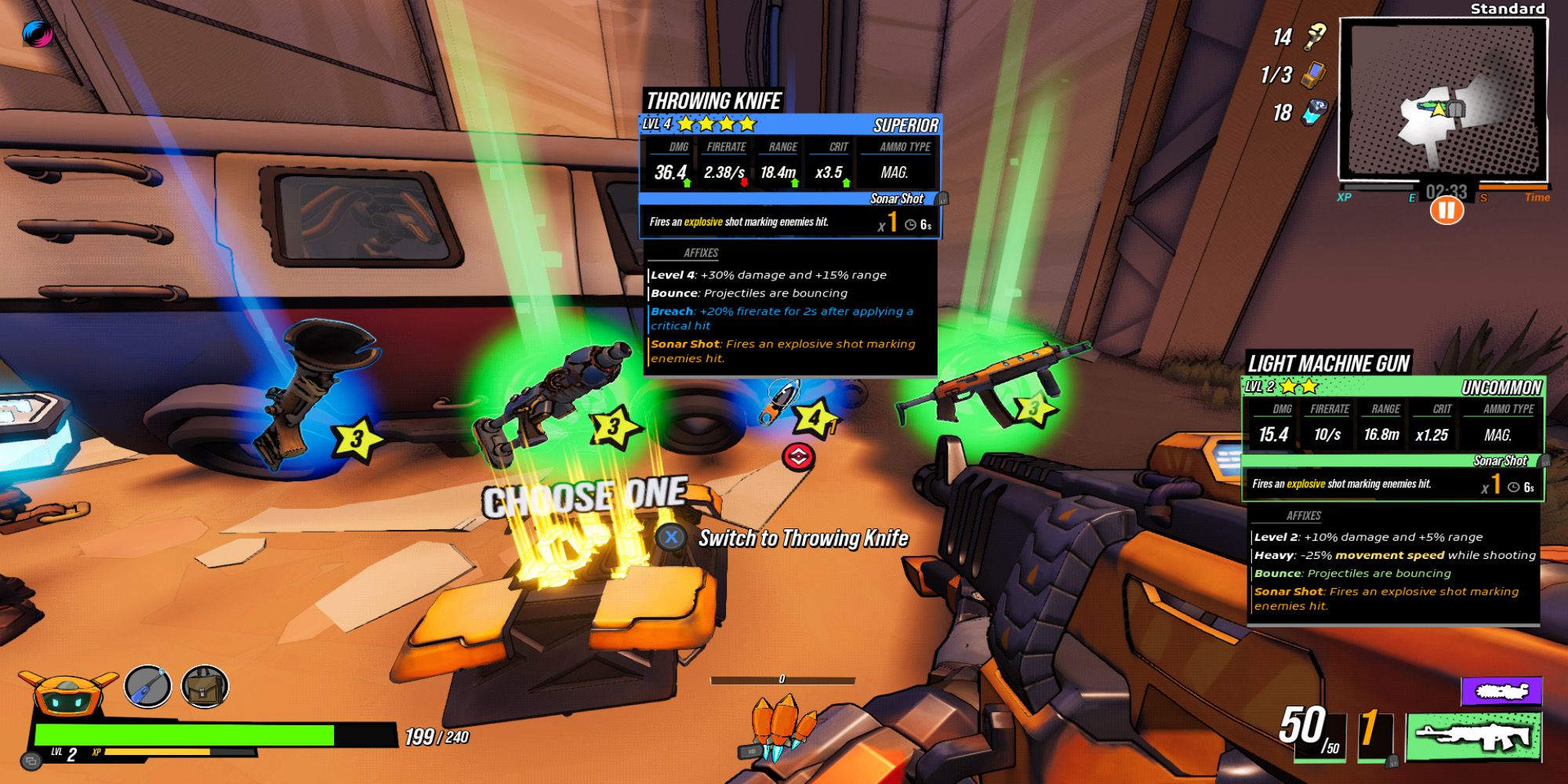 While it seems underwhelming at first, the throwing knife actually makes for quite an effective weapon versus the enemy robots. It has a relatively fast fire rate with good damage to accompany it.
Critical hits are where it truly shines due to its high critical damage multiplier. They're extremely common in the early stages of the game and can be effective until very late in the run. Throwing knives also pair great with the Ranger class since it focuses heavily on critical damage increases, making for one of the most deadly combinations in the game.
5
Dual Blast Pistols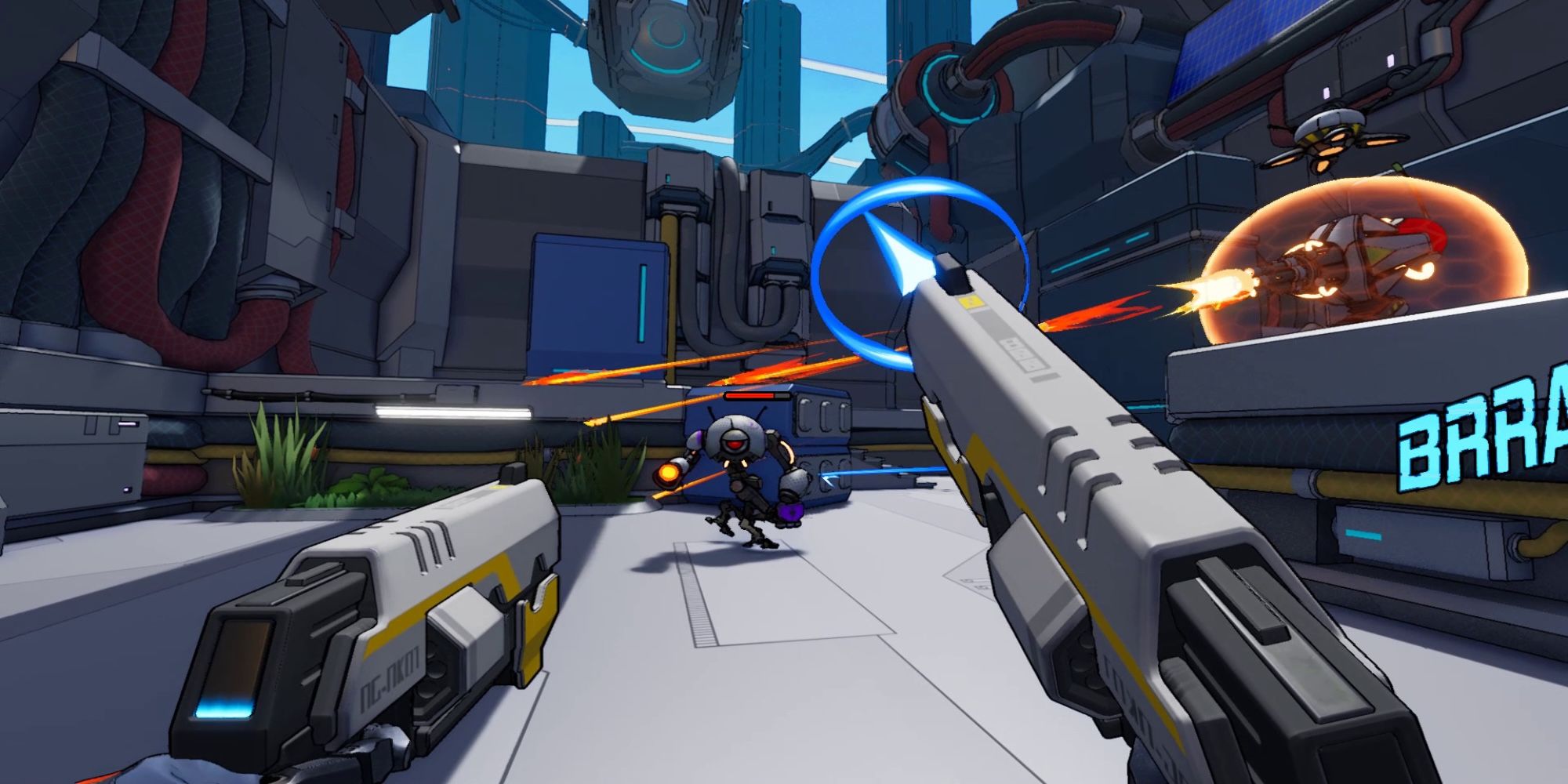 These pistols pack a mean punch and have an even meaner look about them. The Dual Blast Pistols allow for high damage, a good fire rate, and mobility all in two small packages. They're one of the rarer things to be found in Roboquest unfortunately, so it's best to pick them up whenever you manage to find a pair.
Typically, dual weapons require a mid to close-range play style. A great affix to have for the guns is Longshot, which will allow for some serious long-range power by increasing both accuracy and range by 35 percent.
4
Flare Gun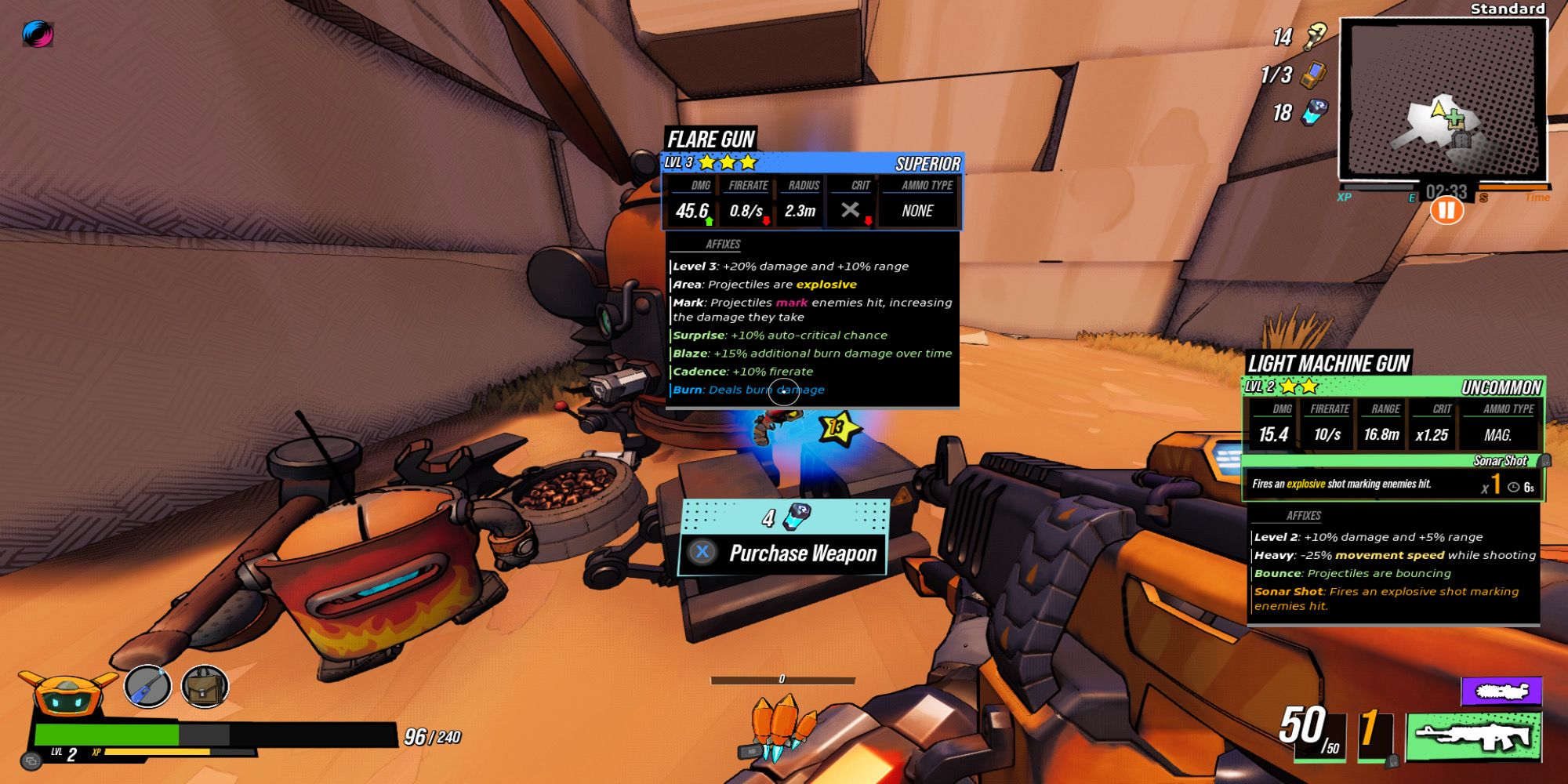 You might be wondering what exactly a flare gun is meant to do against killer robots. Aside from dealing surprising damage, the flare gun shots also inflict the Mark status effect. Mark increases the damage taken by those affected by 50 percent which can make for some amazing damage potential when used in conjunction with other weapons.
You can mark an enemy from afar and then pull out a different weapon like the Throwing Knives or Blast SMG and deal some huge damage. It's mostly a support weapon, but it can hold its own if it's all you've got aside from the starter pistol.
3
Longbow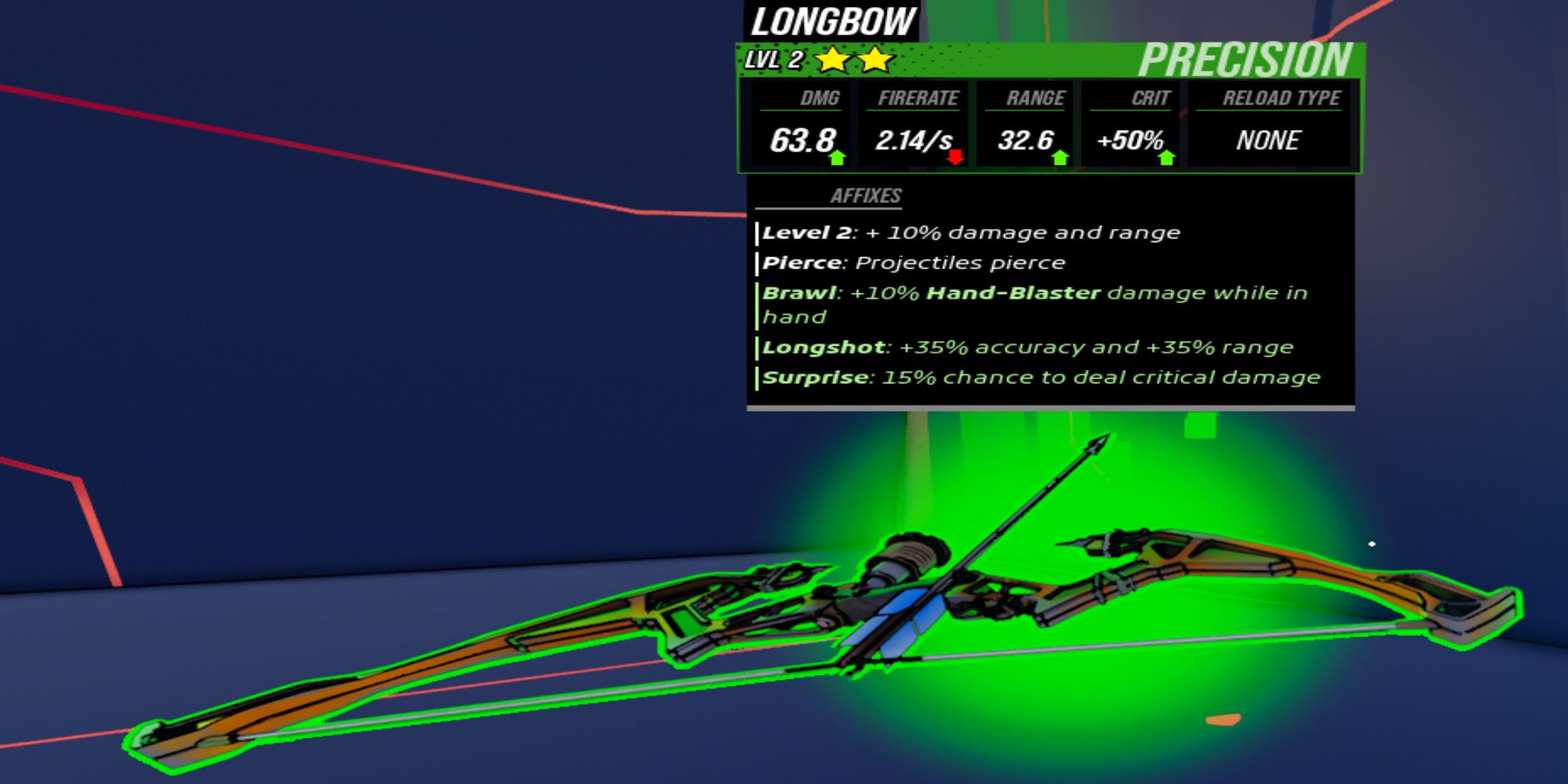 The Longbow has some great damage and a surprisingly high fire rate considering it's a bow. It also comes with the affix Pierce which enables the shots to pass through enemies. Longbows also work great with the Ranger class since they focus on critical hits and the bow deals great critical damage since it's a precision weapon.
The absolute best affix for it is Shock, which immobilizes enemies and makes it easier to land those critical shots. Cryo also works well since it slows the robots, but Shock is the way to go.
2
Minigun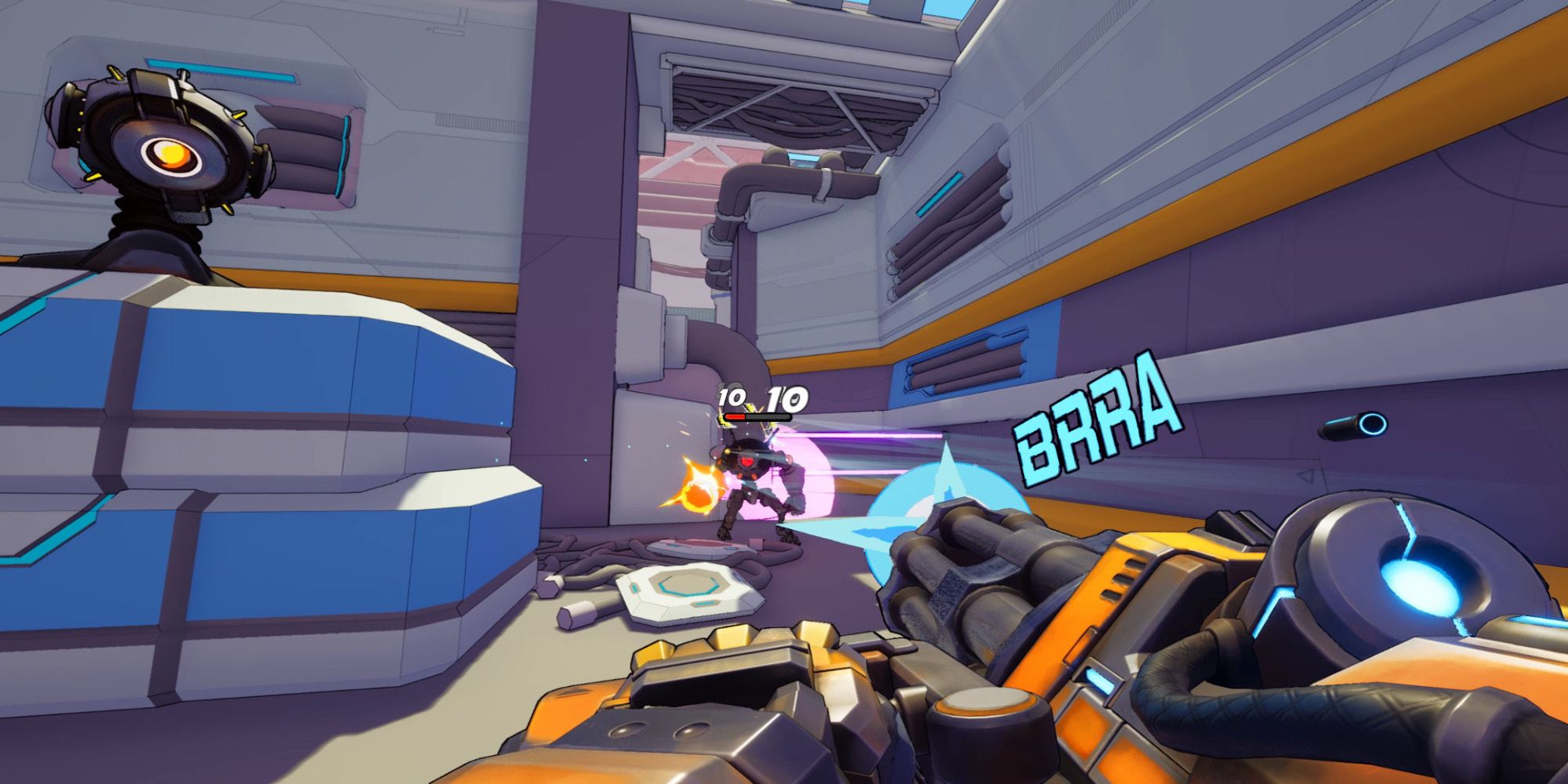 The Minigun is a master of crowd control, shredding groups of robots in record time. The main drawback to the Minigun is its lack of accuracy which is to be expected when firing such a large weapon. Thankfully, if you're lucky you can re-roll the affixes and add Longshot to the gun, making it much more effective at range.
Related: FPS Tropes That Make No Sense
The Minigun pairs great with the Guardian class and the bubble shield, making it a force to be reckoned with that will leave the robots cowering in fear. Another great affix to have in your arsenal is Seeker, this causes the bullets to seek out targets. These two in conjunction will allow you to unleash a hail of bullets from afar that will hit every target in your sight.
1
Blast Rifle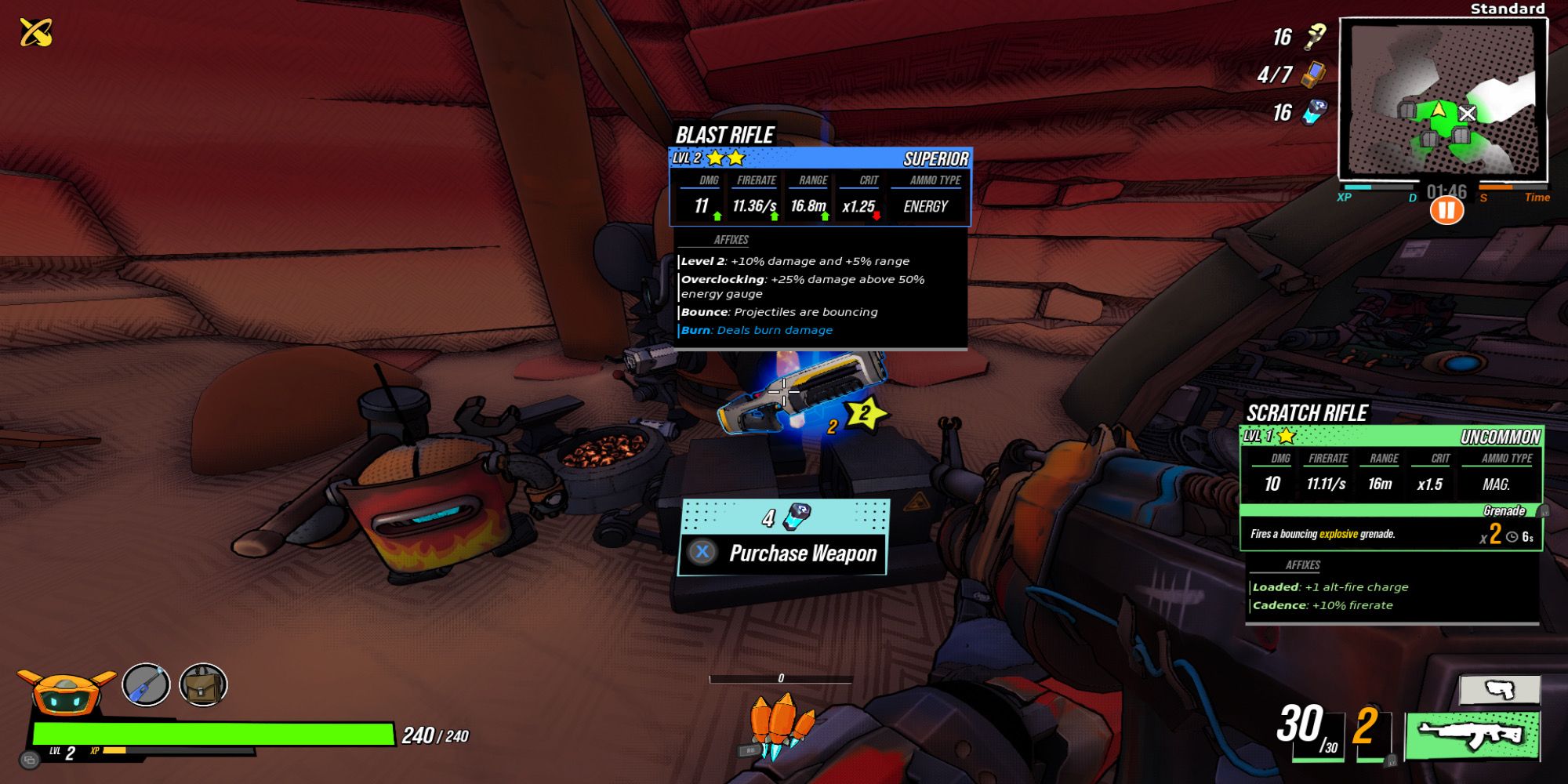 Are you looking for firepower, accuracy, and fire rate? Look no further than the pinnacle of weaponry in Roboquest. Everything that made the other rifles good have been combined into one gun, the Blast Rifle. It becomes even more powerful when paired with Overclock and perks that increase reload speeds.
It excels in long distance as well as close quarters, making it a good choice for all classes. It shines with the Commando since the Commando has many damage-increasing perks as well as a passive ability that increases reload speed when you take down enemy bots.
Next: Every Class In Roboquest, Ranked
Read original article here: www.thegamer.com
News Summary:
10 Best Weapons In Roboquest
Check all news and articles from the latest NEWS updates.
Please Subscribe us at Google News.
Denial of responsibility!
Egaxo
is an automatic aggregator around the global media. All the content are available free on Internet. We have just arranged it in one platform for educational purpose only. In each content, the hyperlink to the primary source is specified. All trademarks belong to their rightful owners, all materials to their authors. If you are the owner of the content and do not want us to publish your materials on our website, please contact us by email:
hl.footballs@gmail.com
The content will be deleted within 24 hours.