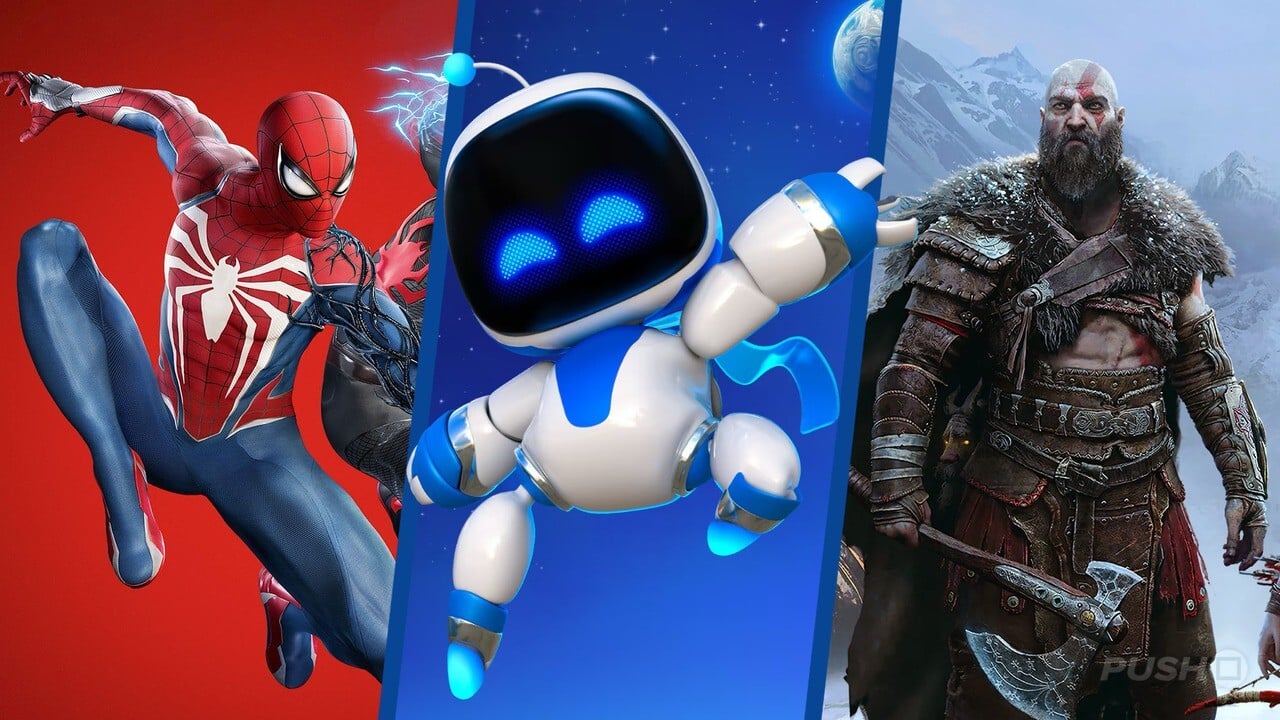 What are the best PS5 games? The PlayStation 5 is the latest home games console from Sony, released on 12th November, 2020 in North America and a week later on the 19th November, 2020 in Europe. Of course, it's the platform holder's most powerful, most premium machine to date, promising a big shift from the previous generation thanks to some advanced bells and whistles. Its super-fast SSD cuts loading times dramatically, the Tempest 3D audio engine brings a new dimension to sound, and the DualSense PS5 controller brings new sensations with its haptic feedback and adaptive triggers.
All this doesn't mean much without games, though, and in PS5's lifespan thus far, we've seen a great number of amazing titles from all corners. The console's launch lineup is one of the best, if not the best, in PlayStation's history. The flagship game from Sony was Demon's Souls, a gorgeous remake of FromSoftware's PS3 cult hit, but it was joined by many enjoyable games, including more from first-party teams. Marvel's Spider-Man: Miles Morales got things swinging in style, Sackboy: A Big Adventure was a jolly platformer for the younger market, and Call of Duty: Black Ops Cold War ensured the console had a CoD ready to roll. The thing is, nearly every launch game for PS5 is great — you really couldn't go far wrong.
And that's without even talking about the amazing Astro's Playroom. While it's mostly intended to show off PS5's hardware features in a fun way, this free, pre-installed game is an absolute delight. The diminutive robot introduces you to the DualSense with some seriously inventive levels, and what's more, the game is full to bursting with PlayStation easter eggs. Just a joy through and through.
While all this sounds ideal, the PS5 launched under very tough conditions. The COVID-19 pandemic brought the world to a halt in 2020, but Sony was determined to launch its console on time, and it did so. The downside is that, with manufacturing slowed down by shortages of crucial parts, demand has routinely outstripped supply, and PS5 stock has been few and far between ever since launch. The situation would only start to turn around a couple of years later.
Despite these rocky beginnings, the console is selling roughly on par with its predecessor, the PS4. The supply problems are gradually fading, but a steady stream of top-notch software has meant consumers are ready to sweep the shelves whenever they're able. The white and black box has had an unusual and unpredictable existence, but that hasn't stopped publishers and developers from releasing some truly excellent games.
Speaking of which, we're here to talk about the best PS5 games. No matter your tastes, there's something for everyone, and that's why this list is exciting. No matter what you enjoy, your collective top PS5 games are represented here, all outlined by your user scores. Yes, this list is entirely determined by our readers.
If you disagree with the order, you (yes, you!) can make a difference. Just below is a search bar, where you can enter the title of a PS5 game and then rate it as you see fit. All your ratings will directly influence this page — the list will shift over time to reflect the views of our readers. If you want your favourites to rise up the ranks, make yourself heard and get those ratings in.
Please note that a game will need to have at least 50 ratings before it appears on this list, just to keep things consistent and fair. Therefore, if your favourite Japanese visual novel isn't appearing, it may be because it simply doesn't have enough votes yet.
Without further ado, let's look at our ultimate list of the best PS5 games — as chosen by you.
80. Ghostwire: Tokyo (PS5)
Publisher: Bethesda Softworks / Developer: Tango Gameworks
Release Date: 25th Mar 2022 (USA) / 25th Mar 2022 (UK/EU)
Available On: PS+ Extra
As the last original game out of Bethesda to release for PlayStation platforms, Ghostwire: Tokyo is more of a whimper than a bang. While its combat can be fun for a while and its use of the PS5 DualSense controller is truly special, the game is let down by virtually everything else. Fun for a time, but not a particularly memorable title. Some will take to its spooky, Japanese elements more than others, though, so maybe there's something here that'll have your heart racing.
79. The Pathless (PS5)
Publisher: Annapurna Interactive / Developer: Giant Squid
Release Date: 12th Nov 2020 (USA) / 12th Nov 2020 (UK/EU)
The Pathless lives up to its name with a gorgeous open world to explore, but it's how you get around that sets this adventure apart. Playing as an archer, firing arrows at targets dotted throughout the map provide you a speed boost, letting you blitz through the natural environments and mysterious ruins with amazing flow. This traversal leads you to discover the secrets of a corrupted world, and you'll solve puzzles and tackle fearsome creatures in your quest to cleanse the land. A beautiful game in many ways, this is quietly one of PS5's best.
78. OlliOlli World (PS5)
Publisher: Private Division / Developer: Roll7
Release Date: 8th Feb 2022 (USA) / 8th Feb 2022 (UK/EU)
Available On:
OlliOlli World is the third entry in Roll7's side-scrolling skateboarding series, and it takes things in a brilliant new direction. The gameplay is about the same, tasking you with pulling off tricks with the left stick as you speed through each level. However, the addictive, score-chasing core that keeps you hooked is wrapped in new layers that make it far more appealing. A cel-shaded look is complemented by a chilled out soundtrack and an eclectic range of characters, making for far more pleasant presentation. Full customisation gives you much more control of your skater's look, and asynchronous multiplayer gives you a practically limitless supply of stages to master. A compulsive and fun-loving take on the extreme sport.
77. Fall Guys (PS5)
Publisher: Epic Games / Developer: Mediatonic
Release Date: 21st Jun 2022 (USA) / 21st Jun 2022 (UK/EU)
What if there was a platformer in which up to 60 players compete in chaotic obstacle courses simultaneously? Turns out this madcap idea is genius, because Fall Guys is a cracking online multiplayer madhouse. Playing as a jellybean-shaped clutz, you're up against numerous others through a series of randomly chosen stages, featuring all kinds of platforming challenges. By process of elimination, the winner will be the last one standing, and success earns you lots of excellent costumes and bragging rights. Whether you play solo or team up with friends, this is a hilarious title for all ages, and the best bit? It's free-to-play.
76. The Quarry (PS5)
Publisher: 2K Games / Developer: Supermassive Games
Release Date: 10th Jun 2022 (USA) / 10th Jun 2022 (UK/EU)
Available On: PS+ Extra
The Quarry plays just like Supermassive's other titles, with a focus on cinematics and keeping characters alive through important decisions and quick time events. It's an enjoyable enough adventure with a fun story that at least makes a change from the typical ghost stories. Get some friends over and the beers in and The Quarry can be a laugh.
75. Dead Island 2 (PS5)
Publisher: Deep Silver / Developer: Dambuster Studios
Release Date: 21st Apr 2023 (USA) / 21st Apr 2023 (UK/EU)
It took nearly 10 years to materialise, but against all odds, Dead Island 2 is a great zombie-slaying adventure. Set in Los Angeles, you work your way through various open levels as you fend off the undead with a wide variety of weapons and abilities. The story isn't anything too special, but the game makes up for it with gloriously gory action and a rounded, well-realised setting. If you just want to smash open some zombie skulls, look no further.
74. Immortals Fenyx Rising (PS5)
Publisher: Ubisoft / Developer: Ubisoft Quebec
Release Date: 3rd Dec 2020 (USA) / 3rd Dec 2020 (UK/EU)
Available On: PS+ Extra
Developed primarily by the team that crafted the gigantic Assassin's Creed Odyssey, Immortals Fenyx Rising is an open world fantasy RPG with an emphasis on fluid combat and puzzle solving. You play as the customisable Fenyx — a hero tasked with ridding the realm of a corruption spread by Typhon — a key figure in Greek mythology. In fact, Immortals is heavily based on Greek myth, but the story's told through humorous character interactions and offbeat narration. As such, it can be a fun adventure for players of all ages.
73. Puzzling Places (PS5)
Publisher: Realities.io / Developer: Realities.io
Release Date: 22nd Feb 2023 (USA) / 22nd Feb 2023 (UK/EU)
You may not have predicted PSVR2 would be the perfect peripheral for jigsaw puzzles, but Puzzling Places is an immaculately executed experience that's unbelievably addictive on Sony's new headset. Inspired by a huge number of real-world locations, buildings, and monuments, the game sees you connecting 3D pieces to build wonderfully detailed scenes. You can set the number of pieces, making a puzzle as easy or difficult as you like, and each one is enhanced by diegetic audio which provides a calming sense of place as you piece together the parts.
72. Crisis Core: Final Fantasy VII Reunion (PS5)
Publisher: Square Enix / Developer: Square Enix
Release Date: 13th Dec 2022 (USA) / 13th Dec 2022 (UK/EU)
Crisis Core remains as cheesy and cringy as ever on PS5, but it's a much more approachable game now thanks to this largely fantastic remaster from Square Enix. With a refined combat system and gameplay mechanics, alongside much-updated visuals, the Final Fantasy VII prequel is well worth playing if you're a fan of the series-within-a-series. Just try not to take the storytelling too seriously!
71. No Man's Sky (PS5)
Publisher: Hello Games / Developer: Hello Games
Release Date: 12th Nov 2020 (USA) / 19th Nov 2020 (UK/EU)
The initially rough reception of No Man's Sky can safely be put to bed. Hello Games has stayed fully committed to its procedurally generated space exploration adventure, fleshing it out with a staggering number of huge updates. Not only does the game look and run much better these days, it's bursting with things to see and do, and that's without considering the 18 quintillion planets waiting to be discovered. The PS5 release is the best version you can play on console, too, with minimised load times, great DualSense integration, and now even optional PSVR2 support.
70. Overcooked: All You Can Eat (PS5)
Publisher: Team 17 / Developer: Ghost Town Games
Release Date: 12th Nov 2020 (USA) / 19th Nov 2020 (UK/EU)
Overcooked: All You Can Eat serves up everything from Overcooked and Overcooked 2 in one delicious meal. All that content has been refreshed and remastered, with online play now spread across both games, and even more DLC added on top. The brilliance of this series is how it forces you to truly work together — if you don't, chaos can quickly take hold, and you'll never get those three-star ratings on each level. It's also extremely accessible, with easy-to-grasp controls and objectives. Looking better than ever on PS5, it's the ultimate way to enjoy one of the best co-op party games in recent memory.
69. Thumper (PS5)
Publisher: Drool / Developer: Drool
Release Date: 22nd Feb 2023 (USA) / 22nd Feb 2023 (UK/EU)
One of the stars of the original PSVR's launch lineup, time has not dulled Thumper's rhythm violence. Playing as a space beetle careening down a tunnel, PSVR2's improved visual fidelity and haptic feedback has meaningfully enhanced this contemporary classic. While it can also be played on a standard television screen, virtual reality is transformative for this title, embedding you in its otherworldly environments in a way no traditional 4K panel can.
68. Star Wars: Tales from the Galaxy's Edge – Enhanced Edition (PS5)
Publisher: Disney Interactive / Developer: ILMxLAB
Release Date: 22nd Feb 2023 (USA) / 22nd Feb 2023 (UK/EU)
An upgraded version of a Meta Quest favourite, Star Wars: Tales from the Galaxy's Edge enables you to live out your dream George Lucas power fantasy, in an original story inspired by a Disneyland ride with the same name. While the gameplay can get fiddly and repetitive, there's no doubt that wielding your very own authentic Blaster is a mind-blowing moment, and this Expanded Edition comes with additional chapters which take you deep into Storm Trooper territory – and even assuming the role of an IG-88 assassin droid from the Empire Strikes Back.
67. F.I.S.T.: Forged in Shadow Torch (PS5)
Publisher: Bilibili / Developer: TiGames
Release Date: 7th Sep 2021 (USA) / 7th Sep 2021 (UK/EU)
F.I.S.T.: Forged in Shadow Torch might be a pain to type, but the game itself is a great Metroidvania. You play as a rabbit with an enormous robotic arm in a cyberpunk-like world inhabited by anthropomorphic animals. Off to rescue a friend, the freedom fighter finds himself caught up in all kinds of mess, and it'll be down to you to fight through it. Engaging combat is at the heart of the game, but you're also rewarded for exploring the world, and the story is kept interesting by some great characters.
66. LEGO Star Wars: The Skywalker Saga (PS5)
Publisher: Warner Bros / Developer: TT Games
Release Date: 5th Apr 2022 (USA) / 5th Apr 2022 (UK/EU)
The force is strong with this one. While there have been several instalments in the past, LEGO Star Wars: The Skywalker Saga is the culmination of TT Games' previous efforts. Encompassing all nine mainline movies, this is a huge platformer adventure featuring all the most iconic sequences you remember from the big screen. When you're not progressing the story, it turns into a sandbox, letting you explore myriad locations from the films and play as one of hundreds of characters. Its gameplay is also more modern than the older LEGO Star Wars titles, sharpening up shooting and making combat more exciting. There's so much to see and do here that Star Wars fans need not play anything else for a while.
65. Stray (PS5)
Publisher: Annapurna Interactive / Developer: BlueTwelve Studio
Release Date: 19th Jul 2022 (USA) / 19th Jul 2022 (UK/EU)
Available On: PS+ Extra
Playing as a lost cat in a mysterious underground cybercity, Stray is a truly unique title. This is a short but sweet adventure game that emphasises exploration and investigation from a feline perspective, and it works wonderfully. Linear levels are punctuated by more open areas that are a real treat to explore with your catty dexterity, letting you meet robotic buddies as you weave through the streets and rooftops of a decaying town. While you're busy scratching up furniture and knocking things over, an intriguing sci-fi narrative unfolds around you. Gorgeous art direction and brilliant animation are the icing on this adorable cake.
64. Crash Bandicoot 4: It's About Time (PS5)
Publisher: Activision / Developer: Toys for Bob
Release Date: 12th Mar 2021 (USA) / 12th Mar 2021 (UK/EU)
Available On:
Crash Bandicoot is one of PlayStation's most iconic platforming heroes, and now that he's double-jumped onto PS5, there's no excuse for skipping Crash Bandicoot: It's About Time. This sequel stays true to the series' origins, but it's bursting with brand new ideas and jaw-dropping set-piece moments. Running at a flawless 60 frames-per-second in sparkling 4K resolution — and cutting those load times to almost nothing — this release is at its absolute best on Sony's next-gen console.
63. F1 2021 (PS5)
Publisher: EA Sports / Developer: Codemasters
Release Date: 16th Jul 2021 (USA) / 16th Jul 2021 (UK/EU)
F1 2021 is the best and most complete version of the annual motorsport simulator. As expected, it contains all the teams, cars, and tracks from the real-world season, and the in-depth career mode is as engrossing as ever. However, it's the ways the game broadens its appeal that really impress. Braking Point is a great introduction to the world of Formula One, offering not only a fun primer for the proper career modes, but a twist of drama with some cool characters. The addition of Two Player Career and other features make it a more flexible game, letting you really tinker with it to get the experience you want. Oh, and Codemasters' typically excellent handling model is a winner once again.
62. Resident Evil 3 (PS5)
Publisher: Capcom / Developer: Capcom
Release Date: 13th Jun 2022 (USA) / 13th Jun 2022 (UK/EU)
A PS5 upgrade was never going to restore all of that cut content, but Resident Evil 3 on Sony's latest system is at least the best way to experience it. With extremely fast load times and impressive ray tracing support, this more action-focused entry shines with solid combat and fun environments. It's still far too short, but Resident Evil 3 is worth a playthrough for survival horror fans.
61. The Elder Scrolls V: Skyrim Anniversary Edition (PS5)
Publisher: Bethesda Softworks / Developer: Bethesda Game Studios
Release Date: 11th Nov 2021 (USA) / 11th Nov 2021 (UK/EU)
Available On: PS+ Extra
One of the most enduring games in history, Bethesda's iconic RPG comes to PS5 with The Elder Scrolls V: Skyrim – Anniversary Edition. What's more, it's quite simply the best version of Skyrim to ever grace a PlayStation console. This is a real cut above previous versions (which were often riddled with bugs), offering a mostly locked 60 frames-per-second at 4K resolution. It's taken a decade, but Bethesda has finally delivered a smooth experience with this PS5 release — and crucially, the game is still a fantastic, enormous RPG well worth playing today.
Source: www.pushsquare.com