Those that explore the northeast part of the map in Legend of Zelda: Breath of the Wild will find themselves in the Akkala Region of Hyrule. There isn't a Divine Beast to rule over Akkala, but there are plenty of Shrines to activate and side quests to take on. While in Akkala, players may want to be on the lookout for the monster shop, Fang and Bone.
Fang and Bone not only has unique merchandise, but it has its own currency system for purchases. In order to access the Fang and Bone shop, Link will need to speak to its owner, Kilton. From that point on, Kilton will set up shop at various places in Breath of the Wild. Here's where to find him and his unique selection of goods.
RELATED: Breath of the Wild: How to Find & Upgrade The Barbarian Set
Where to Find Kilton
Players will need to visit the Skull Lake location in north Akkala, northwest of East Akkala Stable (Katosa Aug Shrine) and the Akkala Ancient Tech Lab. On the Skull's left eye, there's the Zuna Kai Shrine. On the other eye at the bottom of the pillar, players can spot Kilton's balloon. Speak to Kilton, have Link say that he likes monsters (even if players disagree), and Kilton will formally open up shop.
Kilton can only be visited at night. If players go to Skull Lake from morning to evening, he won't appear. Light a fire with wood and flint, then wait until night.
If players speak to a man named Hoz at the East Akkala Stable, they can get the sidequest A Shady Customer. This requires Link to take a picture of Kilton (with the Camera Rune on the Sheikah Slate). The picture can be taken during or after Link's first visit to the Fang and Bone shop. Show it to Hoz to receive 100 rupees as a reward.
Fang and Bone Locations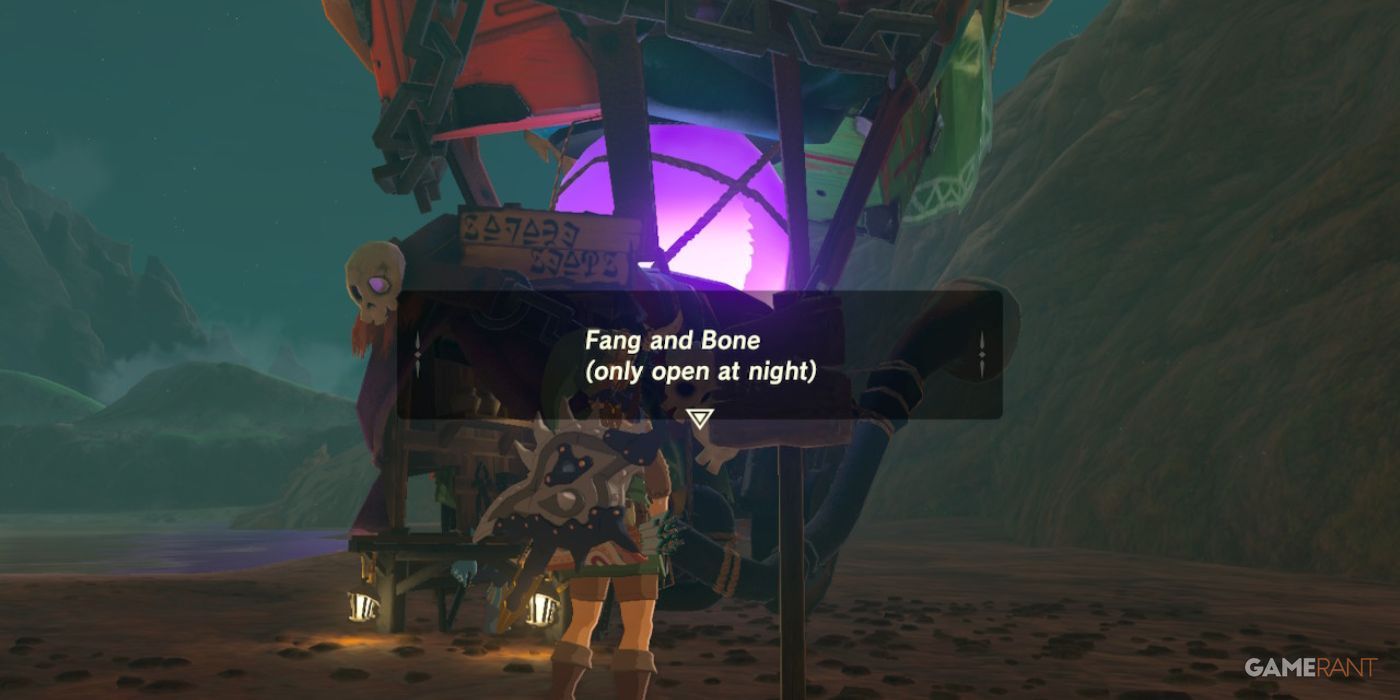 Once Kilton flies off, he'll set up shop in the following locations:
Rito Village
Hateno Village
Kakariko Village
Zora's Domain
Lake Akkala
Lurelin Village
Gerudo Town
Kilton will never appear at Skull Lake after his first meeting. Additionally, keep in mind that Fang and Bone only opens at night. Kilton likes to camp just outside of town, and he'll appear in whichever town is closest to Link.
Rito Village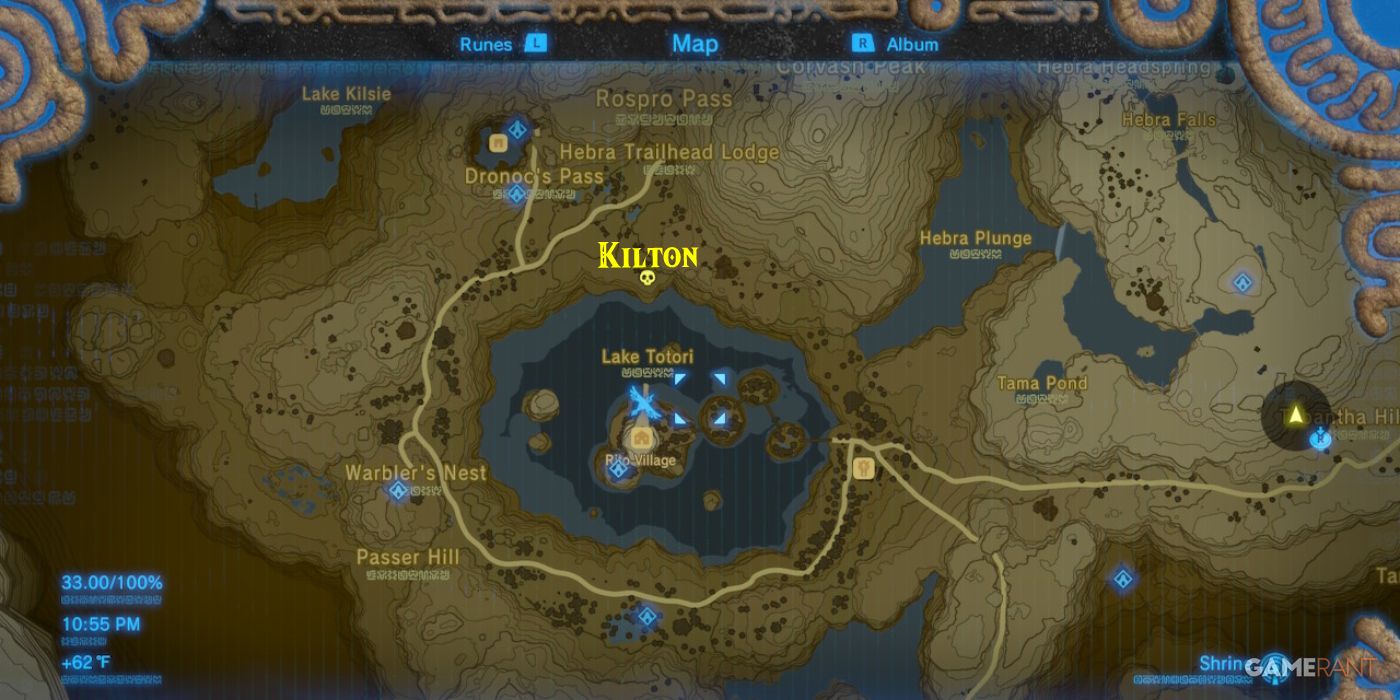 Kilton's shop is north of Rito Village on the very edge of a cliff. If Link is in Rito Village, he can use the paraglider to reach Kilton. Otherwise, just follow the path.
Zora's Domain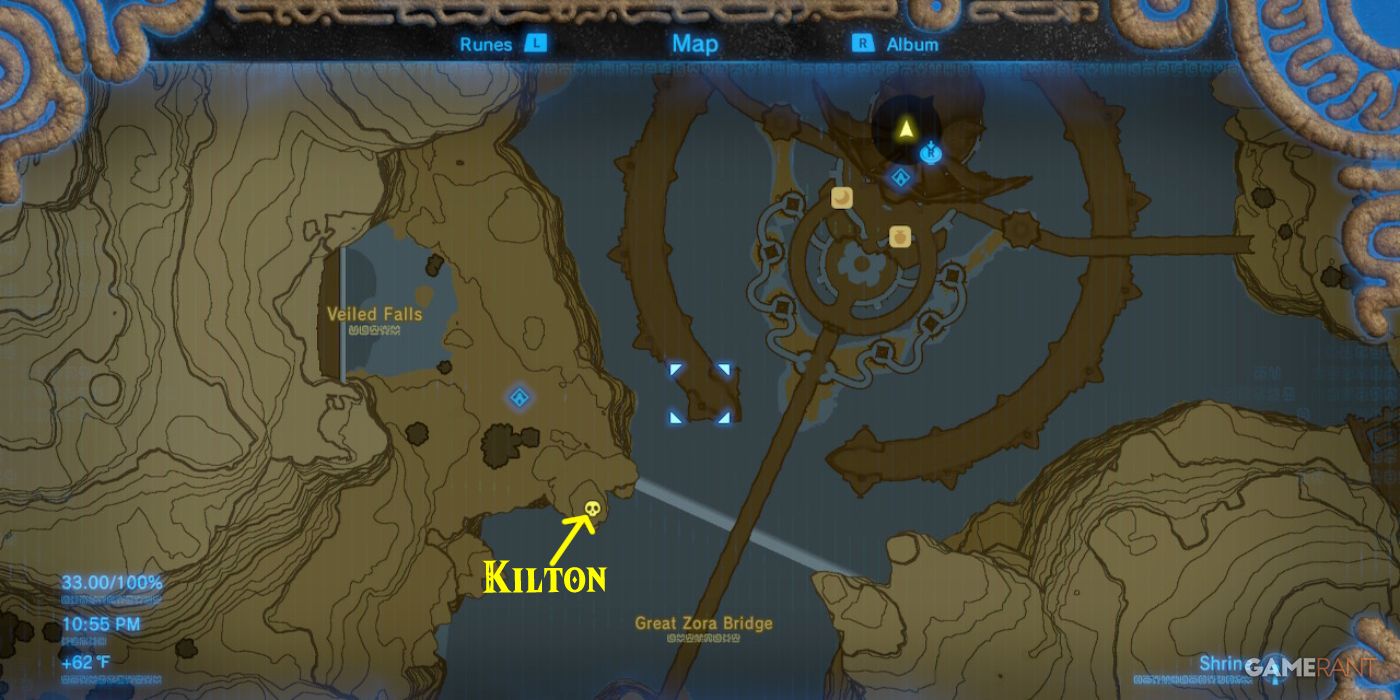 Fang and Bone sets up just outside of Zora's Domain near the Veiled Falls. This is also the area where Link can use the Ceremonial Trident to unearth a Hidden Shrine. Just like Rito Village, he's at the very edge of the cliff southeast from Veiled Falls.
Gerudo Town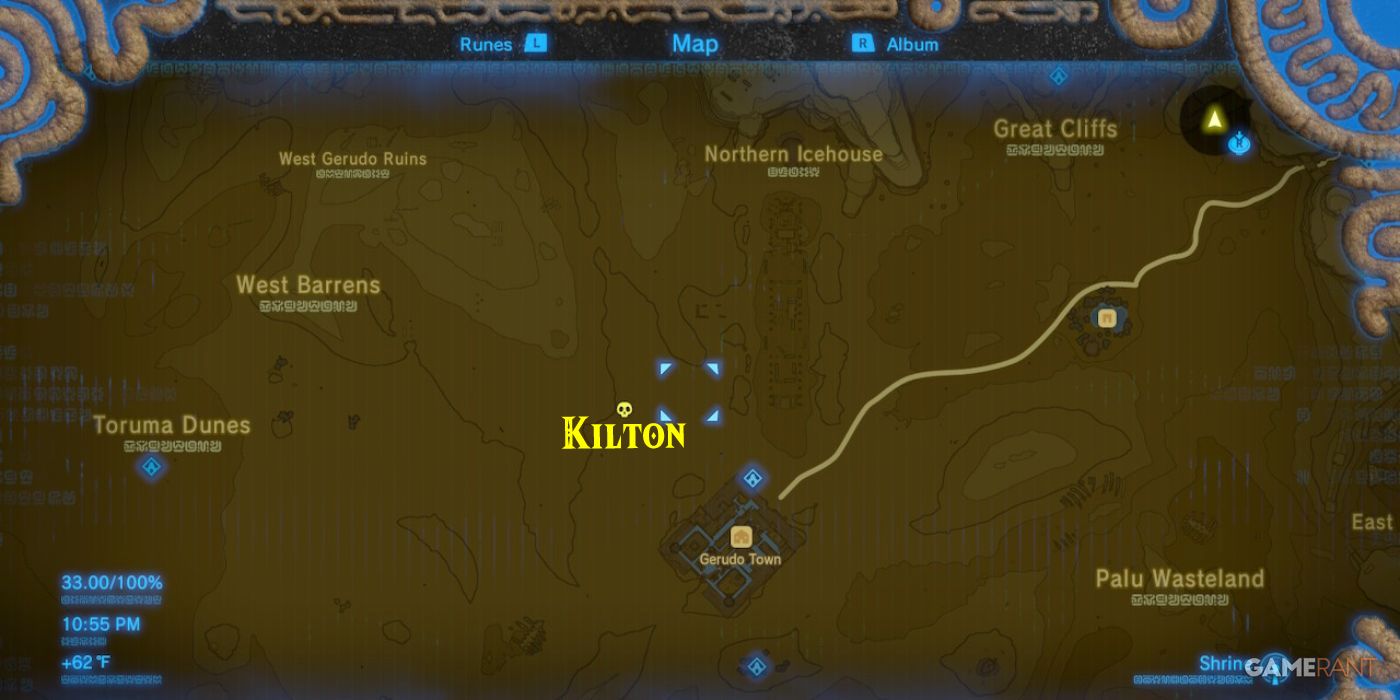 Kilton may have various monster masks for sale, but that's not enough to get him into Gerudo Town. Players can spot him just northwest of the Gerudo Town's Shrine (Daqo Chisay). Make sure to have Link equipped with cold-resistant armor, such as the Snowquill Set, or have him carry a flame weapon (ex: Meteor Rod, Flamespear) to handle the cold of desert night.
RELATED: Breath of the Wild: Where to Farm Tabantha Wheat
Lake Akkala (Tarrey Town)
This time, Fang and Bone is under the "bridge" leading to Tarrey Town. There isn't a Shrine in Tarrey Town, so the closest warp point will be the Dah Hesho Shrine. Link can use the paraglider from Dah Hesho to the shores of Lake Akkala.
Kakariko Village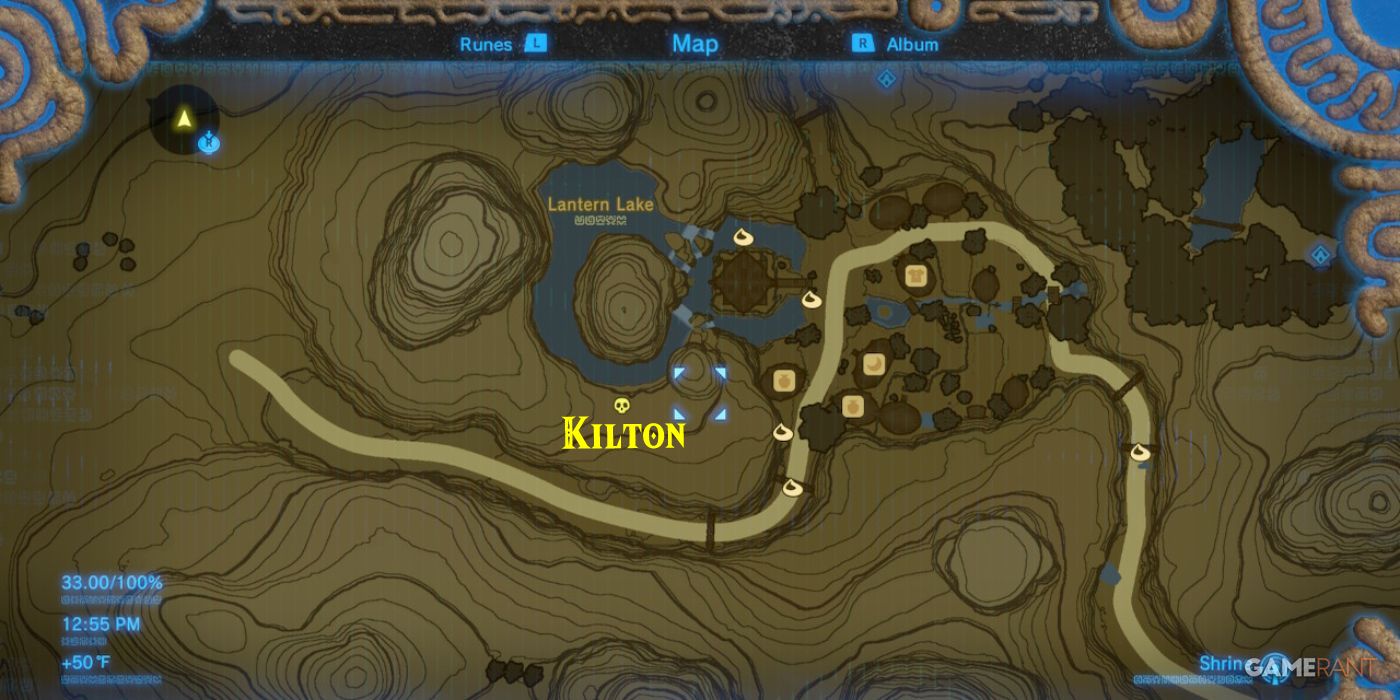 For the Kakariko Village location, Link will need to have enough stamina to climb the walls behind Impa's house. Having the Zora Armor to scale the waterfalls will help, too. If players are having trouble spotting it, Kilton's shop can be seen from the Kakariko Village Shrine (Ta'loh Naeg).
Hateno Village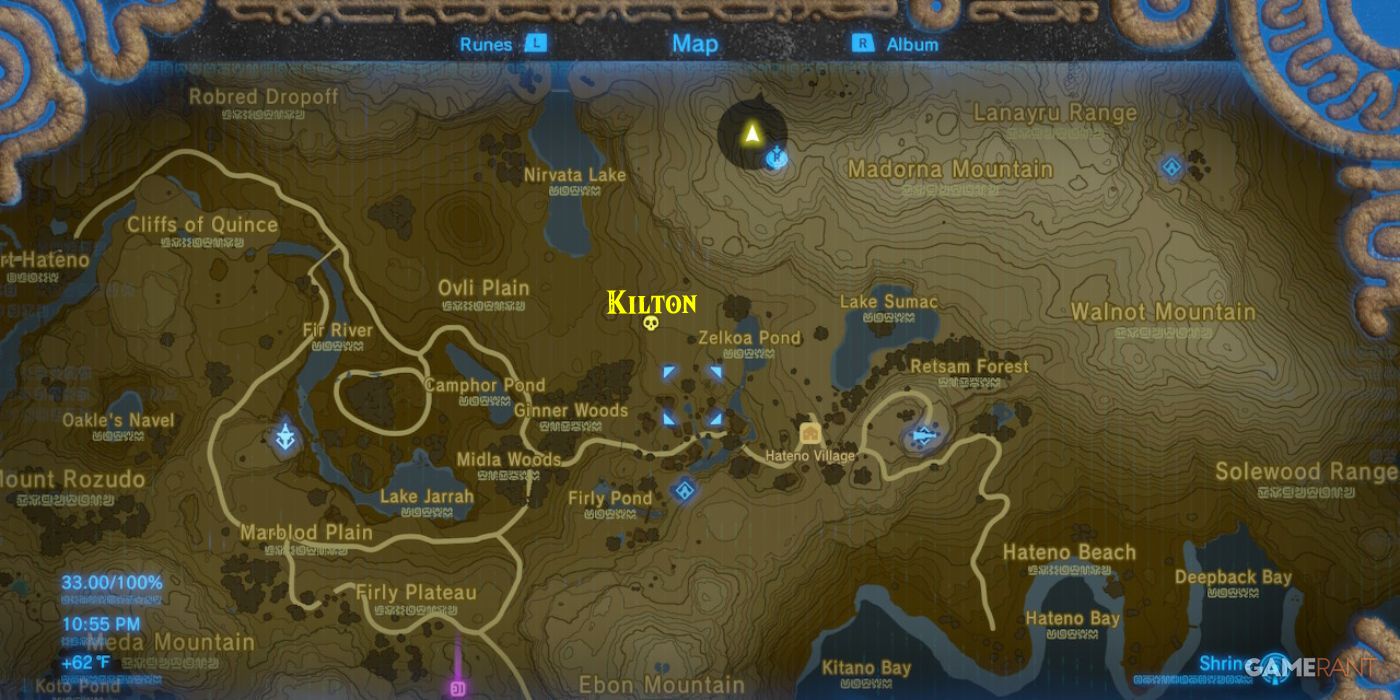 Players can find Kilton in Hateno Village by going west from Zelkoa Pond. Climb the cliffs or use the Zora Armor to swim up the waterfall in Zelkoa Pond to reach him. Compared to his other locations, this one's a bit farther out with a chance of running into monsters. Thus, players may want to warp some place else.
Lurelin Village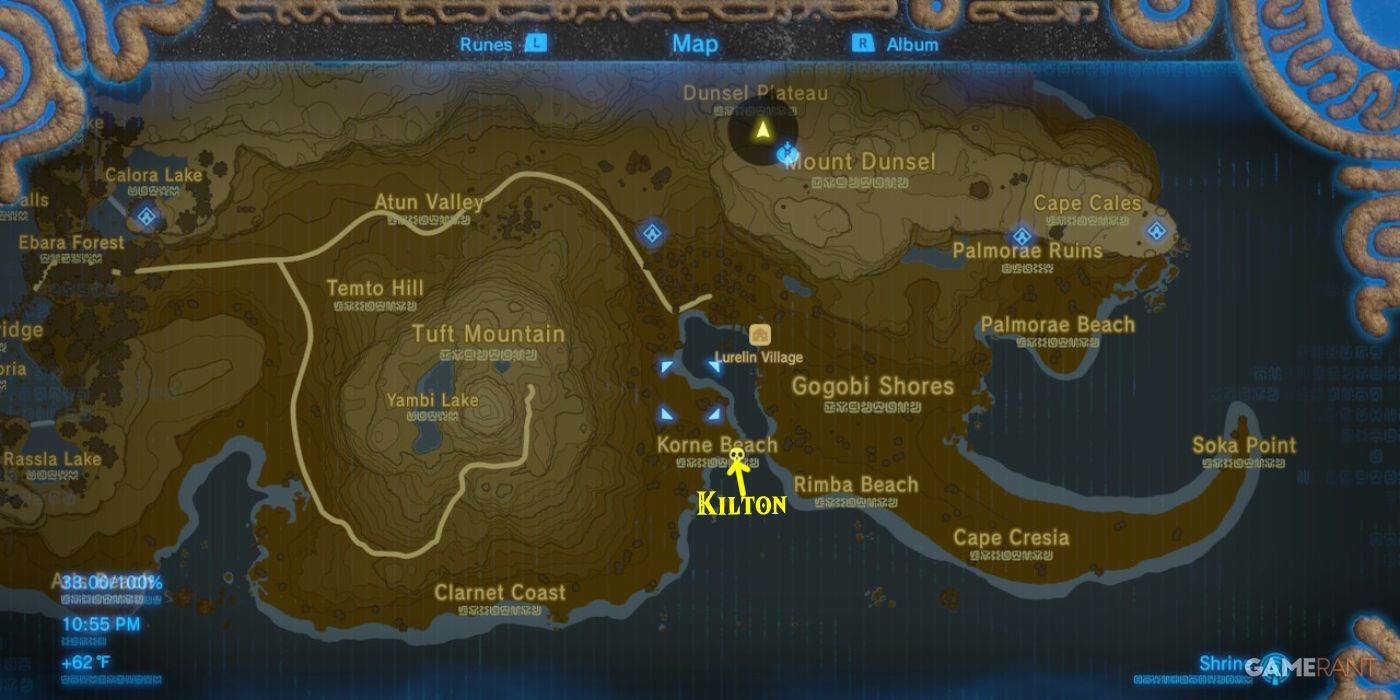 The final area of Fang and Bone is in Lurelin Village. He's south of the Lurelin Village Shrine (Yah Rin) on the shores of Korne Beach. Players can either build ice platforms with Cryonisis or they can go around.
RELATED: Zelda: BotW – All Recipes
Fang and Bone Wares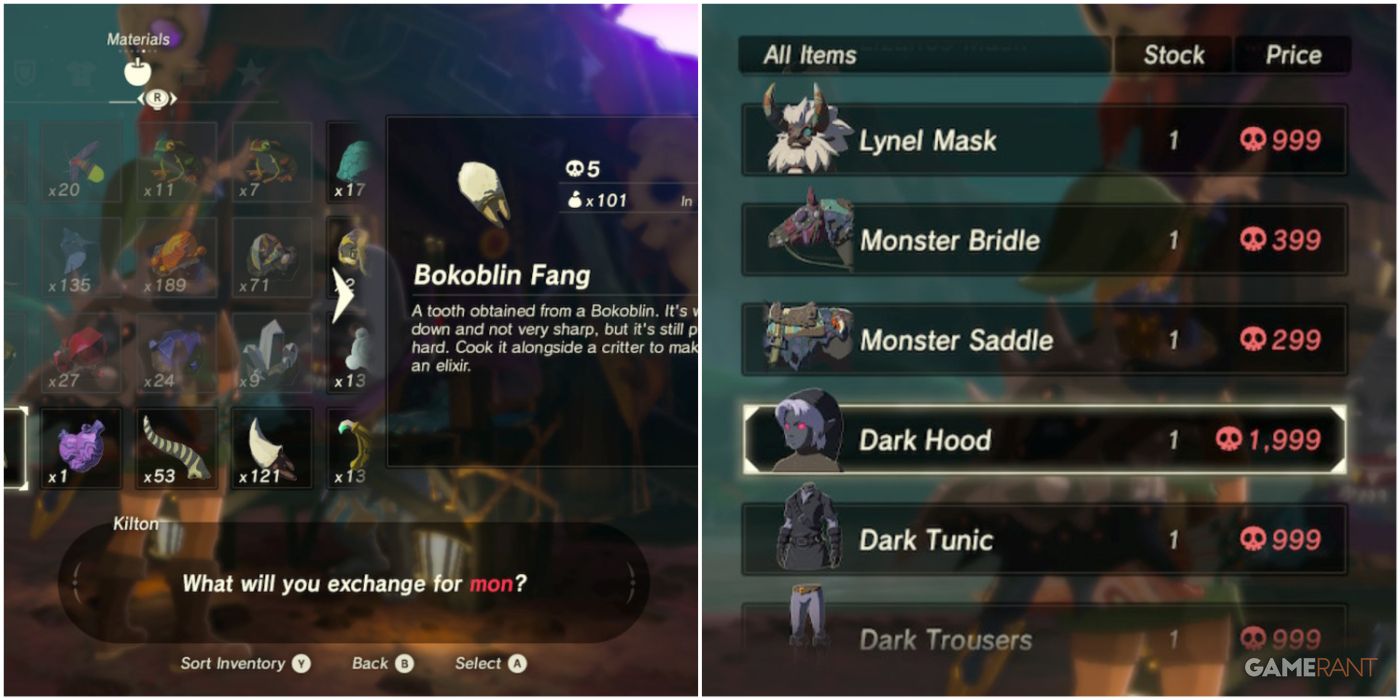 Kilton won't accept rupees as payment. Instead, Link will need to collect mon, a special currency which is earned by trading in monster parts. The rarer the monster part, the more mon Kilton will pay. However, players will want to refrain from trading in items such as the Giant Ancient Core due to their rarity. Monster parts such as the Lynel Hooves are required for upgrading Armor, which is usually preferred over a few pieces of mon. Instead, trade in items like Bokoblin Fangs or Moblin Horns in bulk.
Several of the items in Fang and Bone require Link to defeat the Divine Beasts in order to unlock. Here's everything that will become available:
| Merchandise | Price (Mon) | Requirement |
| --- | --- | --- |
| Monster Extract | 9 | N/A |
| Wooden Mop | 9 | N/A |
| Bokoblin Mask | 99 | N/A |
| Spring-Loaded Hammer | 199 | Defeat one of the Divine Beasts. |
| Moblin Mask | 199 | Defeat one of the Divine Beasts. |
| Lizalfos Mask | 299 | Defeat two of the Divine Beasts. |
| Monster Saddle | 299 | Defeat two of the Divine Beasts. |
| Monster Bridle | 399 | Defeat two of the Divine Beasts. |
| Lynel Mask | 999 | Defeat three of the Divine Beasts. |
| Dark Tunic | 999 | Defeat all the Divine Beasts. |
| Dark Trousers | 999 | Defeat all the Divine Beasts. |
| Dark Hood | 1999 | Defeat all the Divine Beasts. |
The Legend of Zelda: Breath of the Wild is available now on Nintendo Switch.
MORE: Tears of the Kingdom – Release Date, News, Trailers
Read original article here: gamerant.com
News Summary:
Breath of the Wild: Where to Find Fang and Bone (Kilton's Shop)
Check all news and articles from the latest GUIDES updates.
Please Subscribe us at Google News.
Denial of responsibility!
Egaxo
is an automatic aggregator around the global media. All the content are available free on Internet. We have just arranged it in one platform for educational purpose only. In each content, the hyperlink to the primary source is specified. All trademarks belong to their rightful owners, all materials to their authors. If you are the owner of the content and do not want us to publish your materials on our website, please contact us by email:
hl.footballs@gmail.com
The content will be deleted within 24 hours.