Guides
Civilization 6: Tokugawa Leader Guide
The Great Commanders Pack was the second DLC in the Civilization 6 Leader Pass, and introduces two brand-new Leaders as well as an alternate Persona for Suleiman the Magnificent. Along with Nader Shah of Persia and Suleiman the Magnificent of the Ottomans, the DLC also features Tokugawa Ieyasu, the second Leader of Japan in Civilization 6.
Tokugawa Ieyasu is renowned as one of the three great unifiers of Japan, who helped to end the tumultuous Sengoku Period and founded the Tokugawa Shogunate which would rule Japan for the next two centuries. The Tokugawa Shogunate is often remembered for its strict isolationist stance, which is represented by Tokugawa's Bakuhan Ability in Civilization 6.
RELATED: Civilization 6: Victoria – Age of Steam Leader Guide
Tokugawa's Features and Abilities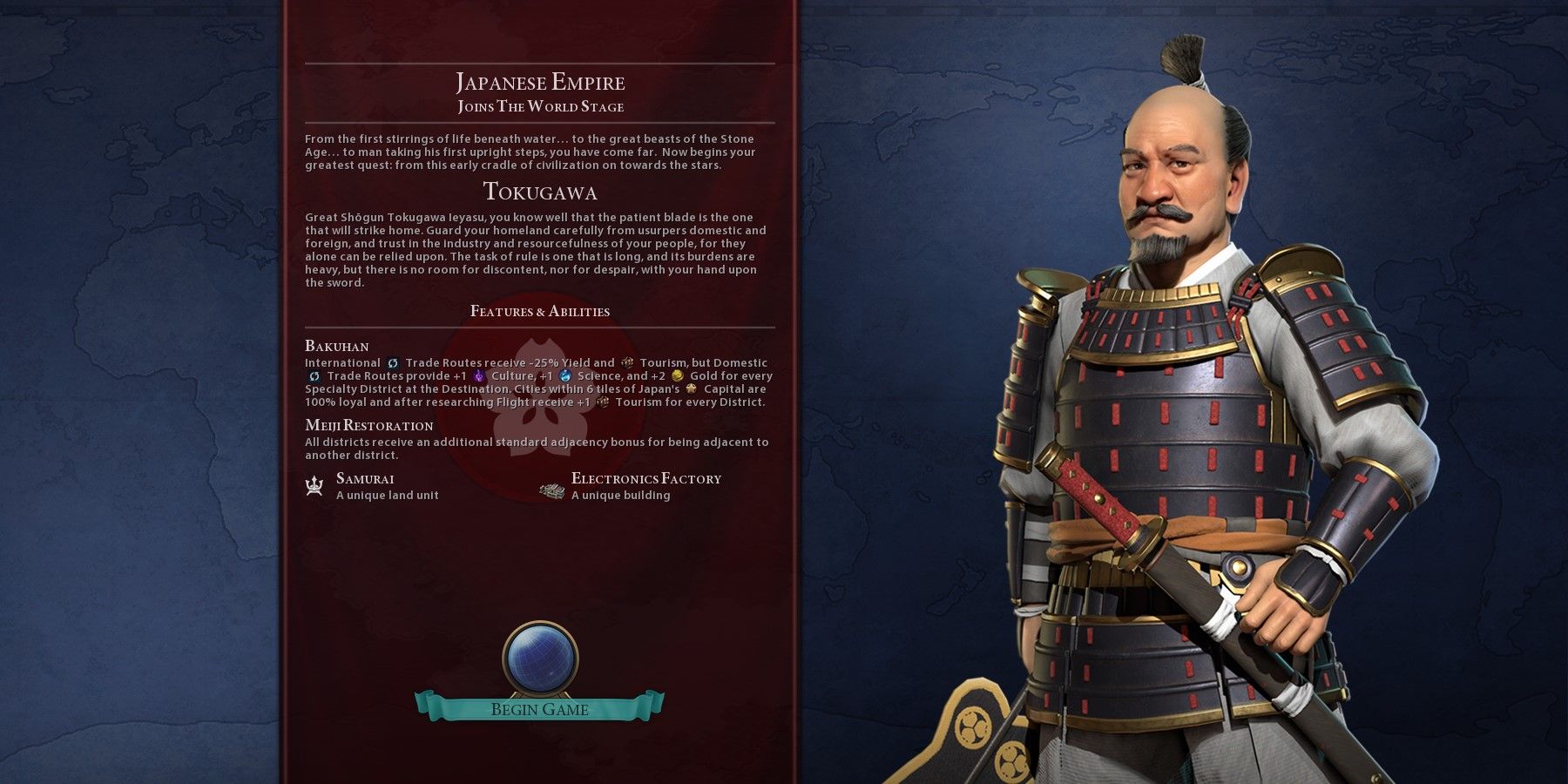 As a new Leader of Japan, Tokugawa shares the same Civilization Ability, Unique Unit, and Unique Building as Hojo Tokimune. However, his Bakuhan Leader Ability is very different to Hojo's Divine Wind, focusing more on internal affairs and growth rather than the military.
Name

How it works

Leader Ability

Bakuhan

International Trade Routes receive -25% yields and Tourism
Domestic Trade Routes gain +1 Culture, +1 Science, and +2 Gold for each Specialty District at the destination.
Cities within 6 tiles of Japan's capital gain +4 Amenities, as well as +1 Tourism for each District after researching Flight (Cities get maximum Loyalty instead of Amenities with the Gathering Storm expansion)

Civilization Ability

Meiji Restoration

Districts receive a +1 adjacency bonus for each adjacent District, instead of 0.5.

Unique Unit

Samurai

Unique Japanese Medieval Era Melee unit
Unlocked after researching the Feudalism Civic
Replaces the Man-At-Arms – Higher combat strength and doesn't suffer a penalty while wounded
2 Movement, 2 Sight
48 Melee strength
3 Gold maintenance cost

Unique Building

Electronics Factory

Unlocked by Industrialization Technology
Replaces Factory – Higher Production and additional Culture output when powered
+4 Production to all City Centers within 6 tiles of the Electronic Factory's Industrial Zone. (+3 with Gathering Storm)
+4 Culture when Electricity is researched
+5 Production when powered (Gathering Storm)
How to Play as Tokugawa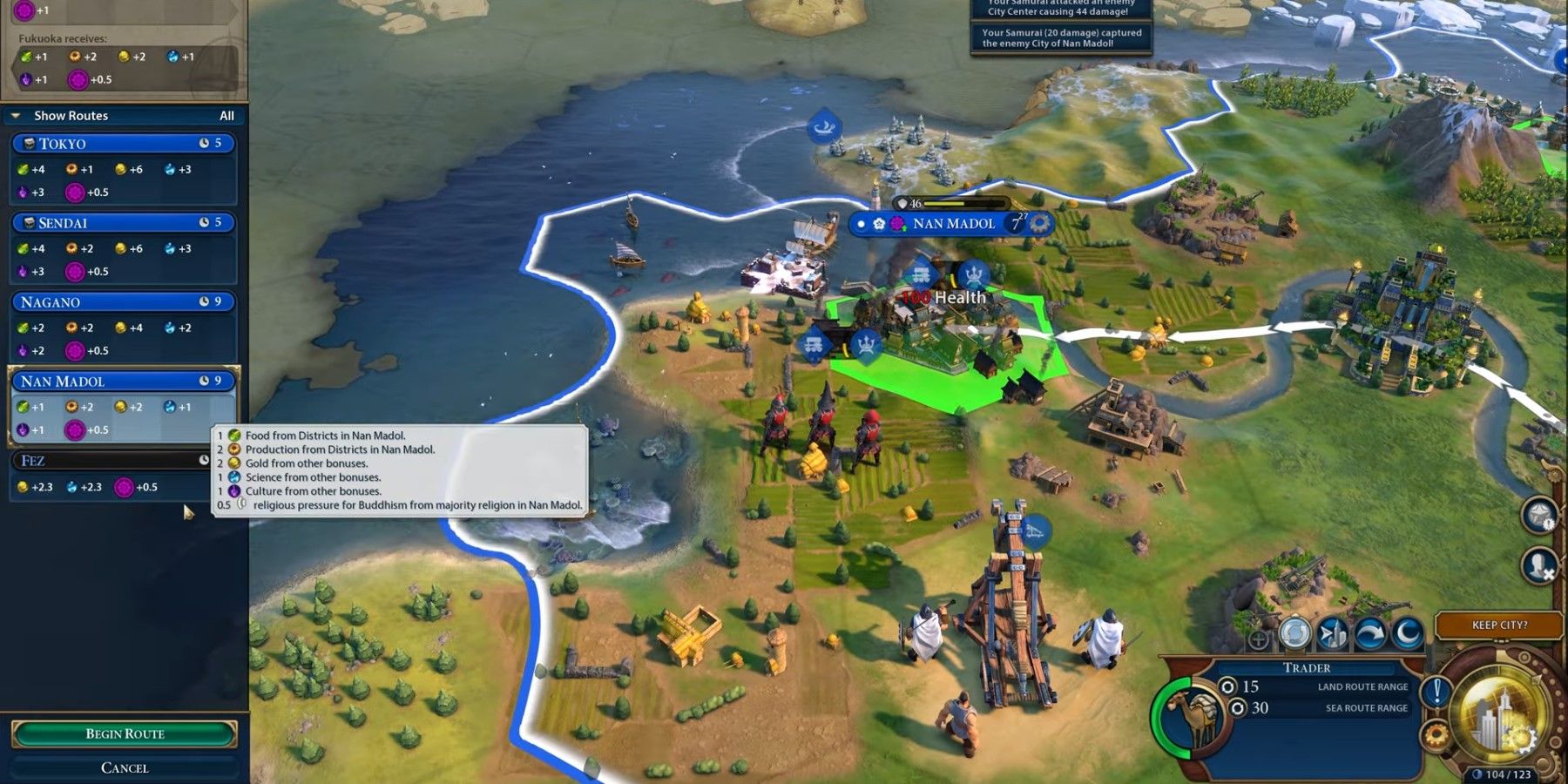 Tokugawa's Bakuhan Ability discourages players from opening international Trade Routes, but heavily incentivizes them to trade domestically. This works well with a tall playstyle, in which the player focuses on a small number of Cities and uses the Food and Production bonuses from domestic Trade Routes to grow them as large and powerful as possible. A large Population in each City will allow them to support more Districts, further increasing the domestic Trade Route bonus from Bakuhan.
The second part of Bakuhan also heavily encourages a tall playstyle, and Tokugawa players should aim to tightly cluster their Cities for the bonus. Not only will this grant each City Amenities (or max Loyalty) and a significant boost to Tourism, it can also allow an extremely powerful play utilizing Japan's other features. Most notably, the Meiji Restoration Ability doesn't specify that the adjacency bonus only applies to Districts within the same City. This means that players can place the Districts of multiple Cities into a single cluster, granting huge adjacency bonuses of up to +6 for a District surrounded on all sides. Then, if some of these clustered Districts are Industrial Zones, their Electronics Factory bonuses will be granted to multiple Cities at once.
With a cluster of Districts maximizing their adjacency bonuses and well-developed Cities fueled my domestic Trade Routes, Tokugawa players can really choose to pursue any victory. However, Bakuhan's bonus to Tourism and Japan's Electronics Factory can make a Culture Victory particularly appealing.
Civilization 6 is available for iOS, Nintendo Switch, PC, PlayStation 4, PlayStation 5, Xbox One, and Xbox Series X/S.
MORE: Civilization 6: Elizabeth I Leader Guide
Read original article here: gamerant.com
News Summary:
Civilization 6: Tokugawa Leader Guide
Check all news and articles from the latest GUIDES updates.
Please Subscribe us at Google News.
Denial of responsibility!
Egaxo
is an automatic aggregator around the global media. All the content are available free on Internet. We have just arranged it in one platform for educational purpose only. In each content, the hyperlink to the primary source is specified. All trademarks belong to their rightful owners, all materials to their authors. If you are the owner of the content and do not want us to publish your materials on our website, please contact us by email:
hl.footballs@gmail.com
The content will be deleted within 24 hours.