You don't need to read this. Usually my articles get big numbers. Huge numbers. The kind of numbers you wouldn't believe. They get so many readers they had to make up a new name for the number, it had never been scientifically discovered until they checked the amount of readers I get. Big numbers. Huge. But today I'm throwing all that away. This is not an article aimed at the massive number of readers my natural literary talent attracts. Instead, it is entirely for my own consumption only. This is my little diary entry where I psyche myself up for yet another playthrough of The Witcher 3.
Okay Stace, despite your cynicism that it, like all games, would be delayed into next year, CD Projekt Red has hit its deadlines and The Witcher 3's new-gen update is arriving in December. To be honest, it's not a great time for a new game to launch. You've only got nine of your ten GOTY list picks nailed down, and it doesn't seem like God of War Ragnarok, Sonic Frontiers, nor Pokemon Scarlet are making the cut. You probably won't like Callisto, but there's still Marvel's Midnight Suns and High on Life, plus you could probably find time for New Tales From the Borderlands. Forget Hardspace, that Shipbreaker has sailed. Citizen Sleeper will have to be your cool hipster pick this year.
Related: I'm More Excited For CDPR's New IP Than Witcher Or Cyberpunk
Okay, so the timing isn't great. But timing never is. It's video games. They release not at all or all at once, get used to the new normal, kid. For some reason February is now a busy month too – a zombie graveyard for games that aimed for the Christmas window and missed. Or missed again if you're Dead Island 2. The point is, most big video games come out surrounded by other video games. It's almost as if the publishers put more stock in consumer behaviour than they do considerations for a journalist's work-life balance in a World Cup month. Luckily all I do is sit around playing video games all day, so I never really work at all.
The point is, timing just isn't an excuse. Pull on the big girl panties and play some damn video games. Just think of all the juicy #content you can write on The Witcher, eh? All those bigly numbers you always get, you clever little skank. The Witcher gives you a head start. Not that you need one, you sexy little genius. Work-life balance matters not. Other games matter not. All that matters is #content.
This time will for sure be different. Yes, this will be your fourth time playing The Witcher 3. Yes, you've never previously finished it, or even gotten particularly far through it. You loved the Bloody Baron quest, but after that the whole thing sorta petered out. Surely now, during the World Cup, right before Christmas, when you have three other games you're enjoying kinda enough to beat and have more games you want to play coming out is the ideal timing. Look Stace, I'm not saying it'll be easy. I'm not even saying it will be medium difficulty. It will be hard, but I believe in us. We got Taylor Swift floor seats, we can do anything baby.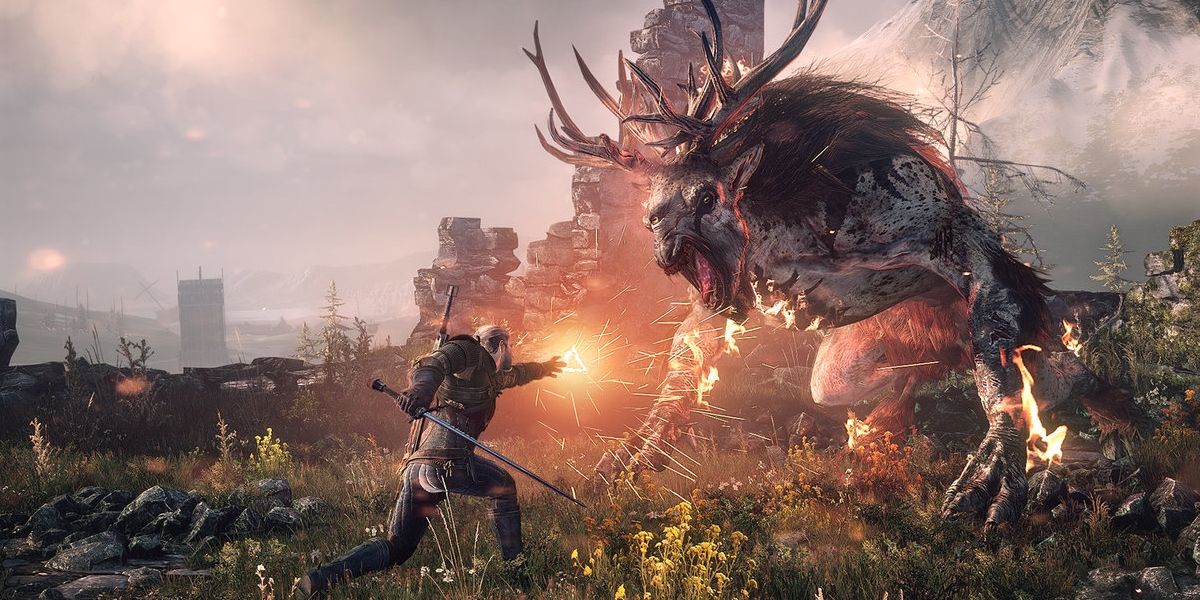 The Witcher 3 is a staple of modern gaming. I know you know most of the story through the osmosis of being a video game journalist and translating the morse code sounds made by every other journalist wanking off to this game. I know you've played and the gameplay only clicked with Ciri, which was also when exploration and narrating was linear and dull. I know we've tried before. But let's have one more go, eh?
I don't really do gaming bucket lists, or even a backlog. I've got some games I want to get to eventually, but whenever the release cycle dries up, I don't have a ready-made list of all the things I want to dive into next. If I did, I'd consider The Witcher 3 already crossed out as a failed experiment. And graphical improvements don't impress me on games I like, so they definitely don't matter on games I'm meh on. But still, something is telling me to give The Witcher 3 another go. If TheGamer is hit with a blizzard of Witcher takes in January, you all know why. Except you don't, because this was my private diary and you weren't supposed to read it.
Next: One Pokemon Has Destroyed All My Scarlet & Violet Plans
News Summary:
Don't Mind Me, I'm Just Preparing For Another Witcher 3 Playthrough
Check all news and articles from the latest News updates.
Denial of responsibility!
Egaxo
is an automatic aggregator around the global media. All the content are available free on Internet. We have just arranged it in one platform for educational purpose only. In each content, the hyperlink to the primary source is specified. All trademarks belong to their rightful owners, all materials to their authors. If you are the owner of the content and do not want us to publish your materials on our website, please contact us by email:
hl.footballs@gmail.com
The content will be deleted within 24 hours.