Guides
Don't Starve Together: The Best Ways To Heal
Like most survival games, there are various ways players can say alive, and one of those is the most common of all, health. Health and Hunger stats are two of the most basic ones, but other stats like Thirst, Sanity, or Body Temperature depends on the game's preferences. For Don't Starve and Don't Starve Together, a game where keeping track of all characters' stats is vital to finish the storyline, players should learn what is the best means of regaining Health.
Related:Don't Starve Together: How To Get Spools
The land of Don't Starve Together is an unrelenting one that can be dangerous for newcomers. While each player can change their settings before the game to try and make it easier for them, it can still be a challenge to heal after a gruesome battle or surprise attack. Don't Starve Together inhabits many strange creatures and terrifying foes, even the night can harm players if they're not too careful. Thankfully, this simple guide will help players, new or old, to figure out the best ways to heal to ensure a proper playthrough.
Updated on May 6 by Nikole Stewart: There are several factors that go into thriving in Don't Starve and Don't Starve Together. Players not only have to watch out for their health and food, but also sanity. It can be overwhelming keeping track of all key elements at once, but thankfully once players have been around long enough in a world, they can easily manage all of these at once.
While each character starts off with their own unique stats, making healing dependent on whom a player picks, healing is one component of all survival games that players need to focus on at an early stage. From dealing with the darkness or weather, to surviving mobs, health will dwindle no matter how well players work on their defenses. This update will be adding more great ways that players can heal themselves during difficult moments, as well as add more characters to the stats chart to keep players up-to-date.
Character's Stats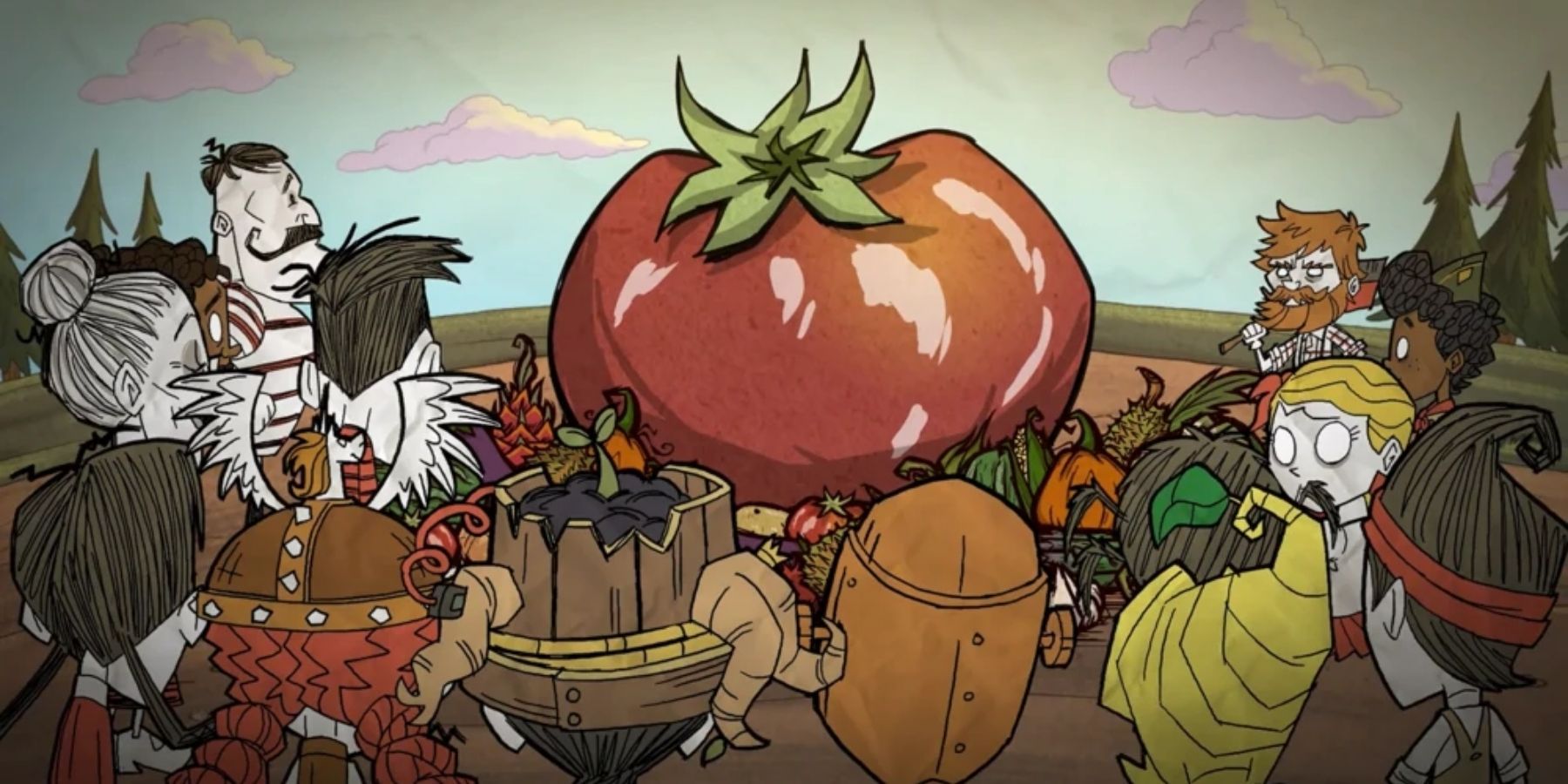 With over twenty characters to play from, players need to keep in mind the different stats that the characters begin with. Depending on their specialty traits and their background, some players require more attention to certain survival aspects. The graph below will show which characters have how much Health they start with only. Keep in mind that it is not only Health that varies between characters. Hunger and Sanity are two other stats that change between characters, however, since this is focusing on Health, it'll only show that stat.
| | |
| --- | --- |
| Character | Health |
| Wilson | 150 |
| Willow | 150 |
| Wolfgang | 150 – 300 |
| Wendy | 150 |
| WX-78 | 100 – 400 |
| Wickerbottom | 150 |
| Woodie | 150 |
| Wes | 113 |
| Maxwell | 75 |
| Wagstaff | 150 |
| Wigfrid | 200 |
| Webber | 175 |
| Walani | 120 |
| Warly | 150 |
| Wilbur | 125 |
| Woodlegs | 150 |
| Wilba | 150 |
| Wormwood | 150 |
| Wheeler | 100 |
| Walter | 130 |
| Wortox | 200 |
| Wurt | 150 – 250 |
| Winona | 150 |
| Wanda* | Age Meter: 20 – 80 |
*While Wanda has an Age Meter instead of a Health Meter, she will age up if she takes damage. To calculate her age, players will age up 0.4x the damage incoming. So essentially, players have an equivalent of 150 damage with her Age.
Ways To Heal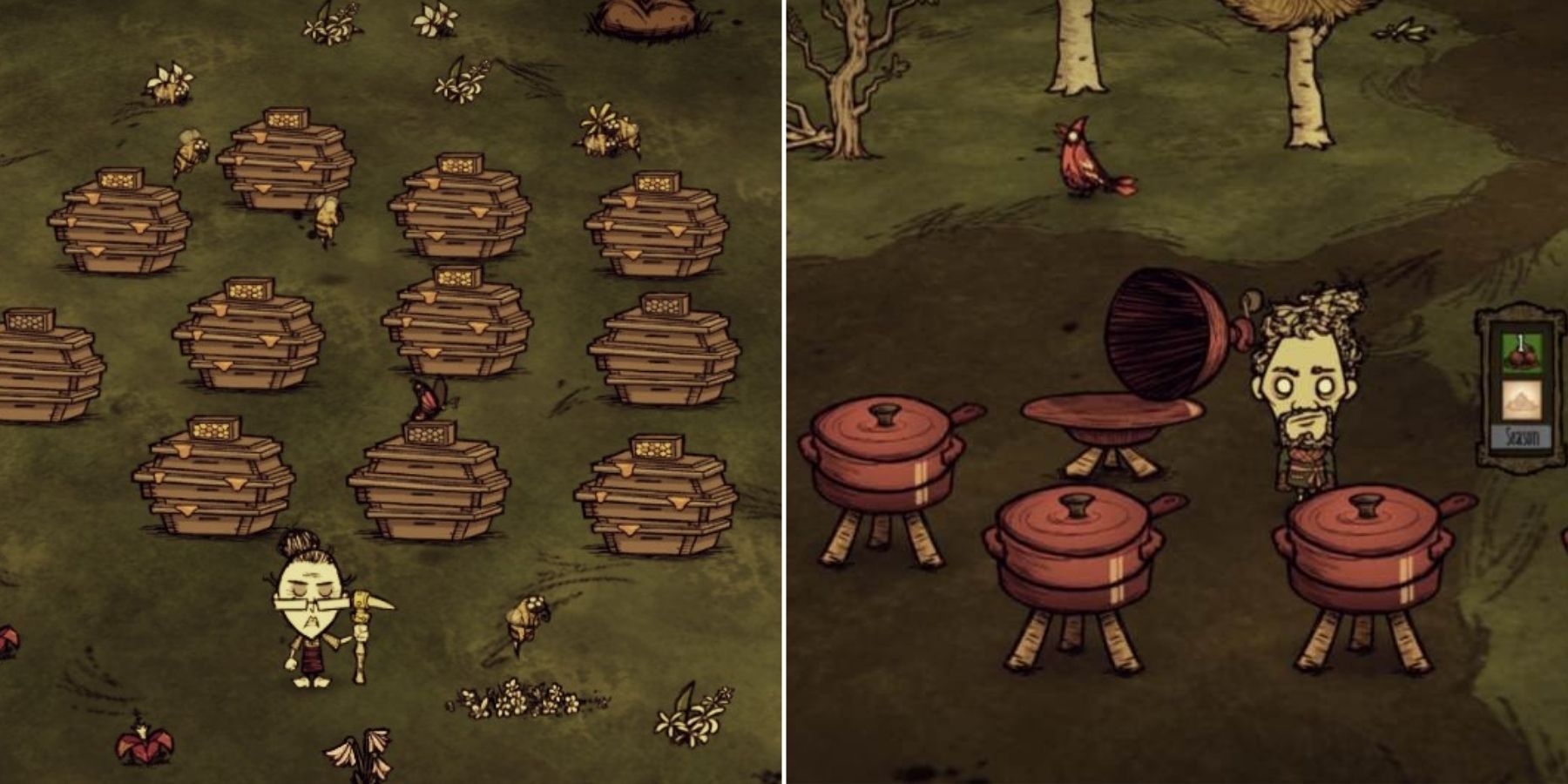 There are a couple of ways that players can restore their health. One of the most basic ones is by eating food, however, it only regains about 1-3 points of Health. Granted, if food is cooked, then it adds another one or two points. Players should note that when playing Wormwood, he does not gain any health from eating. For players choosing that character, they need to look at the non-food based heals that are listed below to keep him alive. And for players picking characters like Wolfgang, Warly or Wigfrid, they should focus on their dietary needs as their stats and skills revolve around what they eat.
Related: Should You Get Don't Starve Or Don't Starve Together
Cooking Meals
The main and most efficient way that players can heal is through food. Who doesn't feel a bit better after a comforting meal anyway? But like everything, some things are better than others, the same with meals. While cooking is the most practical and safe way to restore health in this list, it should be noted that it might not always be the fastest if players are a bit low on the ingredients list. That being said, these are all the important meals that players should stock up on if they really want to pack a punch in their health.
Crock Pot Recipes: The Crock Pot is a vital item for any playthrough because it provides ample amount of food that not only helps with Hunger but Health as well. There are certain recipes that the Crop Pot has that provides a great source of healing for injured players. From recipes like Mandrake Soup (+100 Health, +150 Hunger, +5 Sanity) and Dragonpie (+40 Health, +75 Hunger, +5 Sanity), players can work on two stats instead of just one. In the Shipwrecked DLC, players can make Bisque by combining 2 Limpets and 1 Ice, and this restores 60 health, which makes this one of the cheapest and potent healing sources in the game.
Braised Eggplant or Sliced Pomegranate: Made from Eggplant and Pomegranate, these dishes gain 20 Health points.
Jerky or Small Jerky: Not only do these dried meat last longer than most food, they do a great deal of Health. The small jerky gives 8 Health points while the normal size gives 20.
Healing Salve: For those that do not want to eat spider glands but still want their healing properties, this is the perfect solution. Spider glands can be used to make Healing Salve, which in turn will heal players up to 20 points. These never spoil also, so this is a perfect thing to start stockpiling on when preparing for a long adventure away from camp. And thankfully, they are easy to make with 2 Ash, 1 Rock, and 1 Spider Gland.
Butterflies: Like bees, players have the ability to create butterfly farms by planting flowers around camp. Butterflies have many uses, but the primary one is that they drop butterfly wings, restoring 8 Health points. Sometimes butter can be dropped from them, which 40 points, or made into butter muffins, which restore 20. However, waffles are also made from butter and heal the player up to 60 points. Another great thing about butterflies, is that when spawned near bees, the bees will become more productive.
Blue Mushrooms: These mushrooms are a little risky, but useful if players are in a large pinch. Only spawning at night, these mushrooms heal players by 20 points, however, they take away 15 points of Sanity. Is the risk worth the reward?
Jellybeans: By combining Royal Jelly and three other edible ingredients (besides monster food), players can whip up a tasty treat that heals them for 60 points over the course of two minutes. It sadly does nothing for their Hunger, but gives 5 points for Sanity.
Use Certain Items
Like in many survival games, there are always going to be items that players can use to help them along the way. While food is a great source of health and hunger both, sometimes it's better to sleep it off for the night and try again in the morning. However, players should note that with every positive, there is always a negative waiting around the corner.
Tent or Siesta Lean-to: A little but of enclosure can make anyone safe through the evening. Both of these structures have a durability of 6 which means players can use it up to 6 nights, however they can be a little annoying to craft since it requires silk. When sleeping in one, players will gain about 60 Health, or 2 per second, as well as gain some Sanity. Although, players will lose quite a bit of Hunger (60 in Tent, 20 in Siesta Lean-to). So for characters who already struggle with Hunger, this might not be worth it.
Furroll: Also known as Bed Rolls, these act similar to the structures previously mentioned. Players will receive 60 points in Health but lose 60 points in Hunger, however it only lasts three times instead of six.
Life Giving Amulet: This amulet is very useful for players because it will heal characters by 5 points, but it will take away 5 points of Hunger and 5% of its durability. It is very expensive to make, costing a rare Red Gem, but if players die while wearing it, it will automatically resurrect the character. So while it is costly, it is worth the risk if players are wanting to start their dangerous adventures.
Booster Shot: Available exclusively in Don't Starve Together, this item can be game-changing and players should focus on having a few at their base at all times. To craft it, players should have 8 Rot, 2 Nitre, and 1 Stinger and is crafted using an Alchemy Engine. This item can restore a player to their maximum health if players use a Telltale Heart or Florid Posterns.
Mobs Can Be Useful
While most damage comes from mobs that spawn across the unrelenting world of The Constant, not all of them are terrible. Some creatures are even useful when it comes to healing. One of the main ways that players heal using mobs are by killing butterflies and eating their wings. While it's an unappetizing thought now, it can save several players down the road if used.
Spider Gland or Mosquito Sack: For the brave souls who want to go up against spiders, this might be of use to them. Spiders drop glands, and they never spoil, providing players with 8 points when eaten. This is similar for the mosquito sacks. While the thought is disgusting, it is quite useful during battles.
Bee Boxes: Like spiders, bees can be quite useful for players, and somewhat less deadly. Players have the ability to create bee farms where they can collect ample amount of honey. Honey restores 3 Health points, however, they are also a perfect crafting ingredient for Honey Poultice. Similar to the Healing Salve, Honey Poultice restores 30 Health points but requires 1 papyrus and 2 honey. Just make sure that there are flowers around the boxes, and be careful as bee hives and boxes spawn Killer Bees, which will attack the player if there is damage to their home.
Butterflies: Like mentioned, players have the ability to create butterfly farms by planting flowers around camp. Butterflies have many uses, but the primary one is that they drop butterfly wings, restoring 8 Health points. Sometimes butter can be dropped from them, which restores 40 points, or made into butter muffins, which restore 20. However, waffles are also made from butter and heal the player up to 60 points. Another great thing about butterflies, is that when spawned near bees, the bees will become more productive.
So while players can heal through eating food, there are several other ways that they can ensure safe travels through the harsh terrain without the worry of dying when going against the first enemy.
Don't Starve Together is available on PlayStation 4, macOS, Xbox One, Linux, Nintendo Switch, and Microsoft Windows.
More: Don't Starve Together: How To Increase Sanity
Read original article here: gamerant.com
News Summary:
Don't Starve Together: The Best Ways To Heal
Check all news and articles from the latest GUIDES updates.
Please Subscribe us at Google News.
Denial of responsibility!
Egaxo
is an automatic aggregator around the global media. All the content are available free on Internet. We have just arranged it in one platform for educational purpose only. In each content, the hyperlink to the primary source is specified. All trademarks belong to their rightful owners, all materials to their authors. If you are the owner of the content and do not want us to publish your materials on our website, please contact us by email:
hl.footballs@gmail.com
The content will be deleted within 24 hours.