Tanta Prav is known as the Tanta of Justice in Forspoken. She is the leader of the Athian justice system as well as the rules of Avoalet. The Tanta is also the one who administrated the rules in Athia and held courts for the Athians thanks to her powers of seeing the truth.
The Tanta of Justice is the second antagonist players will encounter after trying to collect resin for Break Bob in Forspoken. However, the first fight is with dozens of her powerful servants. To reach Prav, players must make a long journey to Avoalet to defeat the Tanta of Justice once and for all.
RELATED: Forspoken: Where To Use Poppets And Old Coins
How To Beat Tanta Prav In Forspoken
Just like Tanta Sila which has three stages, Tanta Prav's boss fight is also divided into three stages. At the end of the fight, once Frey comes out victorious, she'll gain many new Spells in Forspoken as well as EXP to level up.
First Stage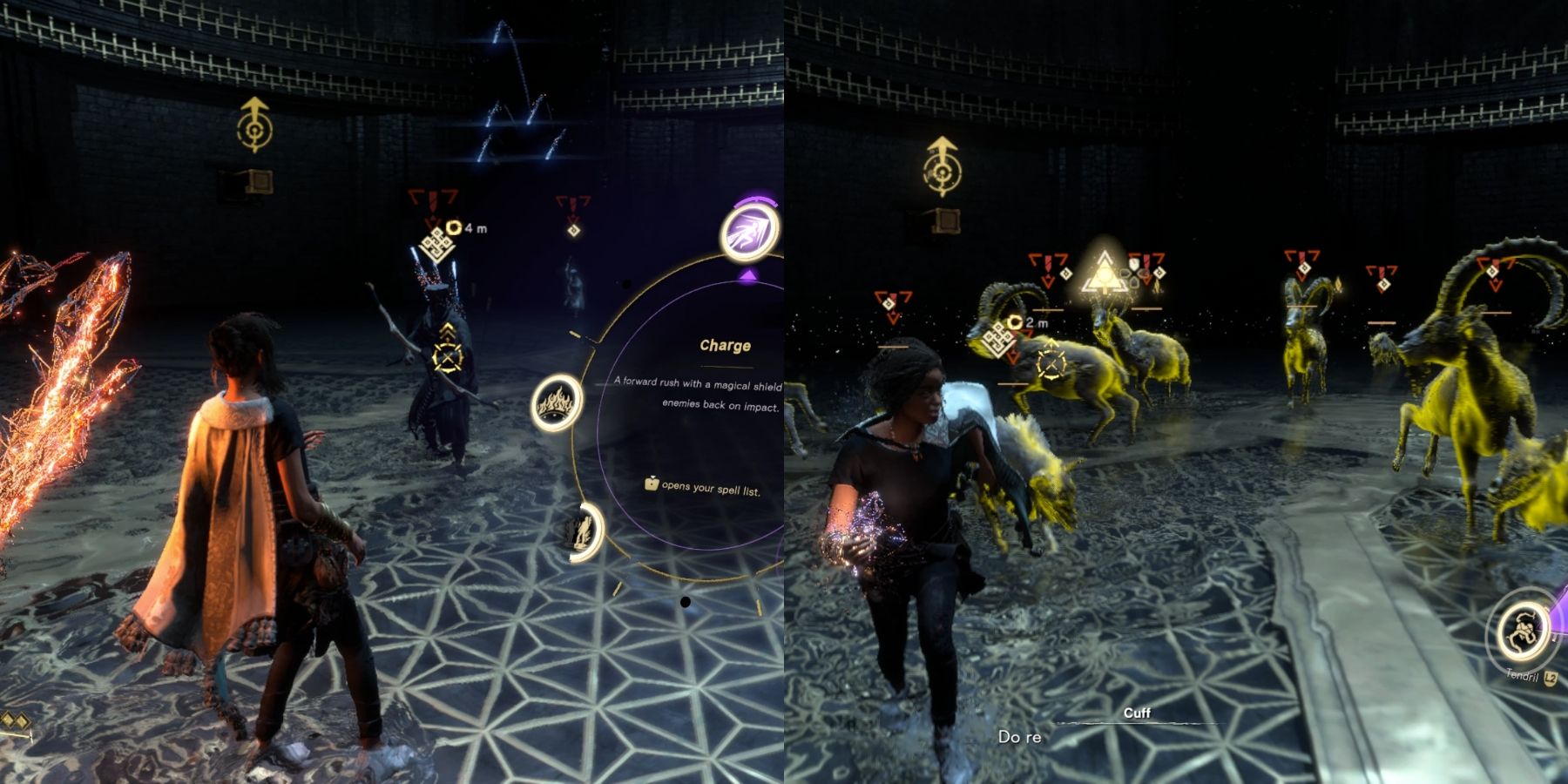 Once Prav commences the Water Trial and throws Frey into the huge water orb, numerous enemies will attack Frey. The first wave is a couple of Prav's archers, Unjust Enforcers, and some deer, Syntheras. They can be a bit hard to manage since they attack in great numbers, so, try using Spells that cover a huge area to take out as many enemies as possible.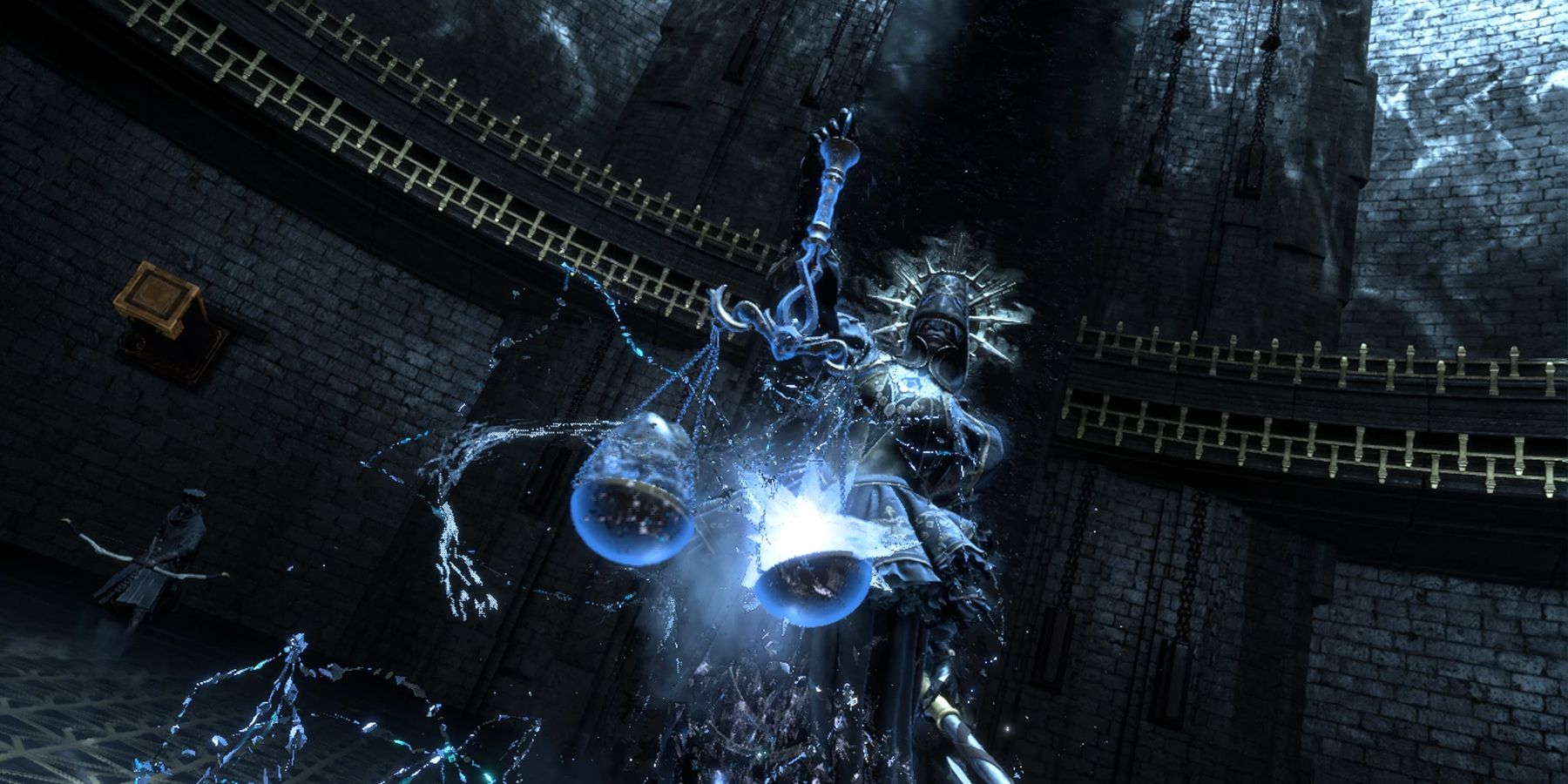 Once the previous wave is done, two Pitiless Arbiters are next, which is not good for players since one is already a huge problem. They deal decent damage and can heal themselves and others.
RELATED: Forspoken: All Founts of Blessing Locations
So, avoid damage using parkour and when one of the Pitiless Arbiters starts glowing, attack it with the most critical Spells to kill it in Forspoken, thus gaining the upper hand.
Second Stage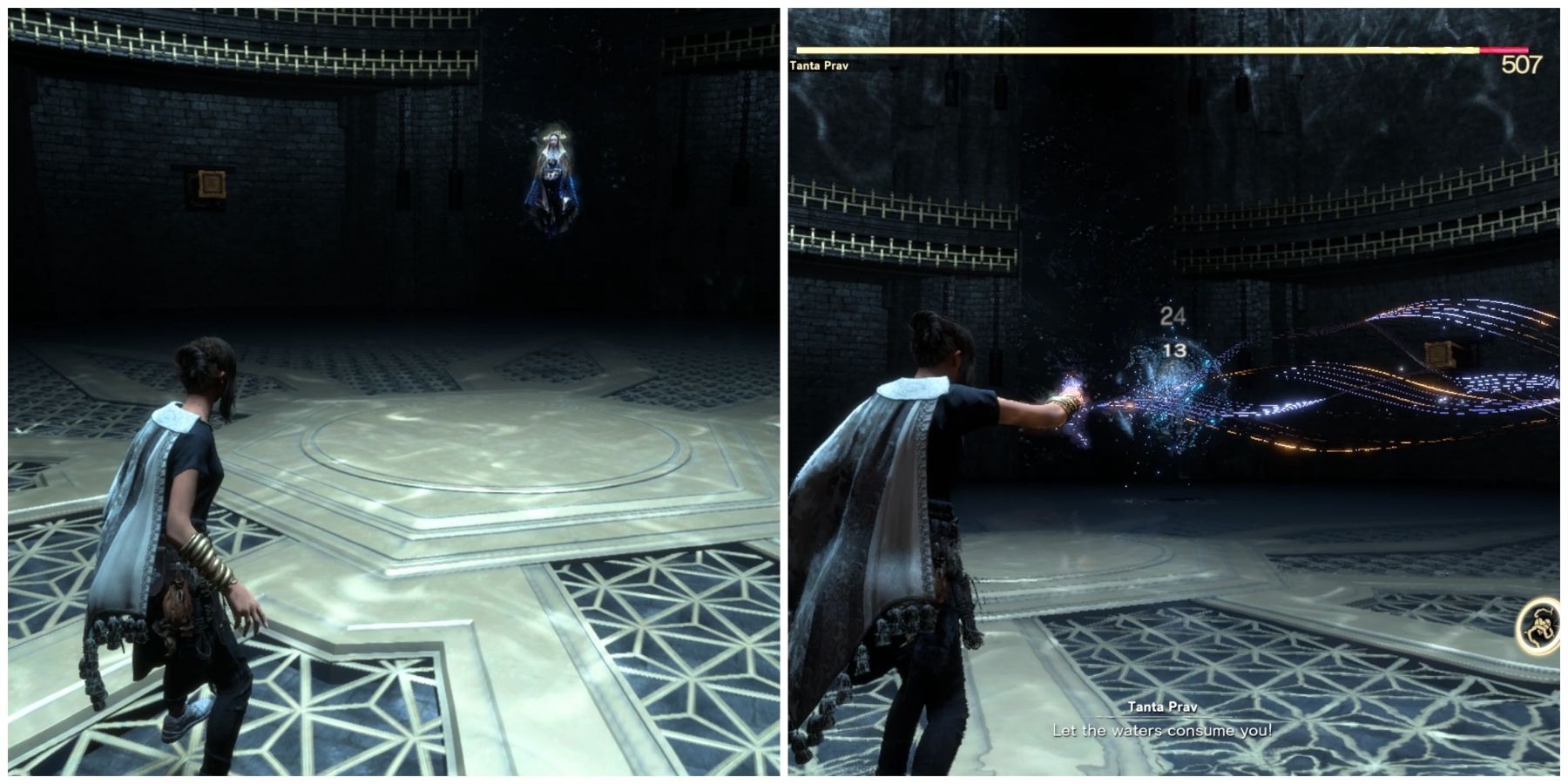 In this stage, Tanta Prav herself will join the fight and make it even harder for Frey to get out of prison. Here, players must use the lock-on feature on Prav, so their attack will actually hit the Tanta and cause damage rather than be shot aimlessly into the air. Since she's flying most of the time, Sila's Magic won't work in Forspoken so stick to Frey's Magic and use long-ranged attacks.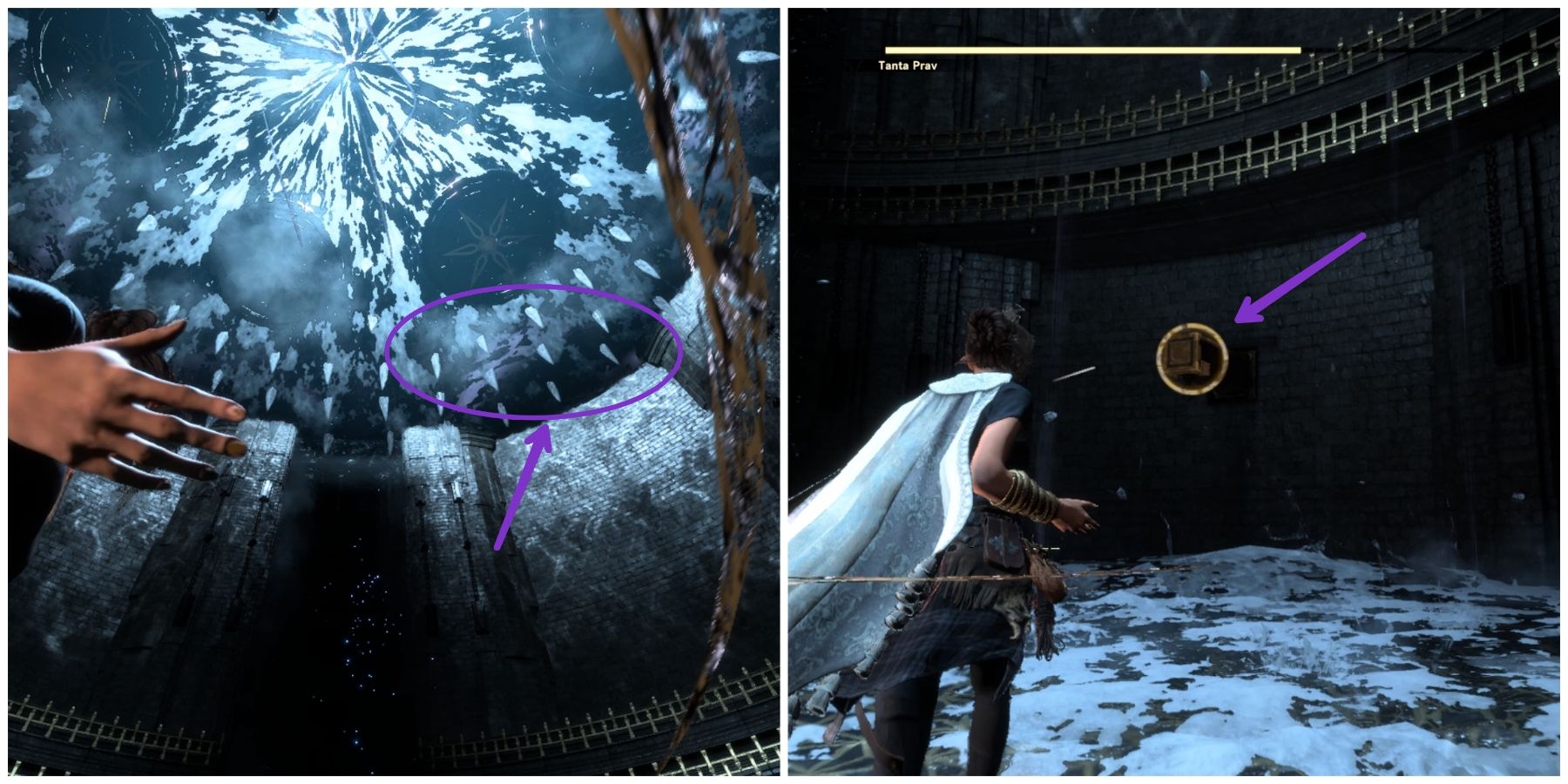 One deadly attack players need to avoid at all costs is when icicles appear above and the ground starts getting frozen. Immediately use the Zip Spell in Forspoken on one of the black beams to get off the ground and avoid damage.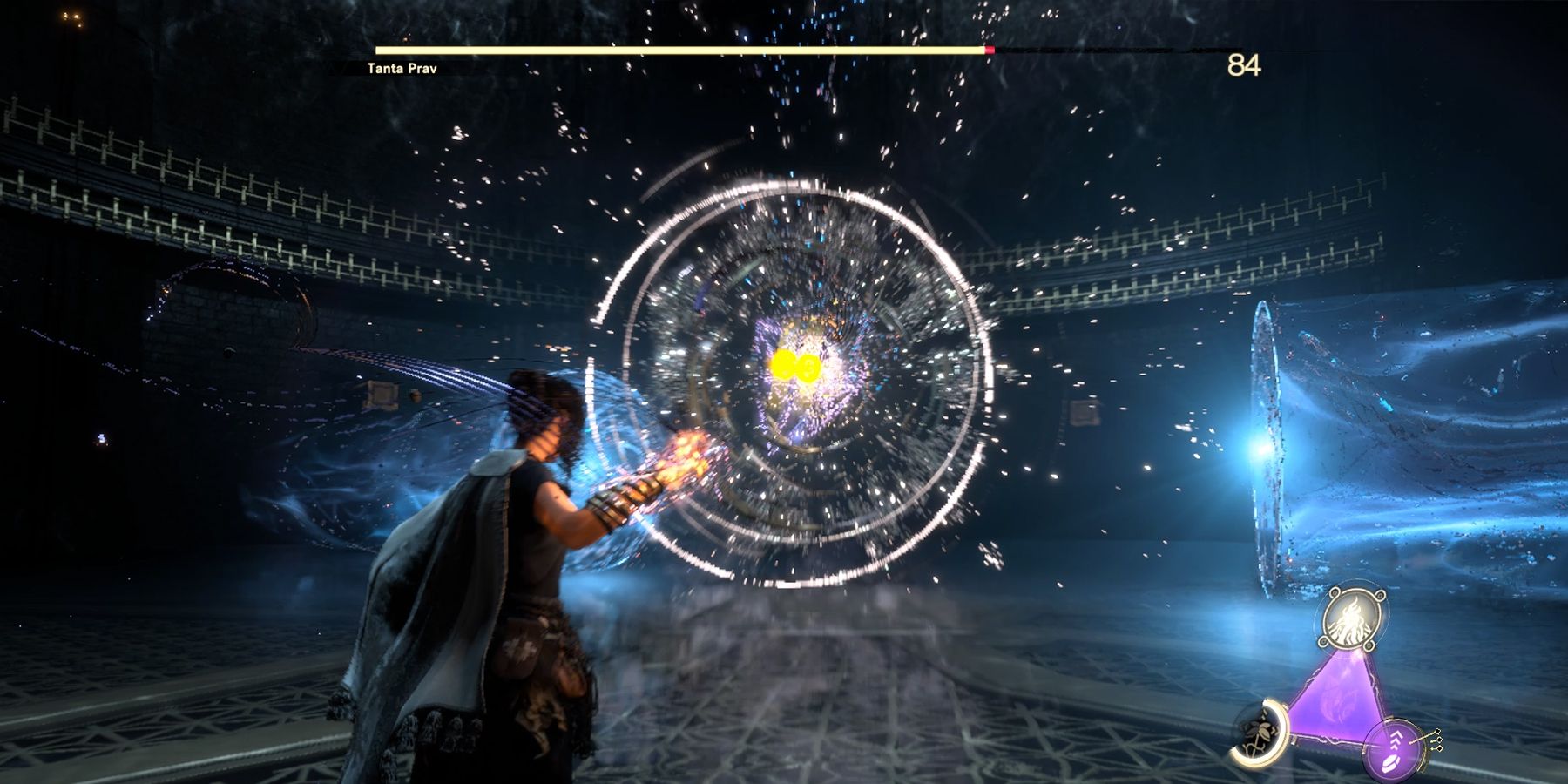 Another attack that may cause heavy damage is the two water beams she spawns on the field. If players manage to parkour around them, then Frey will stay intact.
Third Stage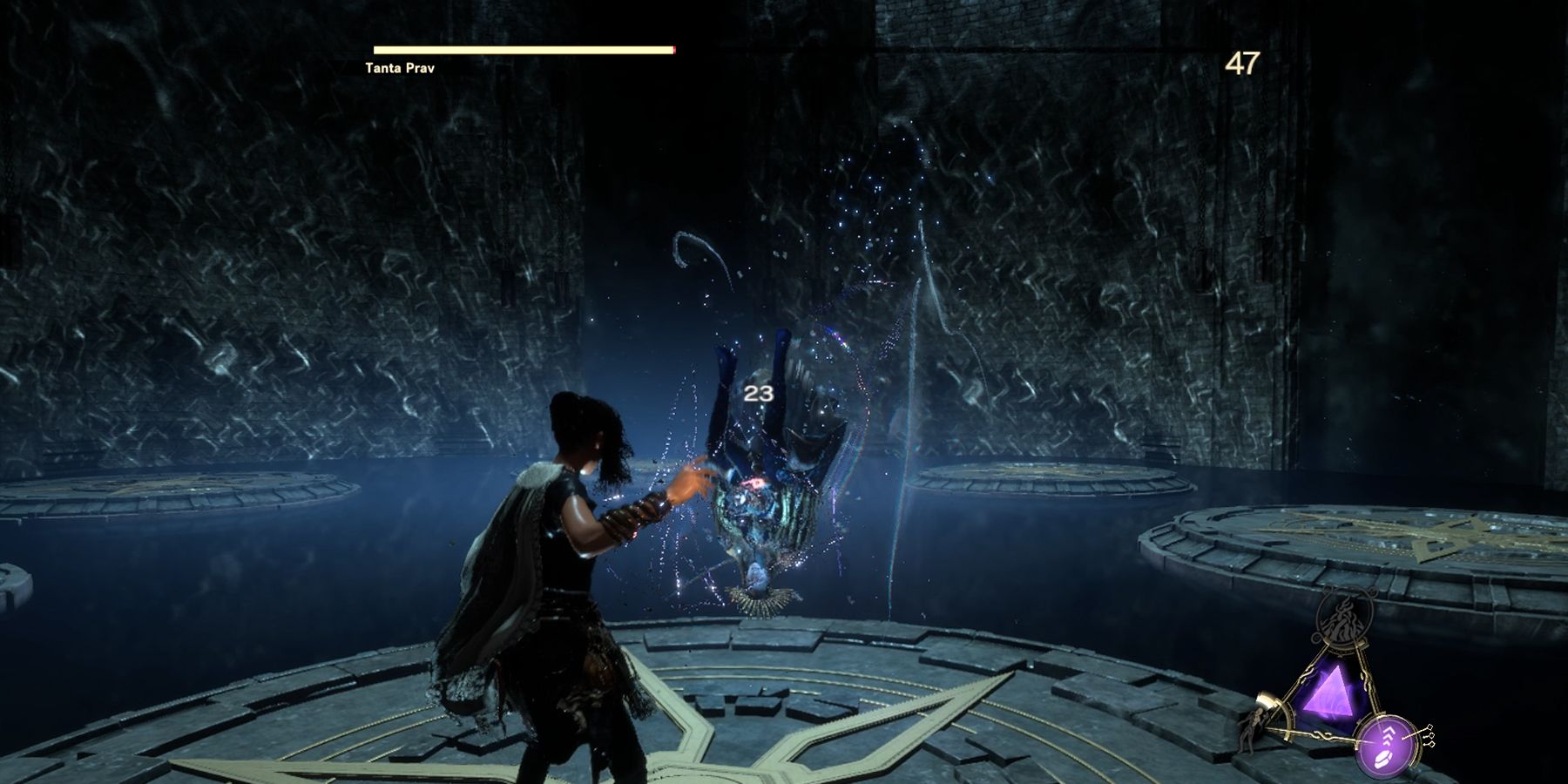 Upon finishing Prav's HP bar in the second stage, she becomes enraged and uses her abilities to turn the room upside down.
RELATED: Forspoken: The Full History of the Tantas Explained
This means that players now have to fight in a watery area rather than on solid ground, which is a huge disadvantage. In this stage, Tanta Prav will manipulate gravity in Forspoken and use some strong attacks to stagger players and inflict heavy damage.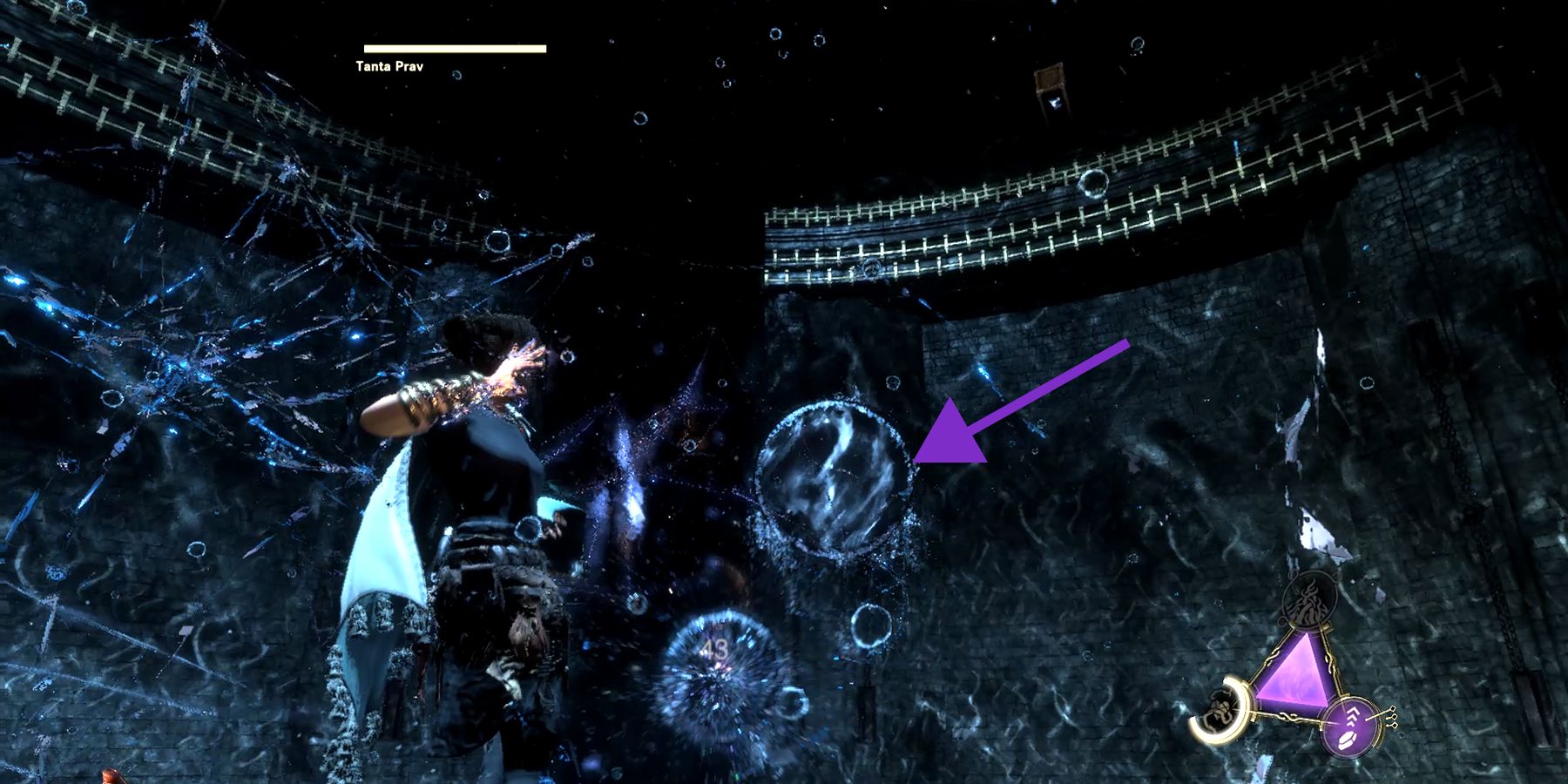 Once the phase begins, immediately swim out of the water and climb any round platform. Attack Prav with ranged Spells while using the lock-on feature in Forspoken until the Tanta of Justice imprisons Frey in a water orb. Here, players need to keep looking around the area while imprisoned and destroy small water balls coming to attack Frey. Once the orb is destroyed, quickly swim out of the water to avoid a fatal attack from Prav.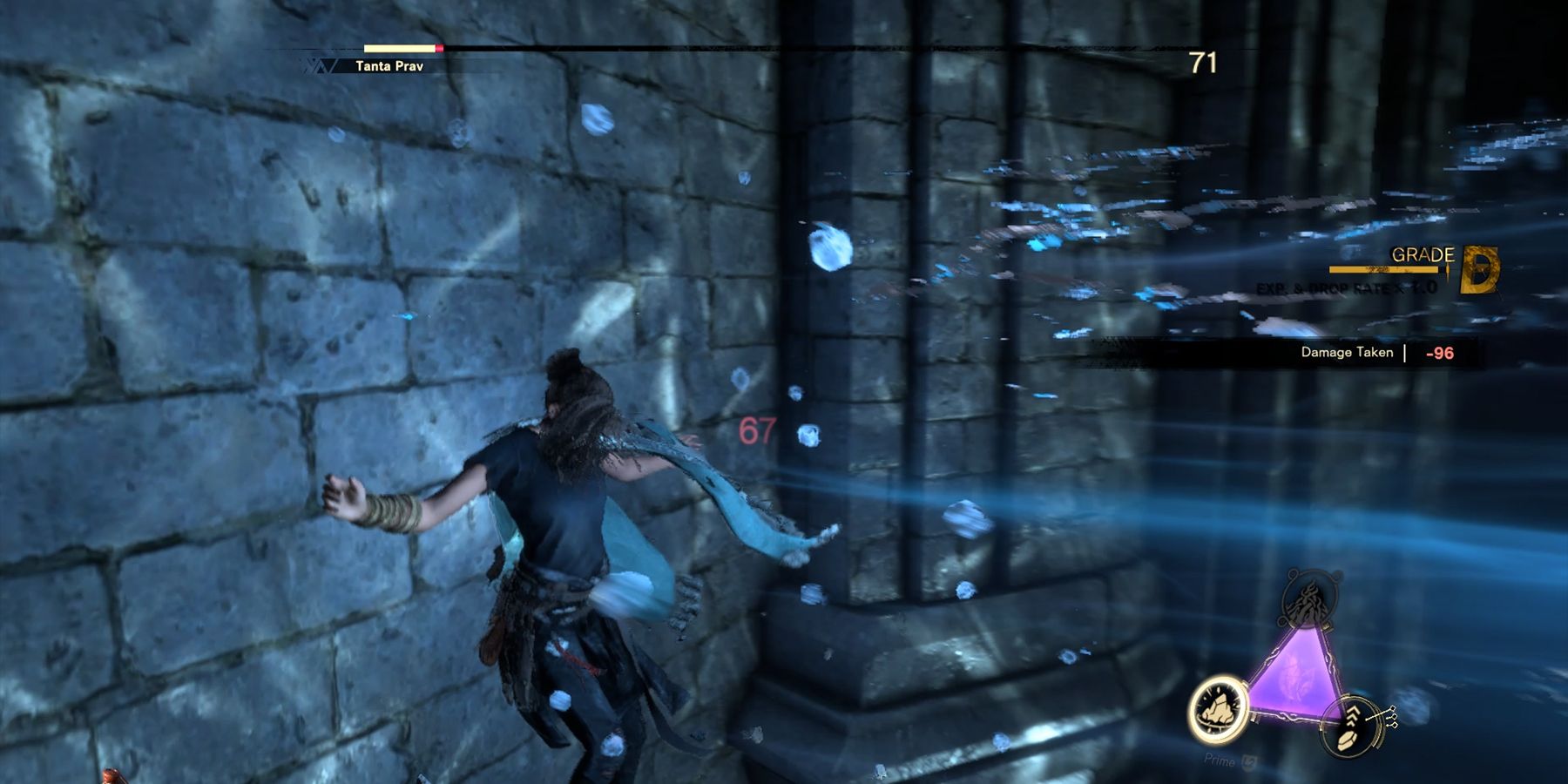 When she's on a critical level, a huge water orb will spawn in the middle of the arena and Prav will try and attack players with a deadly water beam that staggers them and cause damage. To avoid it, keep using parkour to jump onto other platforms and attack her with long-range Spells.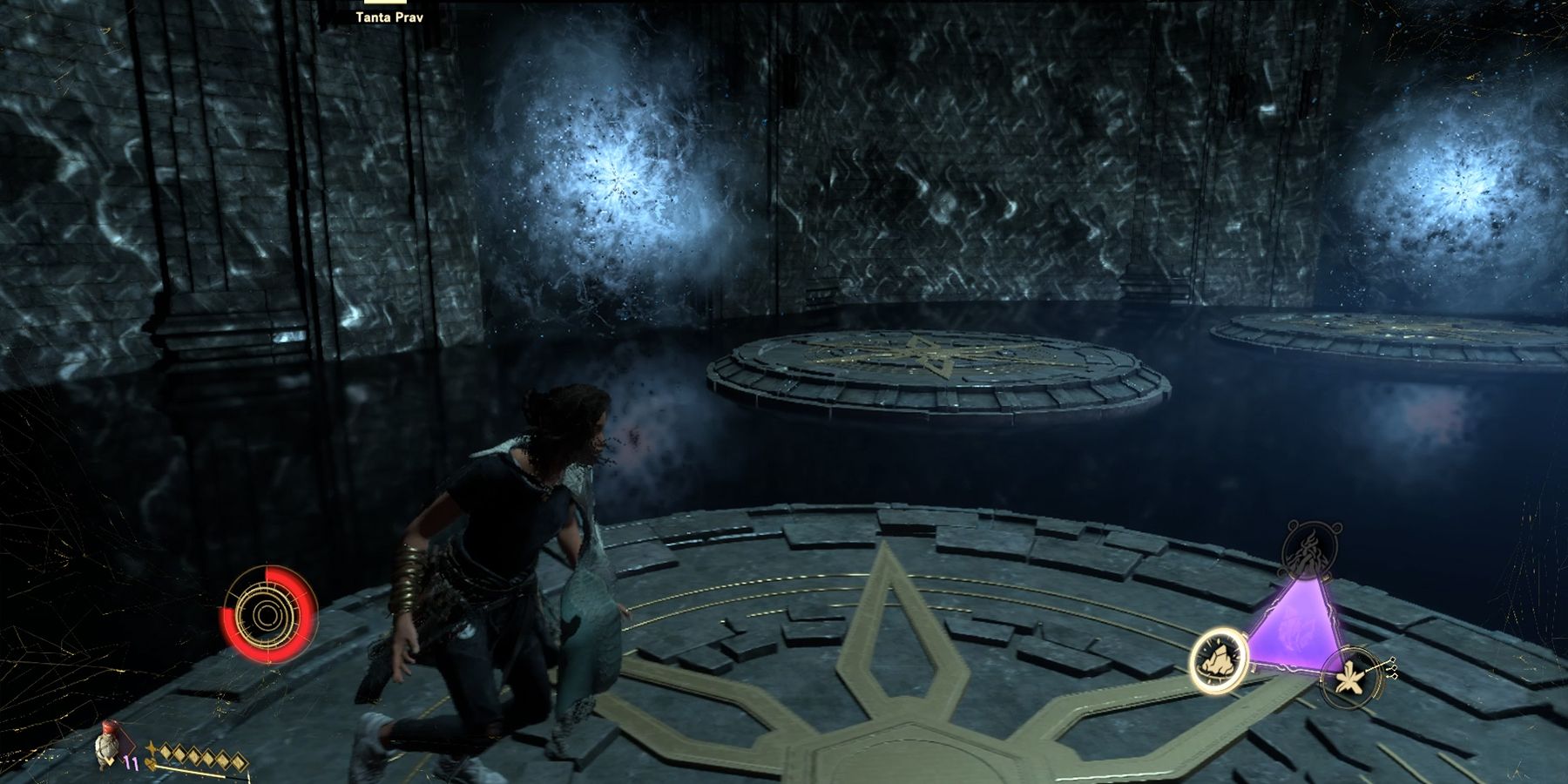 The last deathly blow she makes is spawning giant icicles on the walls behind every platform. Getting hit by this attack will cause heavy damage and stagger players, forcing Cuff to protect Frey. Since all platforms are considered dangerous, players can't avoid this attack unless they jump into the waters. Make sure to get out immediately once the attack is done.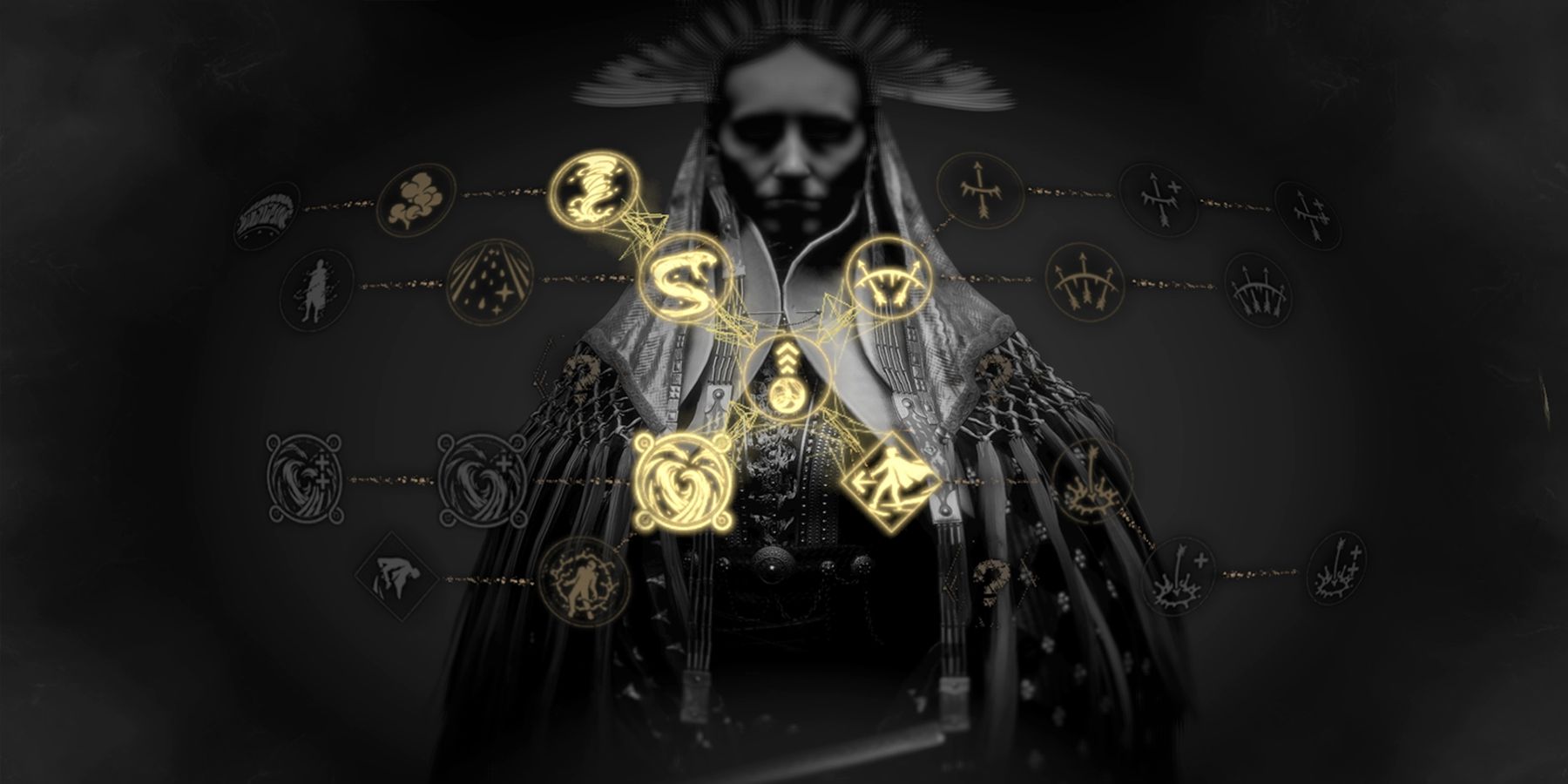 Once Tanta Prav is defeated during chapter eight in Forspoken, Frey will find out crucial information about her past and will also unlock the Tanta of Justice's Spell Tree. Players will also gain the ability to move quickly on any water surface by surfing.
Forspoken is now available on PS5 and PC.
News Summary:
Forspoken: How To Beat Tanta Prav
Check all news and articles from the latest Game Guides updates.
Denial of responsibility!
Egaxo
is an automatic aggregator around the global media. All the content are available free on Internet. We have just arranged it in one platform for educational purpose only. In each content, the hyperlink to the primary source is specified. All trademarks belong to their rightful owners, all materials to their authors. If you are the owner of the content and do not want us to publish your materials on our website, please contact us by email:
hl.footballs@gmail.com
The content will be deleted within 24 hours.