Guides
Genshin Impact: Tighnari TCG Deck Guide
Genshin Impact's Genius Invokation TCG was an immediate hit when it landed back in the Version 3.3 update, offering players the opportunity to try their hand at an in-game trading card game with plenty of tactics and team-building to sink their teeth into – as well as Primogems to add a little extra motivation for even the most uninterested of players!
Several updates later, Genshin Impact is still adding new playable card characters to the game to keep gameplay and the meta fresh. With update 3.6, Tighnari's long-awaited card has finally made its arrival into Genius Invokation TCG after leaks in March revealed he was finally in development.
RELATED:Genshin Impact: Beginner Tips For Genius Invocation TCG
So far, Tighnari's entrance into the TCG meta is looking extremely promising, with him already getting tons of use in several teams focused on Electro reactions thanks to his cheap energy costs and high Dendro damage output. However, despite Tighnari's current popularity in Genshin Impact's TCG-focused gameplay and his fairly meta kit, it can be confusing to know exactly how to build him or which teams he should go into. For some tips on exactly how to make the most out of Tighnari in Genius Invokation TCG, read on.
Tighnari's Card And Skills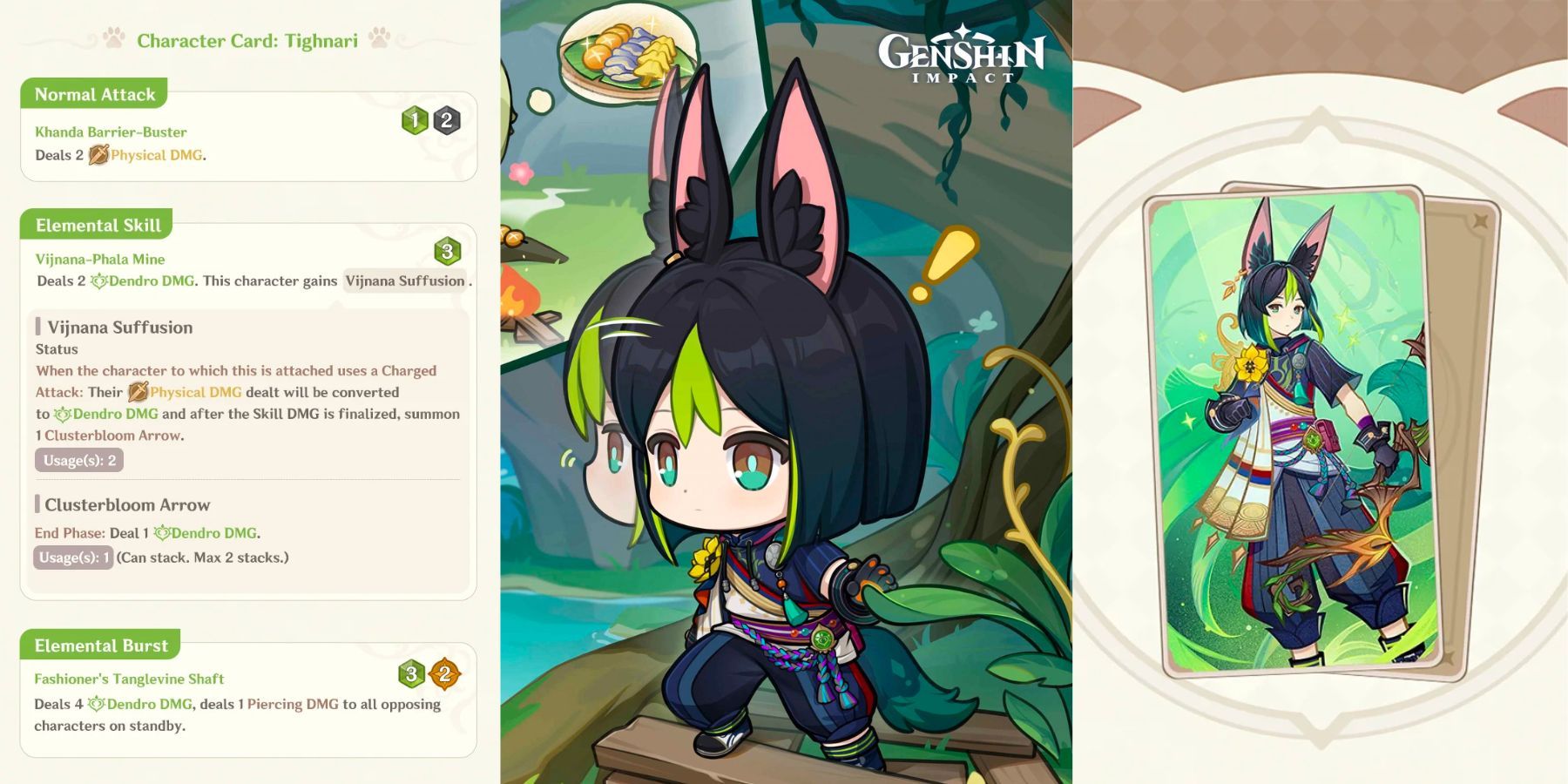 To gain the ability to play Tighnari's card, Tighnari himself can be invited to a TCG duel by players using a Match Invitation Letter at the invitation board in The Cat's Tail Tavern, located in Mondstadt. After the player defeats Tighnari and completes all objectives in a Friendly Fracas match with him, they will be rewarded with both his Character Card and his Talent Card, and can then use them freely whenever they want during TCG matches.
Normal Attack: Khanda Barrier-Buster
| | |
| --- | --- |
| Primary Dice | 1 Dendro |
| Secondary Dice | 2 Unaligned |
| Effect | Deals 2 Physical DMG. |
Elemental Skill: Vijnana-Phala Mine
Primary Dice

3 Dendro

Effect

Deals 2 Dendro DMG. Gains Vijnana Suffusion.

Special Effect

Vijnana Suffusion

---

Status When the character to which this is attached uses a Charged Attack: Their Physical DMG dealt will be converted to Dendro DMG and after the Skill DMG is finalized, summon 1 Clusterbloom Arrow. 2 Usages. Clusterbloom Arrow

---

During End Phase Deal 1 Dendro DMG. 1 Usage. Can stack, maximum 2 stacks.
Elemental Burst: Fashioner's Tanglevine Shaft
| | |
| --- | --- |
| Primary Dice | 3 Dendro |
| Energy Cost | 2 Energy |
| Effect | Deals 4 Dendro DMG, and deals 1 Piercing DMG to all opposing characters on standby. |
Tighnari's Talent Card: Keen Sight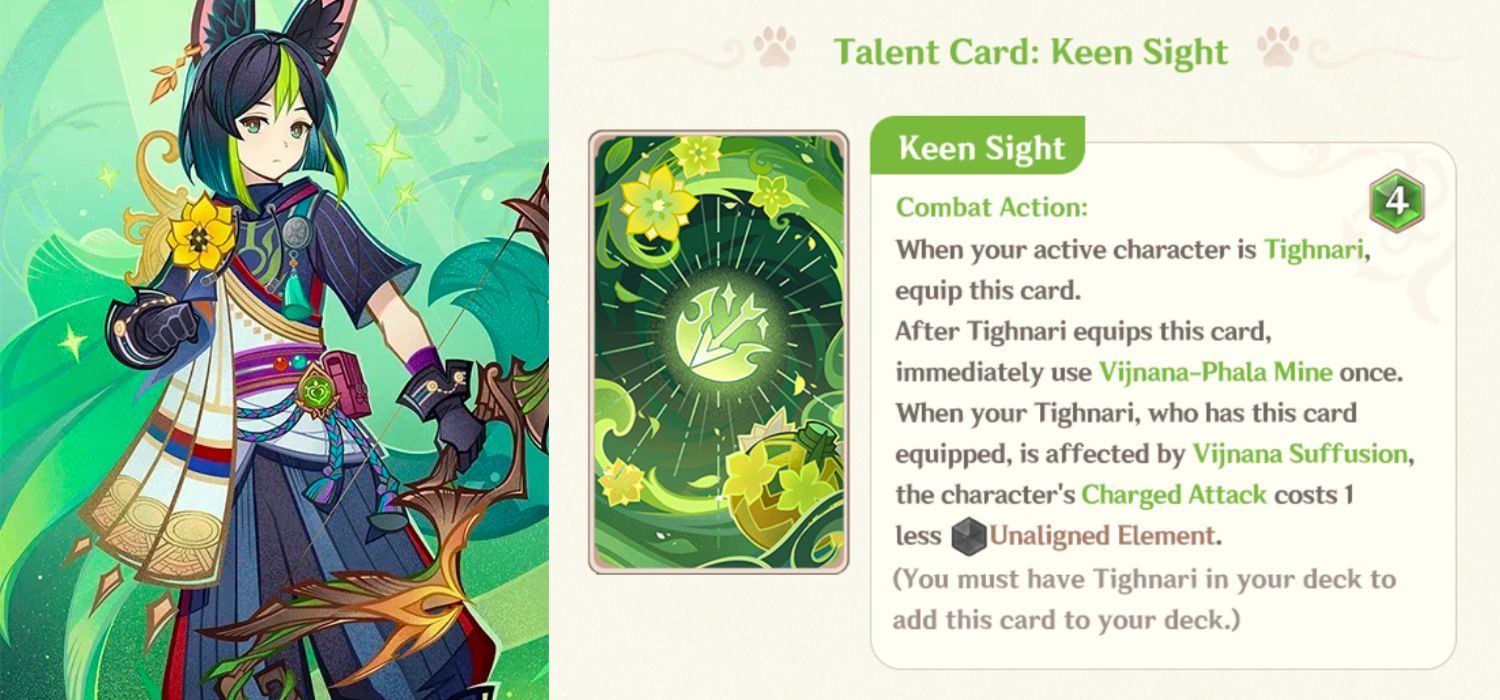 Tighnari's Talent Card, Keen Sight, is worth having in the deck if players are planning on using him, though having both available copies in the deck isn't entirely necessary if players have other support or buff cards they're interested in playing. By using Tighnari's Talent Card, the player will immediately do an instance of Dendro damage against an opponent, giving a perfect opportunity to do or set up an Elemental Reaction. It will also create a summon that will last two usages, and will also allow a set-up for even more damage in ongoing rounds thanks to it lessening the cost of Charged Attacks.
RELATED:Genshin Impact Leak Details Gameplay For Three Fontaine Characters
Best Tighnari Decks
Primarily, Tighnari will do his absolute best in a TCG deck that revolves around aiding in Quicken or Aggravate reactions. This means that he's usually played best beside other Dendro characters like Collei, or alongside pretty much any Electro character, including Fischl, Keqing, Cyno, and Sara. Each time is also likely to focus on using Tighnari for his burst above all else, as his burst is both low-cost and very strong, especially if the player manages to utilize reactions well.
Tighnari + Cyno + Fischl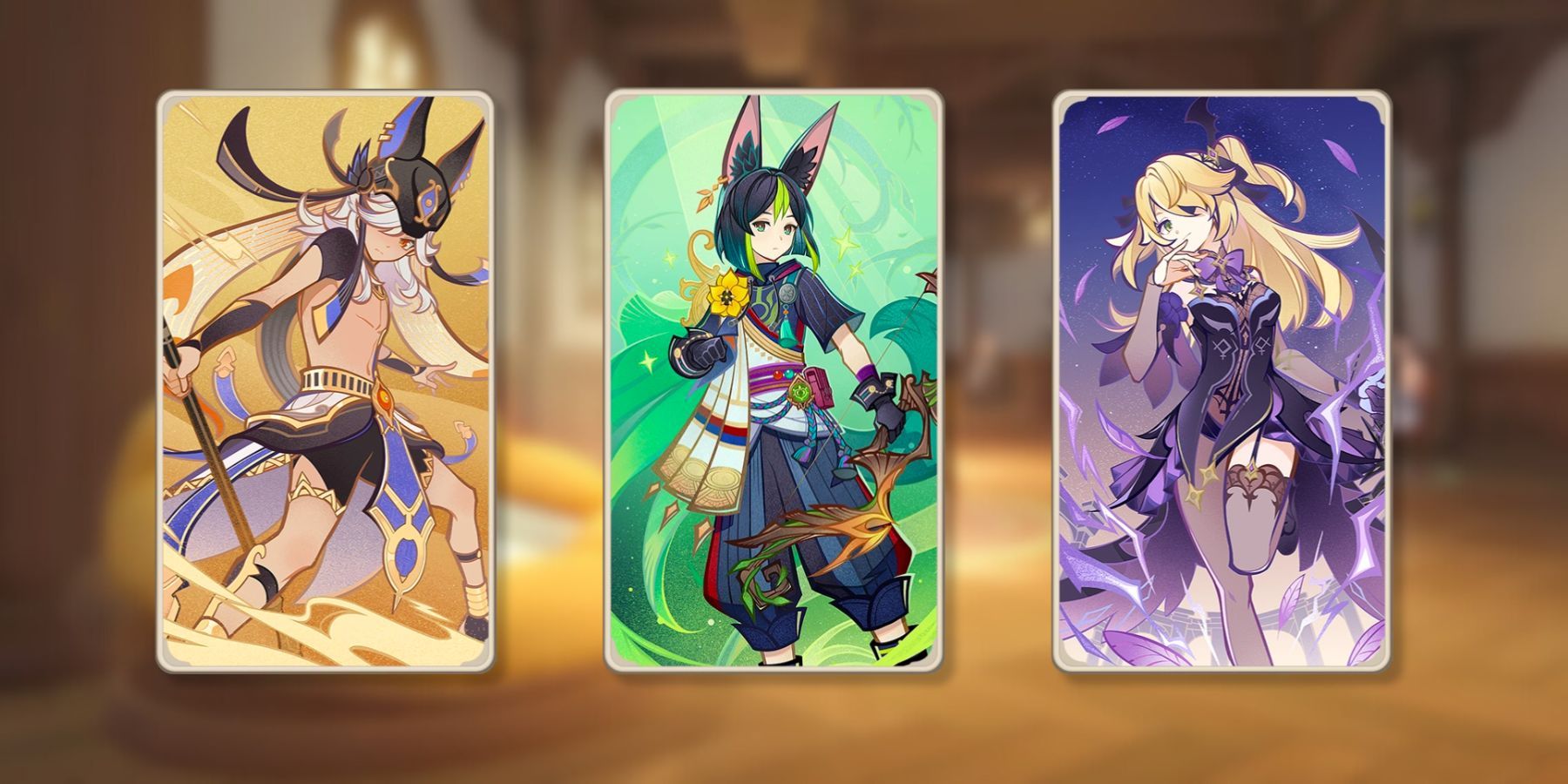 This Quicken-focused team works great for Tighnari, though gameplay will have to be a little more focused on Cyno to take full advantage of his Passive Skill, Lawful Enforcer. With Fischl consistently setting up her Oz Summon and Cyno building more Indwelling Levels for his Passive, Electro damage against the other team will remain consistent enough for both long-lasting Electro reactions and long-term damage. Using Tighnari's Charged Attack in tandem with this will allow his final Burst to do huge damage to opposing enemies, who will either have had Electro applied to them or who will be at such low health Tighnari's burst will clear them easily.
Tighnari + Klee + Keqing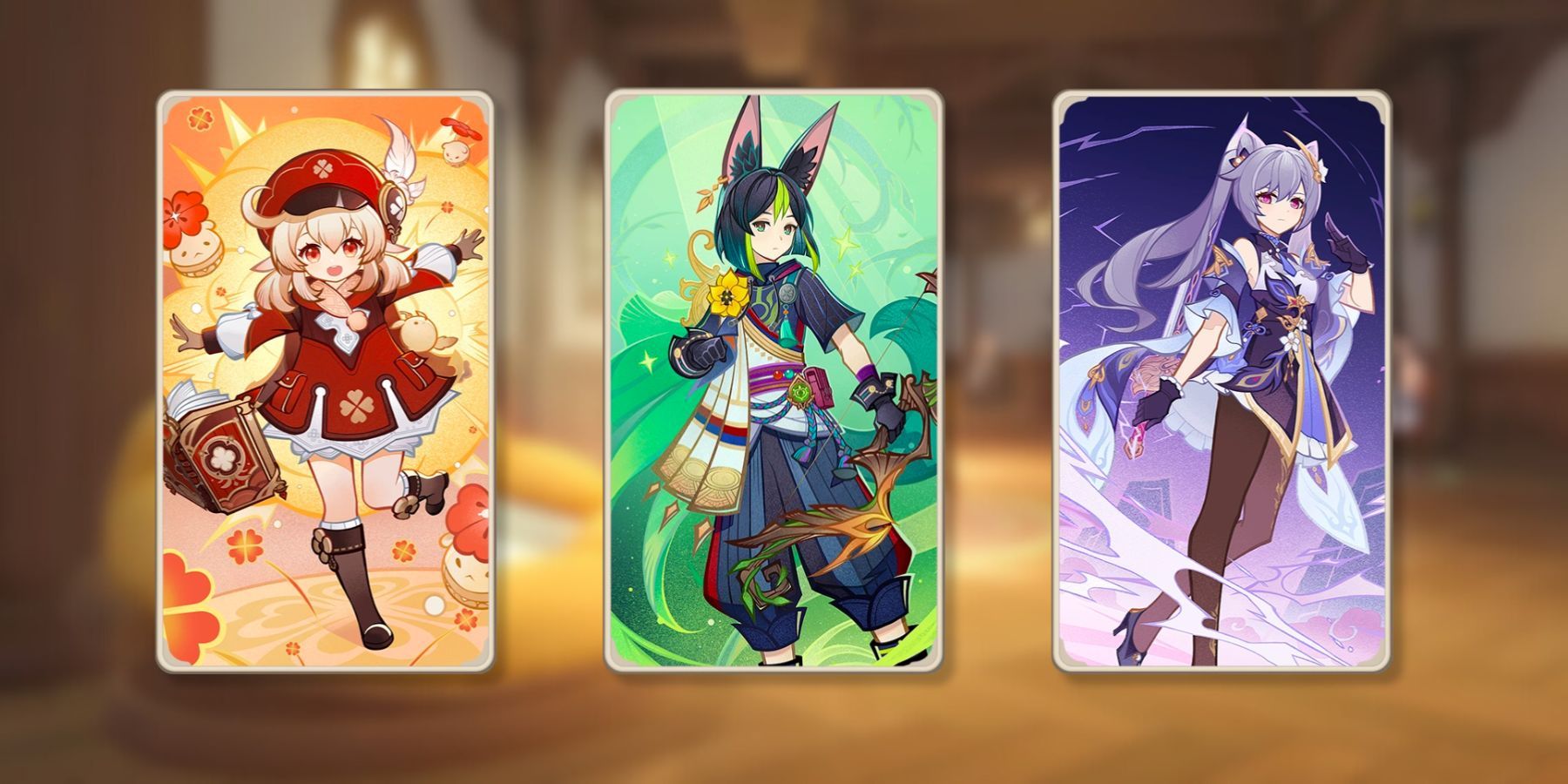 For players who want to focus more on Elemental Reactions, Klee and Keqing are great companion pieces to Tighnari in this deck. Klee is great in this team thanks to her damage-focused gameplay, so setting up Explosive Spark or even managing to use her Burst to set up Sparks 'n' Splash will help both Keqing and Tighnari benefit. Similarly, Keqing's Thundering Penance Talent Card and Lightning Stiletto are fantastic at allowing players to switch between her and other characters quickly to set up Electro reactions. Using Tighnari after setting up either Klee or Keqing's on-field or fast-action attacks will ensure the opposite team goes down quickly.
Tighnari + Fischl + Collei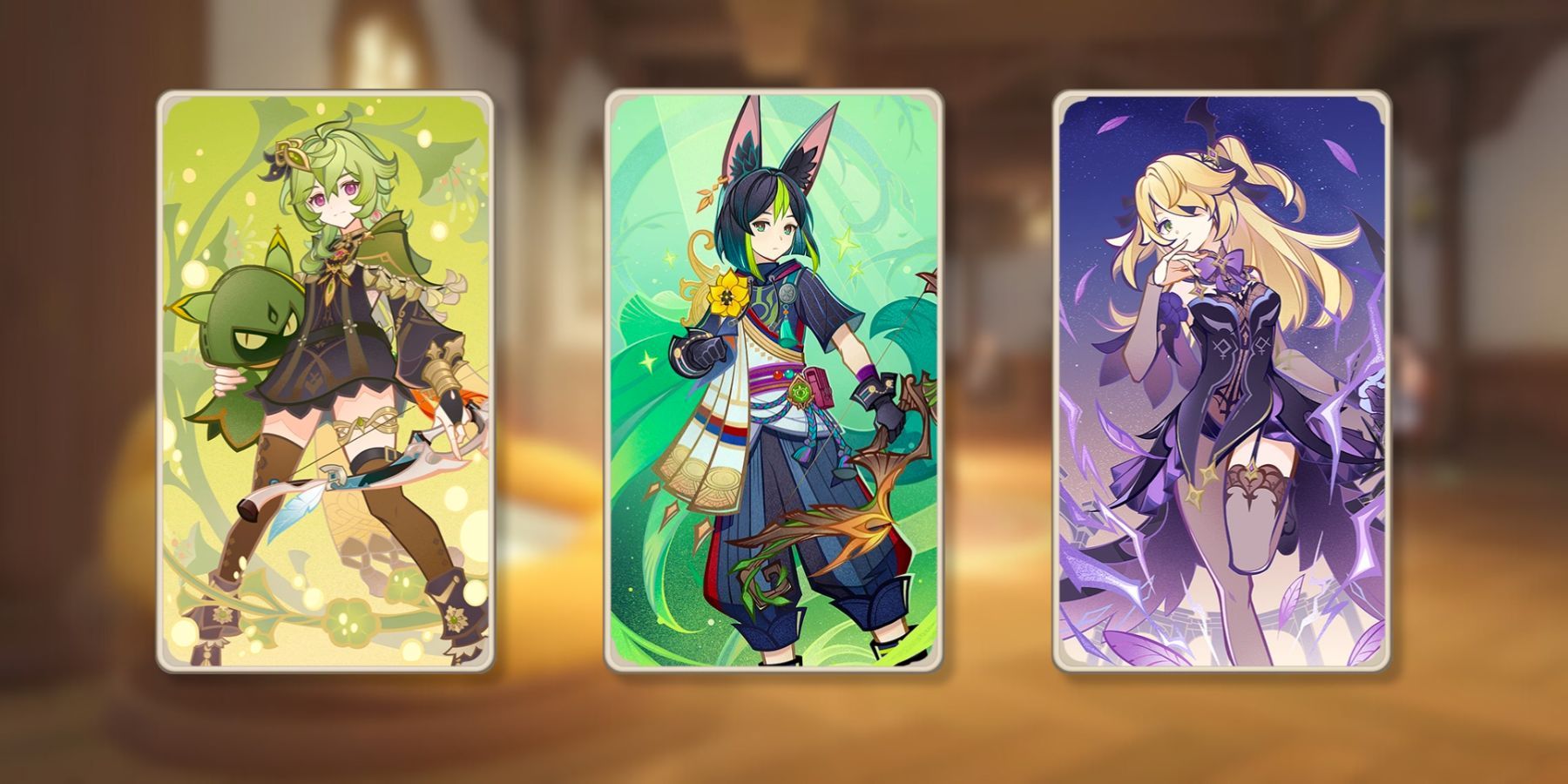 While this team also focuses on using Collei and Fischl to set up for Tighnari's Charged and Burst attacks, its fast gameplay and non-stop Elemental Reactions make it incredibly satisfying to play. Both Collei and Fischl work with Summons that can be refreshed relatively quickly, meaning that they can consistently apply Electro or Dendro to at least one member of the opposing team to slowly chip away at their health while allowing Tighnari time to build up enough Energy for his Burst. Using this team alongside the Elemental Resonance: Woven Weeds Action Card will also give players access to more Dendro dice, helping either Collei with her Summon or Tighnari with his Burst.
RELATED:Genshin Impact Fan Gives Characters Star Ranking Based On Lore
Recommended Action Cards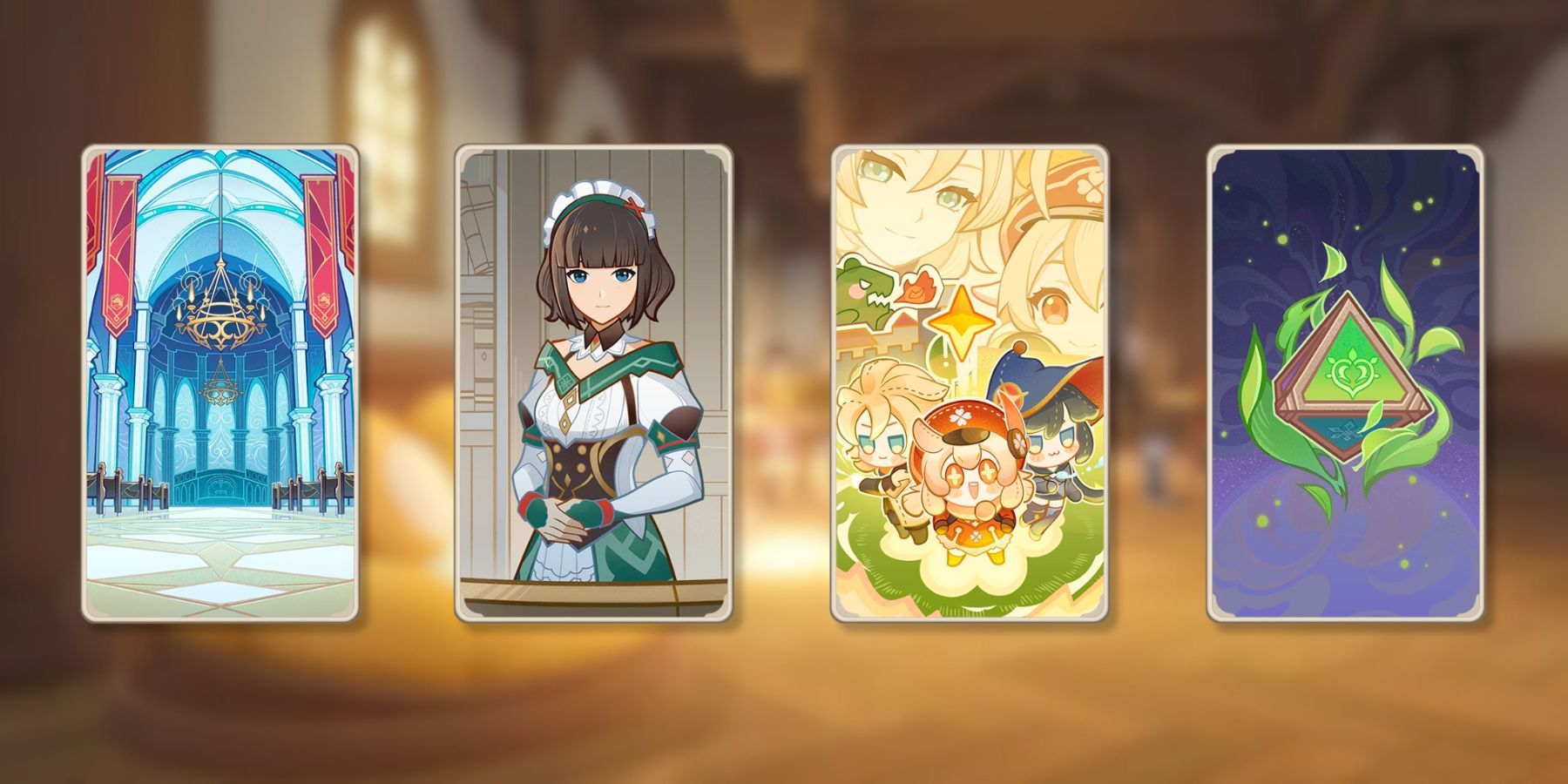 Firstly, as with all teams centered around one or two specific Elements, it will likely be helpful for players to focus on the Elements and weapons that the most important characters in their team will use. In this instance, Action Cards like Deepwood Memories and the Skyward Harp will be very good for Tighnari, as they will help increase his damage output and can be set up very early on in the match if the player gets lucky with their cards and dice at the beginning of the match. If players also plan on using multiple Equipment Cards, adding Wagner's Support card to the deck might also be useful.
As well as using weapon and artifact-focused cards to boost your damage output, using an Elemental Resonance card for extra dice or extra damage on an Elemental Reaction is also recommended for players using dual-Element teams like the ones mentioned earlier in the article. Elemental Resonance: Woven Weeds is recommended for two reasons. Firstly, it's a great choice for Dendro-Electro teams, which is where Tighnari really shines, but can also be used in any majority-Dendro set-up. Secondly, it doesn't require players to use any dice at all to trigger it – all it requires is having at least two Dendro characters in the team. Similarly, the Electro-focused Elemental Resonance: Woven Thunder will also be good for a majority-Electro team.
General support cards are also useful in Tighnari teams. Tighnari teams don't usually benefit from shields or HP revival characters unless specifically using characters like Beidou, Barbara, or Kokomi, so Food cards that focus on healing or protection are a good option – Lotus Flower Crisp or Mushroom Pizza are good options since they do a lot of protection or healing at very little cost. Calx's Arts can also be useful when playing with Tighnari, especially when playing with cards that, just like Tighnari's, only have two Energy slots to fill, and Katheryne can be useful in tandem thanks to the way she saves the player from wasting a round on switching characters.
Genshin Impact is now available on Mobile, PC, PS4, and PS5. A Switch version is in development.
More:Genshin Impact: Strong Characters Held Back By One Weakness
Read original article here: gamerant.com
News Summary:
Genshin Impact: Tighnari TCG Deck Guide
Check all news and articles from the latest GUIDES updates.
Please Subscribe us at Google News.
Denial of responsibility!
Egaxo
is an automatic aggregator around the global media. All the content are available free on Internet. We have just arranged it in one platform for educational purpose only. In each content, the hyperlink to the primary source is specified. All trademarks belong to their rightful owners, all materials to their authors. If you are the owner of the content and do not want us to publish your materials on our website, please contact us by email:
hl.footballs@gmail.com
The content will be deleted within 24 hours.