Guides
Honkai: Star Rail – Tingyun Build Guide
Tingyun is a prominent character in Honkai: Star Rail, serving as the Head Representative of the Whistling Flames, a merchant guild approved by the Sky-Faring Commission. Described as a silver-tongued Foxian girl, Tingyun possesses exceptional communication skills and the ability to weave charming stories that captivate her audience. As a 4-star character, Tingyun belongs to the Lightning element and follows the harmony path. She is widely regarded as one of the best support characters currently available in Honkai: Star Rail, if not the best among the 4-star roster.
Related: Honkai: Star Rail – All 4-Star Characters, Ranked
Many players draw parallels between Tingyun and Bennett from Genshin Impact, owing to their similar capabilities. Tingyun's kit allows her to boost the ATK of her team based on her own ATK, making her an invaluable asset on the battlefield. Furthermore, she excels as a battery character, capable of replenishing the energy levels of her allies, enabling them to unleash their powerful Ultimates more frequently. Unlike Bennett however, she is unable to heal. To fully unleash Tingyun's potential and maximize her ability to buff her teammates, players must carefully build her in a specific manner.
Best Relics For Tingyun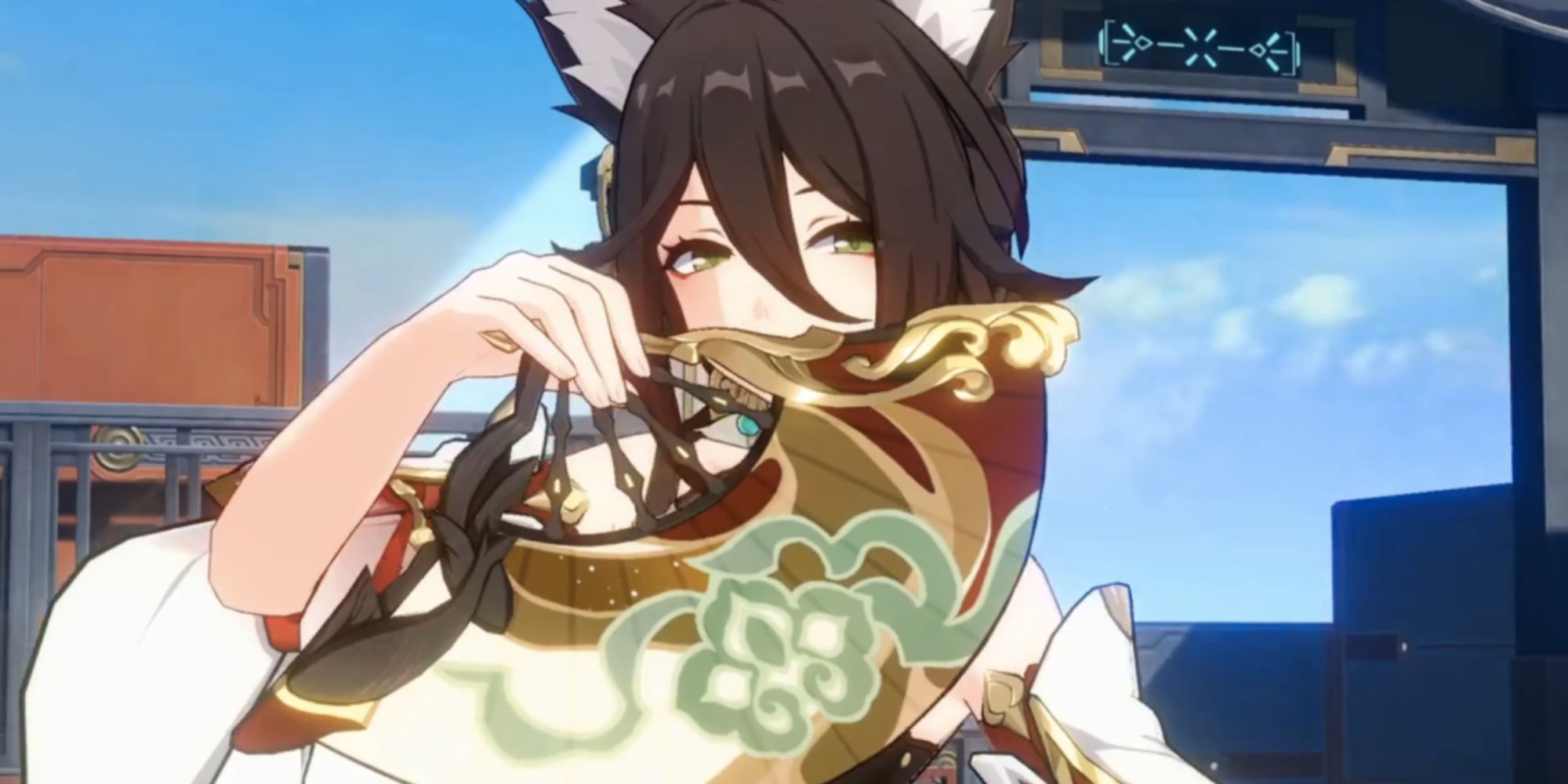 To fully optimize Tingyun's ATK buff, it is crucial to prioritize relics that offer an ATK% bonus. As such, players should focus on equipping her with the Musketeer of Wild Wheat (4p) cavern relic set. This set not only provides an ATK% bonus through its 2p set bonus, but the 4p set bonus also grants Tingyun an additional boost to her Speed and DMG, further enhancing her effectiveness as a support character.
Related: Honkai: Star Rail – Pela Build Guide
When it comes to the Planary ornaments, players are fortunate to have an option that increases ATK%. The Space Sealing Station (2p) ornament set offers an additional ATK% boost, which can be further amplified if Tingyun's speed exceeds 120. This not only elevates her ATK% boost to a significant level but also enhances her overall damage output when players opt to use her Basic ATK instead of relying solely on her support abilities. By prioritizing relics that enhance ATK% and selecting appropriate ornament sets, players can unlock Tingyun's true potential as a support character while also empowering her individual damage-dealing capabilities.
When considering the main stats for Tingyun, players should prioritize the following:
Body: ATK%
Feet: ATK% or Speed
Planar Sphere: ATK%
Link Rope: Energy Regen Rate or ATK%
When it comes to sub-stats for Tingyun, the priority should primarily be ATK% > Speed > flat ATK. This will ensure that she can provide a high ATK buff while also having turn priority to quickly buff her allies before they take their actions.
Best Light Cones For Tingyun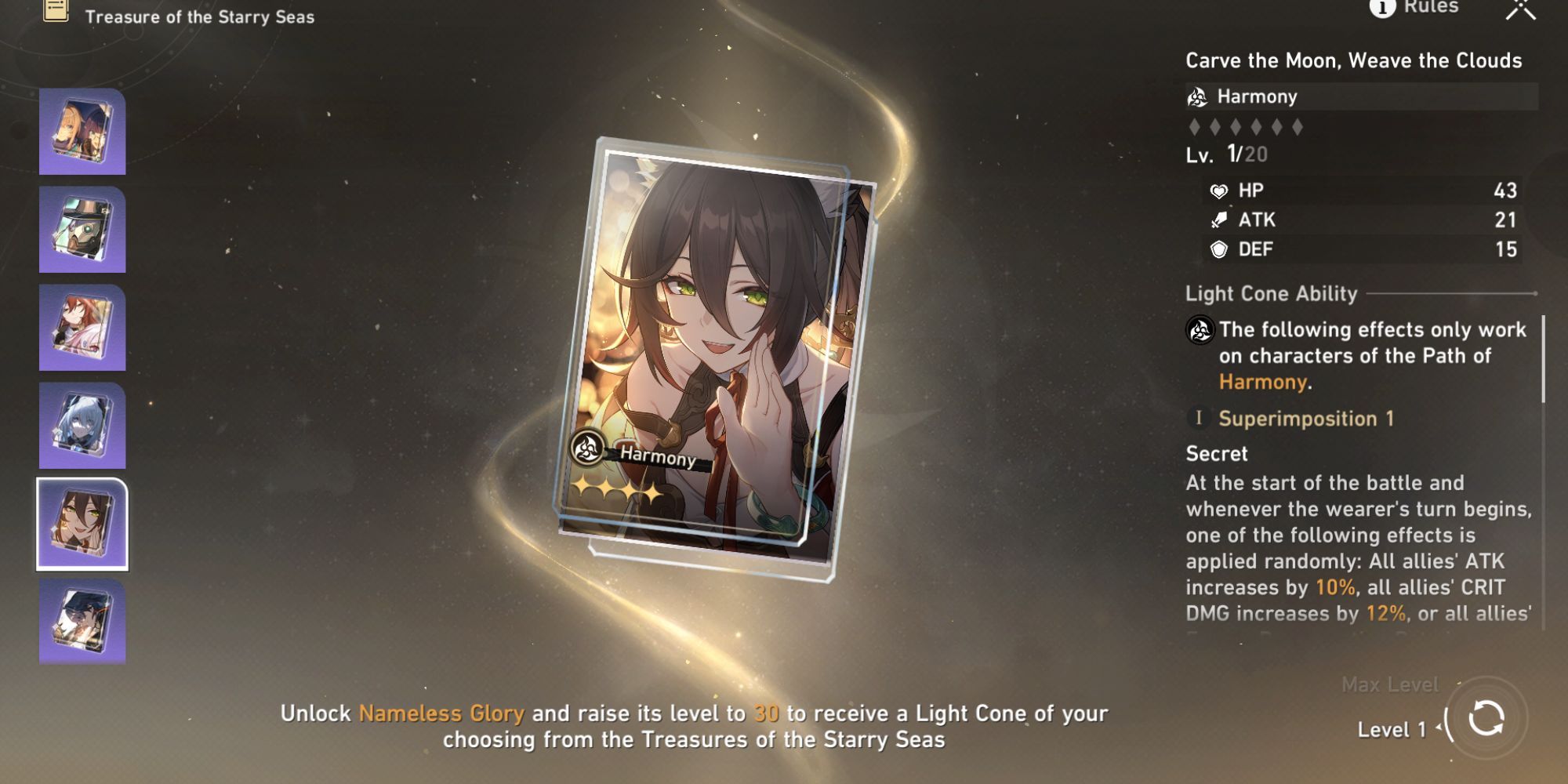 The light cone options for Tingyun may feel somewhat limited, especially for players who want to utilize multiple Harmony characters. Obtaining the optimal option for Tingyun can be a bit challenging due to the gacha aspect of light cones. One example is The Battle Isn't Over, which is primarily Bronya's signature light cone and better suited for her. However, if players have this weapon but not Bronya, it can be a suitable choice for Tingyun instead. But if players have both Bronya and her weapon and plan to use them together, it would still be more fitting for Bronya.
Tingyun's second-best light cone option is Carve the Moon, Weave the Clouds, which can only be obtained by purchasing it with real-life currency and reaching level 30 on the Nameless Honor battle pass. Although it is a more limited option, it is still a great choice for players willing to invest in additional rewards. This light cone has similarities to the Widsith from Genshin Impact, as it provides a random bonus of ATK%, ER%, or Crit DMG% at the start of combat and when the wearer takes an action.
For players seeking a F2P option, the 3-star light cone Chorus is a great choice. It grants an ATK% bonus to allies, making it a valuable option without the need for additional purchases.
Trace Priority For Tingyun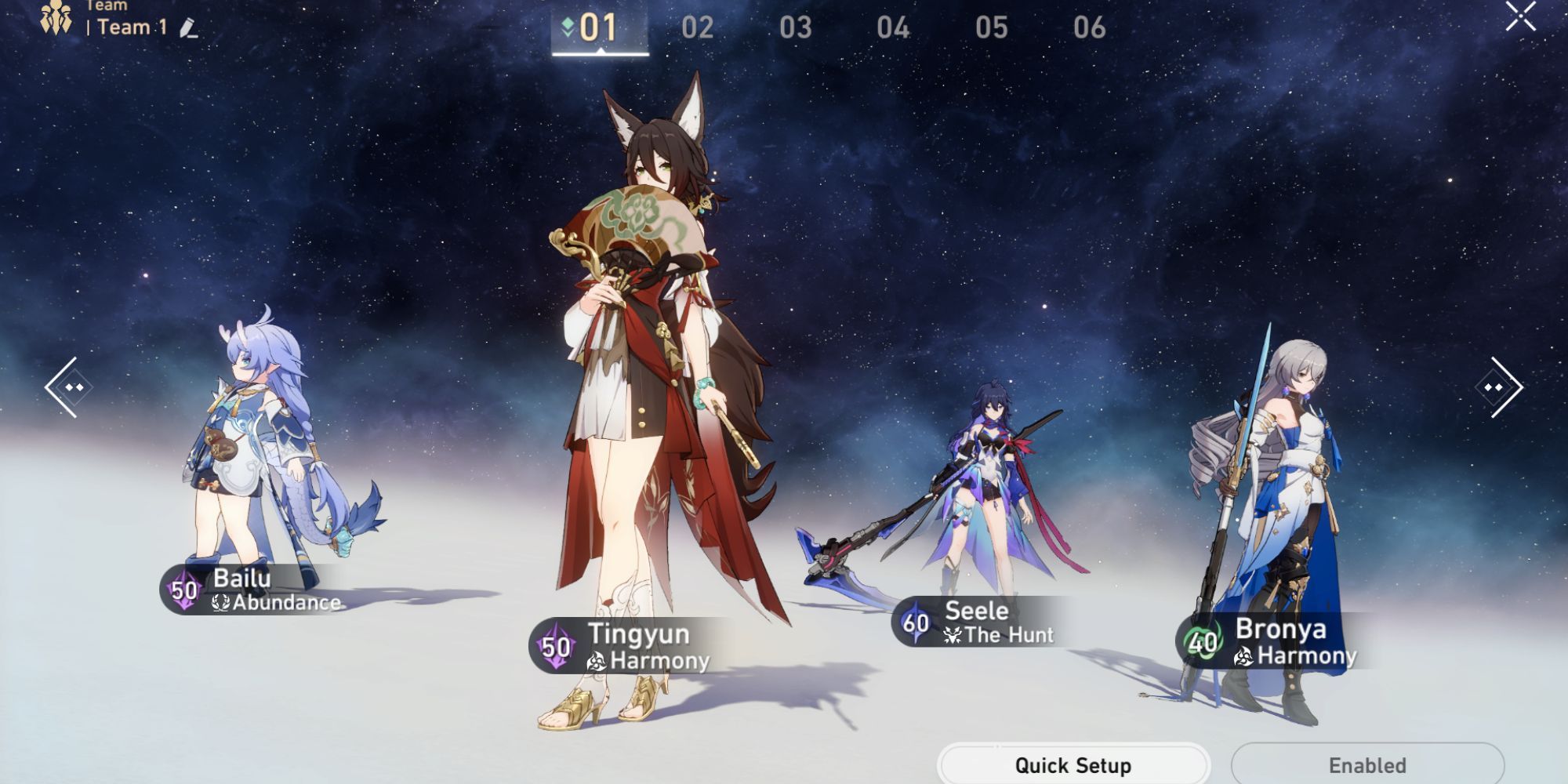 When considering all aspects of Tingyun's kit, the upgrading priority should be as follows: Ultimate > Skill > Talent > Basic Attack. It is important for players to invest resources in enhancing these abilities to maximize Tingyun's effectiveness as a support character. Additionally, players should focus on unlocking her Ascension Traces and minor traces that boost ATK% whenever possible. These enhancements further strengthen Tingyun's buffs and contribute to her overall performance.
Related: Honkai: Star Rail – Sushang Build Guide
While not directly related to upgrading priority, it is worth noting that players should utilize Tingyun's Technique before engaging in difficult battles. This skill allows Tingyun to generate 50 Energy upon use, enabling her to access her Ultimate even earlier and provide crucial support to the team. By strategically using her Technique, players can make the most of Tingyun's abilities and enhance their overall gameplay experience.
In general, Tingyun's buffs have a duration of 3 turns, allowing her to use basic attacks in between. Players may consider gradually leveling up her Basic ATK when they have the resources, making her a more significant sub-DPS in the late game, as it can be used as a skill point regenerator. For example, Tingyun's Ultimate ability, Amidst the Rejoicing Clouds regenerates 50 Energy for a targeted ally and increases their DMG by a percentage based on the trace level for 3 turns. In contrast, her skill, Soothing Melody, grants a single ally an ATK increase for 3 turns and deals additional Lightning DMG for one turn after the buffed ally attacks.
Honkai: Star Rail is now available on Android, iOS, and PC. A PlayStation version is in development.
Read original article here: gamerant.com
News Summary:
Honkai: Star Rail – Tingyun Build Guide
Check all news and articles from the latest GUIDES updates.
Please Subscribe us at Google News.
Denial of responsibility!
Egaxo
is an automatic aggregator around the global media. All the content are available free on Internet. We have just arranged it in one platform for educational purpose only. In each content, the hyperlink to the primary source is specified. All trademarks belong to their rightful owners, all materials to their authors. If you are the owner of the content and do not want us to publish your materials on our website, please contact us by email:
hl.footballs@gmail.com
The content will be deleted within 24 hours.