The full range of fantasy life is represented within the cardboard confines of Magic: The Gathering, from the tiniest Rat to the mightiest Giant. Insects fall decidedly on the former end of that spectrum, represented mechanically by their ability to swarm the battlefield in large numbers, and generally pose a nuisance to your opponent.
RELATED: Magic: The Gathering – The Best Commanders For A Horror Deck
While the Commander format is typically defined by expensive spells and heavy-hitting bomb creatures, Insects as a type have managed to burrow out a niche nest for themselves within it, with many viable options for those seeking to ruin their opponent's picnic. When it comes to choosing a Commander for said decks, here are the ten best bugs for the job.
10
Vishgraz, The Doomhive
Combining the horror of Phyrexia with the horror of swarming insects, Vishgraz may just be one of the most terrifying cards ever printed. And that's just when you consider its art: the actual abilities on the card are scarier still. Creating a trio of toxic Phyrexian Mites when it hits play, Vishgraz also comes packed with toxic itself, and an evasive ability in menace to help back that up.
This means that the Doomhive will quickly be able to rack up poison counters on your opponents, either focused on a single one, or spread around so nobody's safe. Whichever option you go for, Vishgraz scales up accordingly, meaning it won't be long before it doesn't even need toxic to wipe out your opponents in a handful of hits.
9
Blex, Vexing Pest//Search For Blex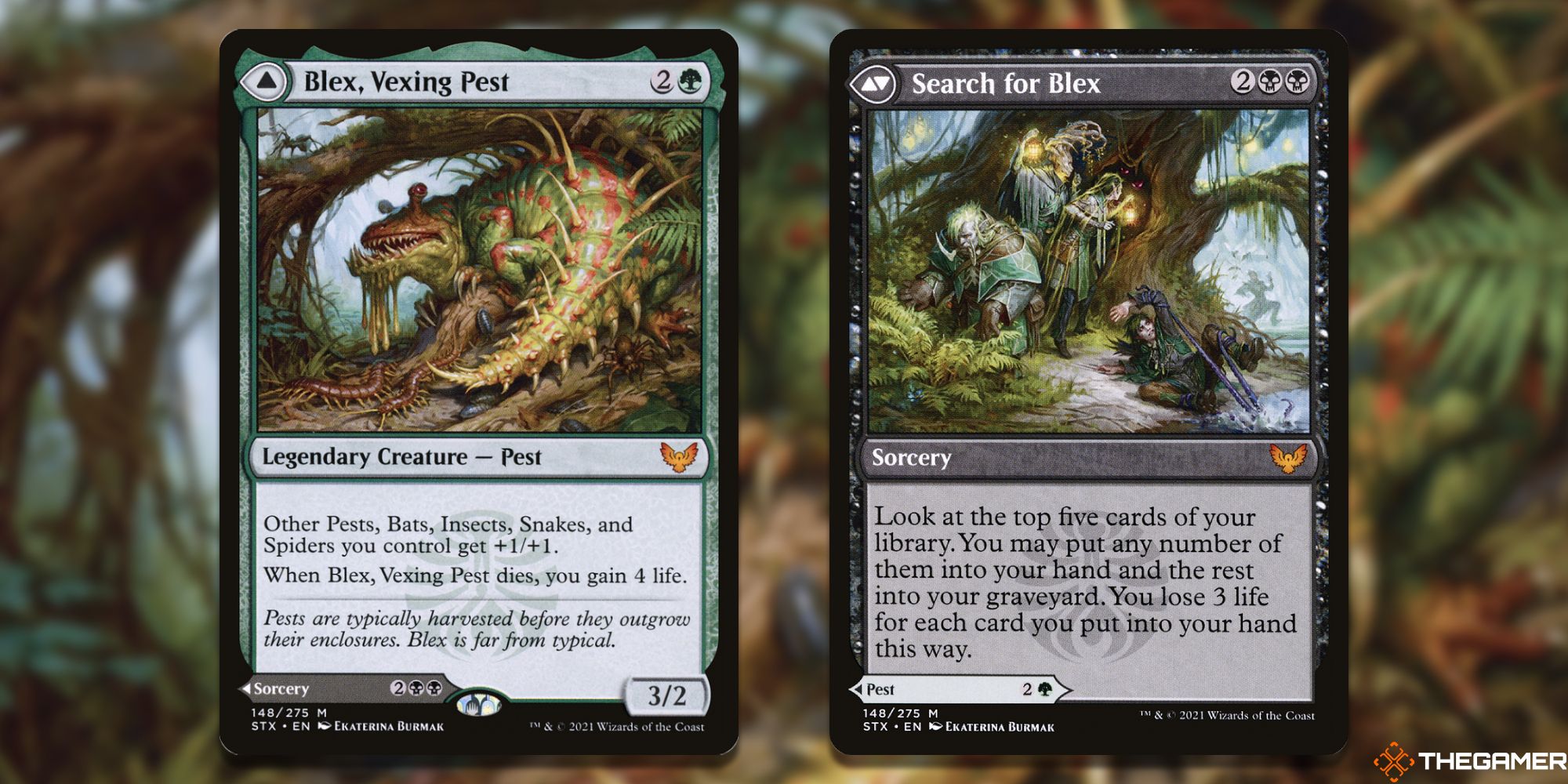 A unique commander in a number of ways, Strixhaven's unofficial mascot is a true champion of the downtrodden, serving as a lord not just for Insects, but also Pests, Bats, Snakes, and Spiders too. This gives him value in a range of type-based decks, but Insect is undoubtedly the most well-supported among them.
What really makes Blex stand out is the Search for Blex spell on the back half of the card, which you can also cast from the command zone. This can draw you up to five cards for 15 life, a fairly reasonable deal with Commander's starting life total of 40, and a great way of overcoming bad draws early so that Blex can finish your opponents off later.
8
Izoni, Thousand-Eyed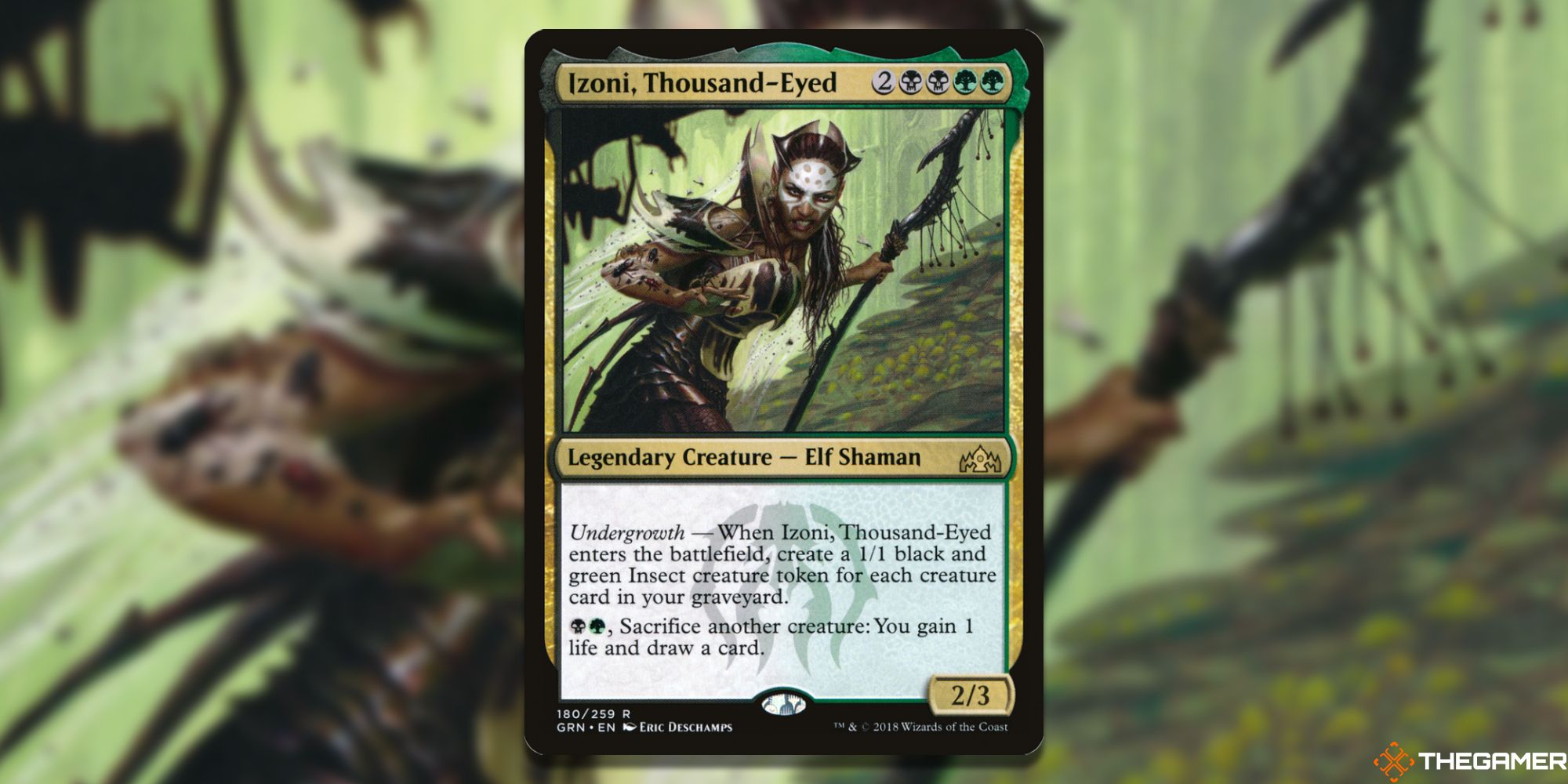 While 'Thousand-Eyed' may sound like hyperbole at first, once you start playing with this sinister Shaman that figure will start sounding downright reasonable. Bringing with her a number of Insect tokens equal to the number of creature cards in your graveyard, Izoni can easily deliver you an instant army in a dedicated self-mill strategy.
RELATED: Magic: The Gathering – The Best Commanders For A Knight Deck
Once this army is assembled, you can then use it to overwhelm your opponents in conjunction with mass board-buff and lord effects, or you can trade it in for more cards and life using Izoni's activated ability. Either way, you'll generate so much value that you won't believe Izoni six mana to cast her.
7
Zask, Skittering Swarmlord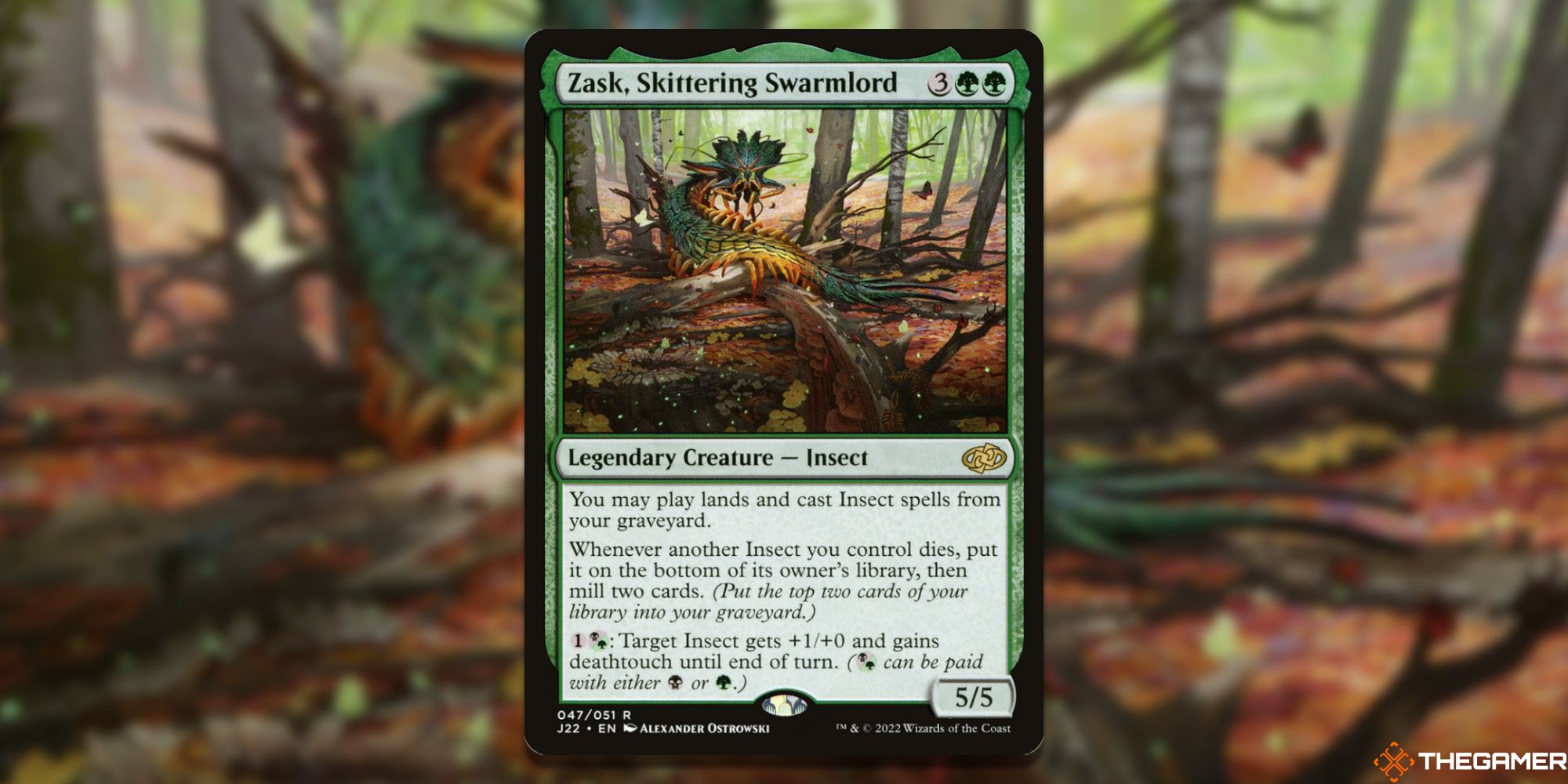 Zask is not just one of the most powerful commanders for an Insect deck, but also one of the best land-focused commanders as well. His passive ability, which lets you play both lands and Insects from your graveyard, is a superb source of value, letting you grind out your opponents with a never-ending supply of natural resources.
In addition, the Swarmlord also offers something rare for a self-mill deck: insurance against fully milling yourself out. By putting your Insects that die back on the bottom of your deck, Zask gives you plenty of time to work with, while also milling additional cards for you to cast in the process.
6
Xira, The Golden Sting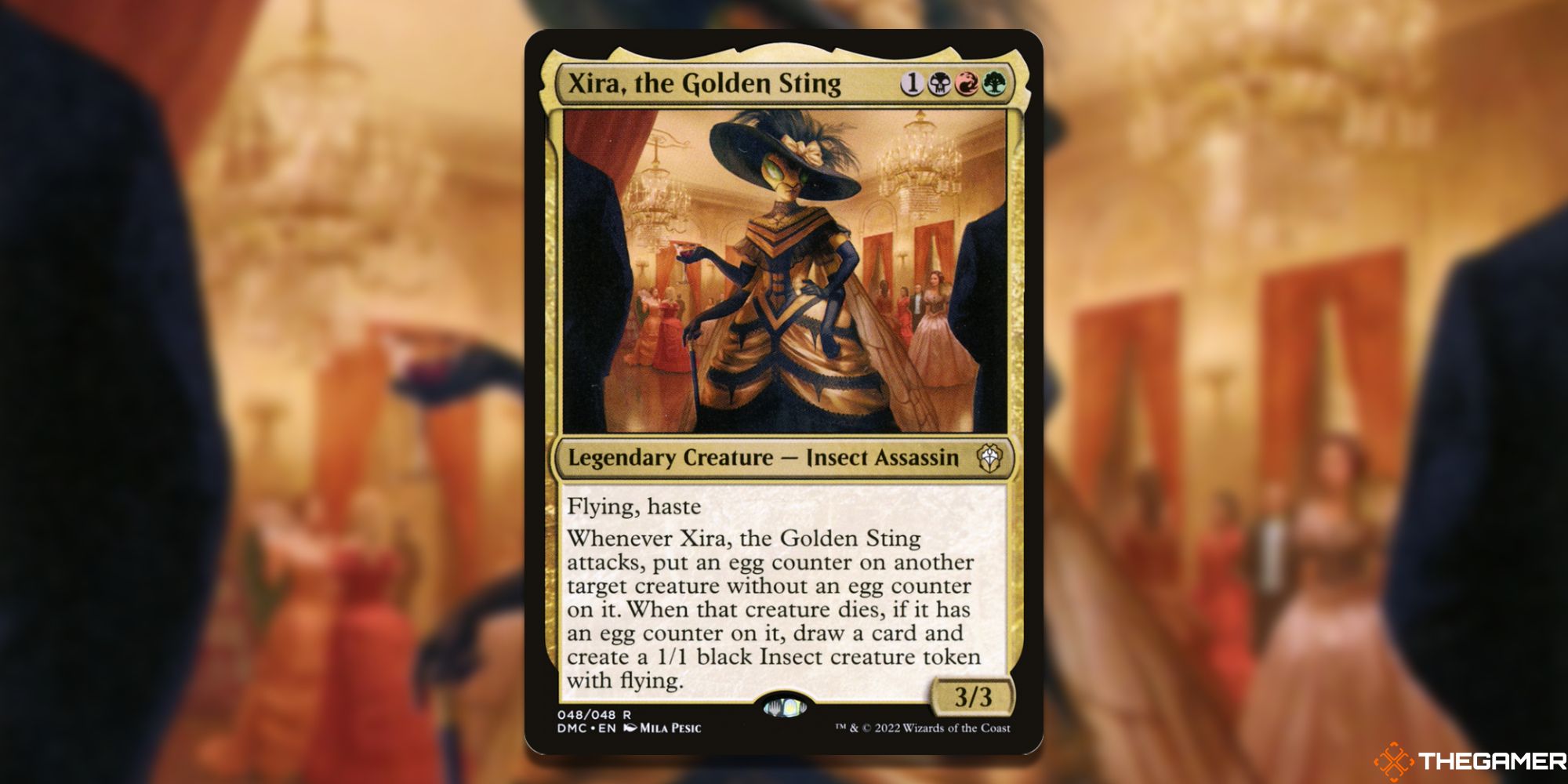 Reimagining one of Legends' most distinctive characters as a vespine Assassin, This new take on Xira lets you play politics with the petty lives of other creatures on the board. With every attack, Xira can deliver her titular Golden Sting to another creature in play, setting it up to grant you a card and an Insect token upon its inevitable untimely death.
There are many applications for this, from gaining extra value from a creature you were planning to remove anyway, to stinging your own creatures before sacrificing them to another effect. And with flying and haste ensuring you can get these shenanigans rolling as soon as Xira hits play, you'll be doling out eggs like it's Easter Sunday in no time.
5
Mazirek, Kraul Death Priest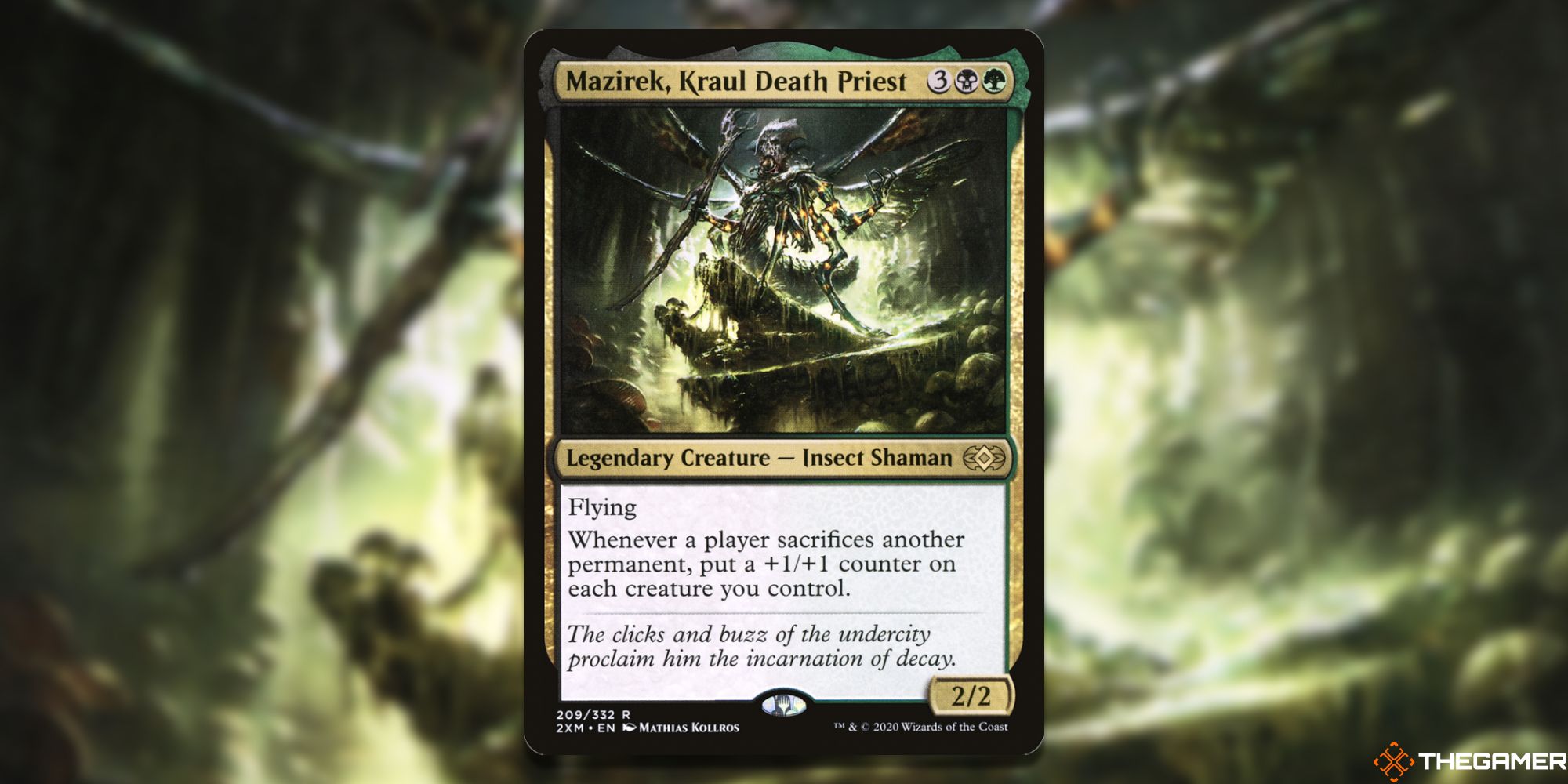 Fittingly enough for a Priest, Mazirek rewards you handsomely for offering, or forcing your opponents to offer, tribute in the form of sacrifices. Every time a permanent is sacrificed, every creature you control receives a +1/+1 counter, particularly effective when you have a huge swarm of Insects to benefit from the boost.
This ability can be leveraged in a number of ways, either by building a dedicated sacrifice deck of your own, relying on enforced sacrifice effects like Grave Pact and Dictate of Erebos, or both. However you choose to do it, the end result will be a board full of worryingly large Insects, with Mazirek's flying ability suddenly becoming a huge problem for your opponents as it crashes in for commander damage.
4
Thriss, Nantuko Primus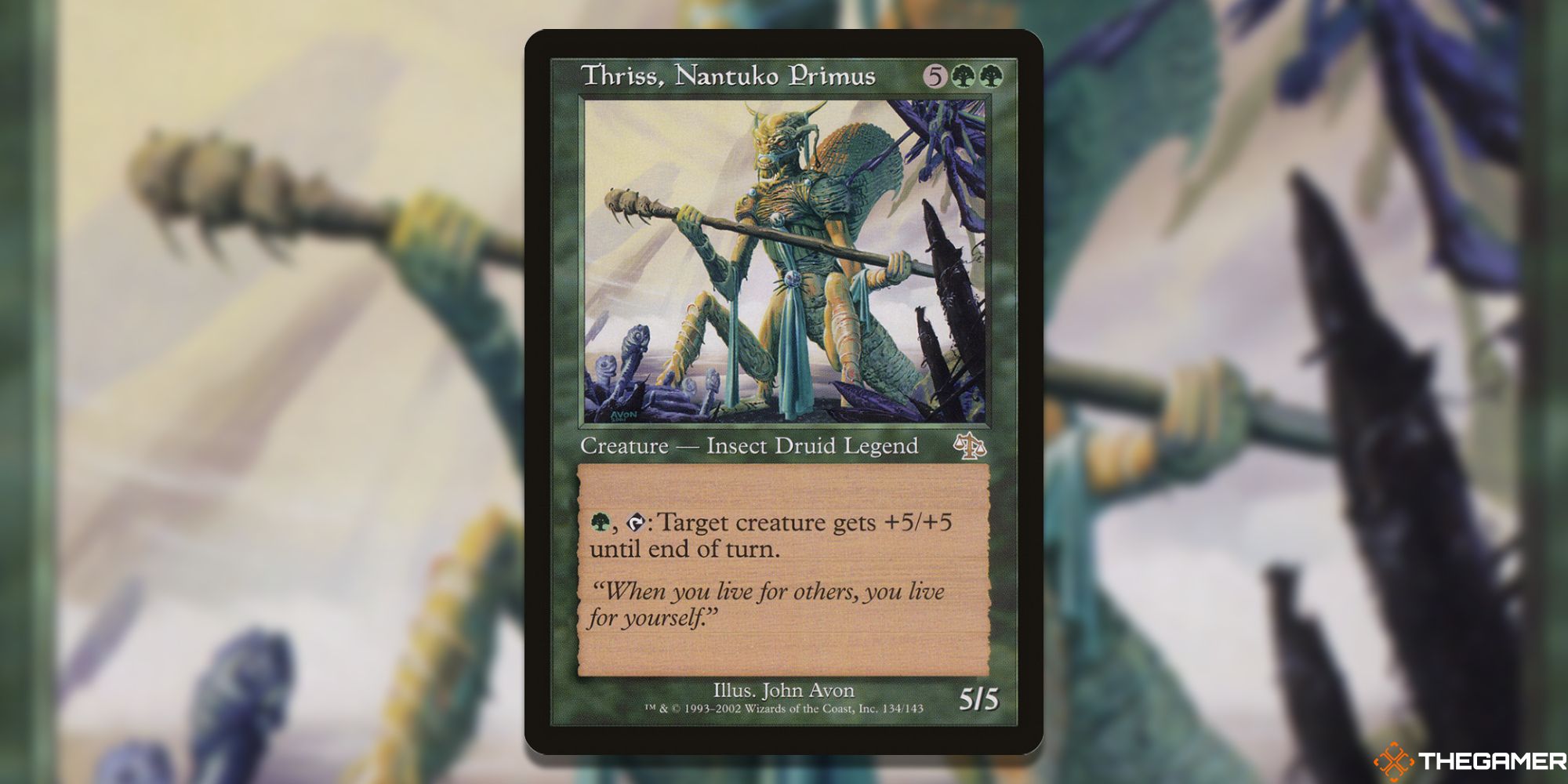 It's often said that sharing is caring, and Thriss embodies this idea better than most creatures in Magic. With the ability to pass his considerable 5/5 stats onto any other creature in play, he can turn even the tiniest Insect token into a force to be reckoned with.
RELATED: Magic: The Gathering – The Best Saproling Commanders
This is a flexible, powerful ability, particularly effective in combination with the natural flying ability that many Insects possess. If you can find a way of untapping Thriss repeatedly, such as Seedborn Muse, you can make use of his ability multiple times per turn cycle, making combat with you a prospect your opponents won't want to face.
3
The Locust God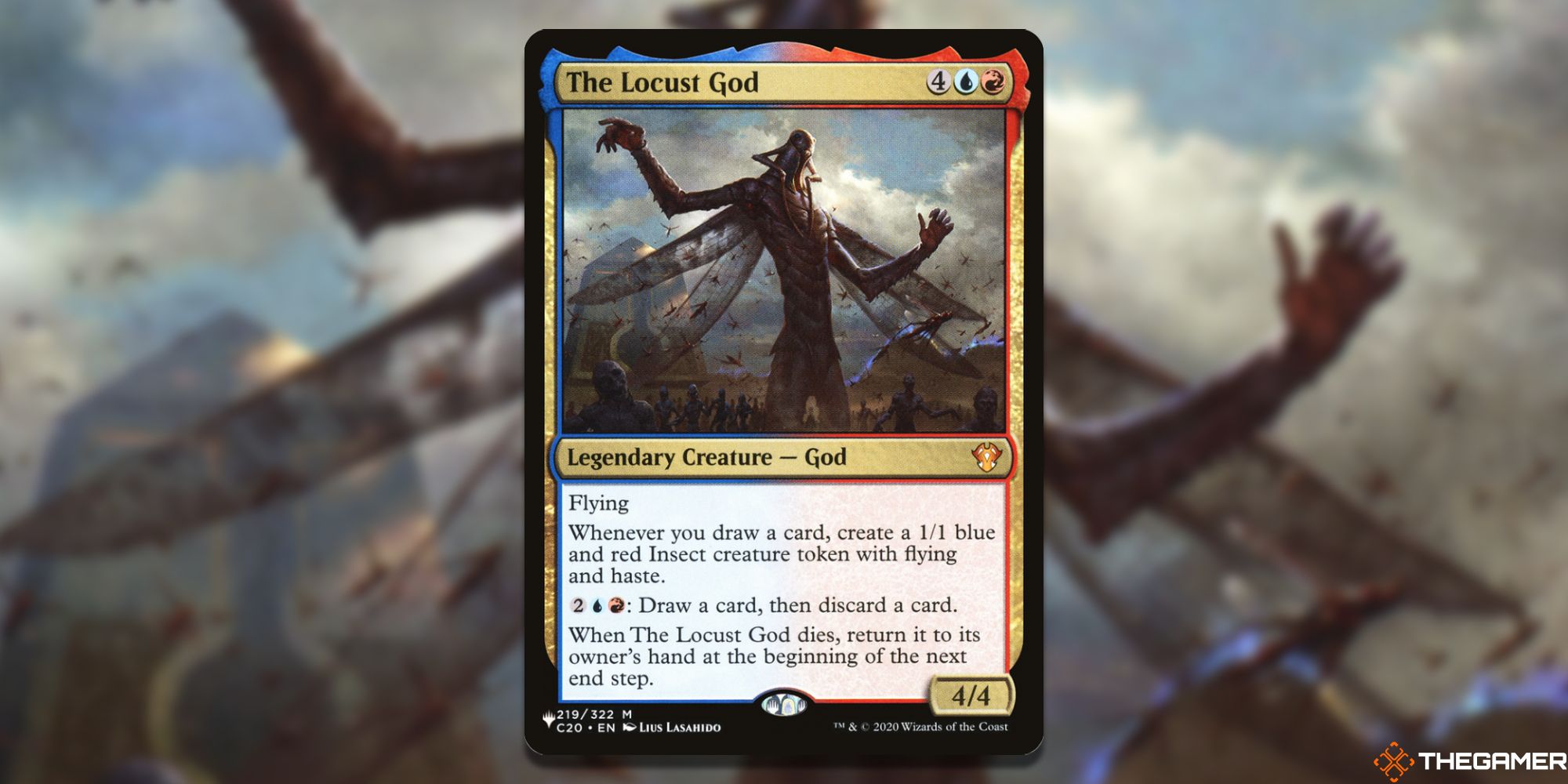 A rare Insect commander that isn't in black or green, The Locust God combines resilience with explosive potential, to devastating effect. Every time you draw a card, including the card you draw at the start of your turn and the card drawn by The Locust God's activated ability, you create a 1/1 Insect with both flying and haste.
This provides some nice incremental value over time if played fairly, but it can also end games on the spot in combination with mass card draw effects, such as Wheel of Fortune. The fact that you can recall The Locust God to your hand rather than the command zone upon death is a nice way to get around the commander tax, and ensures that your opponents will have difficulty dealing with this forsaken deity permanently.
2
Xira Arien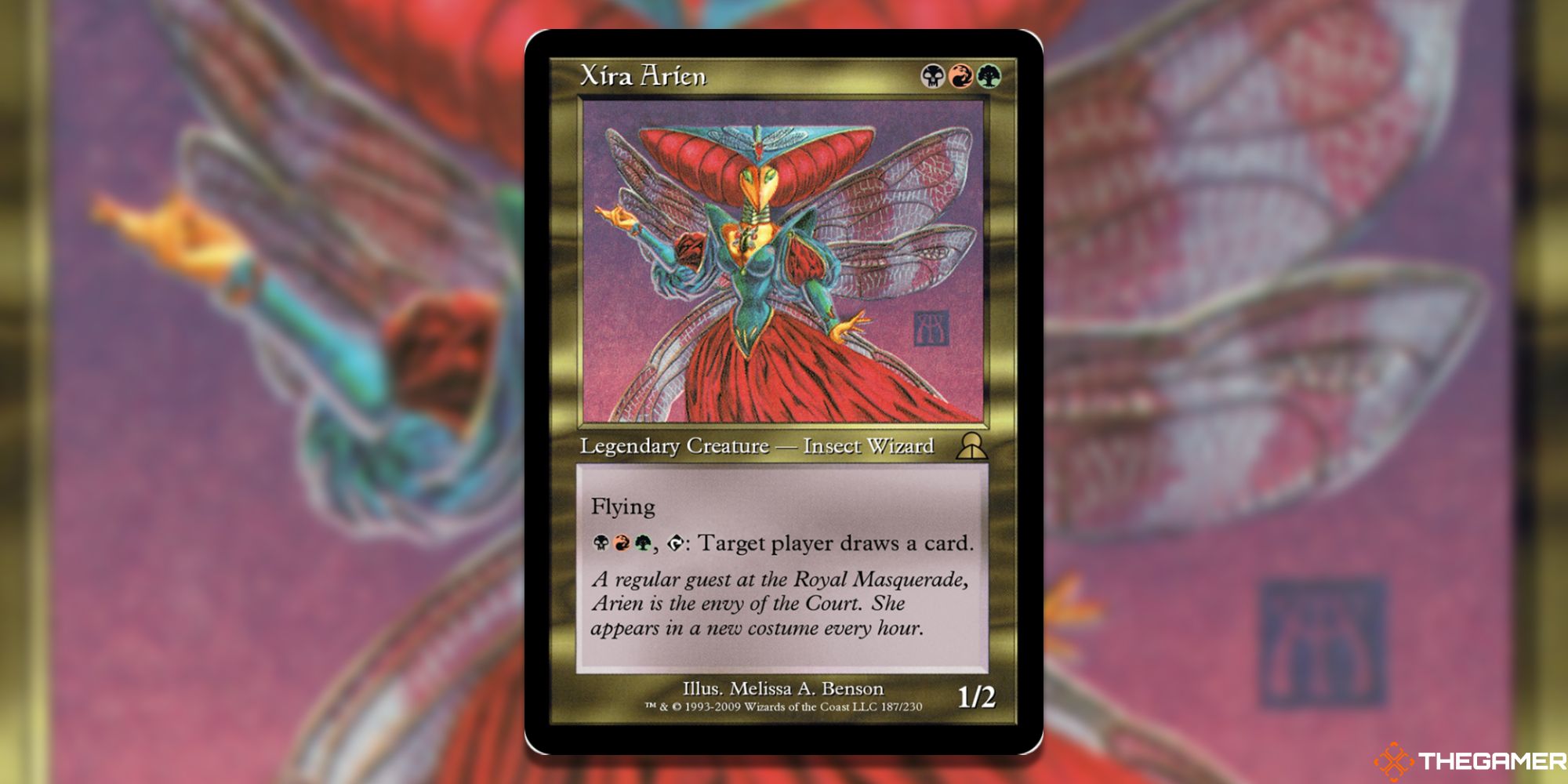 One of the very first legendary creatures added to Magic: The Gathering in 1994's Legends, Xira Arien stood out among her overcosted peers then, and she still stands out now, providing one of the most generically useful Jund commanders ever seen. For three mana, she can tap to draw you a card, providing consistent, unconditional advantage over the course of a long game.
While this ability isn't specific to Insect decks, Xira herself is an Insect, which allows her to benefit from any Insect synergies you include in the 99. A low initial mana cost, as well as a modest power level that makes it unlikely your opponents will target you early, combine to create a rock-solid commander.
1
Kathril, Aspect Warper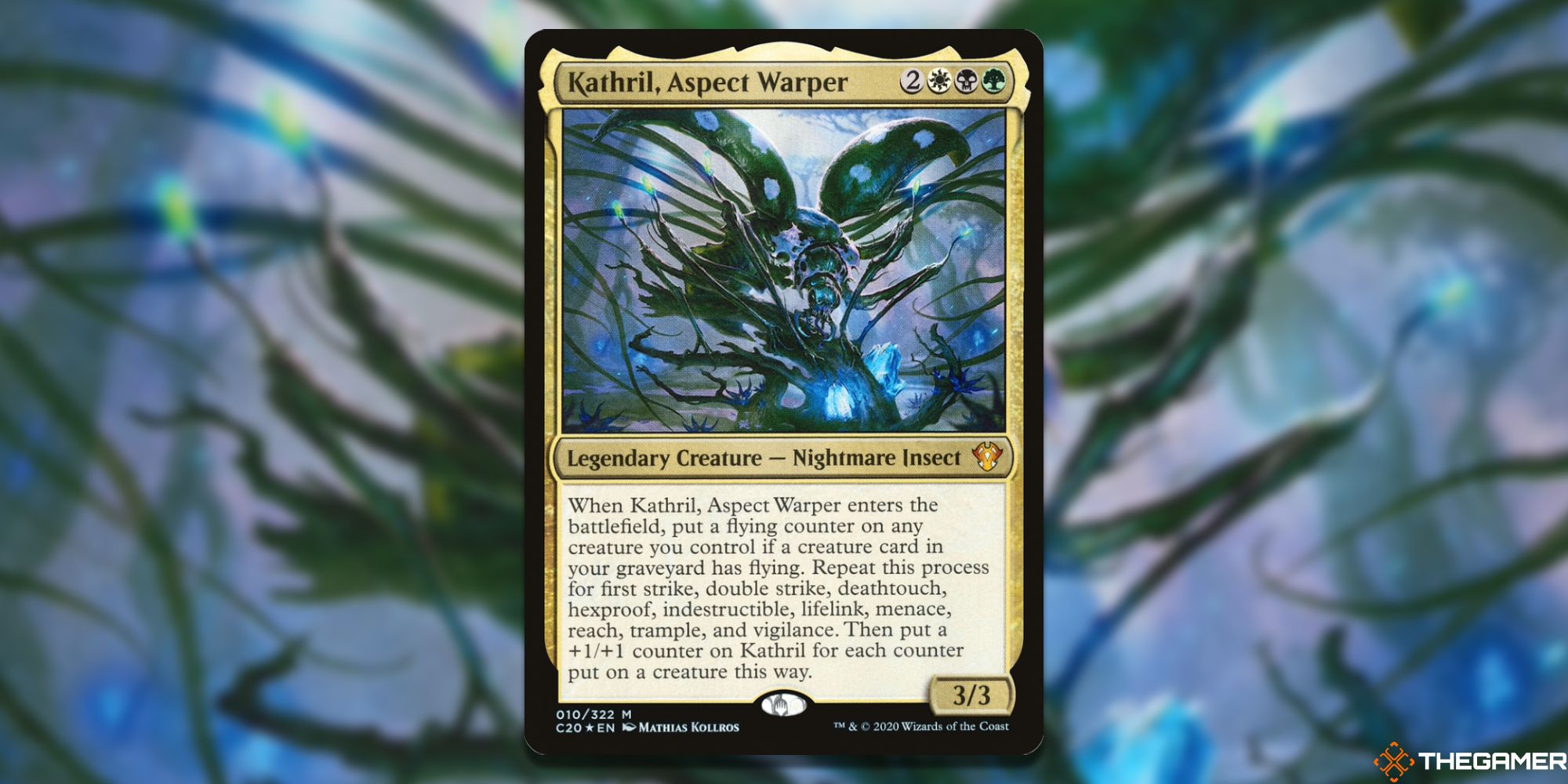 Insect tokens don't tend to be much of a problem to deal with alone, generally just being generic 1/1 creatures, but Kathril lets you augment your forces with a bevy of useful keywords, ratcheting up their nuisance value by several degrees. When Kathril enters play, you can distribute counters for each of the keywords it mentions that exist on creatures in your graveyard, with 11 options to choose from.
Some of these work best on small creatures, like deathtouch and reach, while others are better off being applied to a larger creature, like Kathril itself, like double strike and lifelink. With enough creatures in your graveyard, Kathril lets you cook up a delicious keyword soup; a soup that will likely prove an acquired taste for your opponents.
NEXT: Magic: The Gathering – The Best Commanders For A Phyrexian Deck
Read original article here: www.thegamer.com
News Summary:
Magic: The Gathering – The 10 Best Commanders For An Insect Deck
Check all news and articles from the latest NEWS updates.
Please Subscribe us at Google News.
Denial of responsibility!
Egaxo
is an automatic aggregator around the global media. All the content are available free on Internet. We have just arranged it in one platform for educational purpose only. In each content, the hyperlink to the primary source is specified. All trademarks belong to their rightful owners, all materials to their authors. If you are the owner of the content and do not want us to publish your materials on our website, please contact us by email:
hl.footballs@gmail.com
The content will be deleted within 24 hours.