Guides
Persona 5 Royal: How to Get Every Room Decoration
The room decorations in Persona 5 Royal have no inherent value. They don't contribute to the ending, only one is needed for an achievement, and even the Thieves Den awards only care about getting five specific items.
However, gathering decorations items can really bring Joker's drab bedroom to life, plus players can get some old-fashioned bragging rights by gathering them all. Each item commemorates a different Tokyo location, and so they also show that players have done their best to explore Japan's capital city. For those who want to fill out their shelves, here's where to find every room decoration in the game.
RELATED: Some Gamers Can Get Free Persona 5 Royal DLC
Crane Machine Dolls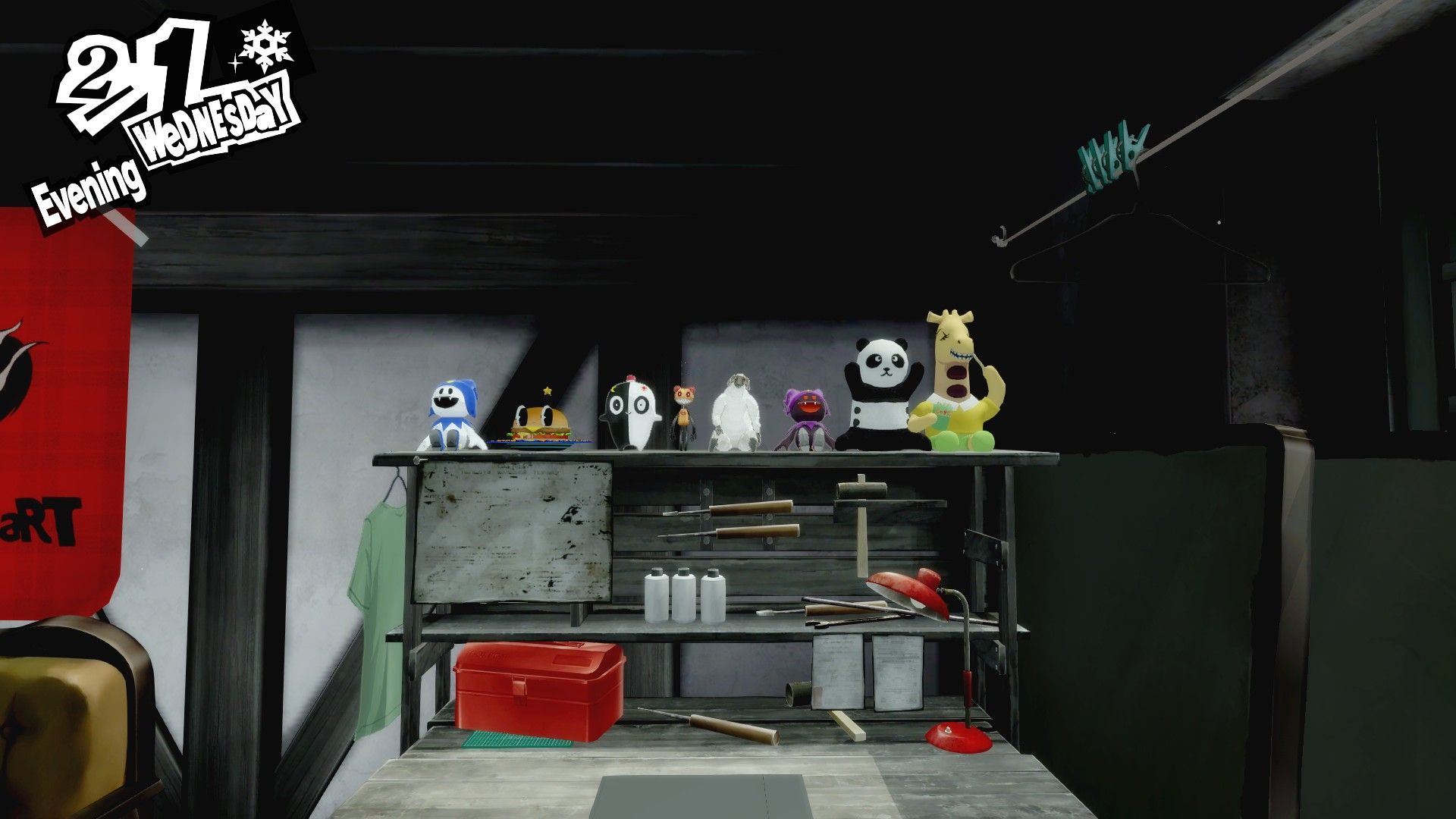 In Persona 5 Royal, the hub location of Akihabara unlocks in September, fairly late into the game. One destination in this hub is the arcade, which is where Joker will find the Tower confidant along with a lot of crane games. Players can interact with the crane on the far left, and if they get lucky the crane will grab a boxed doll that Joker can set on his work desk.
Each try at the crane game costs 300 yen (not much at this point in the game), and Joker can try five times per day to grab a doll. The odds of success are never perfect, but they do go up with Joker's Proficiency level, and playing the crane game never causes time to pass. The odds also go up on days ending with the number 7 (7 being a lucky number in Japan).
In Royal there are eight dolls Joker can win from this machine. Each one must be won in order, and the next one will only appear on the Monday after getting a doll or on a specific date, whichever comes second. Here are the earliest dates when each doll can appear:
| Doll | Date |
| --- | --- |
| Jack Frost Doll | 9/1 |
| Burger-kun Doll | 9/22 |
| Wanna-kun Doll | 10/14 |
| Lexy Doll | 11/3 |
| Sheep Man Doll | 11/25 |
| Black Frost Doll | 12/15 |
| Buchimaru Doll | 1/13 |
| Jagao Doll | 1/23 |
As the list shows, the full set of dolls are only available to players who manage to unlock the third semester. Players will get the achievement Going Against the Crane for collecting one doll and the Thieves Den award ARCADE Addict for getting five.
Shelf Decorations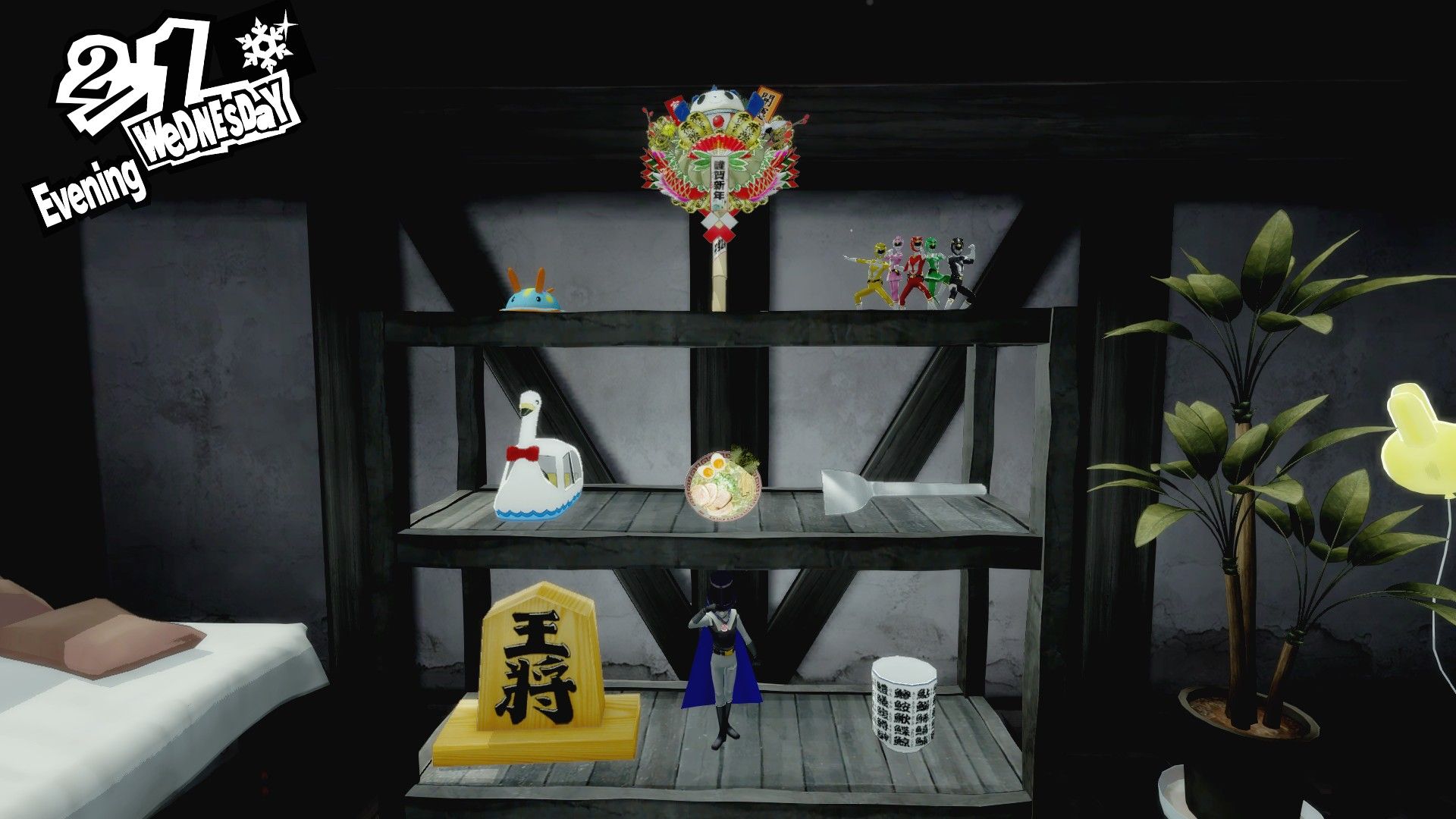 A total of nine items can fit on the shelf by Joker's bed. Joker can collect all of these items by inviting his confidants to different Tokyo destinations, but some of them are trickier to get than others. First, Joker must be aware of a location before he can invite anyone to visit. Locations unlock by reading certain books, reaching certain confidant ranks, and by going on certain outings when invited.
Second, a confidant must not be ready to rank up. If they are, the ranking event will trigger and Joker can't invite them anywhere. Third, Joker can choose to visit any location in any order with some confidants, but with other confidants Joker can only go to specific locations in a specific order.
Fortunately, Joker can always ask a confidant at rank 10 to go have some fun, so most of these decorations are easy to obtain even if players always get max points during events. Any exceptions will be noted below. Here's what players need to do to fill out the shelf:
| Decoration | Location | Confidant | Complications? |
| --- | --- | --- | --- |
| Sea Slug Doll | Shinagawa | Kasumi | No |
| Kumade | Asakusa | Haru | Can only get from hangout event on 11/6 |
| Featherman Dolls | Nakano | Ryuji | Can't be raining |
| Swan Boat | Inokashira Park | Iwai | First hangout location, can't be raining |
| Ramen Bowl | Ogikubo | Ryuji | No |
| Giant Spatula | Tsukishima | Haru | No |
| King Piece | Jimbocho | Hifumi | Second hangout location, can't be raining |
| Hero Figure | Akihabara | Futaba | No |
| Sushi Teacup | Ginza | Ohya | First hangout location |
RELATED: Persona 5 Is Getting a Brand New Spin-Off Game
Assorted Decorations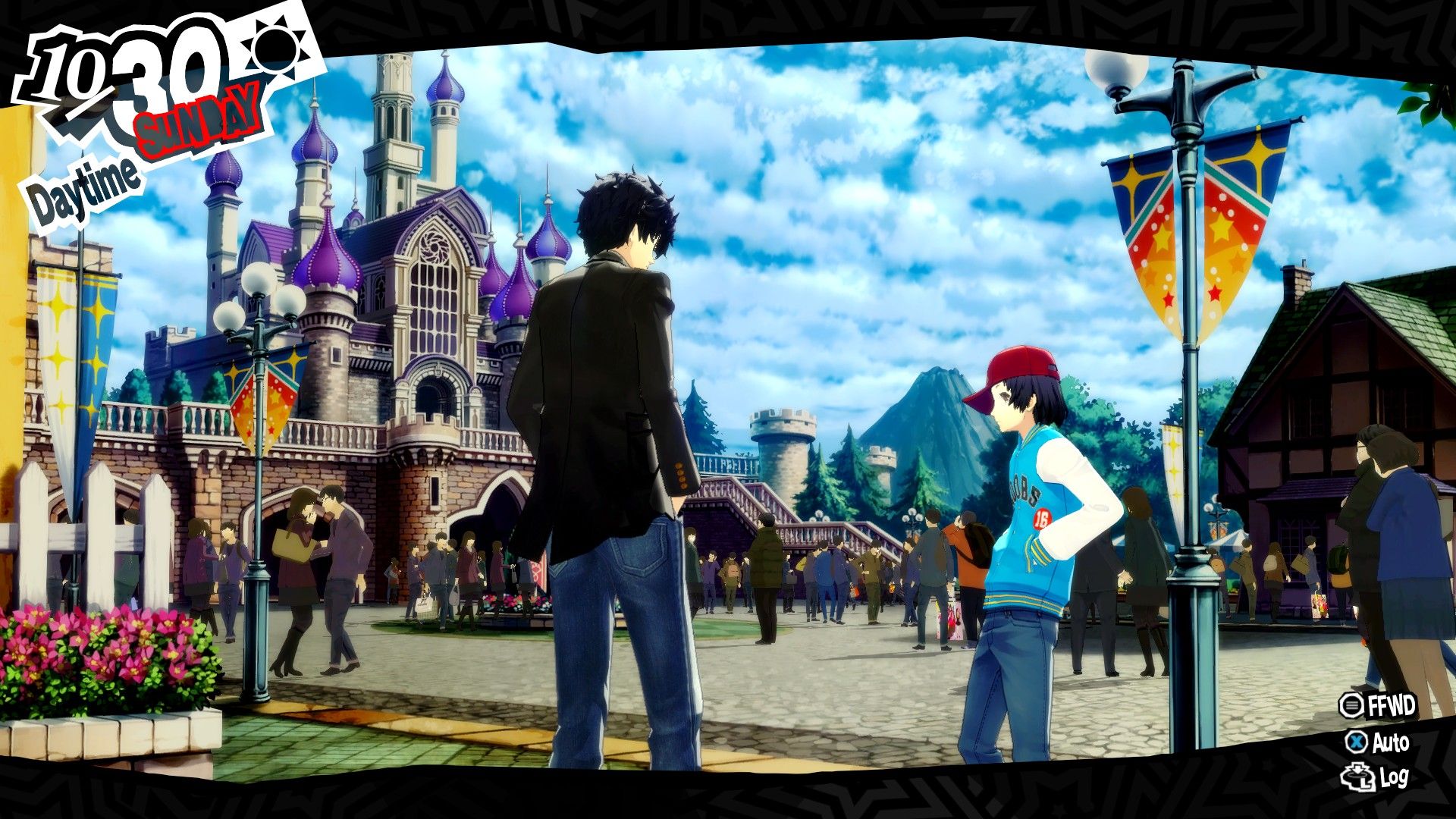 Several other decorations will fill out the rest of the room. Some of them take up their own special spots on the various walls and support beams, but a few of them occupy a spot next to the plant, and players can only have one item in this location at a time. These are the mutually exclusive items:
| Decoration | Location | Confidant | Complications? |
| --- | --- | --- | --- |
| Skytree Lamp | Asakusa/Skytree | Chihaya | No |
| Shumai Cushion | Chinatown | Makoto | Can't be raining |
| Gi-Nyant Doll | Suidobashi | Makoto | Can't be raining |
| Choco Fountain | Shibuya | Ann | No |
| Nude Statue | Ueno | Yusuke | No |
| Balloons | Destiny Land | Shinya | Second hangout location, must be rank 6 or 9, must be 10/10, 10/30, or 11/3 |
Players will note that the balloons are especially hard to get. This is because players can only visit Destiny Land with Shinya on certain holidays and Sundays, and later in November the theme park will shut down for winter. Also, to the best of the community's knowledge the only times Shinya is willing to go to Destiny Land are at ranks 6 and 9. Players will also need to choose some wrong answers during Shinya's ranking events to get the hangout opportunity.
The rest of the room decorations are the following:
| Decoration | Location | Confidant | Complications? |
| --- | --- | --- | --- |
| Idol Poster | Harajuku | Ann | Can't be raining |
| I <3 Tokyo Shirt | Asakusa/Nakamise Street | Futaba | Can't be raining |
| Star Stickers | Ikebukuro | Yusuke | No |
| Hamaya | Meiji Shrine | Yusuke | Can't be raining |
| Night Pennant | Odaiba/Seaside Park | Kawakami | Must be rank 10 and lovers |
Persona 5 Royal is available now on PC, PS4, PS5, Switch, Xbox One, and Xbox Series X/S.
MORE: What the Rumored Persona 3 Remake Should Take From Persona 5 Royal
Read original article here: gamerant.com
News Summary:
Persona 5 Royal: How to Get Every Room Decoration
Check all news and articles from the latest GUIDES updates.
Please Subscribe us at Google News.
Denial of responsibility!
Egaxo
is an automatic aggregator around the global media. All the content are available free on Internet. We have just arranged it in one platform for educational purpose only. In each content, the hyperlink to the primary source is specified. All trademarks belong to their rightful owners, all materials to their authors. If you are the owner of the content and do not want us to publish your materials on our website, please contact us by email:
hl.footballs@gmail.com
The content will be deleted within 24 hours.