Guides
Terra Nil: How to Find Animals
Each map in Terra Nil consists of three stages. During the first stage, players must clean the landscape and cover it with greenery and blue ocean tiles. During the second stage, players replace the generic greenery with various biomes based on the local climate.
The third stage is a two-step process. First, players must recycle and reclaim all the buildings they used to restore the map. Second, players must discover three out of six animal species that can populate the area. However, many players have trouble using the Terra Nil animal scanner, which is why this guide will offer step-by-step instructions on how to do so.
RELATED: Devolver Digital Reveals Terra Nil Release Date
The Animal Observatory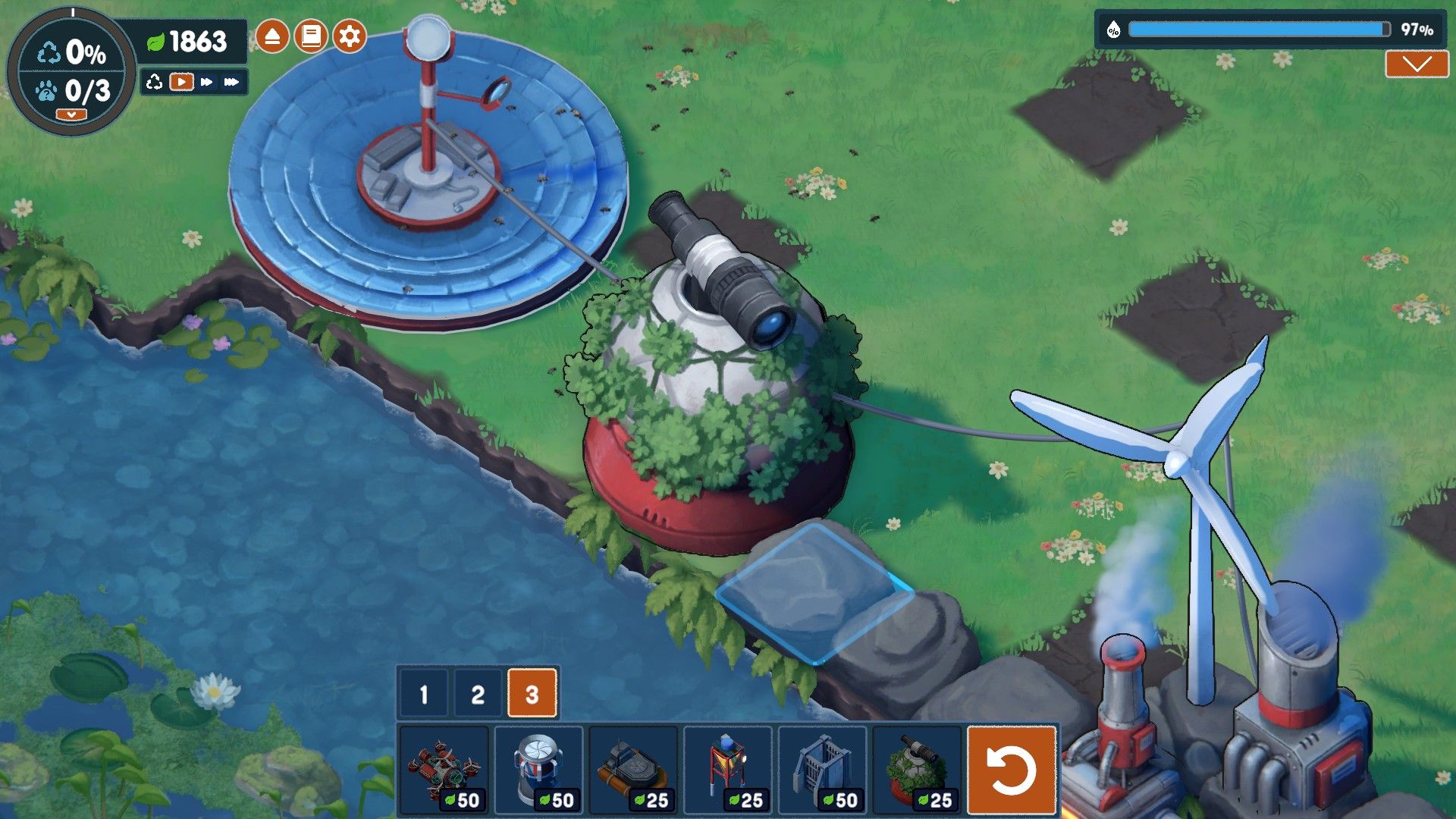 The first thing players must do to find animals during stage 3 is place an Animal Observatory. This building is on the tier 3 list of every single map in the game, the cost is a cheap 25 leaves, and players can set it down on any tile surface aside from water.
Once the Observatory exists on the map, players can start to scan for wildlife. However, if something happens to the Observatory, like getting recycled or burned up in a Solar Amplifier fire, players will need to place a new Observatory to continue scanning.
How to Scan for Animals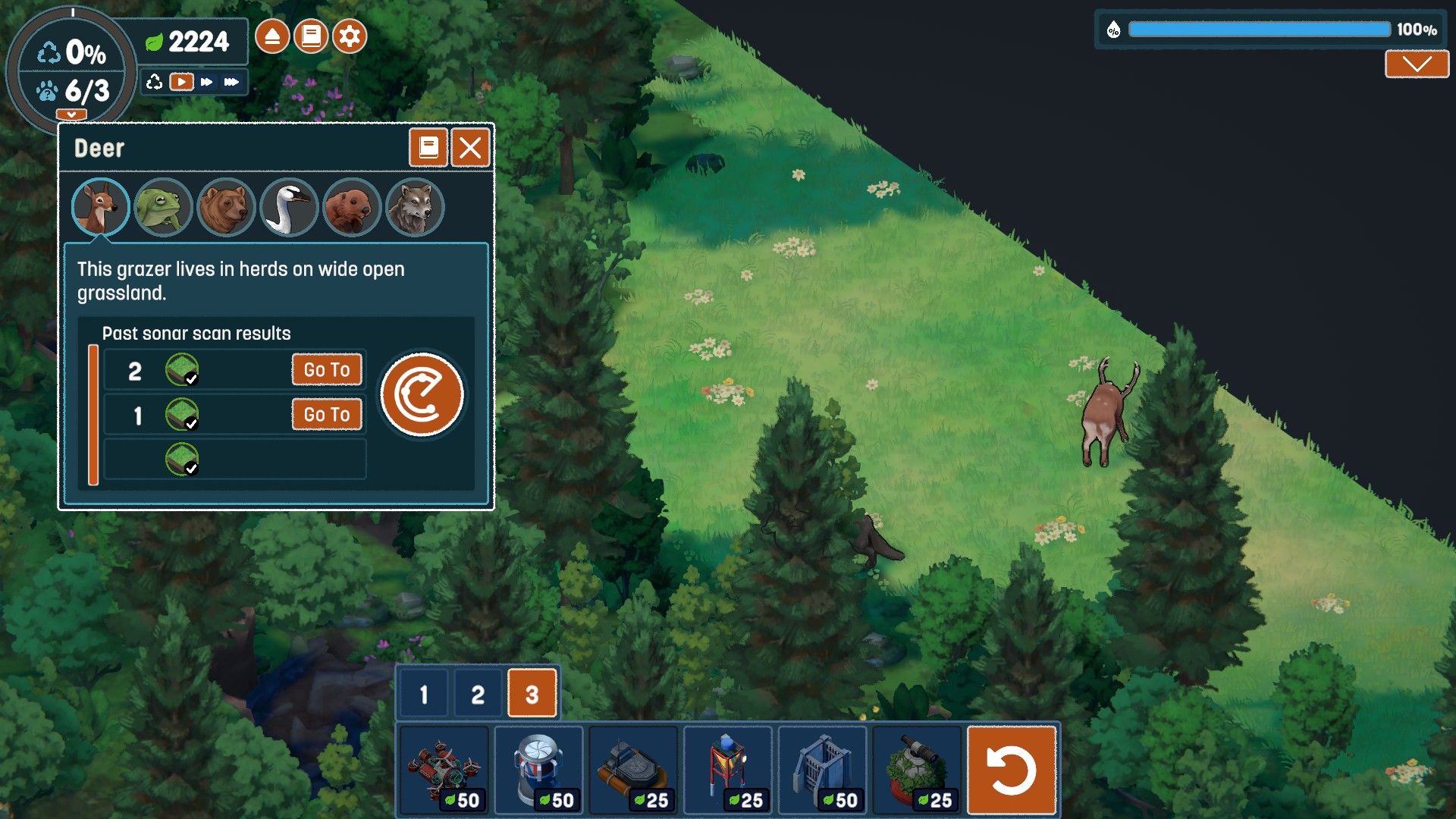 To scan for animals, players must click on the orange button in the upper-left corner of the screen, just under the list of animals found. On the new menu that appears, players should click on the scan button, which looks like a big C. This button will be here even if players haven't placed an Animal Observatory, but it only works if the Observatory is on the map.
After pressing the button, a big radius will appear around the cursor and players can click on a spot to scan it for animals. It's important to note that players aren't actually looking for animals in the wild, they're actually looking for biome tiles. If the scan results meet the conditions needed by an animal, all the circles will turn green and an animal group will appear on the map in the location scanned. There may be other animals on the map already, but these animals appear because of completed optional goals and have nothing to do with scanning.
RELATED: Free Lives Dev Discusses Terra Nil's Stand-Out Natural Beauty Among the Studio's Diverse Catalog
Each animal has its own set of conditions players must meet to discover them. Usually they need one or more sets of biome tiles, but a few animals have very specific requirements. Each of the four climates in the game has six animals to discover, but players only need three to complete a map. However, finding all six will help players completely restore the world and get the Global Rejuvenation achievement.
Every animal entry in the menu has a description that hints at the kind of environment players must find to spawn them. The scanner can also provide hints: a completed requirement shows a green circle and specific information, a partially completed requirement shows a yellow circle and general information, and a missed requirement shows a red circle with no information. When players start a new map in the same climate after finding an animal, the scanner will always start the scan list with the specific requirements on display.
Something else to note is that players can use the scanner to spawn multiple animal groups. For instance, since deer in the Temperate zone like greenery, players can use the scanner to spawn a group of deer in every open field on the map. This is useful because some animals will only spawn if there's another group of animals in the scan area. Animal groups often appear throughout the map after players discover them, but this way players can place a group deliberately.
RELATED: Terra Nil's Lead Artist Talks Popularity, Outreach, and Hype as Free Lives Drops a New Gameplay Trailer [UPDATE]
Every Requirement for Every Animal
Temperate
| Animal | Requirements | Notes |
| --- | --- | --- |
| Deer | 20 Greenery | |
| Frog | 10 Wetlands, 5 Fynbos | |
| Brown Bear | 20 Forest, 1 Beehive, Raised Elevation | The scanner can only check one terrain level at a time, so the beehive and forest must be on the raised area. |
| Goose | A River or Lake with a radius of 4 tiles | Wetland tiles don't count, but the main river in the River Valley should be wide enough at the corners. |
| Beaver | 20 River, 10 Forest | |
| Timber Wolf | 15 Forest, Deer group | Deer prefer greenery over fynbos, so don't use beehives around the edge of every forest. |
Tropical
| Animal | Requirements | Notes |
| --- | --- | --- |
| Tortoise | 10 Beach, on a small island | The game isn't consistent with how it checks for islands, so any beach with water on two sides may be good enough. |
| Manta Ray | 3 River, 6 Coral Reef, 8 Ocean | |
| Parrot | 20 Tropical Forest, 0 Buildings | Just do some recycling before hunting for parrots, and try to avoid recycling the Animal Observatory. |
| Flamingo | 10 Beach, 10 Wetlands | Flamingos specifically want wetland tiles rather than mangrove tiles, so build a Hydroponium near a beach and don't use the Salinator. |
| Reef Shark | 16 Coral Reef, 4 Mangrove, global temp of 20 °C or higher | The last requirement can be tough to discover since the scan won't mention it until the current temperature is already close. |
| Whale | 20 Ocean, 0 land tiles, 10 Deep Ocean | Just scan an empty corner of the map. Players might not see whales immediately, but they'll count towards the total. |
Arctic
| Animal | Requirements | Notes |
| --- | --- | --- |
| Elk | 6 Lichen, 20 Snow | Generate snow tiles using the Flash Freezer or by triggering a snowfall. |
| Snowy Owl | 10 Boreal Forest, 10 Tundra | |
| Arctic Fox | 10 Snow, 5 Tundra | |
| Narwhal | 20 Ocean, 4 Ice Sheets, global temp of -10 °C | -10 °C is as low as the temperature goes in this climate. |
| Penguin | 16 Ice Sheets, 10 Ocean | Ice sheets are ocean and river tiles affected by the Flash Freezer or snowfall. |
| Polar Bear | 16 Snow, 6 Ocean, Elk group | |
Continental
| Animal | Requirements | Notes |
| --- | --- | --- |
| Turtle | 20 Lagoon | |
| Peacock | 24 Greenery | |
| Panda | 20 Bamboo, 6 Greenery | |
| Eagle | 6 Derelict Skyscrapers, Boar group | Skyscraper frames also count, but not Bamboo Nurseries. Recycle them before looking for Eagles. |
| Boar | 8 Greenery, 12 Deciduous Forest | Combined with the Eagle requirements, players should avoid using every skyscraper as a Bamboo Nursery. |
| Sea Otter | 12 Ocean, 12 Kelp Forest | Kelp Forests appear on continental maps after completing an optional goal. Check the deep ocean tiles after doing so. |
Terra Nil is available now on Android, iOS, and PC.
MORE: Indie Roguelike Astebros' Three Heroes Offer Playstyles for Everyone, Say Devs
Read original article here: gamerant.com
News Summary:
Terra Nil: How to Find Animals
Check all news and articles from the latest GUIDES updates.
Please Subscribe us at Google News.
Denial of responsibility!
Egaxo
is an automatic aggregator around the global media. All the content are available free on Internet. We have just arranged it in one platform for educational purpose only. In each content, the hyperlink to the primary source is specified. All trademarks belong to their rightful owners, all materials to their authors. If you are the owner of the content and do not want us to publish your materials on our website, please contact us by email:
hl.footballs@gmail.com
The content will be deleted within 24 hours.