There's so much to do in Terraria that it can be hard to know where to start, and once you do, it's easy to get caught up in boss battles and the next best armor set. Though you don't need a house, part of the fun is building with the thousands of blocks available in the game.
Related: Things To Do In Terraria When You Get Bored
NPCs can live comfortably in a wooden Platform box, but by using some of these overlooked blocks your builds are bound to get creative, and make your world a lot more interesting to play within.
15/15

Pumpkin

Starting simply, Pumpkin Seeds can be bought from the Druid and planted on Dirt to produce between one and five Pumpkins. Aside from looking cute and tasting great in a pie,

Pumpkins are a cool crafting block, able to be placed and stacked into striped orange walls, and even have a little green single stalk block for decorating the top. Matching furniture and a background can really make a fruit feel like home.
14/15

Crispy Honey Block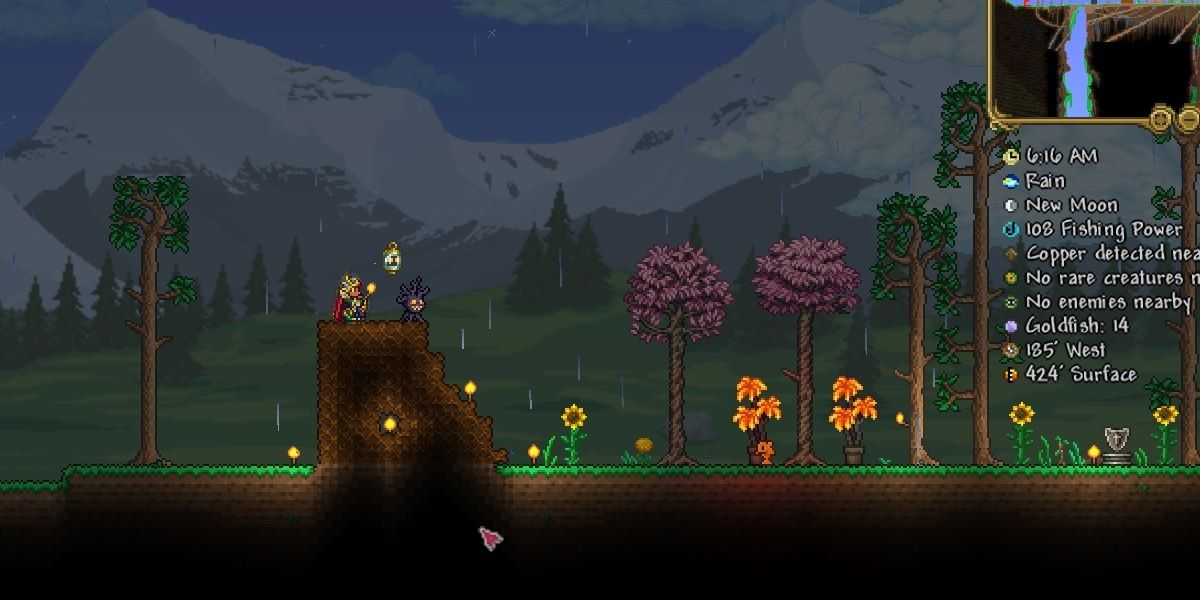 There are so many types of wood, but surprisingly the best block to simulate old, cracked wood is Honey. Collected while digging your way into a Jungle Hive, Honey blocks have two uses; summoning the Bee Queen boss and making cute furniture.
But by standing beside the Furnace or pouring liquid Honey over Lava, you can craft Crispy Honey — a versatile building block that suits more woody builds, or even as a volcano exterior.
13/15

Adamantite Beam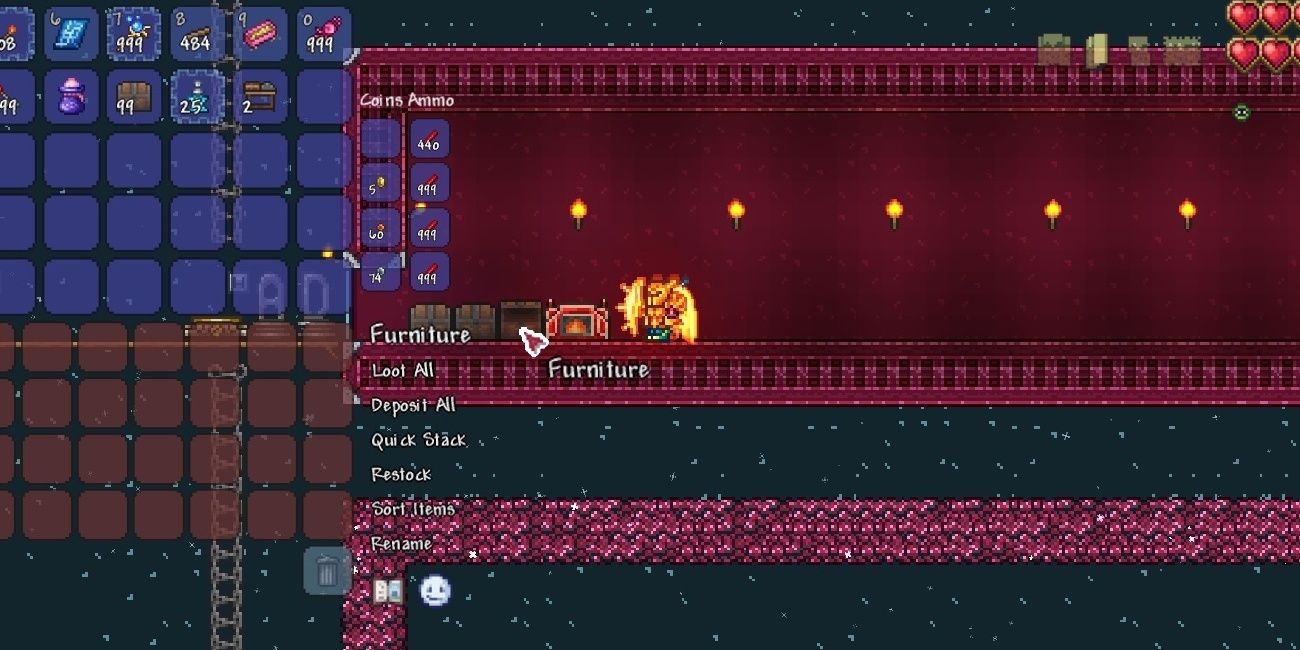 For very late game, when you no longer have any use for all that Adamantite, but you want a detailed and luxurious house. The rich pink ore translates beautifully into a building block for more vibrant houses, and the Adamantite Beam can add a really cool pattern to floors or ceilings.
Related: The Best Modifiers In Terraria
It only takes the Ore and some Stone beside a Furnace, and can then be made into a match background. Most Ores can be crafted into their own building blocks, and this is a great way to get rid of weak metals.
12/15

Bubblegum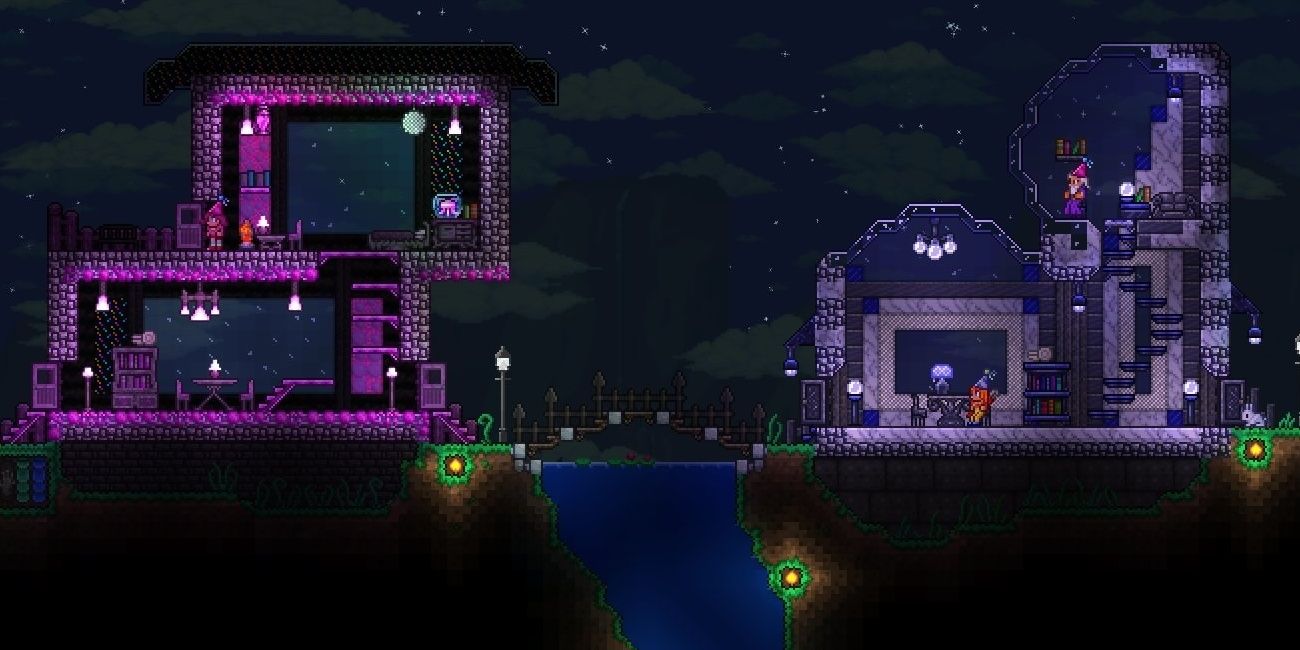 Speaking of Ore blocks, Orichalcum is a bright pink metal available for mid-tier crafting in Hardmode, but once you get your hands on some Adamantite, this ooey gooey Ore becomes pretty useless. That's when you use it to make Bubblegum!
With some Stone Blocks and a Furnace, Orichalcum Ore becomes a super sticky block, with a pink bubble design that can then be made into Wall. Use this bubba-licious block with some Crystal Bricks, or even Nebula Fragment Blocks if you're rich, for a fun and vibrant build palette.
11/15

Coralstone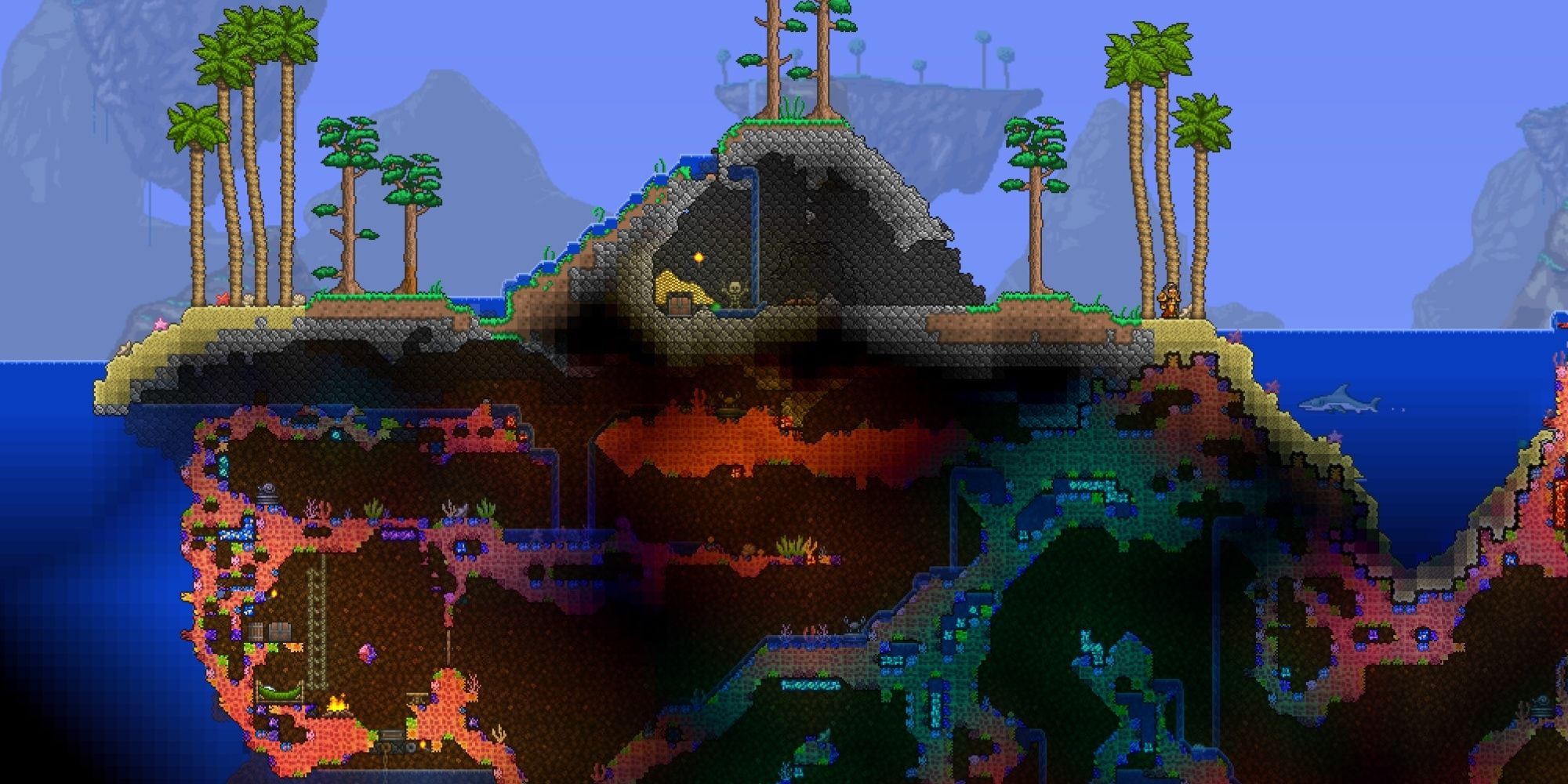 Coral is found in Ocean biomes under the water, and is used to craft the Capricorn Helmet vanity item, as well as some pretty amazing water-based Potions.
It's not very common and doesn't respawn regularly, so if you gather enough for Coralstone, you're sure to impress. By standing beside some water, or even just a Sink, this incredibly colorful block can be crafted with five Stone Blocks per Coral. Brighten up your builds with living Coral.
10/15

Demonite Brick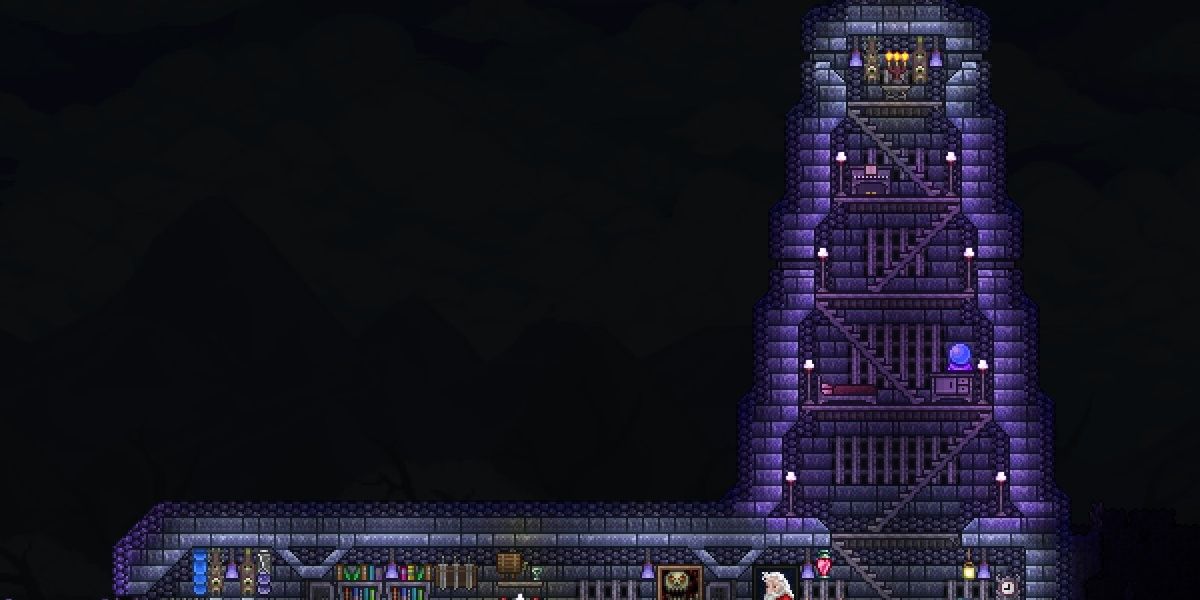 This building block is only available within worlds that spread the purple Corruption. Bosses such as the Eater of Worlds and Eye of Cthulhu drop sizable quantities of Demonite Ore, but it needs to be combined with the Ebonstone that spreads from Corrupted biomes to create Demonite Brick.
Related: Terraria: How To Stop The Spread Of Corruption
When placed, it glows a gentle purple color, and matches the Corrupted aesthetic perfectly. It's a shame that NPCs refuse to live in Corrupted biomes.
9/15

Flesh Block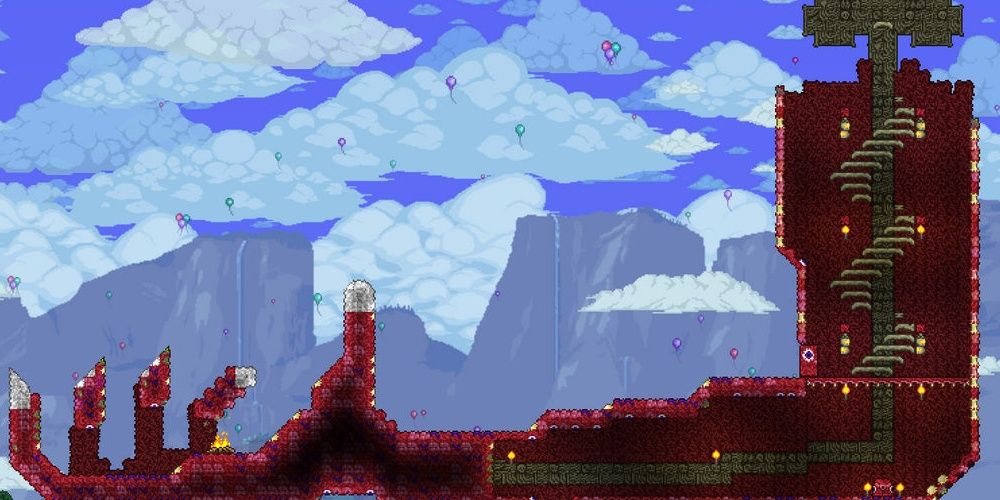 There are two uses for the Meat Grinder crafting station. One of them allows you to make your very own pulsating Wall of Flesh. Just cram some Crimstone into it to get some Flesh Blocks, a multicolored brick of organs to sculpt into a living meat house.
Other uses for Crimstone at a Work Bench in a Graveyard include Crimson Blister Walls, Crimson Scab Walls and Crimson Teeth Walls to make your flesh house feel like a flesh home.
8/15

Frozen Slime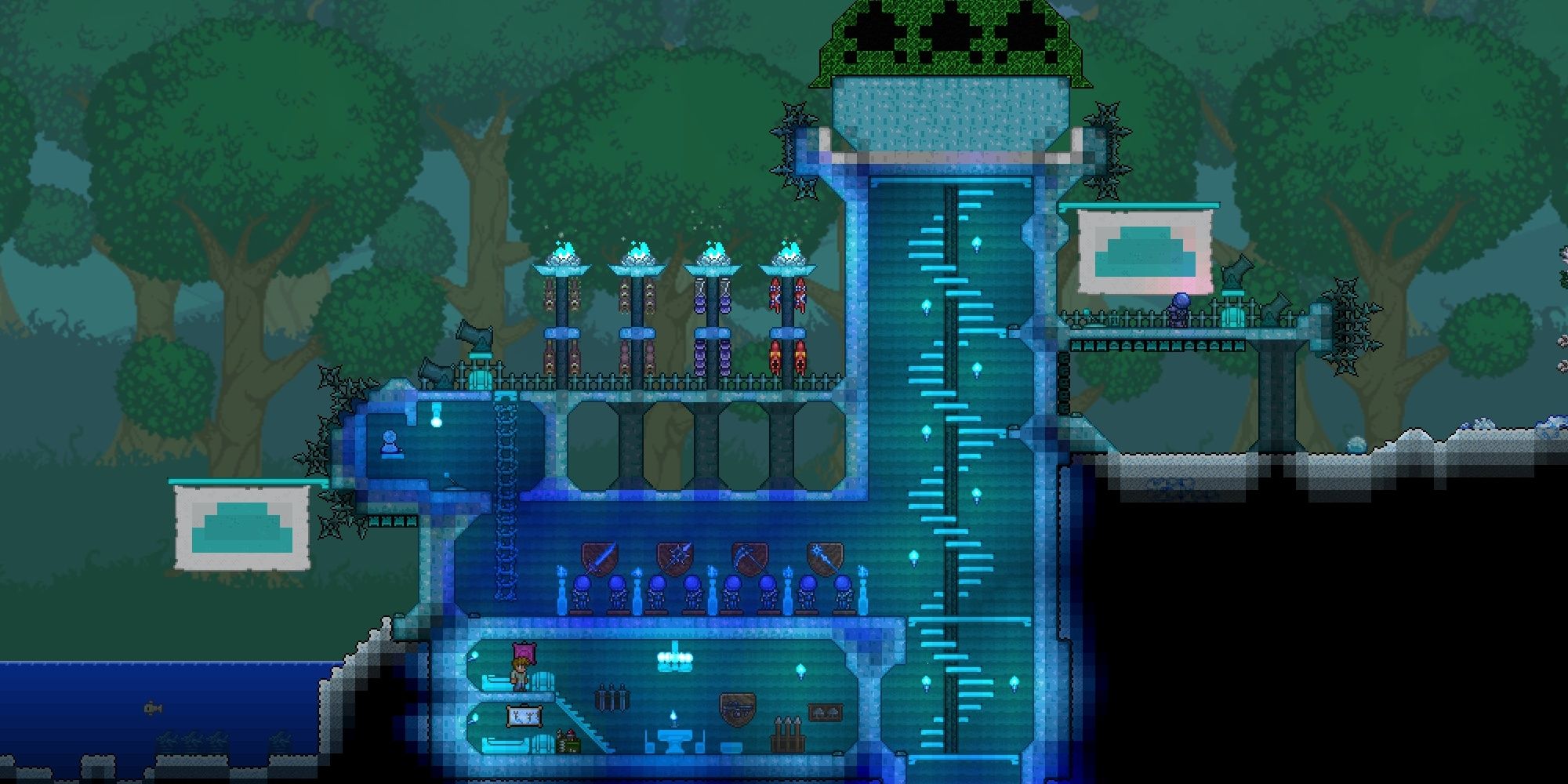 Not just eerily beautiful, the Frozen Slime block is incredibly useful when it comes to traveling across your sandbox world. Asphalt allows you to run extra fast, but you'll need to keep holding down the directional arrow, which can get old fast when you're traveling far.
Frozen Slime will maintain your speed without holding down any buttons, and can even be placed every other block to save on resources. All you'll need is a Slime Block, an Ice Block and a Solidifier, which is used to make an array of Slime-based furnishings.
7/15

Gold Starry Block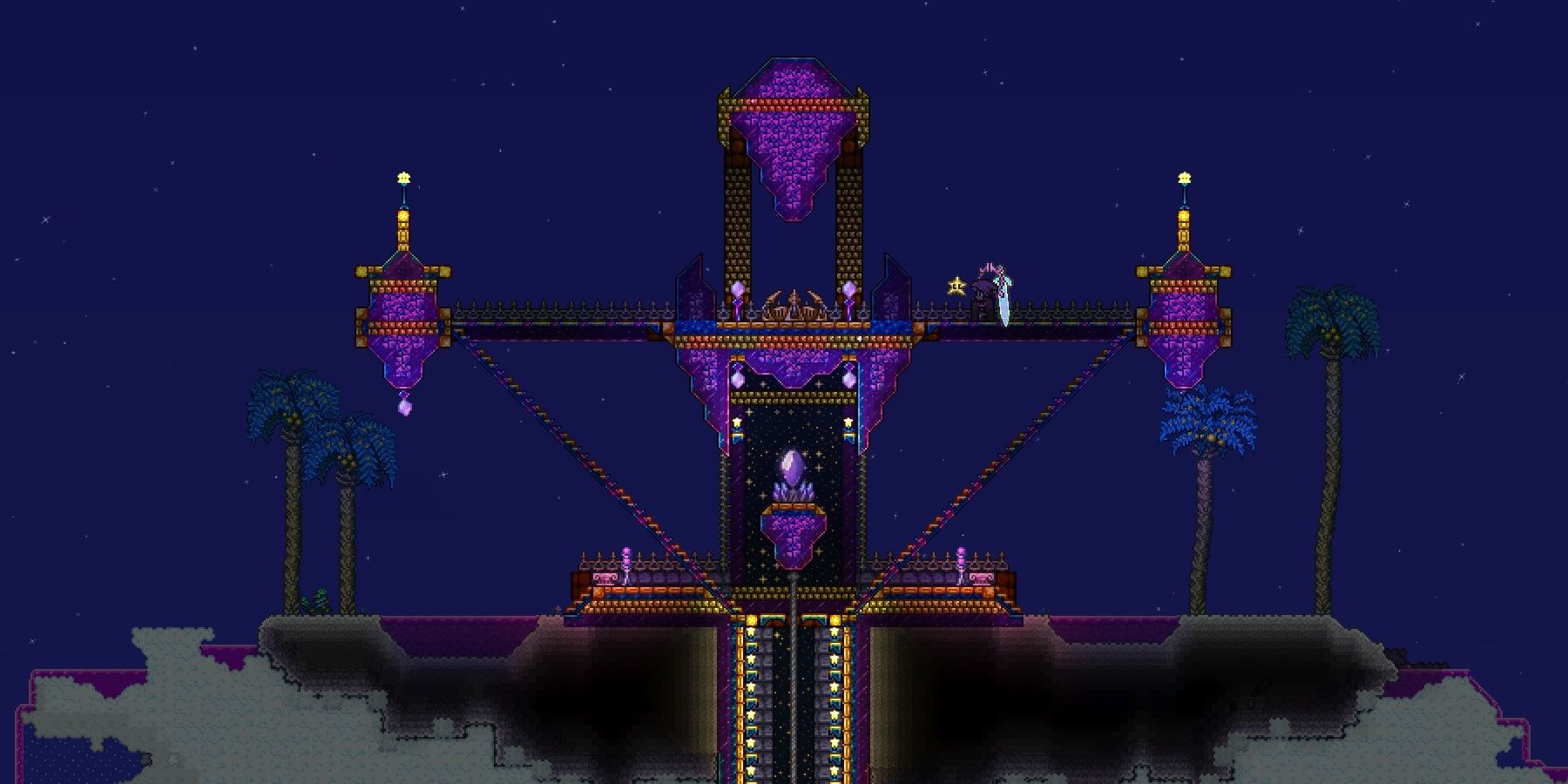 To see the beautiful backgrounds throughout Terraria from within a building, all you have to do is place Glass. But what if it were a twinkling starry night regardless of time of day? With the animated Gold Starry Block, it can be.
Be sure to pick up some Fallen Stars before dawn and combine them with Glass beside a Crystal Ball to bring your nighttime builds to life.
6/15

Grate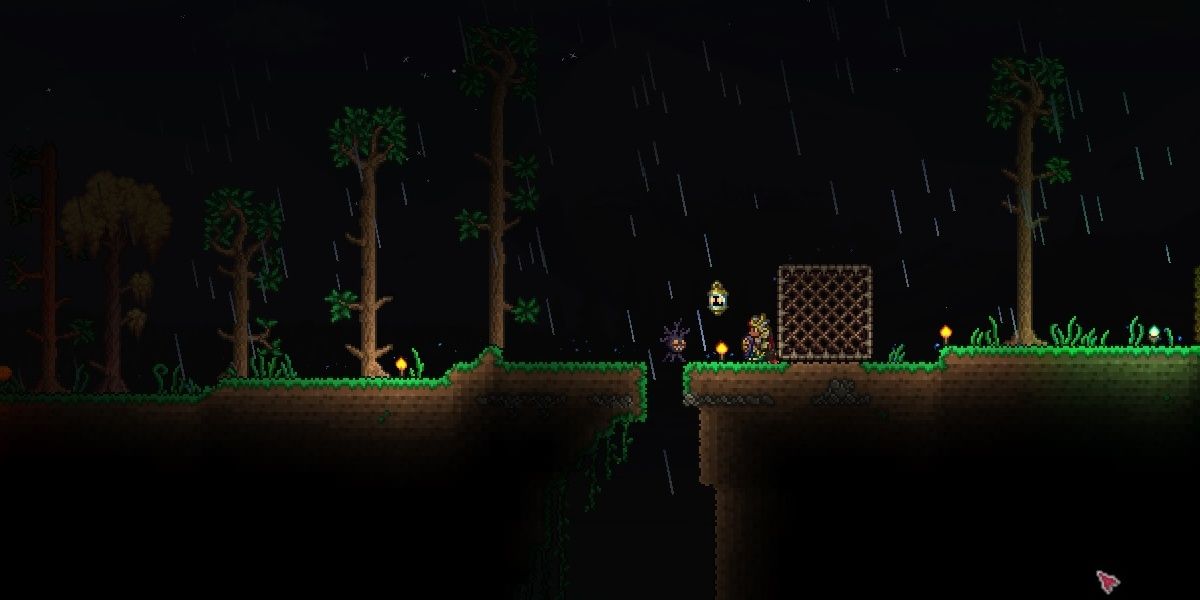 An often overlooked block is Grate. Made from any Iron beside an Anvil, this block is made up of a simple lattice that shows the background through its holes. Most players know to use it in conjunction with Wire, controlling the flow of liquid and enabling storage.
Related: The Rarest Pets In Terraria
It has an aged-wood color, and a masterful decorator could use this block in any number of creative ways, such as lighting in dungeon builds by filling it with Lava, or attaching it to a Timer that will open the Grate in the day, but close it again at night.
5/15

Stardust Brick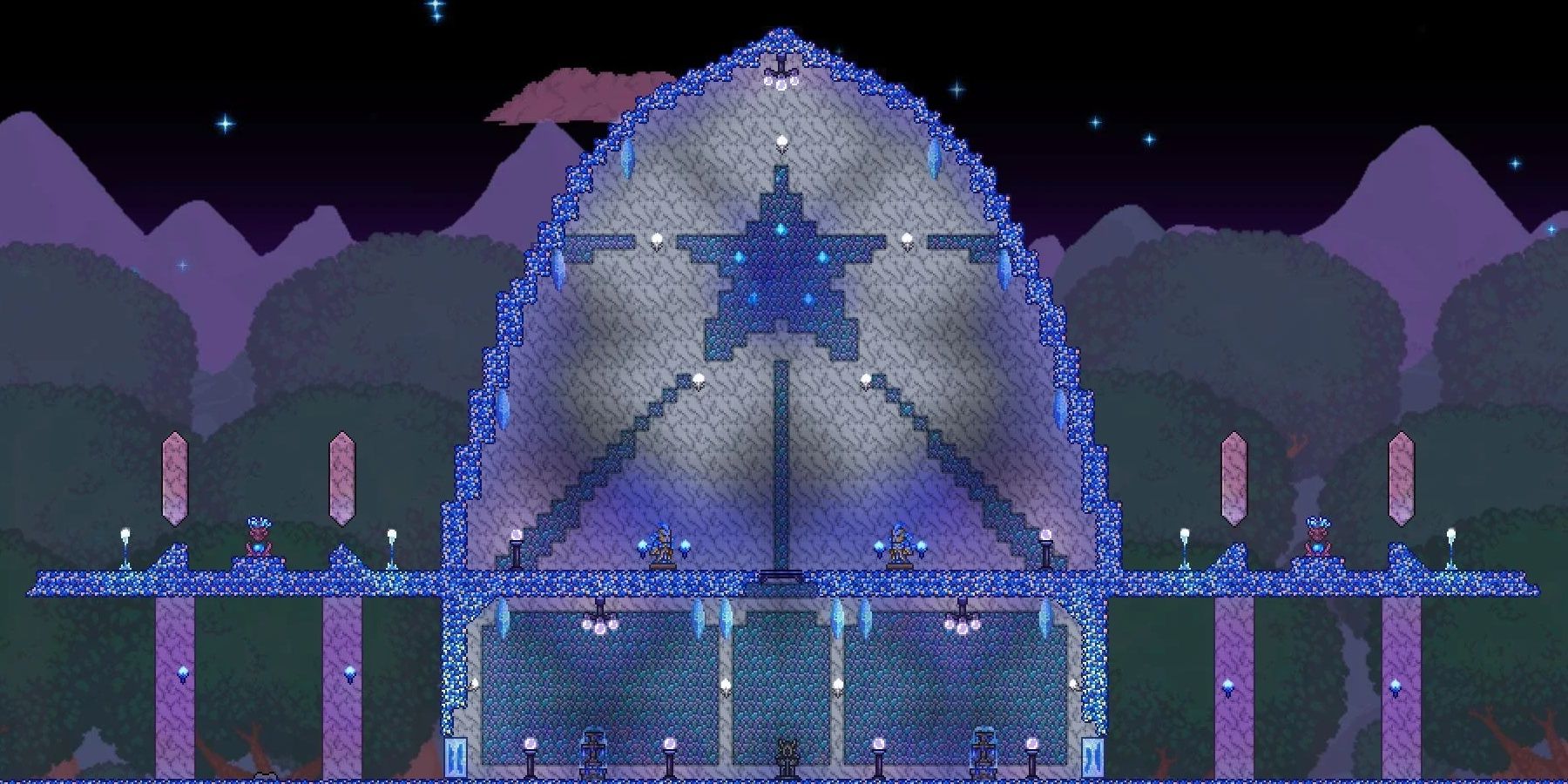 There are a lot of end-game items that require Stardust to be crafted, including amazing armor, super weapons and awesome summons. So building your house out of it is a great way to show off!
Stardust Fragments and Stone Blocks combine into Stardust Bricks beside an Ancient Manipulator, a beautiful and complex blue and gold block with a matching Wall. These Bricks can then be used to craft matching end-game furniture sets.
4/15

Honeyfall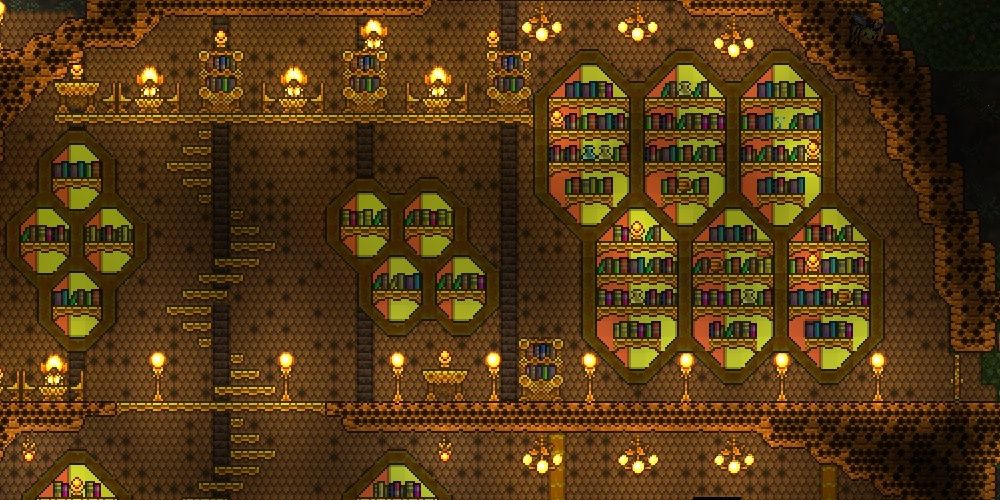 You'll need to relocate your Crystal Ball to a pool of Honey in order to get your sticky fingers on Honeyfall. It does exactly what it sounds like, with a sweet animation of Honey trickling down your home or an epic battle arena for the Bee Queen.
All it requires is Glass, and for the Wall version you can craft it beside any Workbench.
3/15

Bubble
Most of what the Party Girl sells is for vibes and fun, but there's a lot more to Bubbles than meets the eye. These are a background furniture item that can be placed and walked past; however, liquids treat Bubbles as solid blocks. This way, Bubbles can be set up strategically to contain Lava an enemy must walk past, or Honey that you can swim through to gain the Honey Buff during battle. It even counts as temporary housing, so why not set up your Nurse into a Honey-filled Bubble home for easy access?
2/15

Lavafall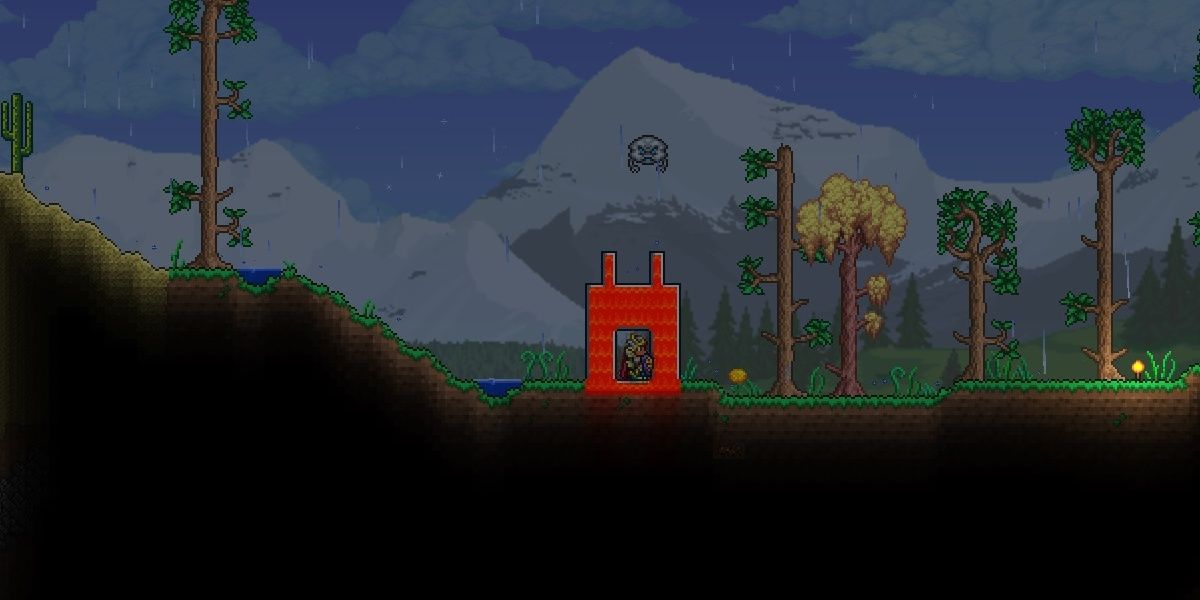 If Honeyfall made your head spin with possibilities, take a look at Lavafall, the brighter and more dangerous variant. Light up the night (but not NPC homes) with your very own Lava cave, or bring your dream of being an evil villain to life by setting up base in a volcano.
Related: The Deadliest Plants In Videogames
Lavafall Blocks give off low level light, and come as Walls too that drip slowly and menacingly. Relocate your Crystal Ball to a pool of Lava for this crafting recipe to be available.
1/15

Living Ultrabright Fire
What better way to stand out than to make an aquamarine fire house? Living Ultrabright Fire Blocks are crafted using Living Fire Blocks, which are dropped by enemies in the Underworld during Hardmode, combined with an Ultrabright Torch beside a Crystal Ball.
These torches are tricky to get, so if you come across the Traveling Merchant when he's selling them, be sure to stock up. The animated block comes in multiple colors, depending on what you mix the Living Fire with, and look great in cyber builds. This is the perfect block for the Cyborg's house.
Next: The Best Accessories In Terraria
News Summary:
Terraria: 15 Overlooked Blocks You Need To Start Using
Check all news and articles from the latest News updates.
Denial of responsibility!
Egaxo
is an automatic aggregator around the global media. All the content are available free on Internet. We have just arranged it in one platform for educational purpose only. In each content, the hyperlink to the primary source is specified. All trademarks belong to their rightful owners, all materials to their authors. If you are the owner of the content and do not want us to publish your materials on our website, please contact us by email:
hl.footballs@gmail.com
The content will be deleted within 24 hours.