Guides
The Best Local Co-Op & Split-Screen Games You Can Play On Nintendo Switch
Nowadays, many players find themselves struggling to meet up and play with friends like they used to. While today's gaming systems feature a bevy of quality online titles, the Nintendo Switch offers a fantastic lineup of games for the whole family. Whether gaming with relatives or inviting friends over, these games offer quality co-op and competitive experiences alike.
Nintendo has always held a strong lineup of multiplayer titles, and the Switch is no exception. While players could certainly find dozens of titles to fit the bill, they should start with the best local co-op Switch games​​​​​.
RELATED: Amazon Luna: The Best Local Co-Op Games That Support Luna Couch
Updated April 9, 2023 by Mark Sammut: The Switch has an impressive library that covers nearly every genre or player preference. This extends to multiplayer, and the selection of the best couch co-op Switch games​​​​​​ is always expanding.
Overcooked! All You Can Eat!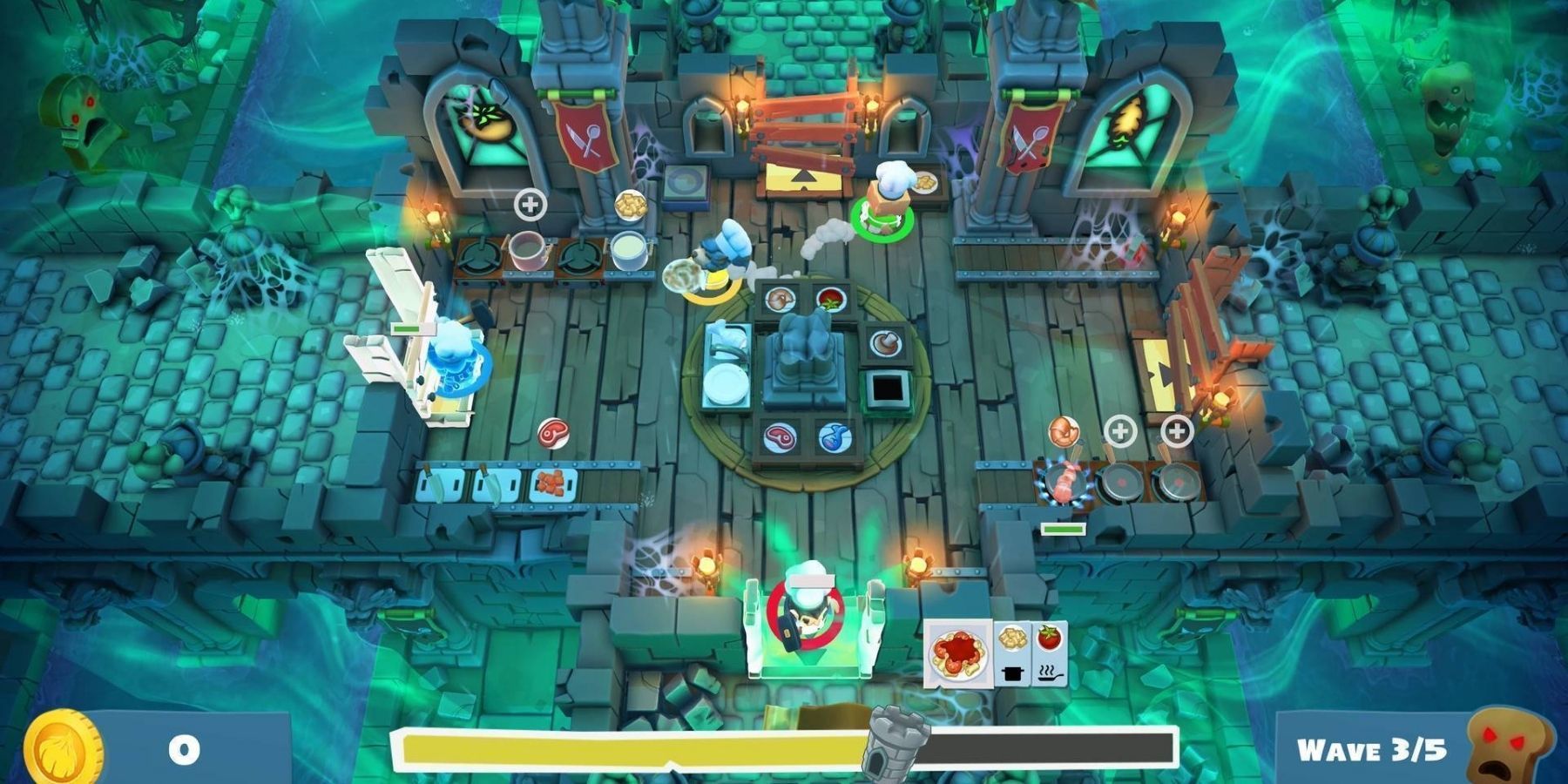 | | |
| --- | --- |
| Release Date | November 10, 2020 |
| Developer | Team17, Ghost Town Games, Team17 Digital Limited |
| Number of Players for Local Co-Op | 4 Players |
| Amazon Listing Page | Link |
Running a kitchen is hard work, and that does not really change when the responsibility is shared with friends (or family). Overcooked puts up to four players in charge of meeting a restaurant's orders, and every chef will need to carry their weight if the collective wants to have any hope of keeping up with the demand.
Although a touch repetitive, Overcooked can be cathartic once players properly get into the flow of things. Things can also get stressful real quick, so communication is key to ensuring a happy kitchen.
It Takes Two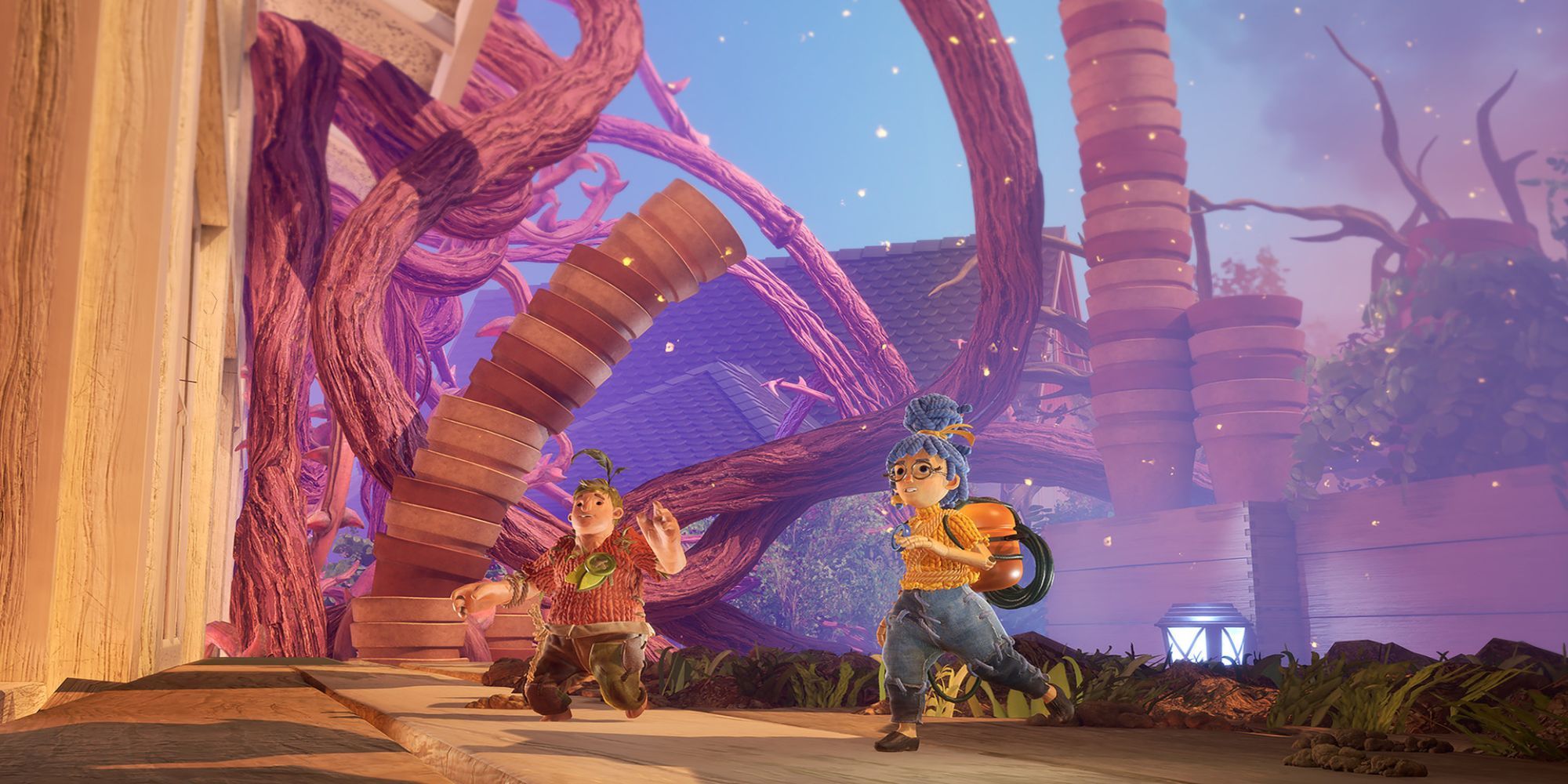 | | |
| --- | --- |
| Release Date | November 4, 2022 |
| Developer | Hazelight Studios, Turn Me Up Games (Switch Port) |
| Number of Players for Local Co-Op | 2 Players |
| Amazon Listing Page | Link (Digital Code) |
Hazelight's It Takes Two was a smash hit right out of the gate, instantly establishing itself as a modern co-op masterpiece. Although it took a while to make the journey to the Nintendo Switch, the adventure game is now available on the hybrid system, and the port gets the job done. Along with a visual downgrade, the Switch release has performance issues that are not as prevalent on other platforms; consequently, this version should only be prioritized if it is someone's only option.
Be that as it may, It Takes Two is still fantastic. The story follows a married couple on the verge of divorce who are shrunk down and go on a wild adventure to get back home. They must work together to survive this ordeal, and while they share some basic mechanics, each character brings unique strengths to the table. Even with performance issues, It Takes Two is one of the best 2-player Switch games.
Teenage Mutant Ninja Turtles: Shredder's Revenge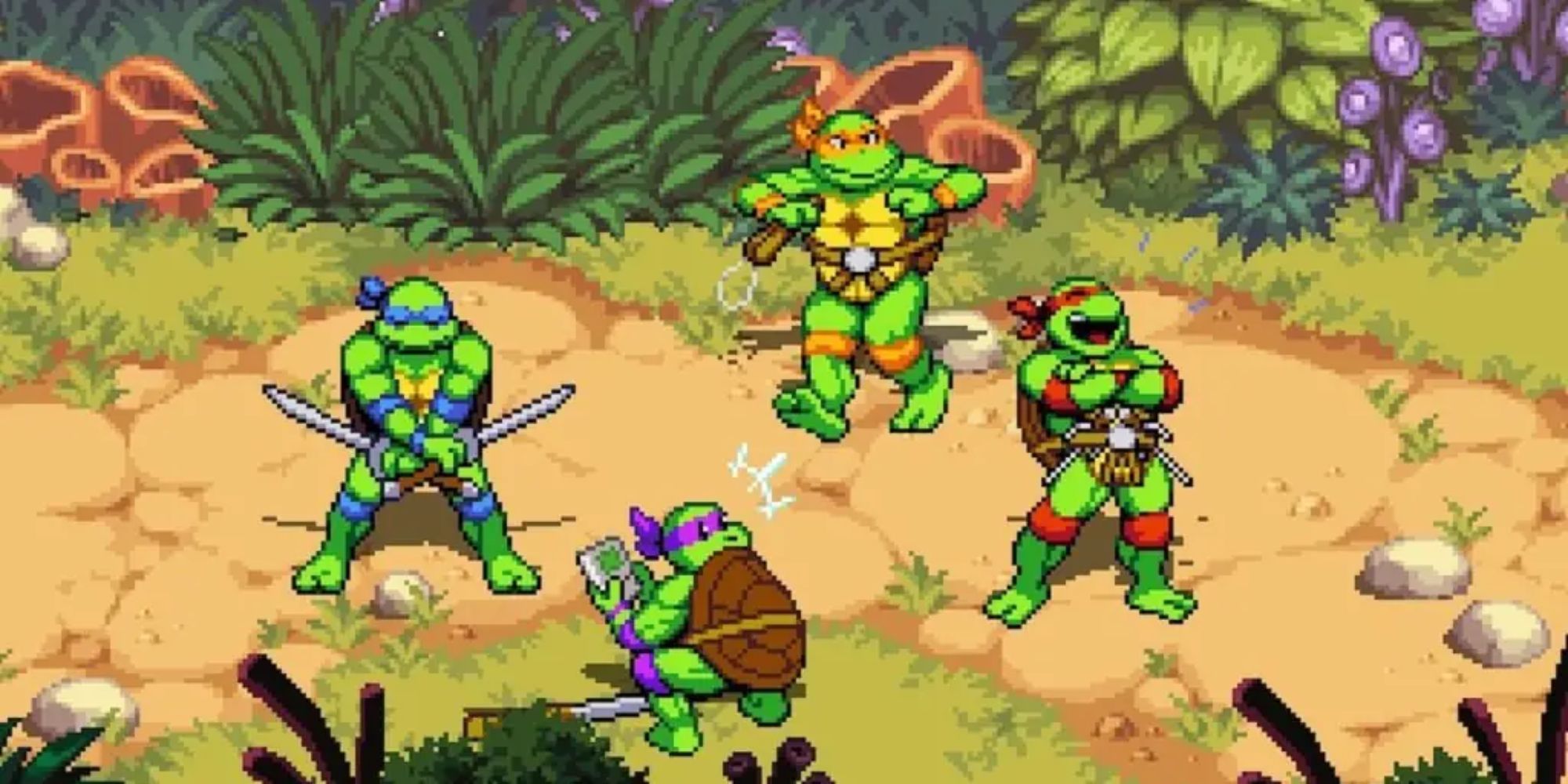 | | |
| --- | --- |
| Release Date | June 16, 2022 |
| Developer | Tribute Games |
| Number of Players for Local Co-Op | 6 Players |
| Amazon Listing Page | Link |
Teenage Mutant Ninja Turtles is oddly an amazing franchise for local co-op Switch games. The Cowabunga Collection is an incredible compilation that contains more than 10 classics, some of which like Turtles in Time support co-op. This package is an easy recommendation for fans of the franchise or anyone with a fondness for old-school games. Then, there is Teenage Mutant Ninja Turtles: Shredder's Revenge, a modern project that harbors back to the license's gaming golden era. Tribute's title is not only a loving homage to TMNT's storied history but also one of the best beat 'em ups of recent years. It looks fantastic, plays beautifully, and sounds great.
RELATED: Side-Scrolling Beat Em Ups to Play If You Love TMNT: Shredder's Revenge
Unsurprisingly for a series revolving around four siblings, Shredder's Revenge supports co-op in a big way. The game allows for 6 players to share the screen, taking up almost all the playable characters. When taken to the limit, things can get a bit overwhelming as levels become flooded with both players and characters, but it is a fun type of hectic. Although accessible, the combat system is fairly deep for a beat 'em up, and there are even moves revolving around co-op.
Diablo 3: Eternal Collection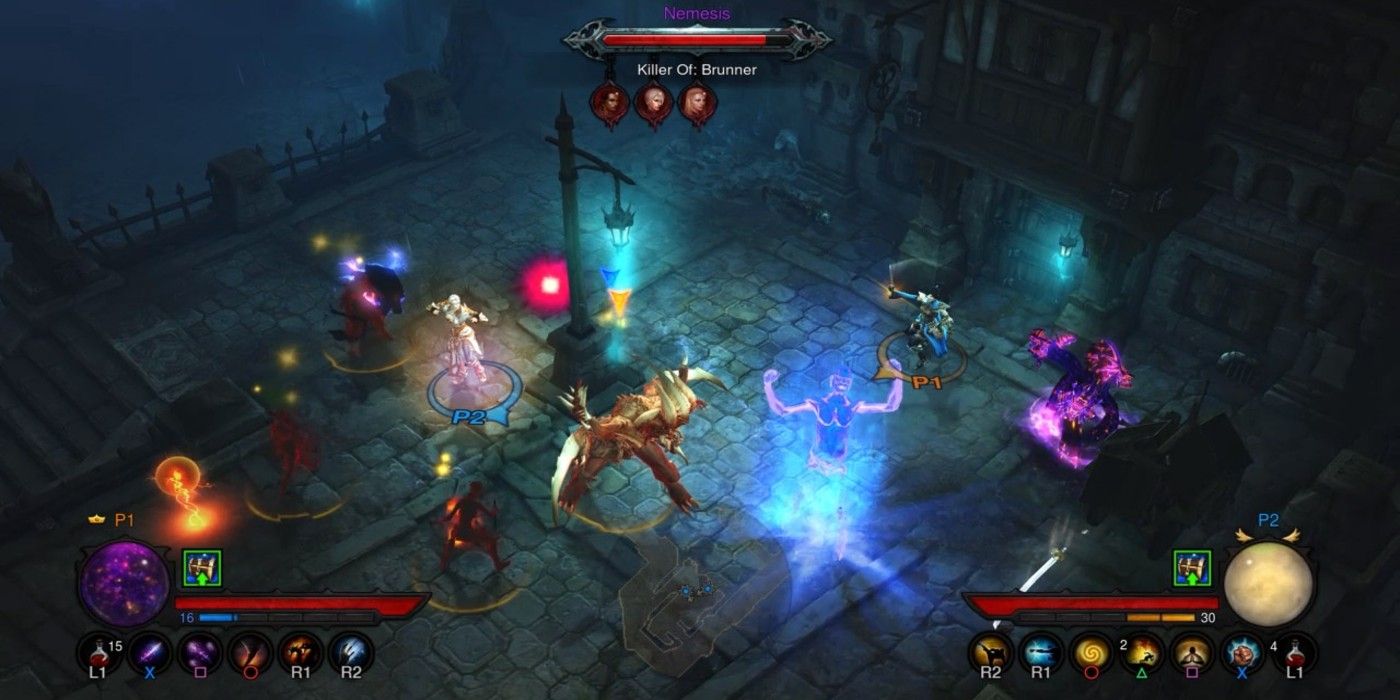 | | |
| --- | --- |
| Release Date | November 2, 2018 |
| Developer | Blizzard Team 3 |
| Number of Players for Local Co-Op | 4 Players |
| Amazon Listing Page | Link |
The third entry of Blizzard's famed dungeon-crawling epic is largely regarded for its addictive, robust online gameplay. Yet, the Switch version of this game makes for a fun, streamlined way to enjoy Diablo 3 with three other players locally.
The game's convenient system of hotkeys and a palatable interface allows gamers to get the most out of the experience even in the midst of chaotic four-player skirmishes with enemy hordes. A single-screen can be shared, but remote play – or a combination of TV and handheld play – is also available. And with such an expansive rendition – which includes the Reaper of Souls and Rise of the Necromancer DLC – players can be assured countless hours of hack 'n slash fun with their friends or family.
Kirby Star Allies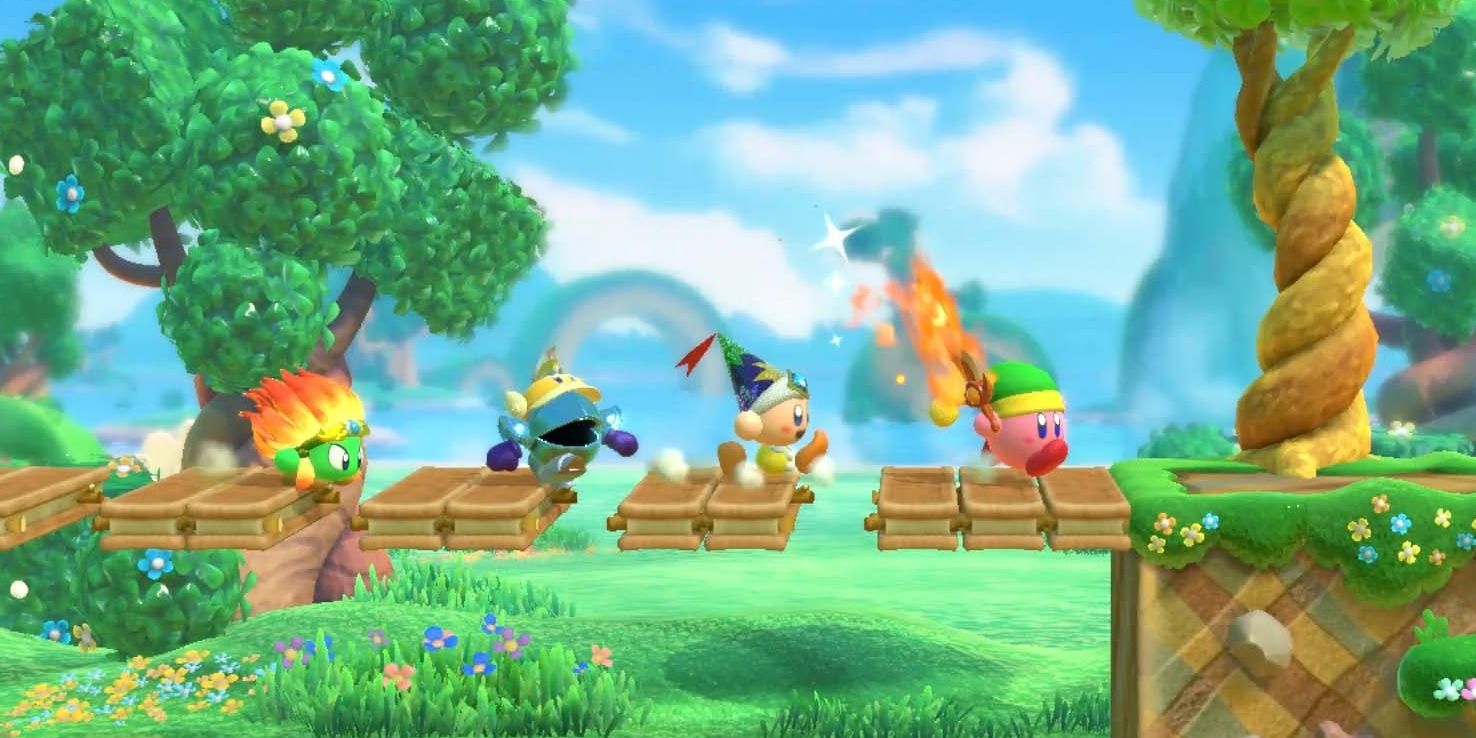 | | |
| --- | --- |
| Release Date | March 16, 2018 |
| Developer | HAL Laboratory |
| Number of Players for Local Co-Op | 4 Players |
| Amazon Listing Page | Link |
Nintendo's pink, spherical mascot has shined since the SNES days when it comes to simultaneous couch co-op – and this charming rendition on Switch is no different. In a sense, the game takes on the feel of both Kirby and New Super Mario Bros. Up to four players can embark on this fun, colorful adventure, which hovers somewhere in between a platformer and a party game.
The game stresses the consumption of foes and the fusion of different powers and abilities. These attributes lend themselves to cooperative play, encouraging friends to work together and combine forces against the baddies, bosses, and puzzles in their path.
Resident Evil 5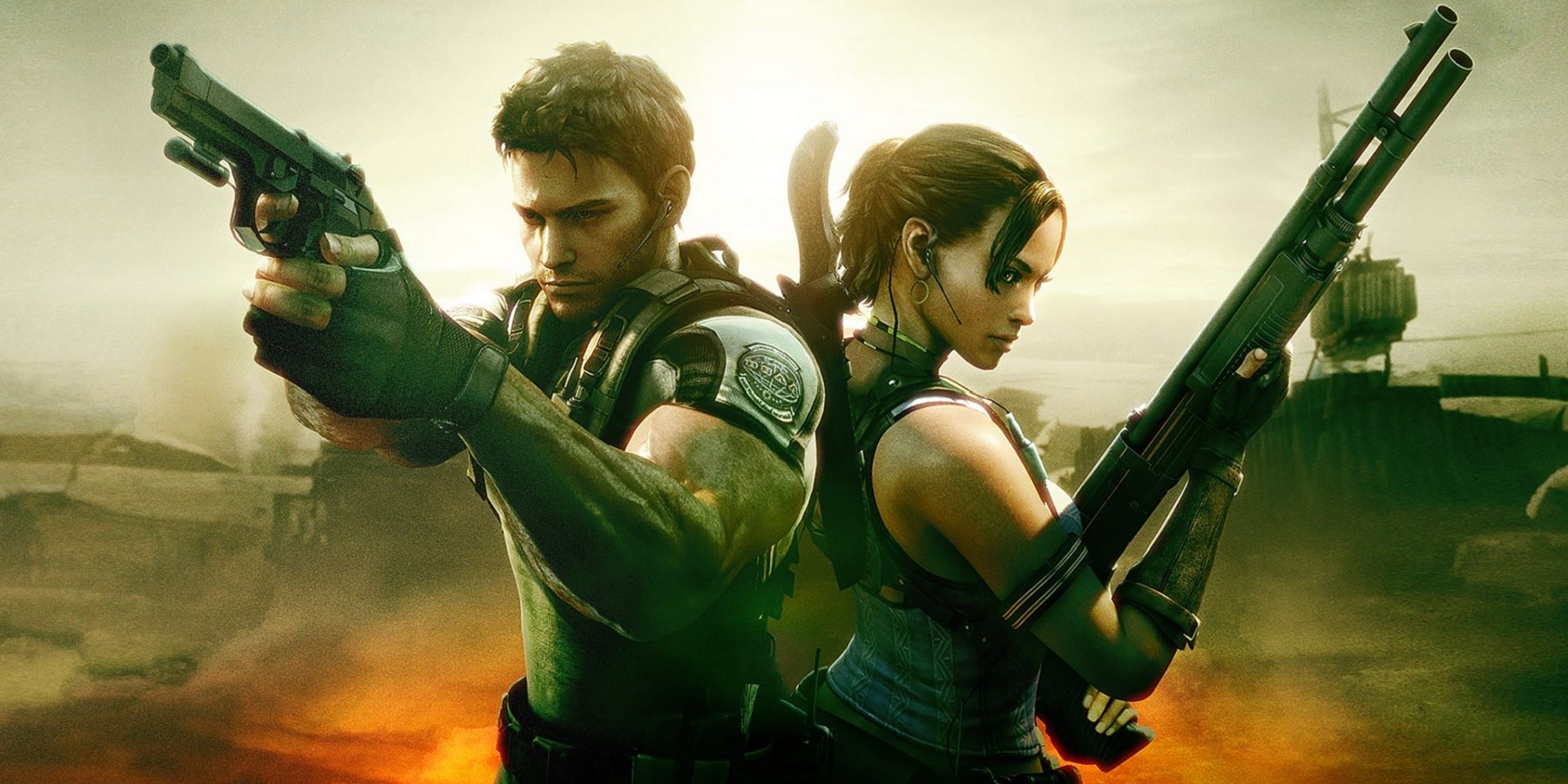 | | |
| --- | --- |
| Release Date | October 29, 2019 |
| Developer | Capcom |
| Number of Players for Local Co-Op | 2 Players |
| Amazon Listing Page | Link |
Players looking for local multiplayer Nintendo Switch games with a horror twist have a couple of Resident Evil titles at their fingertips. Revelations 2 is a great pick due to its co-op raid mode, which is a blast with friends; however, while two players can take on the campaign, one of them will feel like a passenger rather than a fully active participant. Resident Evil 6 has a fleshed-out co-op campaign, but the game itself tends to attract a fair amount of criticism. That said, some fun can still be had with Capcom's title.
RELATED: Best Horror Co-Op Games To Play With Friends
Ultimately, that leaves Resident Evil 5, the first entry in the franchise to properly embrace co-op. The story mode supports two players, and they are both treated as equals in terms of gameplay. Even though it leans heavily into action, the 2009 release is still a polished and entertaining experience. The game's West African setting also sets it apart from most other action-horror projects on the market.
Hyrule Warriors: Age Of Calamity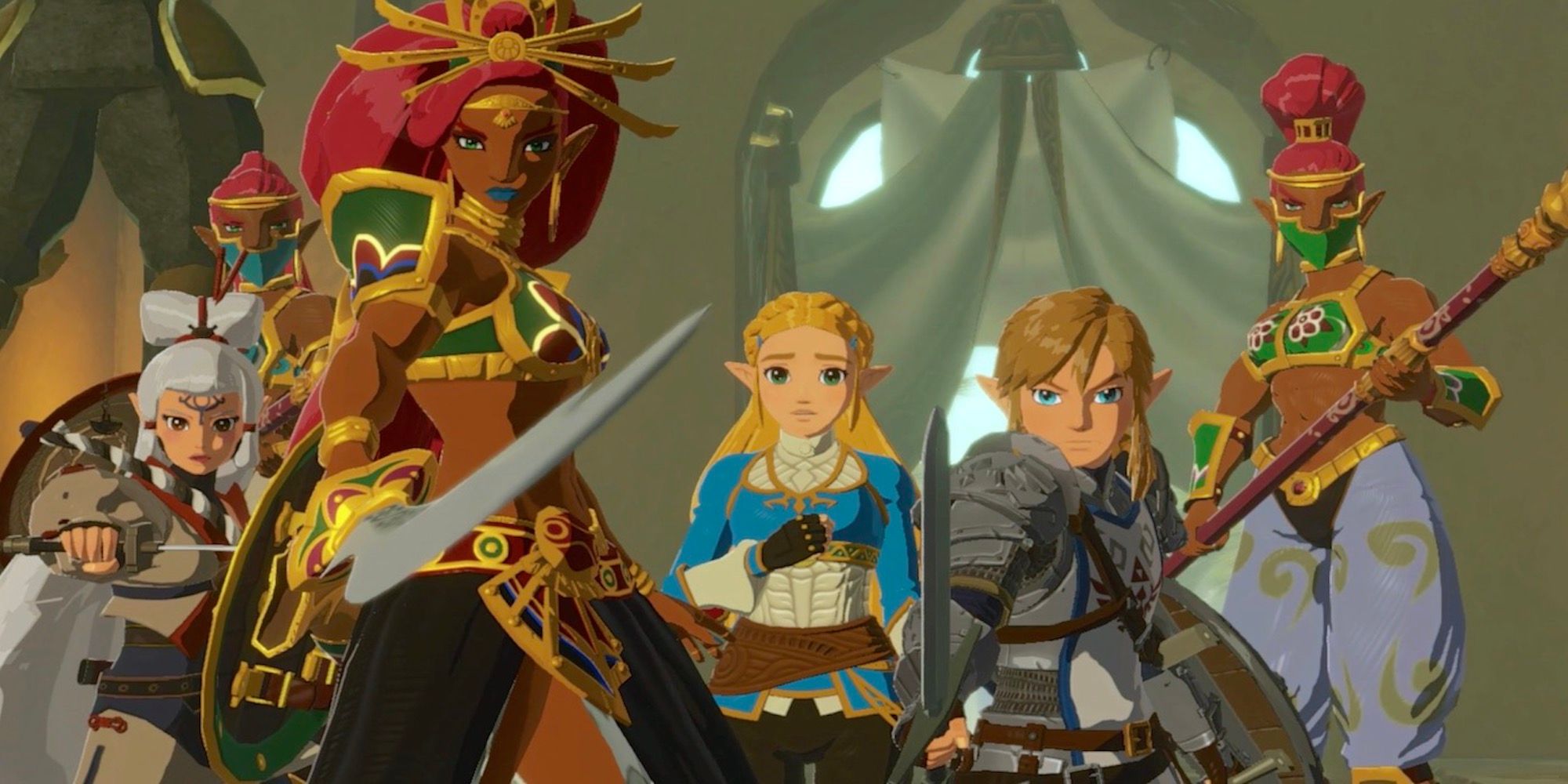 | | |
| --- | --- |
| Release Date | November 20, 2020 |
| Developer | Omega Force |
| Number of Players for Local Co-Op | 2 Players |
| Amazon Listing Page | Link |
The Nintendo Switch has a couple of Musou games that support co-op. While their quality varies to an extent, someone's preference is likely to come down to which license they feel most attached to. Fire Emblem fans should check out the Warriors sub-series, while One Piece has a couple of decent entries. Koei Tecmo's Samurai Warriors and Warriors Orochi also have representatives on Nintendo's hybrid system.
Along with just screaming "Nintendo," The Legend of Zelda's Hyrule Warriors spin-offs are arguably the most impressive Muou games on the Switch, excluding Persona 5 Strikers since it does not support co-op. Age of Calamity gets the nod as it is a proper Switch project rather than a port of a Wii U release. Supporting split-screen, two players can take charge of Link, Zelda, and a host of other characters as they engage in a strange twist on the Breath of the Wild mythos. While not free of the occasional stutter, Age of Calamity looks great and plays reasonably well.
Puyo Puyo Tetris 2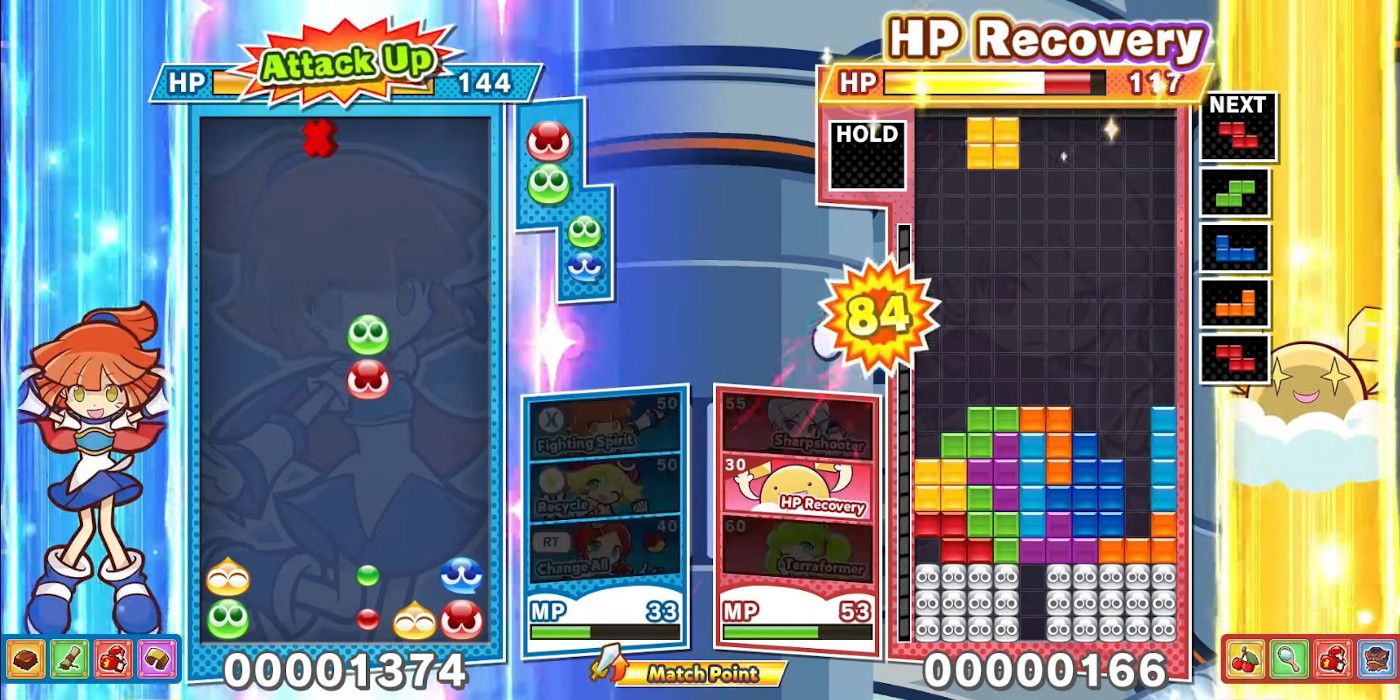 | | |
| --- | --- |
| Release Date | December 8, 2020 |
| Developer | Sonic Team |
| Number of Players for Local Co-Op | 4 Players |
| Amazon Listing Page | Link |
Multiplayer puzzlers seem to be something of a lost art, especially when it comes to local co-op. But Sega has once again proven such seemingly retro gaming experiences are far from dead with this colorful blend of two classic franchises.
Even more so than its predecessor, Puyo Puyo Tetris 2 offers a bevy of entertaining multiplayer options, both online and locally. The newly-implemented Skill Battles allow friends to face off with frantic medleys of Tetris and Puyo in a fun new way, throwing game-changing items and skills into the mix. With that familiarly fun gameplay and a slew of game modes and customizations, the replay value is sky-high in this party-puzzler.
River City Girls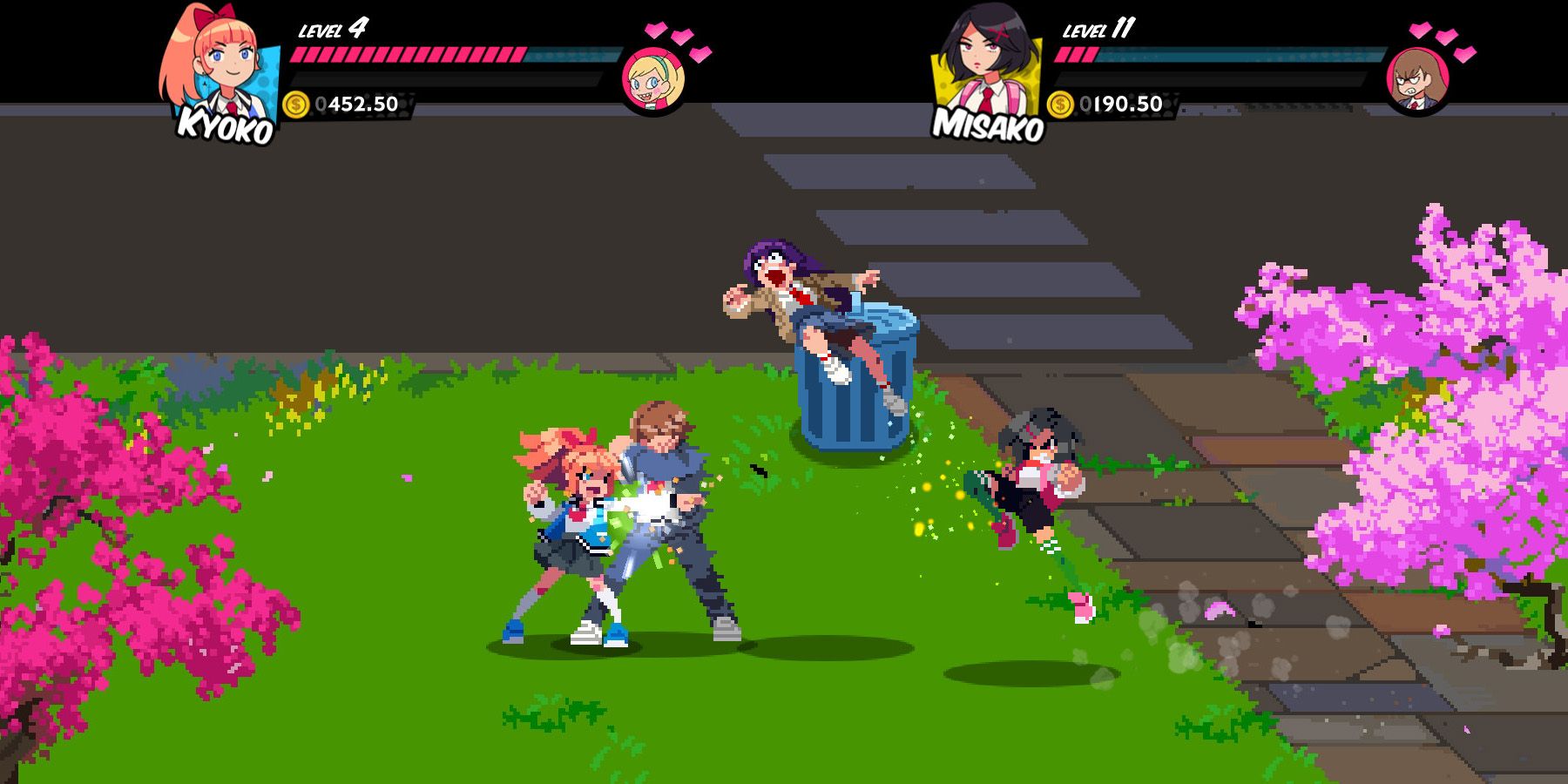 | | |
| --- | --- |
| Release Date | September 5, 2019 |
| Developer | WayForward Technologies |
| Number of Players for Local Co-Op | 2 Players |
| Amazon Listing Page | Link (Digital Code) |
Beat 'em ups are just made for local co-op (or arcades). Rampaging through a city's streets while punching thugs into the stratosphere is always fun, however, it becomes infinitely better when a friend tags along for the ride. River City Girls flips things around by having two girls, Kyoko and Misako, head out on a quest to save their kidnaped boyfriends. Naturally, anything that moves or stands in their way is just asking to be greeted with a stylish attack.
River City Girls is a brawler done to near-perfection, albeit one that does not re-invent the wheel. The game takes a formula that works and adds gorgeous anime-style graphics, characters with an overabundance of charm, and some light progression mechanics.
Kingdom Two Crowns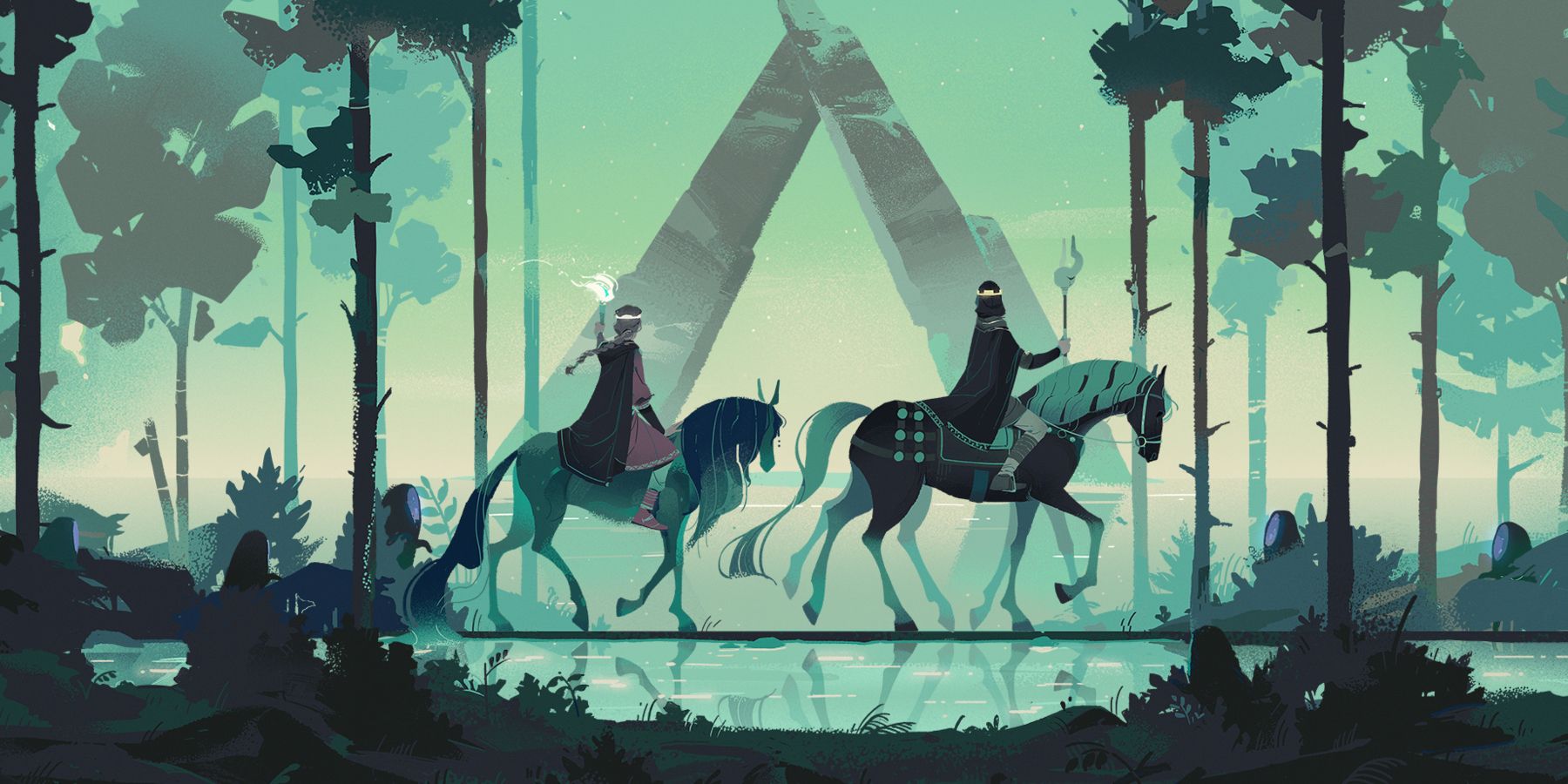 | | |
| --- | --- |
| Release Date | December 11, 2018 |
| Developer | Noio, Coatsink, Stumpy Squid |
| Number of Players for Local Co-Op | 2 Players |
| Amazon Listing Page | Kingdom Majestic |
Kingdom: Two Crowns tasks players with developing a kingdom one pixel at a time. A beautiful indie RTS that largely resists the urge to hand-hold users, this Switch game comes with an initial learning curve, but it should not take new players too long to come to grips with its gameplay loop.
RELATED: Games That Become Harder When Played In Co-Op
Supporting local co-op, two friends can work together to usher in a new era of prosperity and growth, with each person using one Joy-Con to control their character.
Darksiders Genesis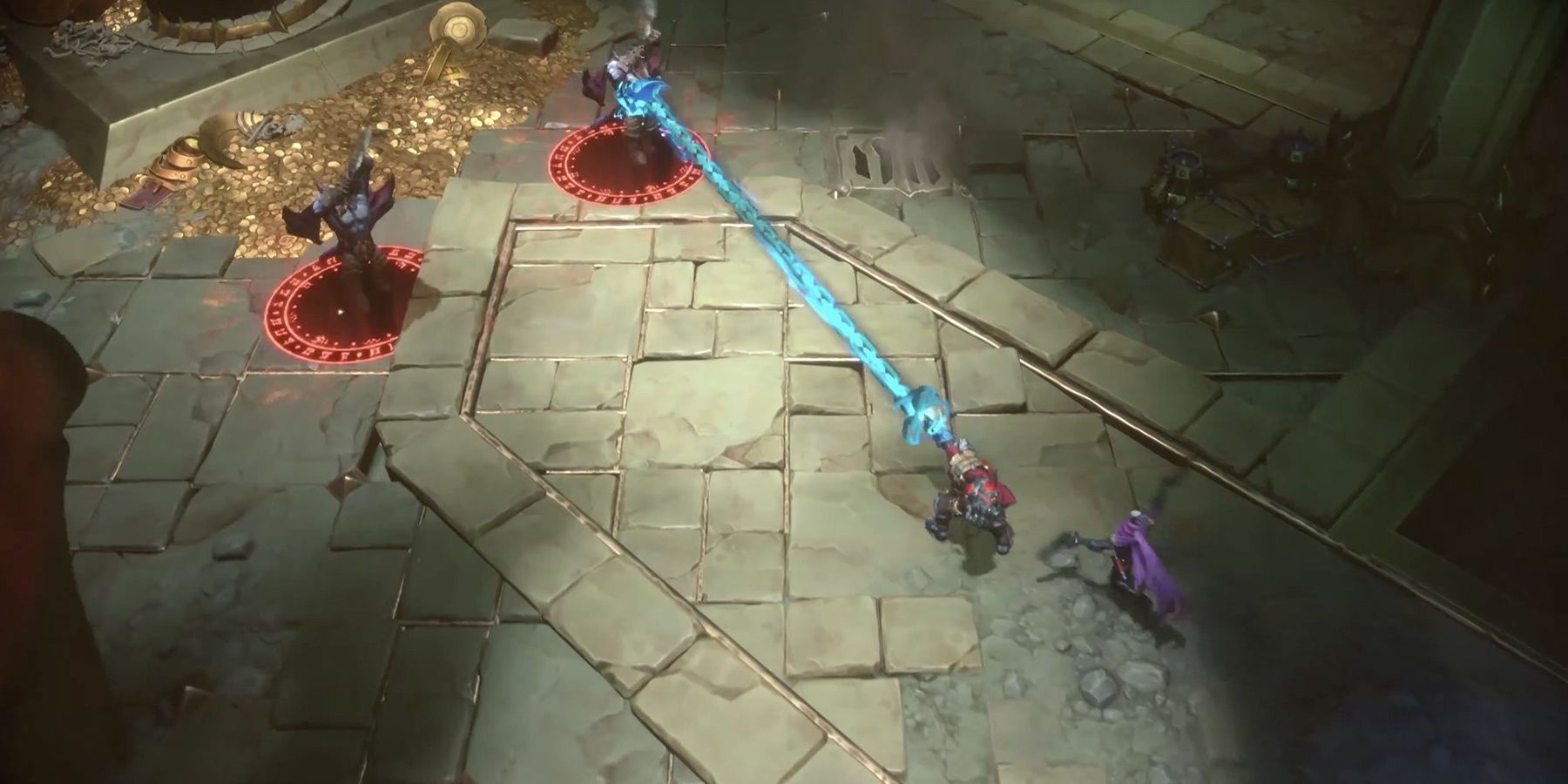 | | |
| --- | --- |
| Release Date | February 14, 2020 |
| Developer | Airship Syndicate |
| Number of Players for Local Co-Op | 2 Players |
| Amazon Listing Page | Link |
If nothing else, Darksiders cannot be criticized for playing it safe. The series swaps genres with each new experience, and no entry seemed to undergo a more significant shift than Darksiders Genesis. Rather than a third-person game, this spin-off is a top-down RPG, although it still very much feels like Darksiders. This means fast-paced hack and slash combat, visually impressive bosses, and a solid selection of unlockable skills.
Genesis introduces Strife as a playable character, and the sharpshooter is accompanied by War. In single-player, these two can be swapped with the click of a button, granting users the option to go from melee to ranged combat. In co-op, each player assumes control of one Horseman, and they can play through the full campaign.
Flat Heroes
| | |
| --- | --- |
| Release Date | August 2, 2018 |
| Developer | Parallel Circles |
| Number of Players for Local Co-Op | 4 Players |
Flat Heroes is deceptively hard. On the surface, the game seems like a stripped-down indie platformer that might serve as a fine distraction for half an hour; then, it starts to throw out complex enemies that require mastery of the playable cube's movement options. Each level is presented on a single screen, and players must maneuver their square through hazards to make it out alive.
While perfectly enjoyable solo, the game is called Flat Heroes for a reason. Each mode supports local co-op, enabling four friends to team up as they go through the campaign's many difficult stages.
Streets Of Rogue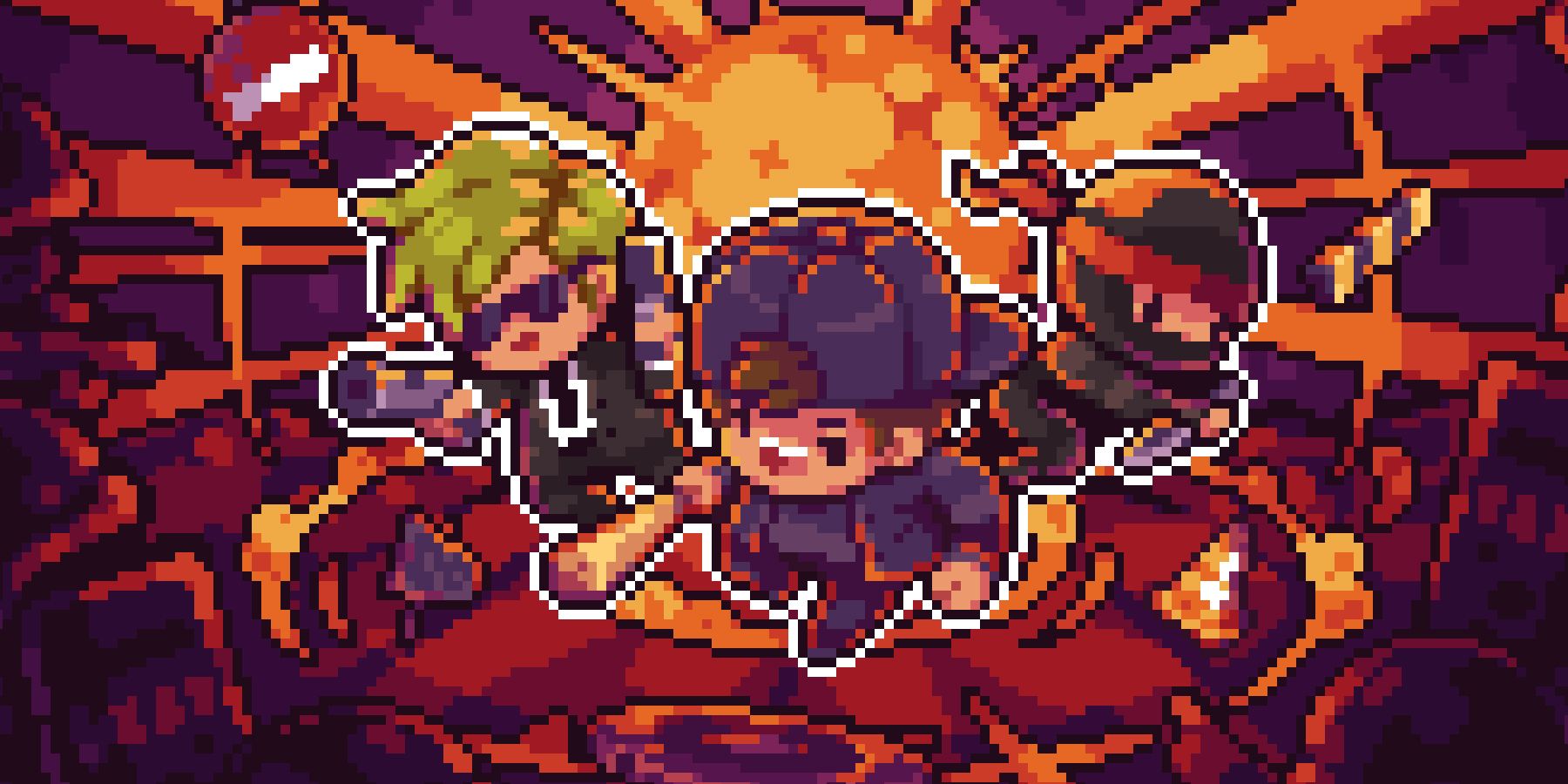 | | |
| --- | --- |
| Release Date | July 12, 2019 |
| Developer | Matt Dabrowski |
| Number of Players for Local Co-Op | 4 Players |
A rogue-lite, Streets of Rogue tasks players with making their way through the eponymous streets en route to defeating a corrupt mayor. Split into stages, the campaign locks progression behind randomized tasks, although the game is lenient when it comes to punishing failure.
Streets of Rogue has a great class system, which each candidate representing a play style. In solo runs, players can pick someone who best suits their preferences, and it also enhances the game's replayability. In co-op, a team can pick characters that complement each other, which adds a tactical element to the already stellar gameplay.
Yoshi's Crafted World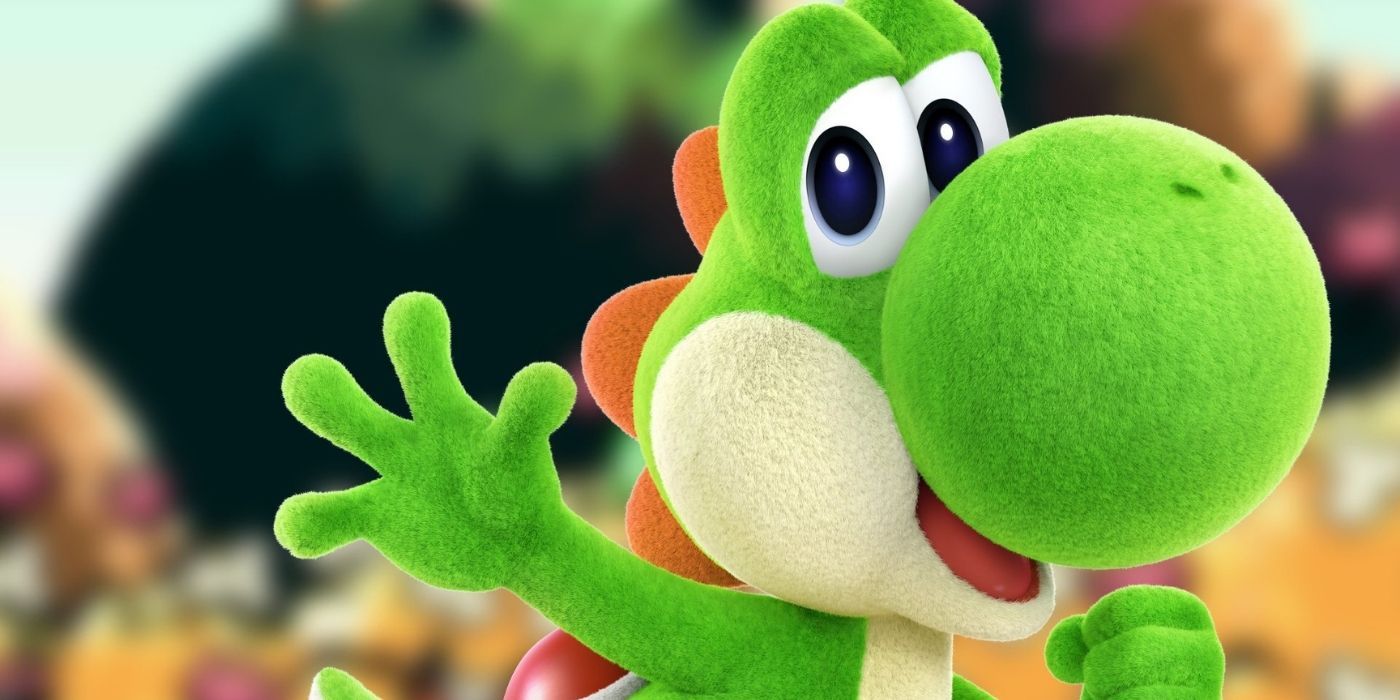 | | |
| --- | --- |
| Release Date | March 29, 2019 |
| Developer | Good-Feel |
| Number of Players for Local Co-Op | 2 Players |
| Amazon Listing Page | Link |
This charming 2D platformer offers beautiful visuals. This aesthetically-pleasing plush adventure pits the Yoshis in a papercraft world featuring a variety of stage choices and enemies. With 2-player co-op, gamers can solve puzzles and collect items together.
RELATED: Best Yoshi Games Of All Time (According To Metacritic)
Yoshi's Crafted World's charming appearance invites players of all ages to enjoy the fun. For those familiar with Yoshi's Island or classic 2D Mario action with a twist, the puzzles and stage interactions are second to none. Players can also unlock new costumes for their Yoshis to wear!
Streets Of Rage 4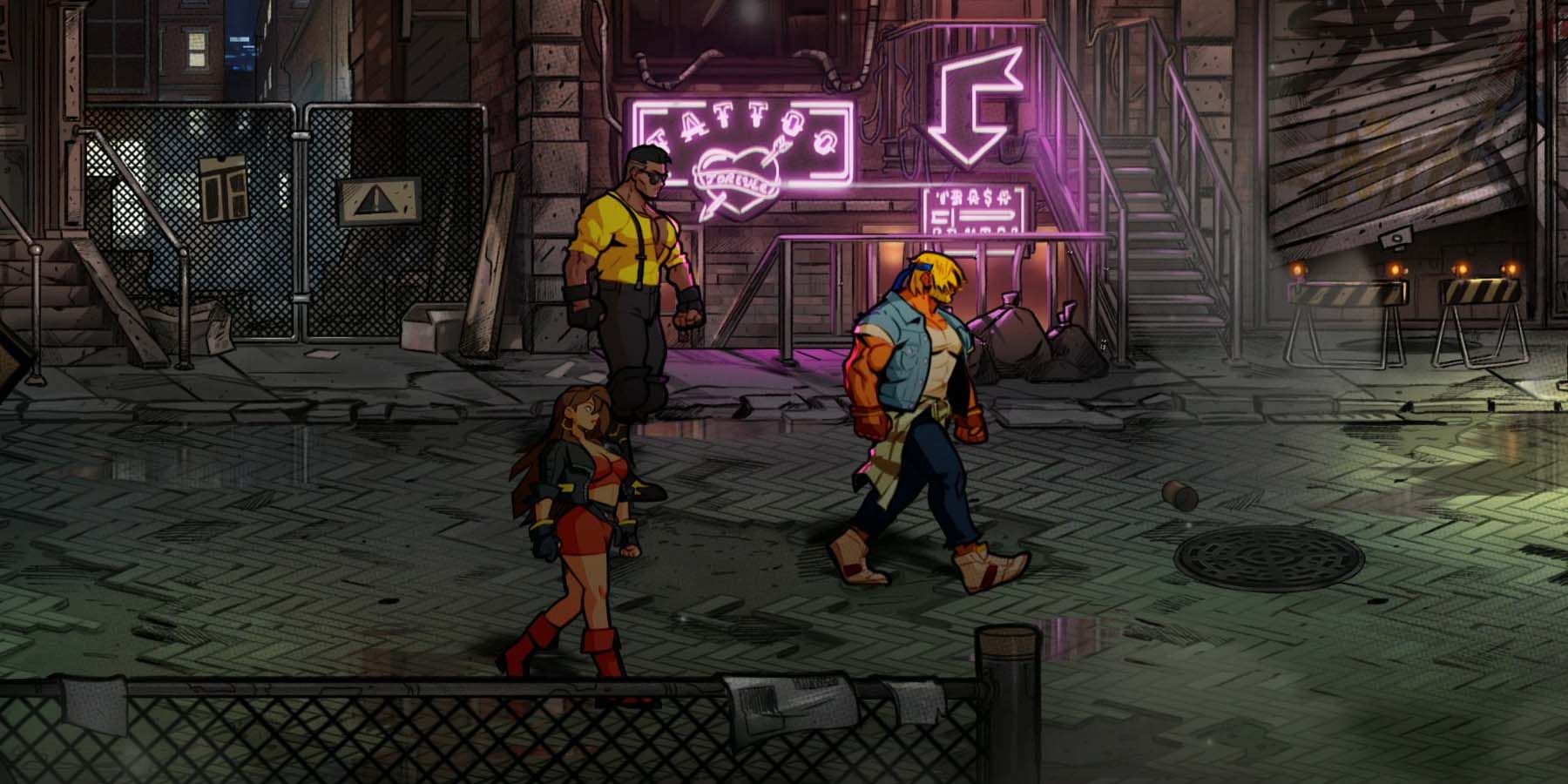 | | |
| --- | --- |
| Release Date | April 30, 2020 |
| Developer | Dotemu, Lizardcube, Guard Crush Games |
| Number of Players for Local Co-Op | 4 Players |
| Amazon Listing Page | Link |
This side-scrolling beat 'em up can be played with up to four players online. While this can be done in games like Guardian Heroes, Scott Pilgrim, and Phantom Breaker: Battle Grounds, Streets of Rage 4 proves why it's the best on the block. The hard-hitting action flows perfectly with the incredible beats the soundtrack will provide.
Streets of Rage 4 allows players to combo enemies off each other. Thanks to wall-bounce and juggle mechanics, it's entirely possible to link fighting game-esque combos with friends and tear enemies apart. With the character variety and the difficulty levels adjustable, this frantic experience will never get old.
ToeJam & Earl: Back In The Groove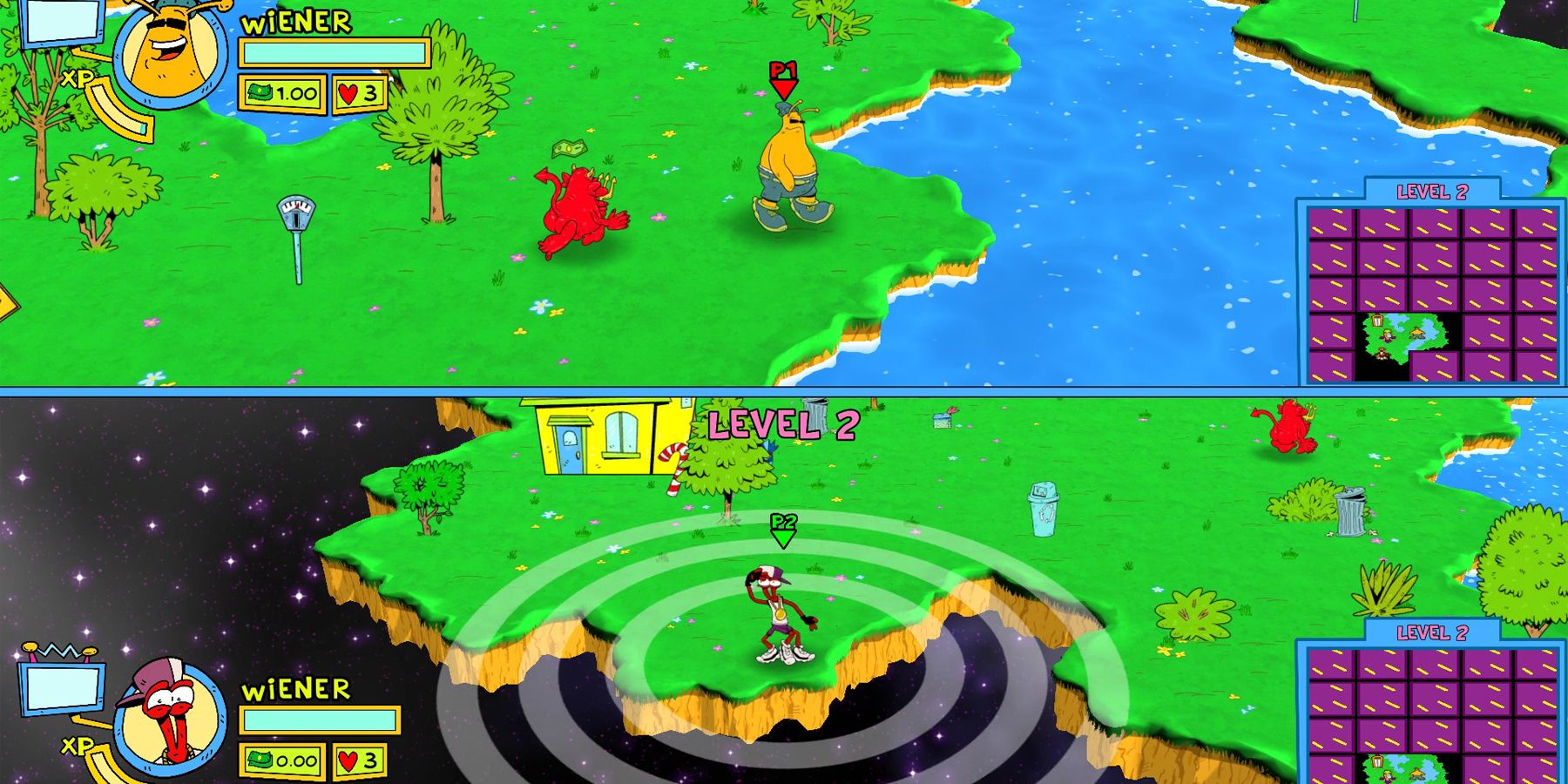 | | |
| --- | --- |
| Release Date | March 1, 2019 |
| Developer | HumaNature Studios |
| Number of Players for Local Co-Op | 2 Players |
ToeJam & Earl is a Sega Genesis cult classic that went on to produce two lower-quality but still serviceable sequels, with the last one debuting in 2002. After that, the franchise had to wait until 2019 to make a comeback, and Back in the Groove lives up to its name by being a return to basics. Opting to primarily modernize the original 1991 game, the Switch title once again finds the eponymous aliens scouring a fragmented Earth in search of their ship's parts. Simple but effective, the core gameplay loop revolves around investigating procedurally generated levels while avoiding a wide assortment of Earthlings, all of whom have different effects on the aliens.
Naturally, this franchise has always prioritized co-op; after all, it is right there in the name. Back in the Groove does not buck this trend, as the game allows two players to join in for some local co-op shenanigans. The game also has more playable characters than just ToeJam and Earl, so people can just pick their favorites.
Donkey Kong Country: Tropical Freeze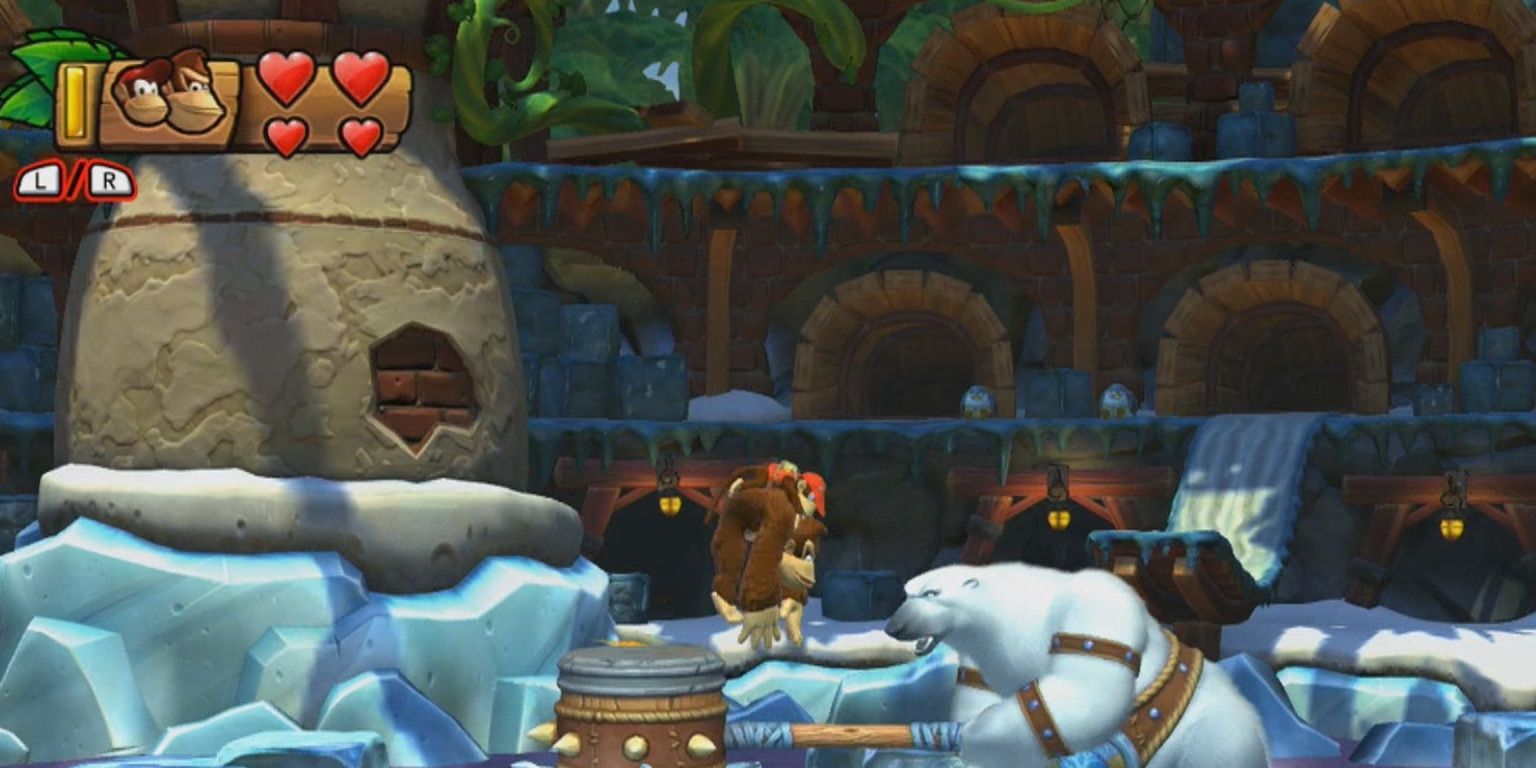 | | |
| --- | --- |
| Release Date | May 4, 2018 |
| Developer | Retro Studios |
| Number of Players for Local Co-Op | 2 Players |
| Amazon Listing Page | Link |
This classic 2D platformer is arguably one of the best in the world as well as one of the best, if not the best, in its series. The co-op feature allows players to pick Donkey Kong plus another Kong to assist them in a stage. They can either hop with DK or ride on his back and provide cover fire.
RELATED: Best Nintendo Switch Games That Don't Require An Internet Connection
The simplicity of options allows even players intimidated by challenging side-scrollers to enjoy the game without committing to it much. However, the gorgeous visuals, amazing soundtrack, and lengthy campaign will surely invite any player to enter Donkey Kong's latest adventure. Tropical Freeze offers a multitude of worlds, levels, and bonus stages to enjoy and should not be missed by anyone.
Tales Of Vesperia: Definitive Edition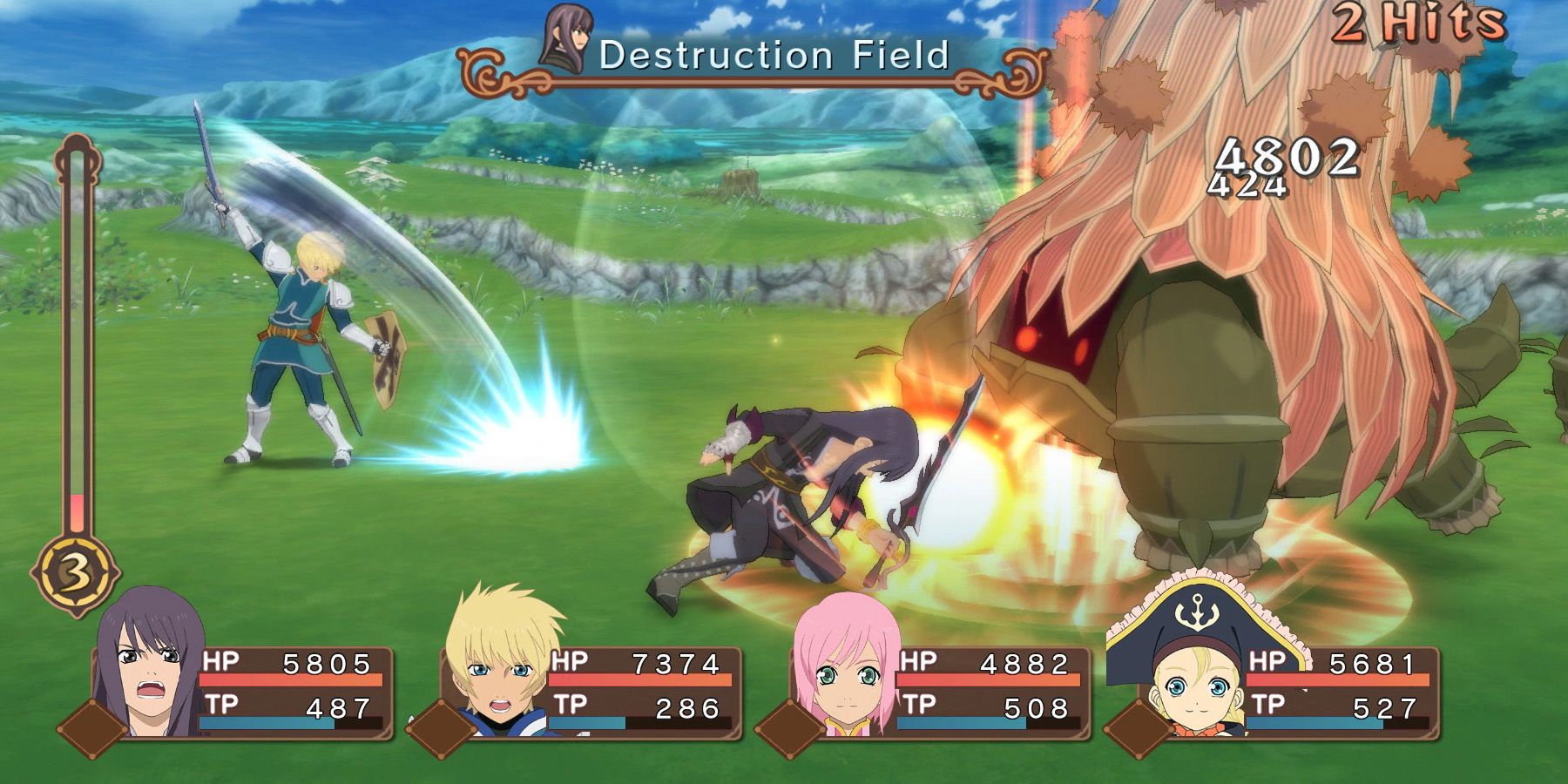 | | |
| --- | --- |
| Release Date | January 11, 2019 |
| Developer | Namco Tales Studio |
| Number of Players for Local Co-Op | 4 Players |
| Amazon Listing Page | Link |
Originally on Xbox 360, the Action-JRPG's Definitive Edition comes with special content originally exclusive to the Japanese PS3 version. The expanded story alone will invite veteran players back. However, newcomers will certainly enjoy the epic storyline, soundtrack, and memorable characters.
The battle system is real-time hack-and-slash on a flat plane akin to a fighting game. Up to four players can connect and play together. Each character has their own development and fighting style. Along with the epic story, players will certainly find a character they love most and a fighting style to accompany it.
Mario Kart 8 Deluxe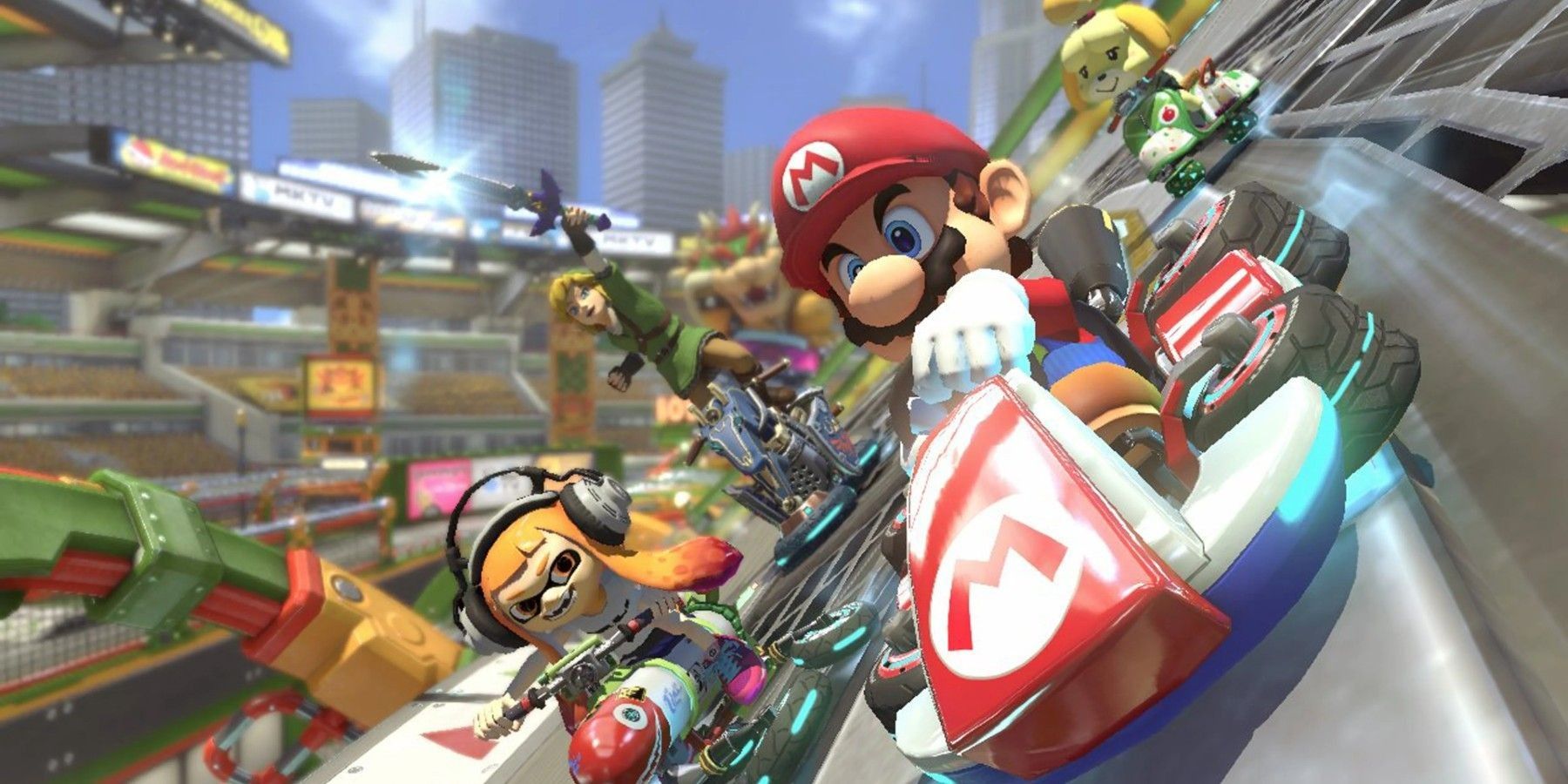 | | |
| --- | --- |
| Release Date | April 28, 2017 |
| Developer | Nintendo EAD, Nintendo EPD |
| Number of Players for Local Co-Op | N/A (Only Split-Screen) |
| Amazon Listing Page | Link |
It goes without saying that Mario Kart will always be a top choice when it comes to fun, family-friendly multiplayer. But what separates the Switch version from the rest is that it's arguably the best Mario Kart title in existence. It's the complete version of the Wii U's release, DLC included, along with Battle Mode on Nintendo Switch.
Three years later and Nintendo has supported this excellent, fast-paced racing game. Featuring antigravity tracks, 200cc, and 48 tracks, the variety of characters, karts, and weight classes will invite anyone to enjoy this title. Battle Mode alone brings about a memorable experience thanks to its bevy of maps and modes. The possibilities are endless with a game this varied and polished.
Super Smash Bros. Ultimate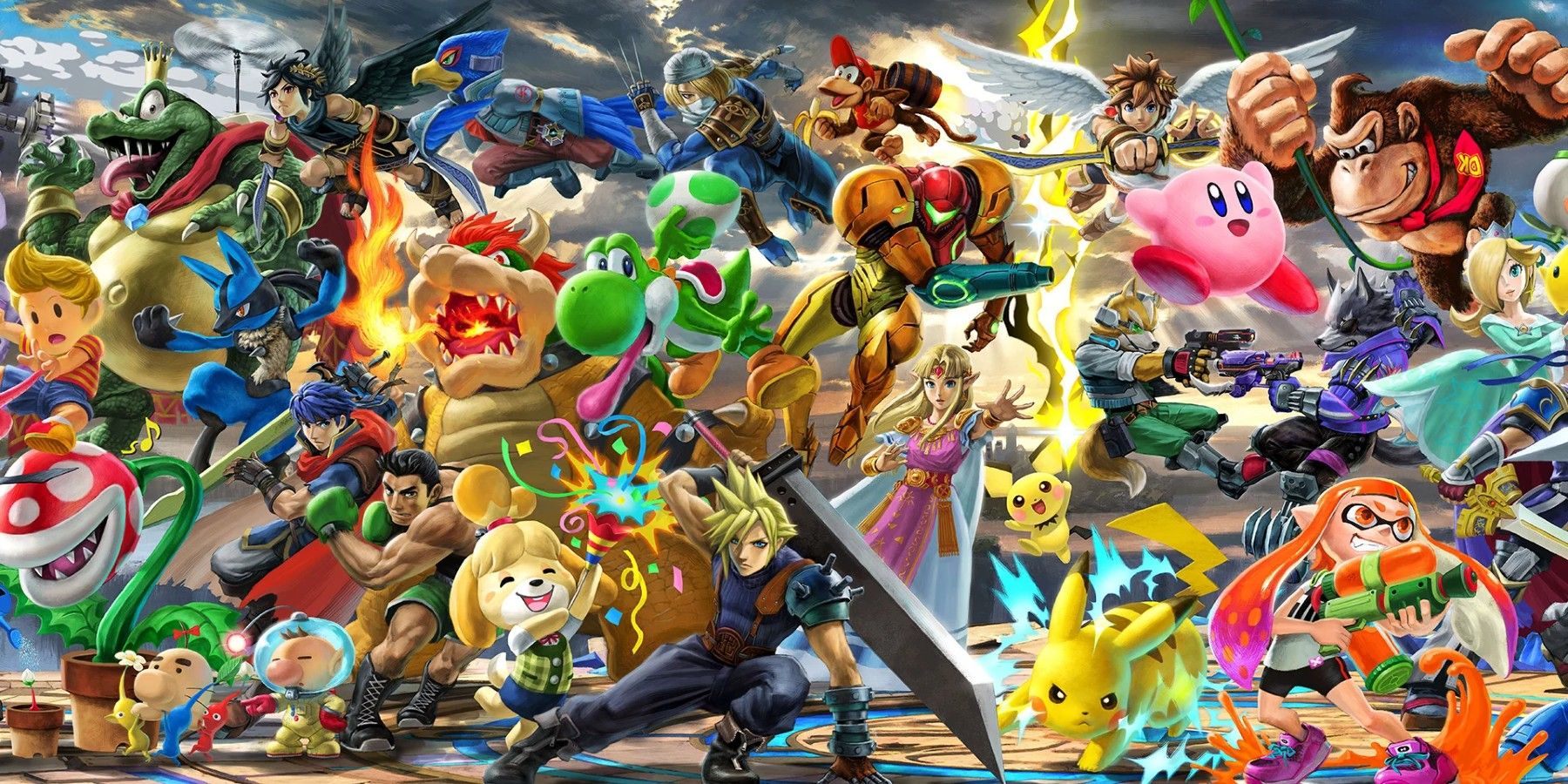 | | |
| --- | --- |
| Release Date | December 7, 2018 |
| Developer | Bandai Namco Studios, Sora Ltd. |
| Number of Players for Local Co-Op | 8 Players (Competitive With Team Options) |
| Amazon Listing Page | Link (Digital Code) |
Smash Bros. remains synonymous with multiplayer gaming. The two-to-eight player game features over 70 characters, over 100 stages, and over 900 pieces of music. Players can team up in Classic Mode or go head-to-head in Smash mode.
Ultimate also offers the doubles team mode for 2v2 or the new Squad Strike mode. Essentially similar to the King of Fighters, Squad Strike allows for teams of players (3v3 or 5v5) to compete using multiple characters. Smash Bros. runs incredibly well even with eight players and should not be missed by anyone. It may arguably be Nintendo's greatest game of all time.
MORE: Switch Games To Play If You Loved Breath Of The Wild
Read original article here: gamerant.com
News Summary:
The Best Local Co-Op & Split-Screen Games You Can Play On Nintendo Switch
Check all news and articles from the latest GUIDES updates.
Please Subscribe us at Google News.
Denial of responsibility!
Egaxo
is an automatic aggregator around the global media. All the content are available free on Internet. We have just arranged it in one platform for educational purpose only. In each content, the hyperlink to the primary source is specified. All trademarks belong to their rightful owners, all materials to their authors. If you are the owner of the content and do not want us to publish your materials on our website, please contact us by email:
hl.footballs@gmail.com
The content will be deleted within 24 hours.