Players dipping their toes into Mythic+ dungeons in season 1 of World of Warcraft: Dragonflight might be struggling with this week's affixes. As players increase the level of their Mythic+ keystone new challenges arise and they change from week to week. But will this be the week to push to obtain a higher ranking in Mythic+ dungeons? Read through this guide as we break down how to overcome the new challenges brought on by this week's Mythic+ Affixes.
Mythic+ Dungeons are a very popular endgame content as an alternative to Raiding and offer new challenges for players to tackle and still achieve some of the best gear out there. Players can increase the difficulty of the Mythic+ dungeon by choosing a higher "keystone level" when they enter the dungeon. The higher the keystone level, the more difficult the dungeon will be, but the greater the rewards will be upon completion.
In Mythic+ dungeons, players are also on a timer, and the goal is to complete the dungeon as quickly as possible. The time it takes to complete the dungeon will determine the final "Mythic+ score" for the group, which is used to rank the group on a leaderboard. Players can also earn special rewards for achieving a high Mythic+ score.
This Week's Mythic Plus Affixes In Dragonflight
Players will have to battle harder bosses, avoid dangerous ghosts and avoid earthquakes that silence, all the while continuing to coordinate the clearing of Primal Overload from the seasonal affix Thundering.
WoW Mythic+ Strategies
Level 2+
The first level of Mythic Plus dungeons alternates between Fortified or Tyrannical each week. This week's Affix is Tyrannical.
Tyrannical Strategy
| | |
| --- | --- |
| | Bosses have 30% more health. Bosses and their minions inflict up to 15% increased damage. |
Tyrannical is a very straightforward affix but places the emphasis on boss encounters. Make sure that you have a talent build that accounts for this that focuses a bit more on single-target damage. Do note, however, that since packs of trash mobs are less of a threat, Tanks may also opt to pull larger groups to help speed up timed keystones.
Additionally, due to the boss's higher health pool and damage a lot of fights will last longer and a focus on staying alive is more important. Make sure that both offensive and defensive cooldowns are available for boss fights as certain mechanics are now more dangerous.
Level 4+
The second threshold is at level 4 of Mythic Plus dungeons, it includes the previous affix assigned at level 2. The possible affixes at this level are Bolstering, Bursting, Raging, Sanguine, Spiteful. This week's Affix is Spiteful.
Spiteful Strategy
| | |
| --- | --- |
| | Fiends rise from the corpses of non-boss enemies and pursue random players. |
Spiteful causes a Spiteful Shade to spawn from slain trash mobs. These will fixate on a random player and move towards them slowly; they cannot be taunted. If they reach a player they will mobs do a massive amount of melee damage to them. Be sure to use Stuns, Slows, Roots, or other Crowd Control effects to kite them. They will last for around 12 seconds or until defeated. Any players within melee range of low-health targets should be aware that they may get targeted and will need to make preparations to avoid these Shades.
Level 7+
The third threshold is at level 7 of Mythic Plus dungeons, it includes both of the previous affixes as well as one of the following: Explosive, Grievous, Quaking, Storming, Volcanic. This week's Affix is Quaking.
Quaking Strategy
| | |
| --- | --- |
| | Periodically, all players emit a shockwave, inflicting damage and interrupting nearby allies. |
Quaking may inflict the debuff Quake to all players every 20 seconds. This will place a circle around every party member and will explode after 2.5 seconds. Any player casting while within a circle will be silenced for 4 seconds. Damage is only dealt if players are overlapping. The easiest way to avoid any negative effects is to spread from other party members when receiving the debuff.
Players can track the timing of when the debuff is going to be applied with addons. Be aware of encounters that are in tight rooms and try to move to areas that have more space to maneuver.
Level 10+
The fourth and final threshold is at level 10 of Mythic Plus dungeons, it includes all three of the previous affixes as well as the seasonal affix: Thundering.
Thundering Strategy
| | |
| --- | --- |
| | Enemies have 5% more health. While in combat, players are periodically overcharged with primal power from Raszageth's unending storm. This power comes with great risk, and failure to discharge it quickly can have stunning consequences. |
Thundering is a new affix introduced in Season 1 that firstly, provides a minor health buff to enemies, and secondly introduces a new mechanic that can be very dangerous. Every 75 seconds of combat Raszageth will speak and cast Primal Overload causing the room will fill with blue swirls that cause a short stun. All players will also be given one of two buffs, Mark of Lightning or Mark of Wind. Mark of Lightning is the Positive Sign Buff and causes a blue electric sphere above the character. Mark of Wind is the Negative Sign Buff and causes a white tornado effect above the character.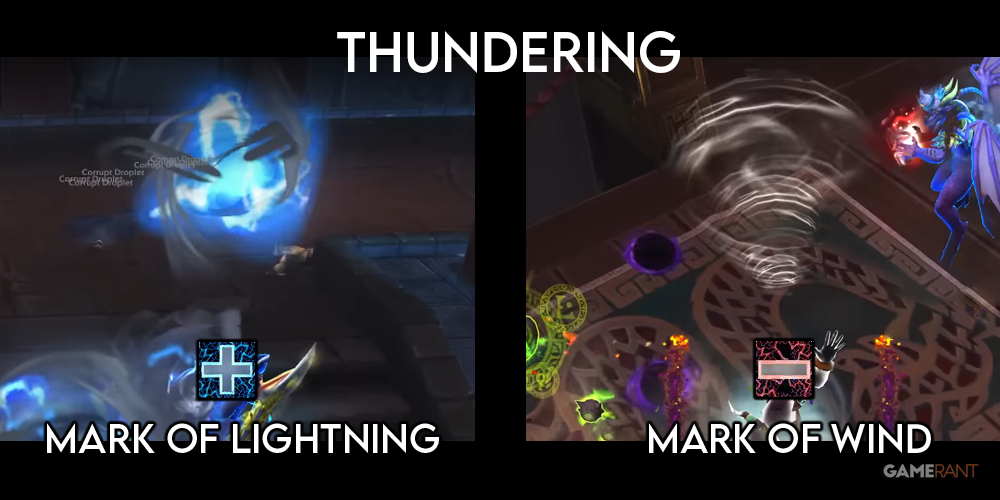 Both buffs increase the player's damage and healing by 30% and makes them immune to root and slow effects for 15 seconds. At the end of the 15-second buff players will be stunned and take damage for 5 seconds. To remove the buff a player must come into contact with another player with the opposite buff. If there are no other players with opposing buffs within 100 yards, the buff will simply fade away.
The best strategy is to get close to a player that has the opposite buff but to not touch until either the buff is about to expire or a mechanic would cause players to be unable to come into contact to clear it. This strategy maximizes damage and healing for the duration of the buff. Clearing the buff from Tanks will require a bit more coordination to ensure that no one gets hit by front-facing attacks. It's best to have a melee (with the opposite buff) quickly pop in and out when it is safe to do so.
Many players use addons that track their debuff and automatically output a Blue Square or Red X in chat to make it a little simpler to quickly spot who has what debuff when a lot of spell effects are cluttering the screen.
Finally, Mages can use Ice Block, Hunters can Aspect of the Turtle, and Paladins can Blessing of Protection to prevent the negative effects from the buff expiring without being neutralized.
Dragonflight Season 1 Affix Schedule
This table shows every affix combination on rotation that we expect for the current season of Mythic+
News Summary:
WoW Dragonflight This Week's Mythic Plus Affixes
Check all news and articles from the latest Game Guides updates.
Denial of responsibility!
Egaxo
is an automatic aggregator around the global media. All the content are available free on Internet. We have just arranged it in one platform for educational purpose only. In each content, the hyperlink to the primary source is specified. All trademarks belong to their rightful owners, all materials to their authors. If you are the owner of the content and do not want us to publish your materials on our website, please contact us by email:
hl.footballs@gmail.com
The content will be deleted within 24 hours.