Guides
Elden Ring: How To Beat The Crucible Knight Duo
Few enemies in Elden Ring are as intimidating as a Crucible Knight. Their imposing stance and magnificent armor intimidate enemies from far away, and fighting a Crucible Knight one-on-one is easily one of Elden Ring's toughest miniboss fights. Midway through the game, though, players can find a boss room containing two.
RELATED: Elden Ring: How To Beat The Godskin Duo
The bosses must be fought at the same time, unlike the Spiritcaller Snail Godskin Duo that appears outside of Farum Azula. The Lesser Crucible Knight is not the worst enemy in the world and can be taken out relatively easily. The real difficulty of this fight comes in facing two of them with fast, powerful moves that can launch them out of range for deadly sweeping and holy attacks.
Updated May 2, 2023 by Erik Petrovich: Because of updates that made it easier to take on more than one enemy at a time, the Crucible Knights boss fight Elden Ring players dreaded is a lot easier to handle, now. The Crucible Knights' weakness is ranged builds that can keep their distance and maintain damage, though they do have a few unique moves of their own. Ordovis, the one with the greatsword, uses the weapon's Ash of War, while the Lesser Crucible Knight uses two different versions of Siluria's Woe – one for ranged attacks, and one for closer targets, just like the Ash of War. Whatever strategy one chooses to take on the double Crucible Knight boss fight, it's important to remember to take them on one at a time.
Crucible Knight Duo Location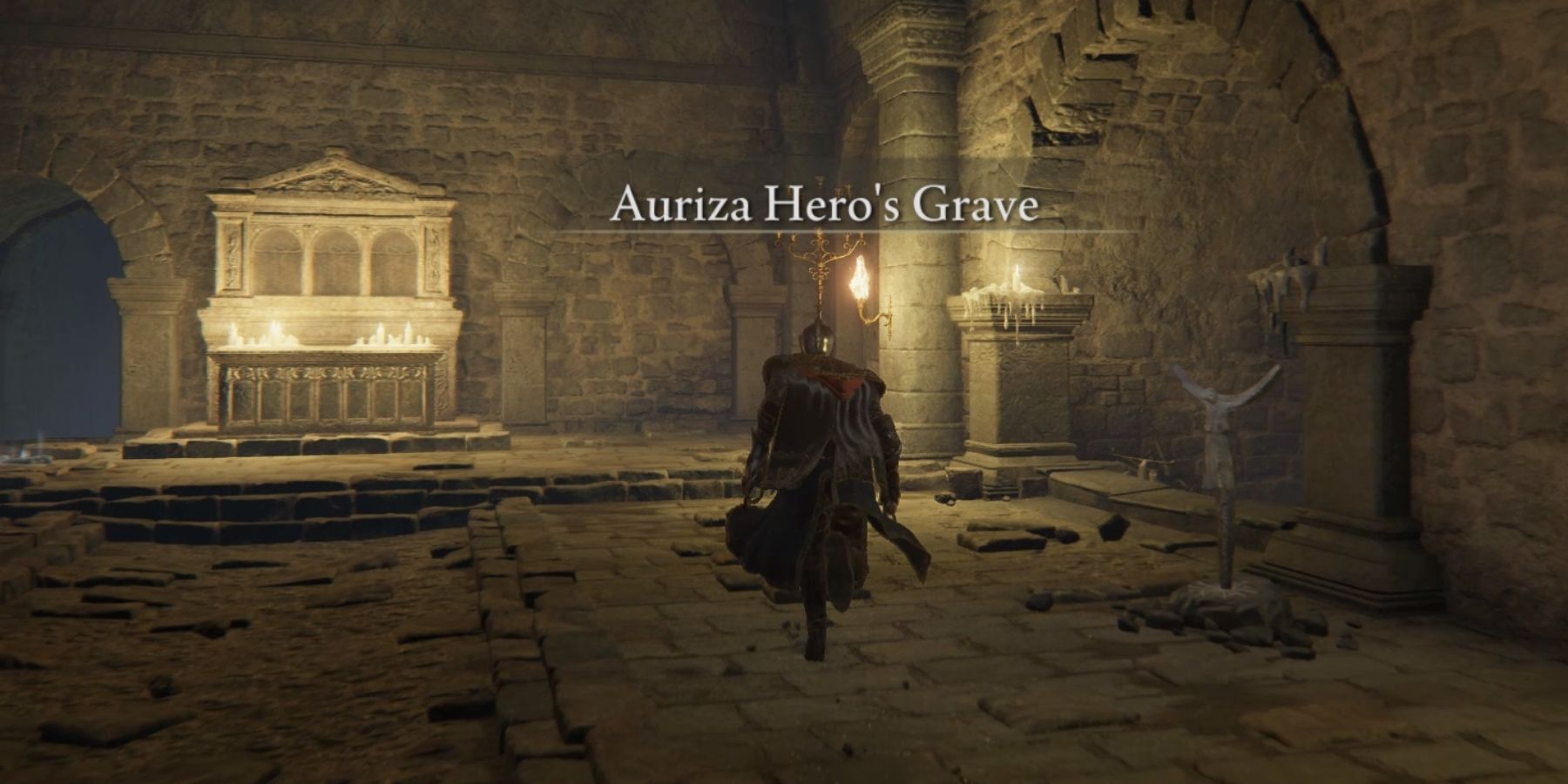 The hardest boss fights in Elden Ring. To make things worse, they are the final encounter of an already difficult dungeon, as the Crucible Knight Duo is found at the end of the Auriza Hero's Grave in the Altus Plateau. On the world map, it looks like it's next to the Capital Rampart Site of Grace, but it's actually underneath.
The easiest way to get there is from the Minor Erdtree outside Leyndell. On the world map, you should see a branching road just to the southwest of the Minor Erdtree. Follow the southeast road from the fork until you pass under the bridge that leads to the Capitol. You will see another fork right after passing underneath – take the right, southern road to get to the Auriza Hero's Grave.
Crucible Knight Duo Unique Moves (And How To Avoid Them)
The Crucible Knights used to attack at the same time and players would have to avoid a veritable endless flurry of attacks and special abilities. After a patch changed the aggression and behavior of enemies in groups, the double Crucible Knights Elden Ring players feared for so long is much more manageable.
Still, the Crucible Knights are not easy, and both Ordovis – who wields a Greatsword – and the unnamed spear-wielding Crucible Knight have a plethora of moves at their disposal.
RELATED: Elden Ring: All Altus Plateau Bosses, Locations, And Drops
Both have the same default set of moves other Crucible Knights use, specifically the Sword and Spear movesets. But both also have unique Crucible abilities to give the fight even more variety. Ultimately, the key to winning this fight is to take on each Crucible Knight one at a time.
Crucible Knight Ordovis Special Moves (Greatsword)
Ordovis' Vortex: Crucible Knight Ordovis will rear back, spin his blade rapidly behind him, then slam it down on the player for immense damage. Unique to Ordovis.

The spinning slam attack takes a while to complete, and though it deals a lot of damage in a small area, it's easy to avoid. Either sprint backward or dodge away from the attack right as Ordovis begins the attack to make plenty of room.
Also available as an Ash of War on the Ordovis Greatsword, which drops after the Crucible Knights boss fight.

Horned Shield Charge: Ordovis will hide behind his Crucible Horn shield for much of the fight, but every now and then will use it to slam into the player.

Avoid this charge by dodging to the side when he is about to connect. The attack can begin quickly, so keep an eye out for him to duck behind the shield suddenly.
Lesser Crucible Knight Moves (Spear)
Siluria's Woe: The Crucible Knight will rapidly spin the front of their spear, then blast a wave of Holy energy forward at the player. It can also be slammed into the ground for immediate area damage.

For the ranged version, dodge to the side as soon as the Crucible Knight launches the attack forward. It's also possible to dodge through this attack and get a swing in, as the Crucible Knight takes a second to recover.
For the close-range version, just dodge or sprint away when the Crucible Knight begins spinning their spear. The explosion and attack radius of this move is surprisingly high, so it can be difficult to time a roll through it. Play it safe and make distance instead of getting closer for this move.
Crucible Knight Duo Strategies And Tips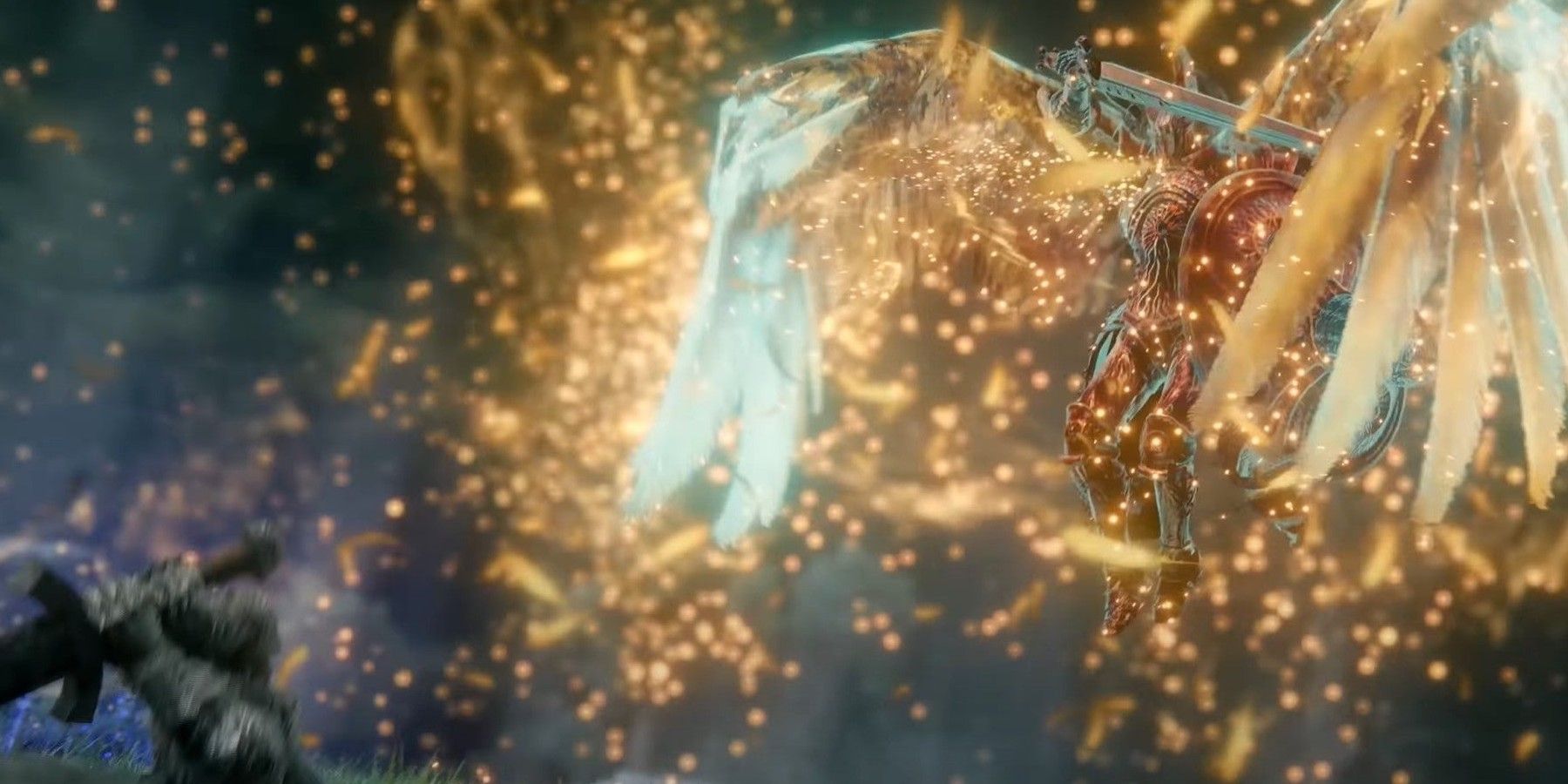 The Crucible Knight Duo is difficult, but there are strategies to cheese the boss. For all builds, it's almost required to bring a Spirit Ash into this fight as Crucible Knights move fast, hit hard, and have attacks that can come out of absolutely nowhere. Distractions are helpful in Elden Ring, especially against a boss made up of two of the hardest enemy types in the game. In general, players should try to take out the Lesser Crucible Knight before Crucible Knight Ordovis as it has less health and will make the tougher fight against Ordovis distraction-free.
RELATED: Elden Ring: What You Need To Know About New Game Plus
Avoid using Holy or Magic damage against the Crucible Knights as they are resistant to it, and don't use Bleed or Frostbite as they are outright immune. Instead, opt for Fire or Lightning damage. For both melee and ranged builds the strategy is otherwise the same: avoid Ordovis at the start, and don't get greedy with attacks. Both Crucible Knights can cast fast Incantations (like Tail and their dreaded Winged attack), so restrain yourself and only try for one or two at any given opportunity. Ranged players should watch for the Tail attack especially, as it can cover a great distance.
Rewards For Beating The Crucible Knight Duo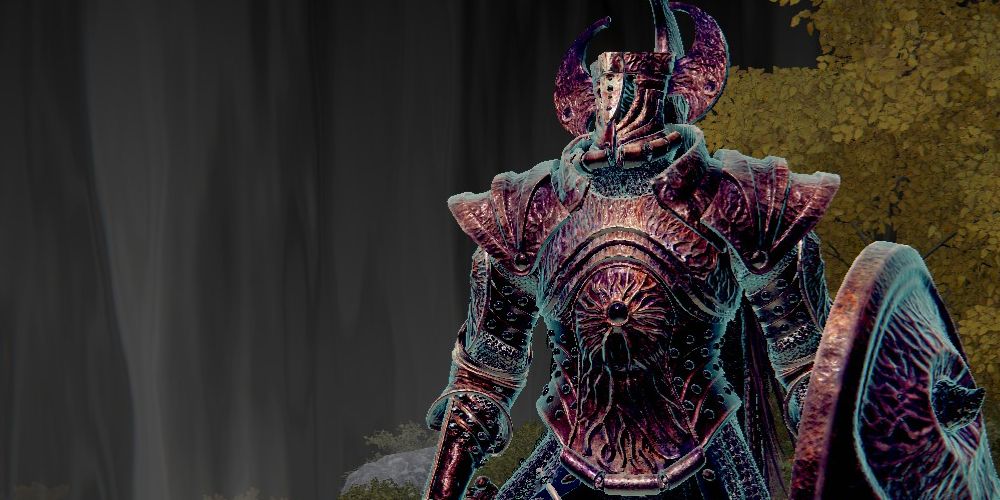 For beating Crucible Knight Ordovis and the Lesser Crucible Knight player get a host of rewards in addition to a base 28,000 Runes. The Crucible Axe Helm and Armor both drop as alternate versions of the Crucible Tree set, alongside the Crucible Gauntlets and Crucible Greaves that drop from other Crucible Knight bosses too. Each piece of armor in the Crucible Set improves Aspect of the Crucible Incantations, like Horns or Tail.
Players also get Ordovis's Greatsword for beating the Crucible Knight Duo. This Greatsword scales primarily with Faith and Strength and hits hard for its relatively low weight. Its damage is split between Physical and Holy, so be sure to unequip it before major bosses who tend to be resistant to Holy. The Ash of War Ordovis's Vortex mimics a move from its namesake, and lets the player spin the Greatsword rapidly around before slamming it into the ground for massive AoE Holy damage.
Elden Ring is available now for PC, PlayStation 4 and 5, and Xbox One and Series X|S.
MORE: Complete Guide To Elden Ring: Weapons, Tips, Tricks, Bosses, & Builds
Read original article here: gamerant.com
News Summary:
Elden Ring: How To Beat The Crucible Knight Duo
Check all news and articles from the latest GUIDES updates.
Please Subscribe us at Google News.
Denial of responsibility!
Egaxo
is an automatic aggregator around the global media. All the content are available free on Internet. We have just arranged it in one platform for educational purpose only. In each content, the hyperlink to the primary source is specified. All trademarks belong to their rightful owners, all materials to their authors. If you are the owner of the content and do not want us to publish your materials on our website, please contact us by email:
hl.footballs@gmail.com
The content will be deleted within 24 hours.