Guides
Ghost of Tsushima: 'A New Horizon' Walkthrough
Ghost of Tsushima's first act ended with Jin rescuing his uncle, Lord Shimura, and expelling the Mongols from Castle Kaneda. Lord Sakai finds himself at an interesting crossroads heading into Act 2. In order to save his uncle, Jin was forced to rely on tactics that Lord Shimura himself finds dishonorable. Yet, without these actions, there is little doubt that Shimura, and the island of Tsushima as a whole, would have been trampled under the feet of the Mongol invaders. This struggle is at the heart of Ghost of Tsushima.
In 'A New Horizon,' Jin and Lord Shimura head north, further into Mongol controlled territory. Shimura seems to give Jin a pass for his actions. It seems Shimura would rather die – and let the entire island die with him – than dishonor himself by performing ignoble actions. Over the course of Act 2, Shimura's insistence on doing things as a samurai will smash head to head with reality. With Jin in the middle, knowing there is a way to win, something will have to give.
Related: Most Wanted Playstation PC Releases
How to Start 'A New Horizon' in Ghost of Tsushima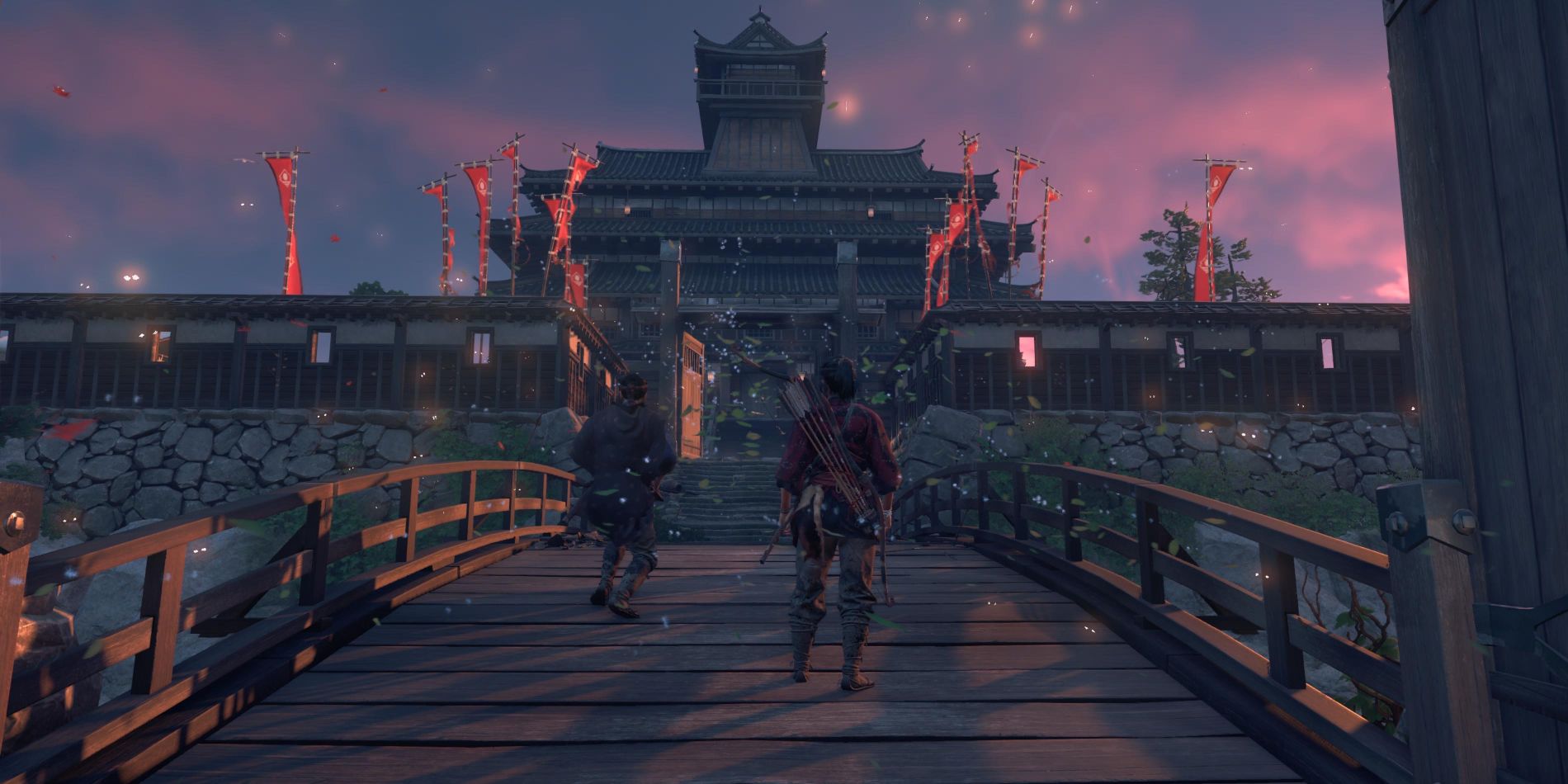 Unlike most missions in Ghost of Tsushima, "A New Horizon" will begin as soon as "Shadow of the Samurai" concludes. A brief cutscene will bridge the two missions, with Yuna mentioning that she heard about the Khan's brutal capture of Lord Shimura's castle, and that Ryuzo had fooled everyone, not just Jin. Once the scene plays out, Jin will head to meet up with his uncle
Objectives:
Walk to the keep with Yuna
Speak to Lord Shimura in the keep
Jin is surprised that Yuna is still around, so he invites her to speak with Lord Shimura about a reward for helping. Walk with Yuna to the main keep to find Shimura. When the two arrive at the castle, Yuna will let Jin speak to his uncle alone to begin with. Simply opening the castle door will initiate a cutscene with Jin and his uncle.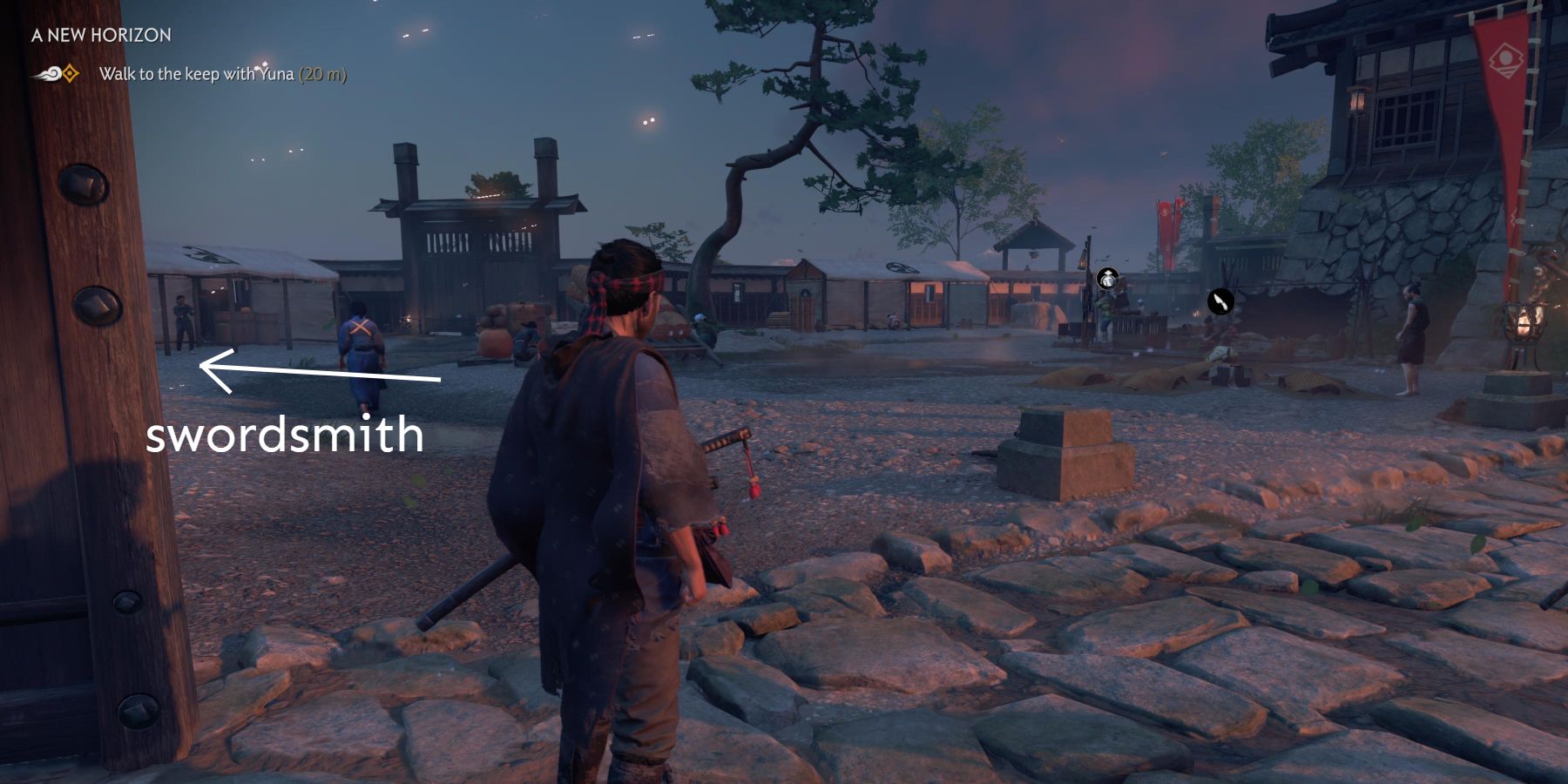 Notice too, that when Jin arrives at the central courtyard, he now has access to a Trapper and Swordsmith. If he has any sword or ammo pouch upgrades available, this is a good time to complete them.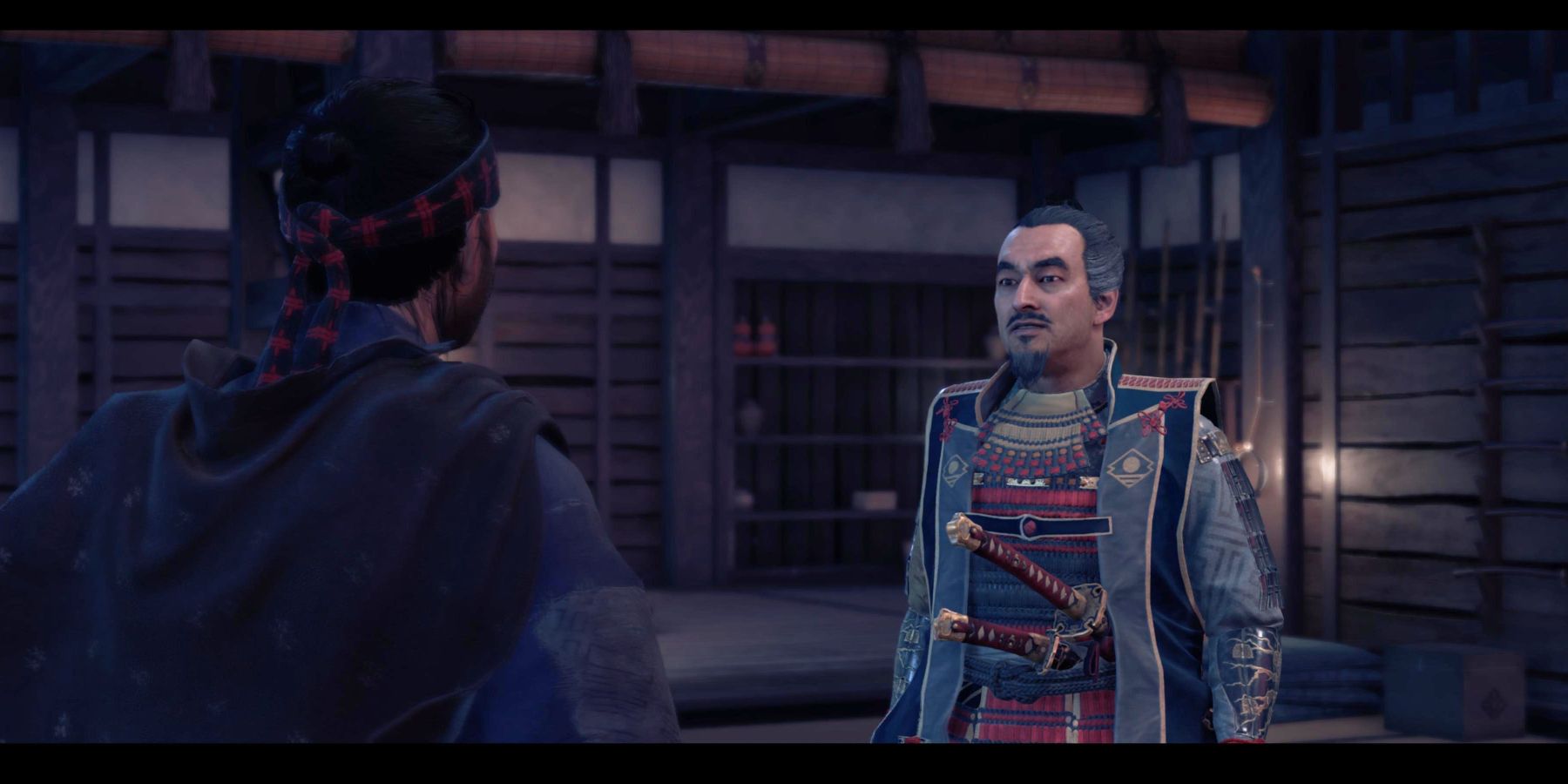 Lord Shimura, though grateful to Jin for saving his life, makes sure to stress just how important it is that the two of them rid Tsushima of the Mongols using only honorable tactics. The player will know-just as Jin knows, and as Lord Shimura should at this point-the Mongols do not care about honor. The Khan burned a man alive before he could even draw his sword in Ghost of Tsushima's prologue.
Shimura does agree to help Yuna as long as she continues to fight. The seas are not safe to travel at the moment, but he agrees to get her safe passage to Japan's mainland when it is safe to do so. When the two men are done talking, Shimura tells Jin that they ride within the hour,
Ready your horse at the stables
Optional: Speak with your allies
Once again, Jin can speak to his allies once again. They can be found in various areas around the main courtyard. Where to find each ally:
Taka & Kenji: Just to the right of the swordsmith.
Lady Masako: From Taka & Kenji, head follow the fence just a bit to find Lady Masako near a large gate. She appears to be helping create stretchers.
Sensei Ishikawa: From Lady Masako, turn around and look for the merchant. Just beyond him, to the left, is the Sensei.
RELATED:Ghost Of Tsushima: Best Tools & Techniques In Jin Sakai's Arsenal, Ranked
Once Jin speaks with all his allies, head down to the stables. Here he will find Yuna.
Yuna is not happy that she is being forced into helping Lord Shimura, even after she risked her life to save be he and Jin.
Ride North with Lord Shimura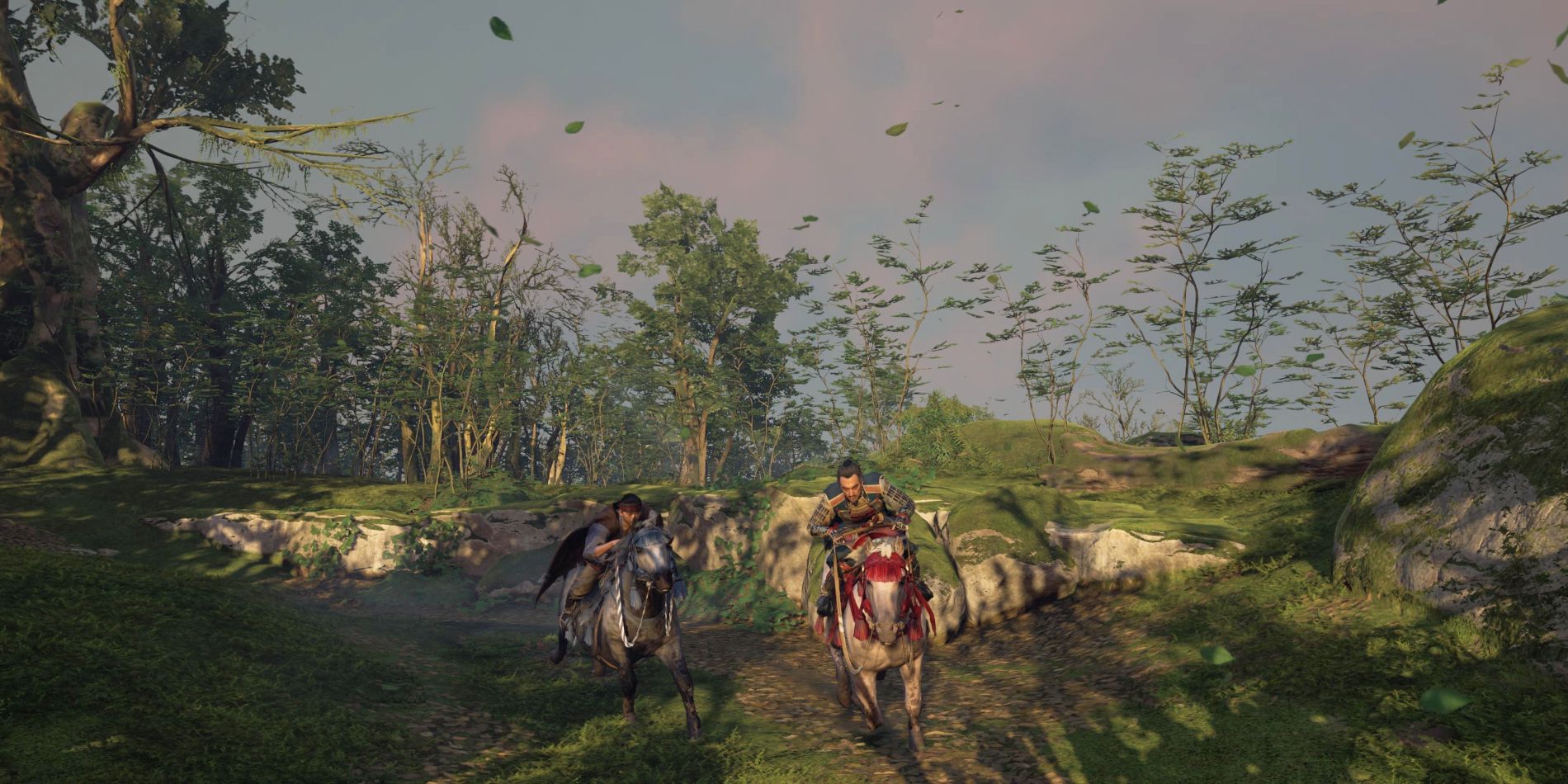 When Jin is ready, he can mount his horse and begin the next phase of the mission.
Mount your horse
Wait for the gates to open
Ride with Lord Shimura
Much of this section is simply narrative-building exposition, but everything is very important to the overall story. Pay attention to the various response options from Jin. Though they don't change the outcome of the story, it is still an interesting way to personalize the character.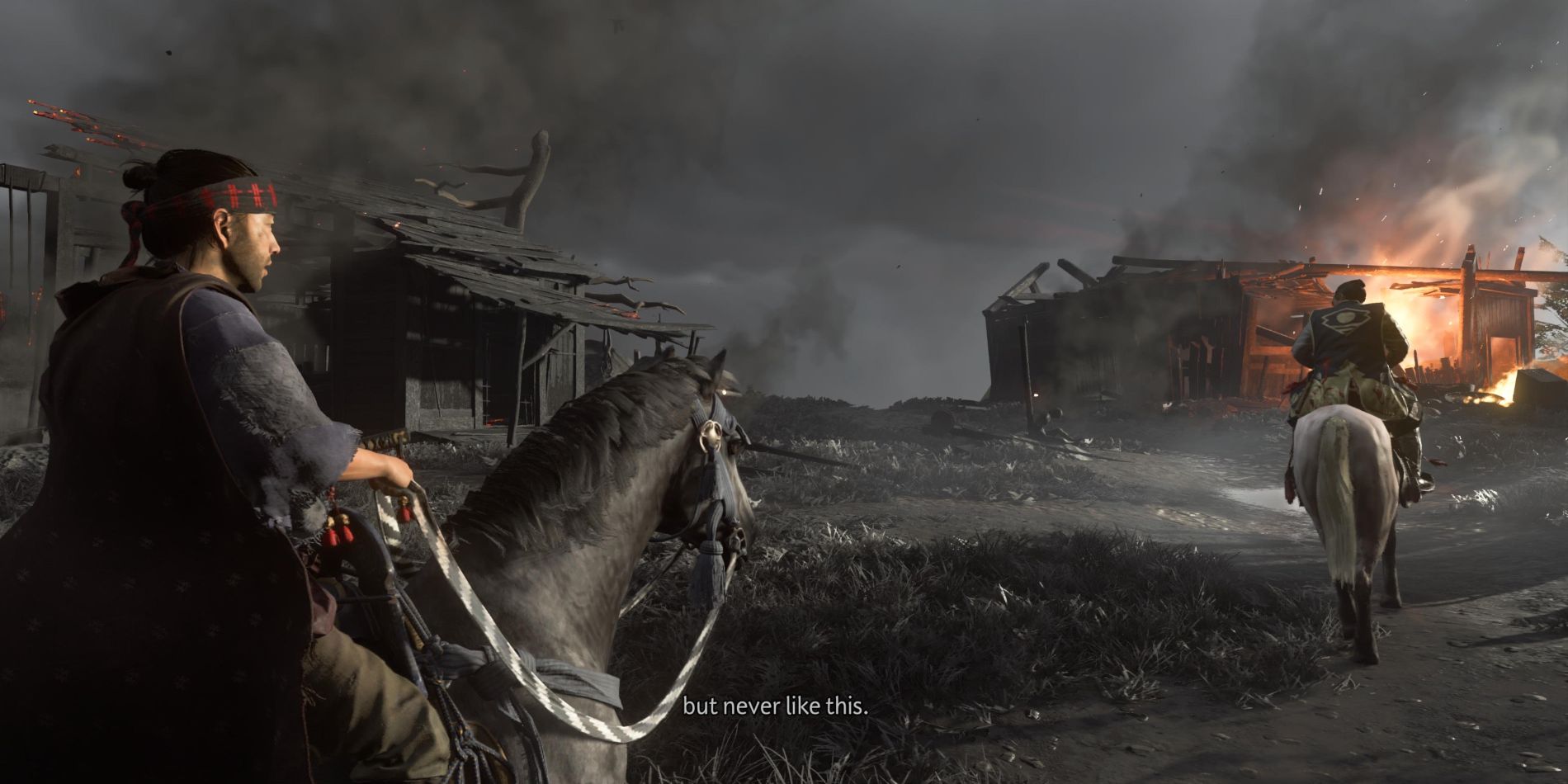 When Jin and Shimura come out of the secret forest path they are traversing, they will find a small, burnt out village. As they rest the final hill at the edge of the village, they will spot the Mongol patrol responsible. Shimura, of course, will immediately charge, forcing Jin to meet them in open combat.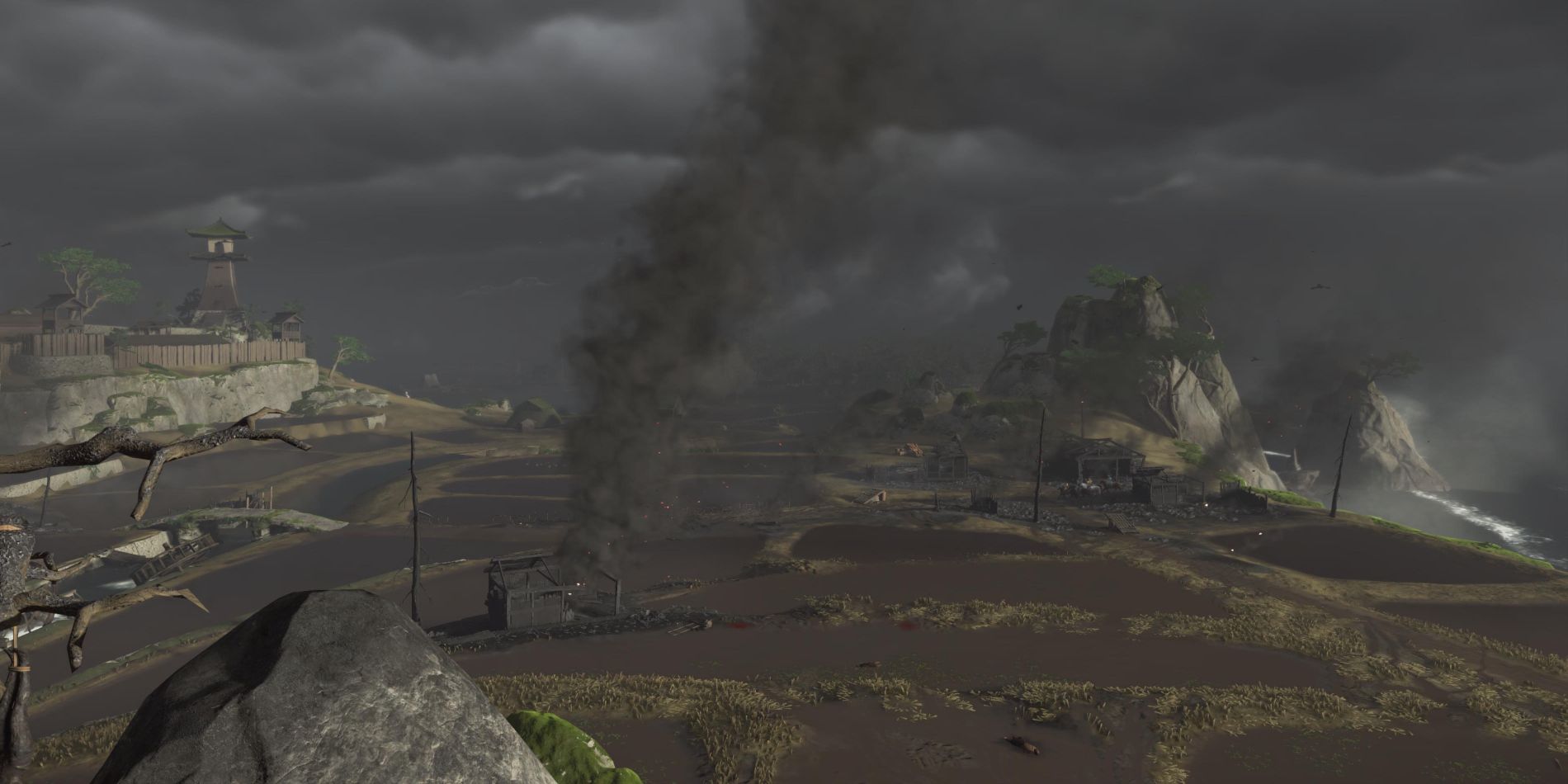 Once the small group of Mongols is dealt with, continue to ride with Lord Shimura. Just up the hill, he will notice that the Mongols have occupied a lighthouse. While continuing to ride, the two samurai will head straight into Fort Ito.
Related: Ghost of Tsushima: 'The Iron Hook' Walkthrough
Clear out Fort Ito with Lord Shimura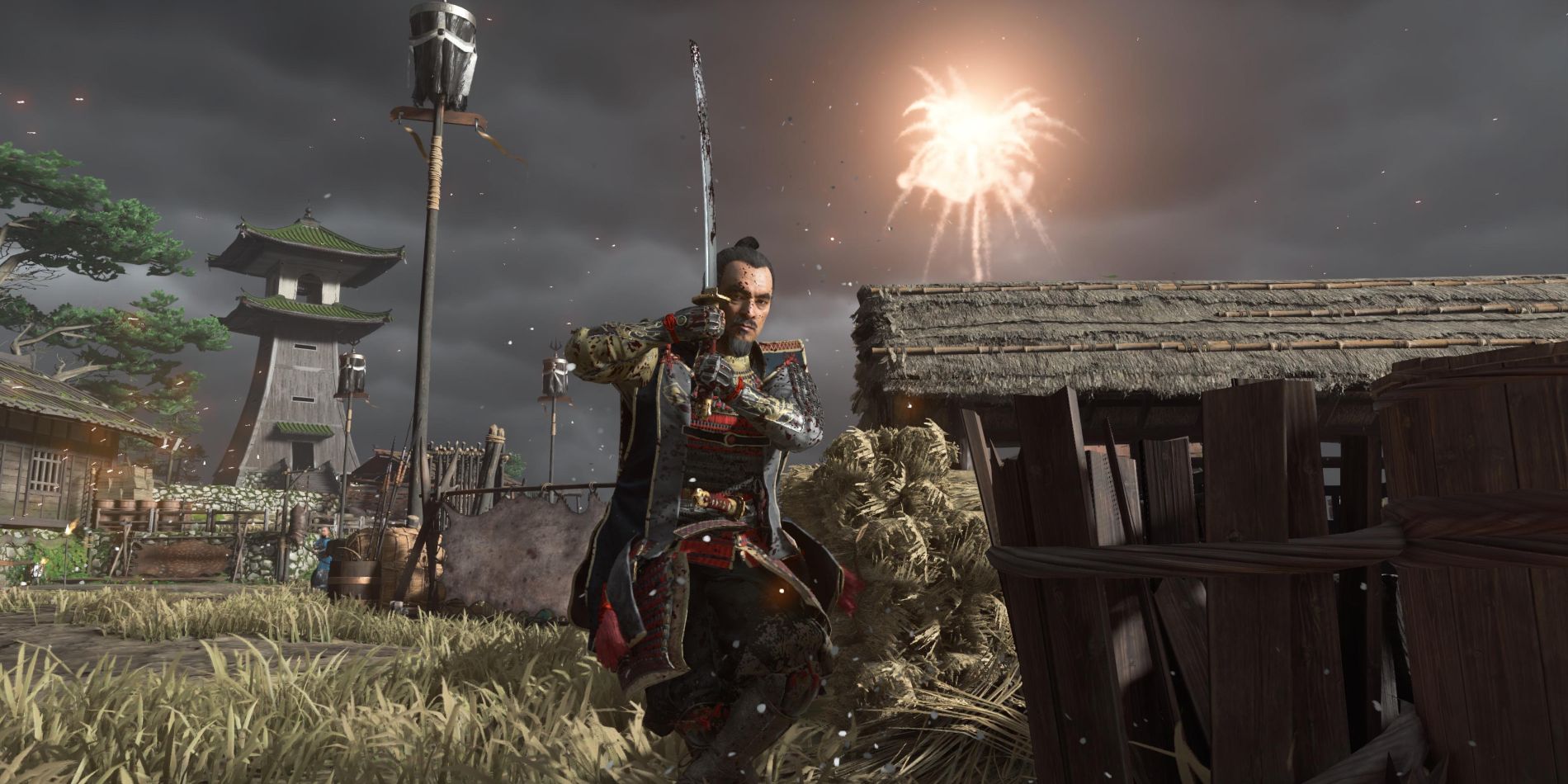 Jin and Lord Shimura will be met with considerable force at the gates of the fort. Once the first group has been dealt with, the Mongols will send out an alarm in hopes of calling in reinforcements. Jin must work his way to the rear of the fort and destroy the alarm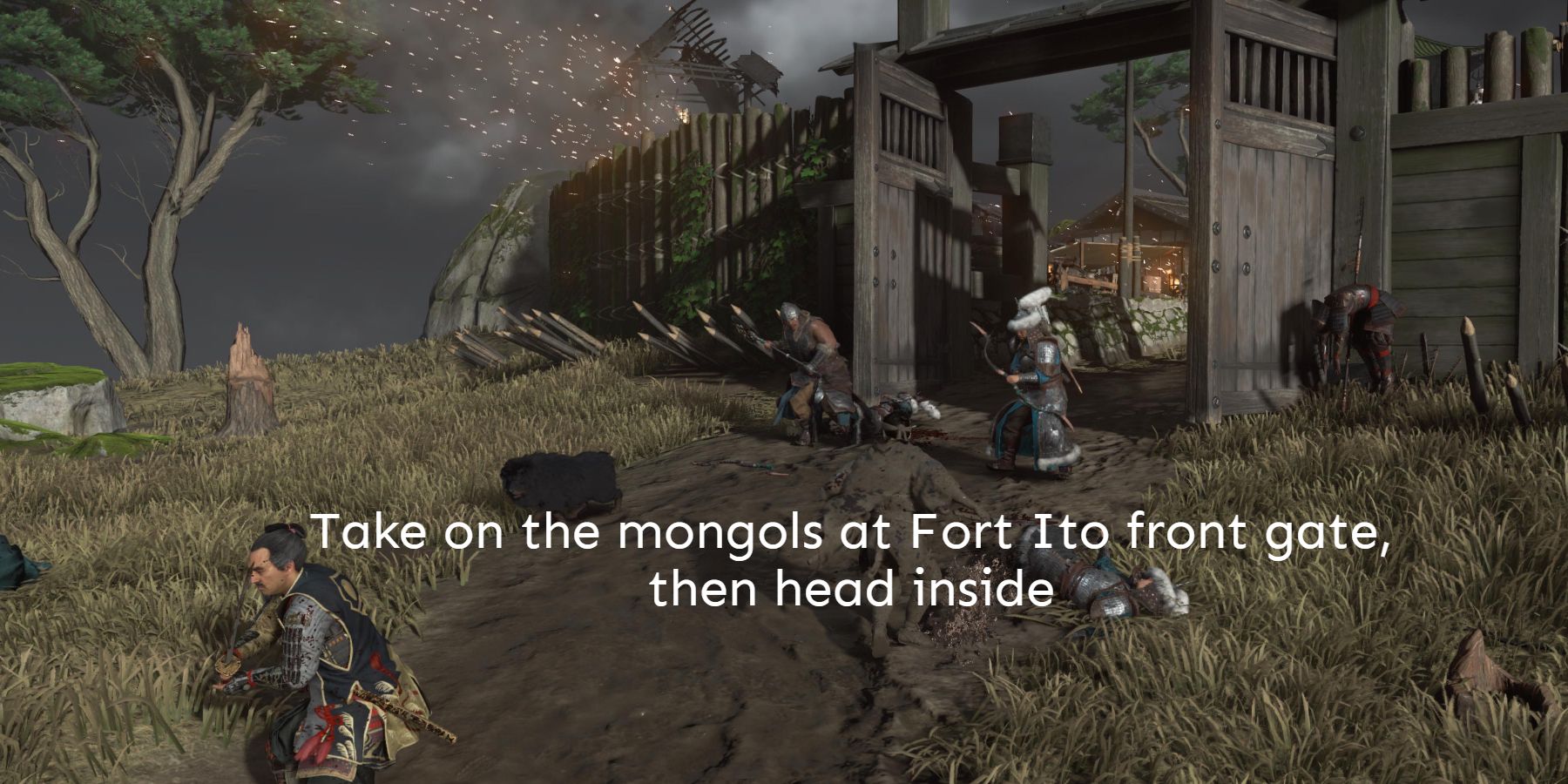 Defeat the Mongols
Reach the Mongol Alarm
Destroy the Mongol Alarm
Defeat the Mongols guarding the alarm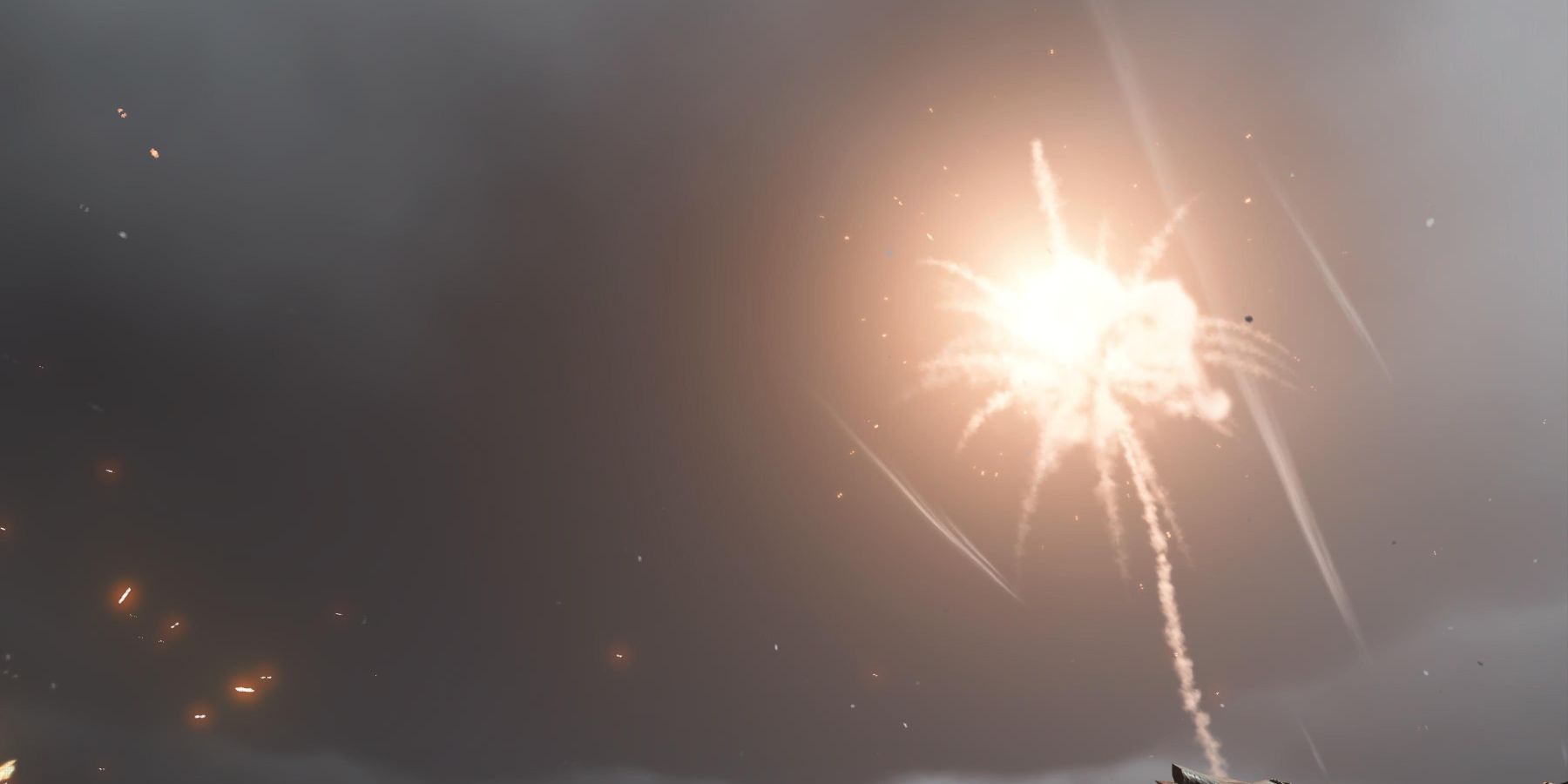 As Jin gets closer to the alarm, a new type of enemy will head out to protect it. This new Mongol is similar to the large mace or ax wielding type, but the weapon is different, and considerably more dangerous. What at first seems to be a large cudgel, is actually capable of firing projectiles from three large barrels. This enemy can be extremely dangerous, especially at higher difficulty levels. Make sure to pay attention to his form, as it is clear when he is about to take shots.
Unfortunately, even with all the effort it takes to defeat the large horde of Mongols, reinforcements still arrive. Head to the front gate to face them.
Head to the front gate
Defeat the Mongols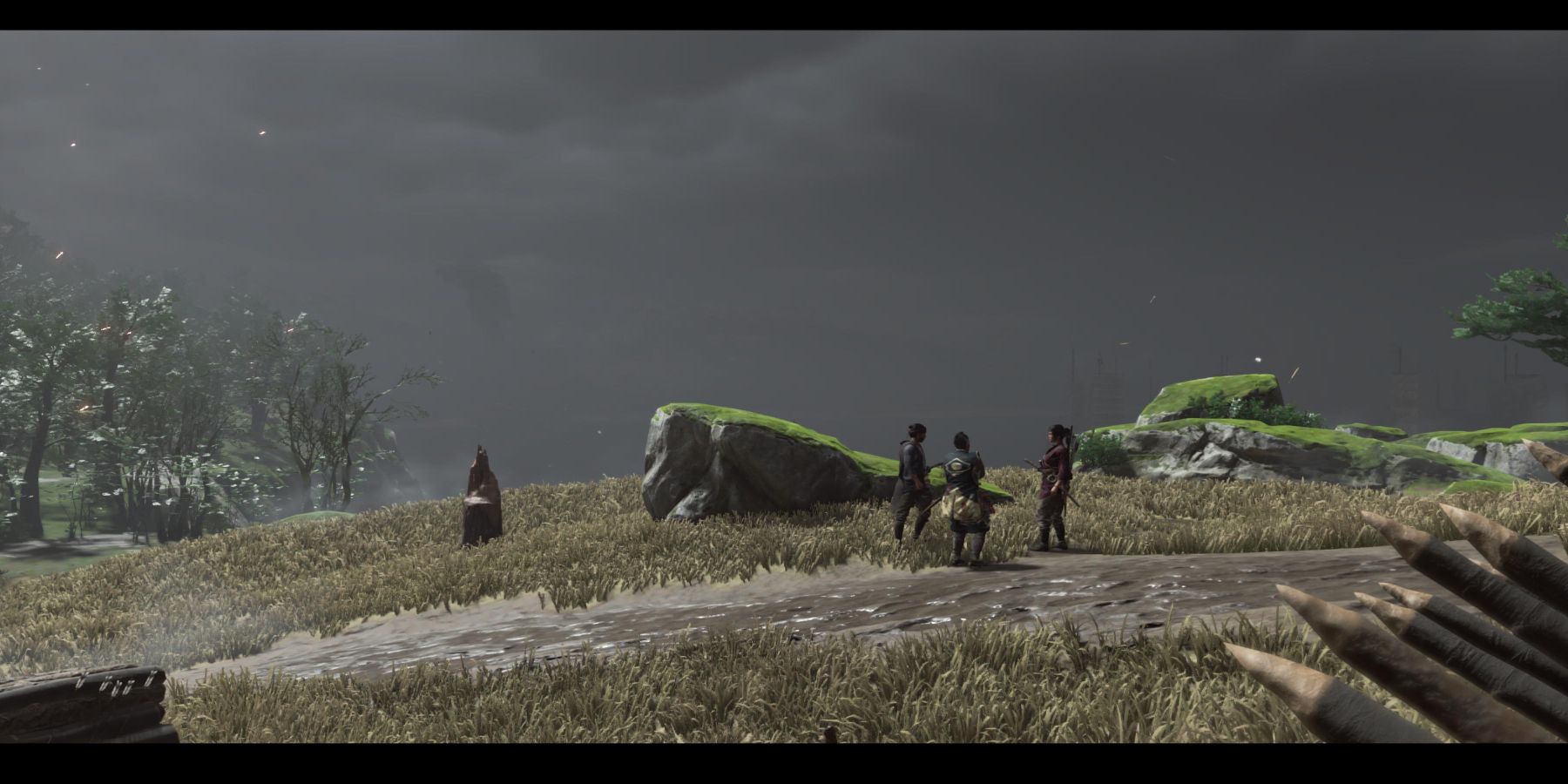 Yuna will arrive at the front gate with a large group of Mongols trailing behind her. There is no time to talk at this moment, Jin must fight. Luckily there is a powder keg on the front of the Mongol wagon that will wipe out most of the enemies if properly shot.
Speak with Yuna
Travel to the lighthouse
After Yuna states her case to Lord Shimura, he insists that they head to the lighthouse and rekindle the fire. He claims this will send a clear message to the Mongols. Once at the Lighthouse, Shimura gives Yuna another chance to speak. She suggests they ask for help from Yarikawa prefecture. The Yarikawa's rebelled against Shimura many years earlier, so he is reluctant to agree. Eventually, however, he agrees to let Yuna attempt her plan, as long as Jin is there as well.
Climb the lighthouse with Lord Shimura
Jin and Shimura head to the top of the lighthouse. Listen to Jin and Shimuras conversation. There will be a brief pause in the mission here, but there is still one final task to accomplish before it ends.
Meet with Norio the Warrior Monk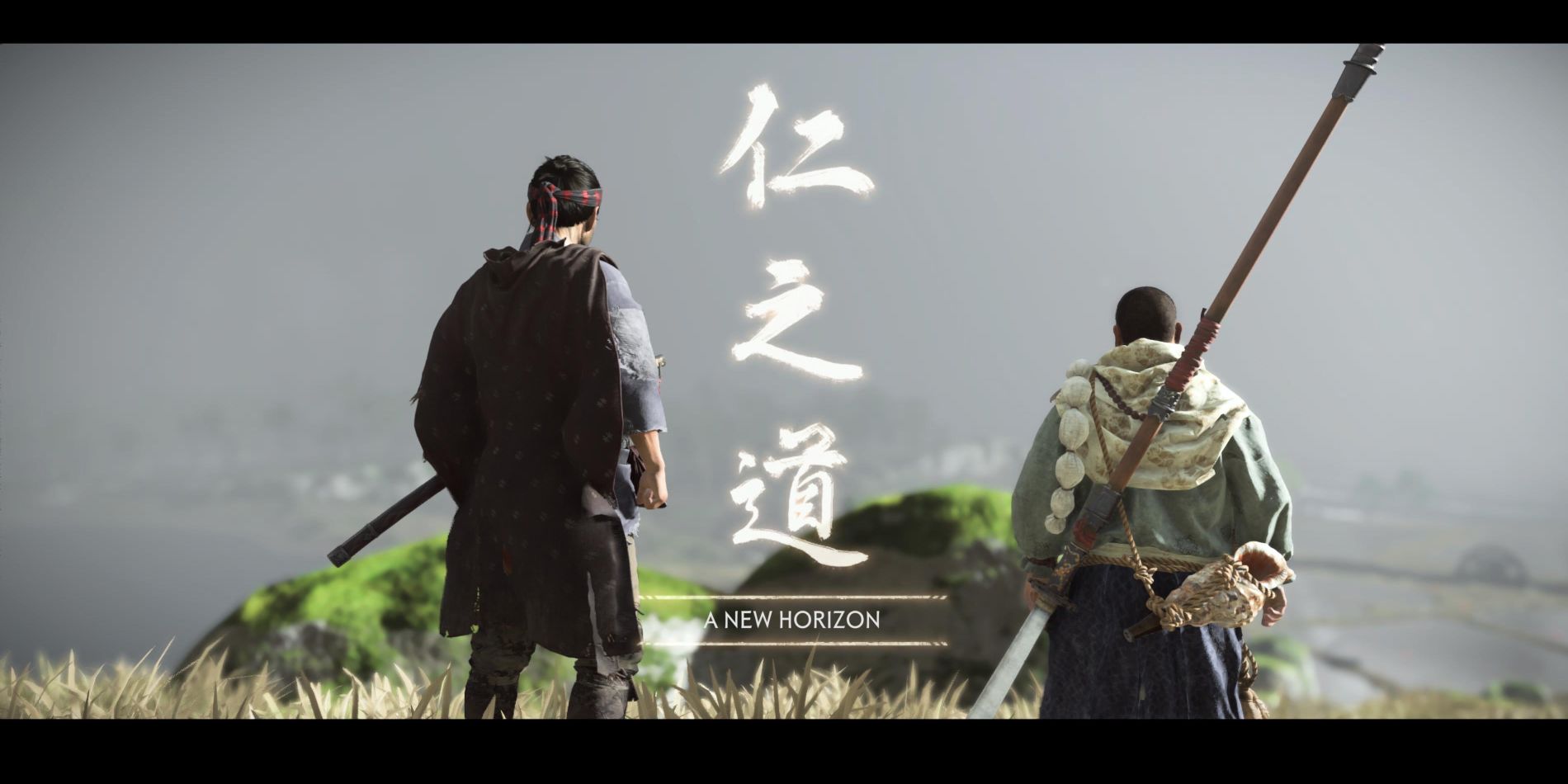 Before the mission ends, Jin will be confronted by a civilian woman who informs him that a man being held prisoner by the Mongols was just set free. She says that he is a warrior monk and would like to speak to Jin immediately.
Speak with the warrior monk
Exit the fort's front gate
Norio's brother was killed by the Mongols, and while they were on their way to fight, they too were captured. Both men agree to help each other with their respective fights. Norio will become a trusted ally, standing by Jin along with the remaining samurai.
'A New Horizon' concludes with Norio and Jin looking out over the northern valley in which much of Act 2 will take place.
Ghost of Tsushima: Director's Cut is available now on PS5. The base version of Ghost of Tsushima is available on PS4 and PS5.
MORE:Ghost Of Tsushima's Narrative Would Have Benefited From A Morality System
Read original article here: gamerant.com
News Summary:
Ghost of Tsushima: 'A New Horizon' Walkthrough
Check all news and articles from the latest GUIDES updates.
Please Subscribe us at Google News.
Denial of responsibility!
Egaxo
is an automatic aggregator around the global media. All the content are available free on Internet. We have just arranged it in one platform for educational purpose only. In each content, the hyperlink to the primary source is specified. All trademarks belong to their rightful owners, all materials to their authors. If you are the owner of the content and do not want us to publish your materials on our website, please contact us by email:
hl.footballs@gmail.com
The content will be deleted within 24 hours.